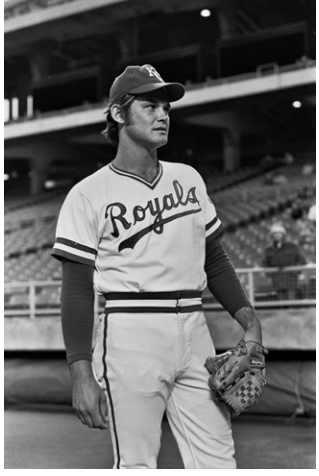 June 19, 1974: Royals' Steve Busby makes history with second no-hitter in second season
---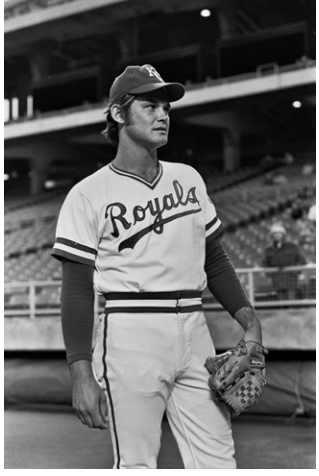 The Kansas City Royals were in Milwaukee for a two-game series against the American League East's last-place team, the Milwaukee Brewers. The Royals got stellar pitching performances from their two best pitchers, who happened to be roommates. On June 18 Paul Splittorf pitched a gem; facing only 30 batters, he allowed just two hits and walked one to win, 7-0. The next night, not to be outdone by his roommate, Steve Busby pitched the second no-hitter of his career. Busby walked only one batter and faced just 28 Brewers. As of 2016 Busby was the only pitcher to throw no-hitters in each of his first two full major-league seasons.
In a pitchers' duel with the Brewers' Clyde Wright, Busby had complete command of his fastball, mixing in his slider and newly developed curveball. After the game, he said, "I was much more aware of what was going on this time. I wasn't nervous as much as I was fighting myself to keep my concentration. When I lose my concentration, I pipe the ball, throw it down the middle and give up maybe four or five hits in a row or else walk everybody. For about the last three innings I really had to fight myself to keep my head in the game. But this was the biggest thrill of all, bigger than last time because this was my type of game."1 Busby considered himself a control pitcher. In Busby's first no-hitter, the season before against the Detroit Tigers, he was wild and walked six batters.
Against Milwaukee, George Brett drove home John Mayberry with a single to center field in the second inning for the only run Busby would need. The Royals added an unearned run in the fourth inning when Jim Wohlford scored on a throwing error by the Brewers' 18-year-old rookie shortstop and future Hall of Famer, Robin Yount. Busby's walk came in the second inning. He got ahead of George Scott 0-and-2, then threw four straight balls. As Busby sailed a head-high pitch for ball four, he kicked the dirt in front of the pitching rubber and turned in anger toward center field. "No way I was thinking of the perfect game then. It was losing a man that I had 0-and-2 that made me mad," he said.2Excellent fielding by Busby's teammates helped preserve the no-hitter. Al Cowens chased line drives to the warning track in the second and fourth innings by Darrell Porter and George Scott respectively. In the third inning, George Brett backhanded a groundball behind third base and made a perfect throw to get Bob Coluccio. Freddie Patek took two steps to his right to catch Robin Yount's line drive in the seventh. Scott missed a double when his checked-swing line drive landed inches foul outside first base in the seventh inning.
In a 2007 interview, Busby pointed out two specific plays. In the bottom of the sixth inning, Don Money hit a groundball down the third-base line. Brett backhanded the ball and threw across the diamond to get Money by half a step to end the inning. Busby called it one of the best defensive plays he had ever seen from behind third base.3 In the bottom of the eighth, Brewers DH Bob Hansen hit a sharp two-hopper that appeared destined for right field. The Royals' 35-year-old second baseman, Cookie Rojas, took three quick steps and dove head-first to his left to grab the ball, then sprang to his feet to throw out Hansen. "It was the play of the game," Busby said. "I don't think I've ever seen him go so far that way or dive for a ball quite like that, even for Cookie."4
The Brewers went quietly in the ninth. Don Money popped out to Cookie Rojas for the final out. Busby received a standing ovation from the crowd of 9,019, who saw the first major-league no-hitter pitched at County Stadium since April 28, 1961, when Warren Spahn of the Milwaukee Braves outdueled Sam Jones of the San Francisco Giants, 1-0. Fran Healy, who also caught Busby's first no-hitter, observed, "He also had a pretty good curve, and when he has that, well then the rest is history for the hitters."5
In his 58th major-league start, Busby became the third youngest pitcher to throw two no-hitters. Johnny Vander Meer was the youngest when he threw the second of his consecutive no-hitters on June 15, 1938, at age 23 years, 7 months, and 13 days. Don Wilson of the Houston Astros was 24 years, 2 months, and 19 days old when he pitched his second on May 1, 1969. Busby was 24 years, 8 months, and 21 days old. He became the 25th pitcher to throw multiple no-hitters.6 Busby's second no-hitter came 418 days after his first no-hitter, which he pitched on April 27, 1973.
Despite the fact that he threw two no-hitters in the major leagues, two one-hitters in Triple-A ball, and two no-hitters in high school, Busby told a sportswriter he did not consider himself to be a no-hit pitcher, but said, "I think I've been more fortunate than a lot of other pitchers because obviously it takes a lot of luck to pitch one."7
Busby started his next game by retiring the first nine batters he faced, setting an American League record of 33 consecutive batters retired. That mark was tied later that year but was not broken for 24 years.8
Bill James created a formula to predict the number of no-hitters a pitcher would throw based on their hits per nine innings and games started.9 Based on this formula, Busby was the least likely pitcher to throw multiple no-hitters of the pitchers who actually threw two or more. Busby had the best hits per nine innings of the four deemed least likely by James's formula, but he had the fewest starts.
As of 2016 no other pitcher has thrown two no-hitters in his first two seasons. The closest anyone has come was when Wilson Alvarez lost his second possible no-hitter with no outs in the seventh inning. Jim Bibby had the second best no-hit bid, going 4⅓ no-hit innings in his next start after pitching a no-hitter.
This article was published in SABR's "No-Hitters" (2017), edited by Bill Nowlin. To read more Games Project stories from this book, click here.
Notes
1 Associated Press, "Steve Busby Hurls His 2d No-Hitter," Chicago Tribune, June 20, 1974: Section 3, 1.
2 Gib Twyman, "No-Hit Hurler? 'Not Me! Says Busby," The Sporting News, July 6, 1974: 13.
3 Dave Brandon, Royal Curve, "Then and Now: Q&A With Steve Busby," April 9, 2007, https://scout.com/mlb/royals/story/633993-then-and-now-rc-q-a-with-steve-busby.
4 Twyman.
5 Ibid.
6 As of 2016 there were 30, including Roy Halladay, who pitched one in the postseason.
7 Twyman.
8 Busby's 33 consecutive batters retired broke the record of 32 held by Vic Raschi of the New York Yankees (1950) and Lindy McDaniel of the Yankees (1968). Seattle Mariners relief pitcher John Montague tied the mark in 1977. David Wells of the Yankees set a new record of 38 consecutive batters retired on May 24, 1998. Busby's University of Southern California teammate Jim Barr set a National League record of 41 in 1972, but this was broken by Mark Buehrle of the Chicago White Sox, who retired 45 consecutive batters in 2009, and again by Yusmeiro Petit of the San Francisco Giants (46 in 2014).
9 Bill James, "Expected No-Hitters," November 8, 2004, https://robneyer.com/baseball-books/neyer-james-guide-to-pitchers/expected-no-hitters/?doing_wp_cron=1460599985.6001229286193847656250.
Additional Stats
Kansas City Royals 2
Milwaukee Brewers 0
---
Milwaukee County Stadium
Milwaukee, WI
Box Score + PBP:
Corrections? Additions?
If you can help us improve this game story, contact us.
Tags
https://sabr.org/sites/default/files/Bubsy_Steve.png
600
800
admin
/wp-content/uploads/2020/02/sabr_logo.png
admin
2018-10-17 13:33:44
2020-04-17 10:23:52
June 19, 1974: Royals' Steve Busby makes history with second no-hitter in second season