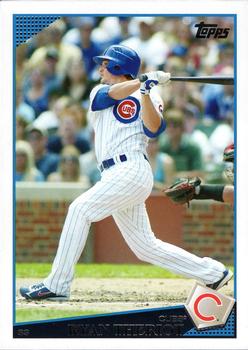 June 19, 2009: Cubs rally from down 7-0 to down Cleveland
---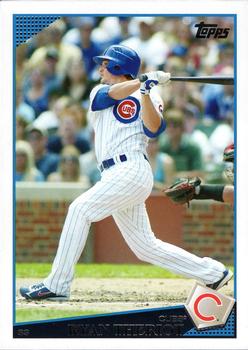 The baseball gods were smiling down on the Cubs (31-31) when the Cleveland Indians (29-39) came to town on June 19, 2009. For the second straight afternoon, the Cubs scored four runs in the eighth inning and one in the ninth. In the first comeback, the Cubs beat their crosstown rivals, the White Sox. Although both comebacks resulted in exciting wins for the Cubs, the second game took them an extra inning to do it.1
The Indians were hoping to snap a three-game losing streak when they arrived at Wrigley Field. The game marked the return of Kerry Wood and Mark DeRosa, who had been instrumental in Chicago's second consecutive NL Central title in 2008, but had been let go in the offseason and signed by Cleveland.2 Both players got standing ovations from the crowd when they entered the game.
Cliff Lee, who had won the AL Cy Young Award the previous year with a 22-3 slate, started for the Indians. The southpaw had gotten off to a rocky start to this point in '09 but had won his last two decisions to improve to 4-6. Cubs manager Lou Piniella went with right-hander Rich Harden, who entered the game with a 4-3 record and was trying to shake off losses in his previous two starts.
It was a cloudy, overcast day with temperatures in the mid-70s. After an 86-minute rain delay, the game started with only a small breeze blowing from right to left field.
A scoreless first led to a hectic second. The Indians' Jhonny Peralta ended up on third base when he hit a fly ball to deep left-center that the usually surehanded Reed Johnson couldn't handle. After Harden walked Kelly Shoppach, Luis Valbuena, hit his second home run of the season over the center-field wall for a 3-0 Indians lead.
Harden continued to struggle and walked the first two batters in the third inning. Then Victor Martinez connected for a home run to put the Indians up 6-0.
The Indians scored another run in the fourth inning. Ben Francisco led off with a single, went to second on Lee's sacrifice, trotted to third on Jamey Carroll's fly to deep center, and scored on a single by DeRosa to right field.
The Cubs scored their first run in the fifth inning, on Johnson's leadoff home run to center field. But Lee settled down and got the side out with no more damage.
Piniella removed Harden for pinch-hitter Micah Hoffpauir in the bottom of the fifth inning. "It was ugly," said Harden of his efforts that afternoon.3
The Cubs continued their uphill struggle with one out on the sixth when cleanup hitter Derrek Lee blasted a solo home run to right-center field to make it 7-2. Then they came alive in the bottom of the eighth inning. Milton Bradley led off with a single to center field. Joe Smith relieved Cliff Lee and struck out Derrek Lee, but Geovany Soto doubled to center field, sending Bradley to third. Smith struck out Jake Fox but walked Johnson to load the bases. The next batter, light-hitting Andres Blanco, hit a single down the right-field line that scored Bradley and Soto and made the score 7-4.
Indians manager Eric Wedge pulled Smith for Rafael Perez. Cubs pinch-hitter Koyie Hill hit a grounder to third that Peralta bobbled. Johnson scored and Blanco moved to second. Alfonso Soriano followed with an RBI single to center field to score Blanco. Matt Herges came in and got RyanTheriot to line out to center field. But the Cubs had scored four runs and trailed the Indians by just 7-6.
One of the most dramatic moments of the game came in the ninth inning. In relief for the Indians was Wood, who faced Derrek Lee with one out. Wood threw Lee a curveball, then shook off catcher Shoppach three times before throwing a fastball. Lee deposited Wood's heater into the left-field bleachers for his second home run of the game. It was a blown save for Wood and sent the game into extra innings.
"Derrek, he played behind me all those years, it's like he knew what was coming," Wood said. "He was smiling after he hit it."4 Lee was equally complimentary of his former teammate: "He is throwing 96, he made a good pitch. He jammed me. It got up in the wind and got out of here."5
Wood got Soto to line out to right field and Johnson to fly out to center field, and the game went into extra innings.
In the 10th Piniella went to his bullpen again, calling on Kevin Gregg, who added to the tension. He gave up a leadoff single to Shin-Soo Choo, who was forced at second on Peralta's grounder. First baseman Lee muffed Shoppach's foul and left fielder Soriano dropped Shoppach's line drive. Gregg struck out Valbuena but hit Francisco and the bases were loaded with two outs. But Gregg escaped the jam by getting pinch-hitter Ryan Garko to line out to center field.
Before the game, manager Wedge spoke about his bullpen concerns. After the game, he said "We very easily could have sent two or three more guys out. That's the reality."6 This night Wedge sent former Cub Luis Vizcaino to the mound with the hope that the bullpen would come through for the Indians.
Vizcaino got the first two batters, but walked Soriano, who stole second to the cheers of the crowd of 40,155. "I don't remember the last time I was trying to steal, but I went for it and I got it," he said.7 Then, on a full count, Theriot hit a weak groundball that took a crazy bounce over first baseman Martinez's glove. Soriano scored the game-winning run. Vizcaino took the loss in what turned out to be his last major-league game. (The Indians released him 11 days later.)
"It worked out, the baseball gods were smiling on me," said Theriot. The win was the Cubs' third in a week to come in their final at-bat.8
Cliff Lee had left the game with hopes of winning his third game in a row. After watching what happened after he left, he said, "It's frustrating. Not because I didn't get a win, but because the team didn't get a win. Everybody in here should be frustrated. We have that game won and let it slip away."9
Wedge also vented his frustrations about the bullpen's performance. "It's been struggling on and off all year," he told sportswriters. "You have games like this and it's about as bad as it can get. You have to have people who can get people out — particularly in the seventh and eighth inning."10
After waiting for the rain to stop, Cubs fans were treated a memorable game. For the second straight day, Chicago put together a four-run rally in the eighth inning. While fans welcomed DeRosa and Wood back with cheers, the real ovation went to Theriot for his heroics in the 10th inning. The game may have taken 3 hours and 38 minutes to complete but the drama of that extra-innings comeback would be long remembered.
This article appears in "Wrigley Field: The Friendly Confines at Clark and Addison" (SABR, 2019), edited by Gregory H. Wolf. To read more stories from this book online, click here.
Sources
In addition to the sources cited in the Notes, the author also used the Baseball-Reference.com, Baseball-Almanac.com, and Retrosheet.org websites for box-score, player, team, and season pages, pitching and batting game logs, and other pertinent material.
https://www.baseball-reference.com/boxes/CHN/CHN200906190.shtml
http://www.retrosheet.org/boxesetc/2009/B06190CHN2009.htm
Notes
1 Dave van Dyck, "To Relive Is Divine: Lee Blasts Two Homers, Theriot Gets Winning Hit as Cubs Come Back Again From Big Deficit," Chicago Tribune, June 20, 2009.
2 Dan Labbe, "Indians Open Up Series With Cubs This Afternoon," Cleveland Plain Dealer, June 19, 2009.
3 Dave van Dyck, "To Relive Is Divine."
4 Ibid.
5 "Cubs' Theriot Caps Rally With Single in 10th to Dump Indians," ESPN.com, June 20, 2009.
6 Paul Hoynes, "Cleveland Indians' Bullpen Blows Five-Run Lead and Tribe Loses to Cubs in 10 Innings," Cleveland Plain Dealer, June 19, 2009.
7 Dave van Dyck, "To Relive Is Divine."
8 Ibid.
9 Paul Hoynes, "Cleveland Indians' Bullpen Blows Five-Run Lead."
10 Ibid.
Additional Stats
Chicago Cubs 8
Cleveland Indians 7
10 innings
---
Wrigley Field
Chicago, IL
Box Score + PBP:
Corrections? Additions?
If you can help us improve this game story, contact us.
Tags
https://sabr.org/sites/default/files/TheriotRyan.jpg
600
800
admin
/wp-content/uploads/2020/02/sabr_logo.png
admin
2020-01-08 17:19:50
2020-04-17 10:22:20
June 19, 2009: Cubs rally from down 7-0 to down Cleveland