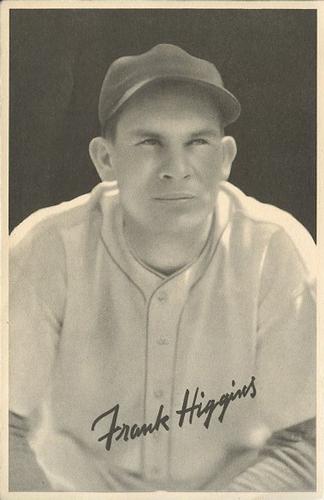 June 21, 1938: Mike Higgins sets record with 12th consecutive hit for Red Sox
---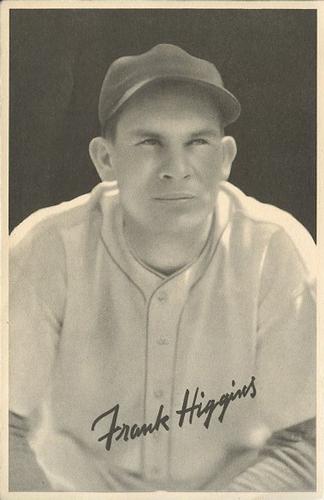 On June 19, 1938, Boston Red Sox third baseman Mike "Pinky" Higgins singled in the eighth inning of the first game of a doubleheader against the Chicago White Sox and went 3-for-3 in the nightcap.1 After an off day on June 20, the Red Sox played another doubleheader, this time against the Detroit Tigers. Higgins went 4-for-4 in the first game (an 8-3 Red Sox victory), giving him eight hits in eight at-bats. This left Higgins three hits shy of the American League record of 11 hits in 11 at-bats, by Tris Speaker on July 8, 9, and 10, 1920.2
For the second game of the doubleheader, the Tigers (28-29) sent Roxie Lawson (2-4, 3.62 ERA) to the mound to try to stop Higgins (and the rest of the third-place Boston Red Sox [33-22]). The Red Sox countered with rookie Charlie Wagner (1-2, 7.45 ERA), who was making just his fifth career start.
The Red Sox threatened in the top of the first inning. A walk to Doc Cramer, a single by Ben Chapman, and an error by Tigers center fielder Chet Laabs on Chapman's hit put runners on second and third with one out. An intentional walk to Jimmie Foxx loaded the bases, bringing up Red Sox manager Joe Cronin. Cronin flied to Pete Fox in right field. Cramer tried to score but was thrown out by Fox for an inning-ending double play.3
Following a Dixie Walker walk, Rudy York started the scoring with a home run in the bottom of the first inning. This was York's 19th home run of the season, tying Foxx for the American League lead.4
Higgins led off the second inning with a single, his ninth hit in nine at-bats, but was stranded there.
Higgins' next chance came in the top of the third inning. A one-out walk to Joe Vosmik, a single by Chapman, and an RBI force out by Foxx gave the Red Sox their first run of the game. Foxx then stole second base and Cronin singled. This brought Higgins up with two outs, runners on first and third, and one run already in. Higgins singled, his 10th hit in 10 at-bats, to drive in Foxx and tie the score, 2-2. A walk to Bobby Doerr loaded the bases, but Johnny Peacock grounded out to end the inning.5
The Tigers regained the lead in the bottom of the third. Walks to Billy Rogell and Walker knocked Wagner out of the game. He was relieved by Archie McKain, who struck out Charlie Gehringer for the first out, but York walked to load the bases. Fox grounded out to Foxx, scoring Rogell with the go-ahead run. The Red Sox intentionally walked Hank Greenberg to reload the bases, but Laabs doubled to right field, scoring Walker and York. The Red Sox issued their second intentional walk of the inning (their fifth walk of the game) to Don Ross, and this time it worked: Lawson fouled out for the third out of the inning, but not before the Tigers took a 5-2 lead.
The Red Sox were retired in order in both the fourth and fifth innings, so Higgins did not bat again until the sixth inning. He led off that inning with a single, his 11th hit in as many at-bats, tying Speaker's record, but was subsequently caught stealing.
Cronin led off the top of the eighth inning with a single to right field, bringing Higgins up for his fourth plate appearance of the game. Higgins singled to center field, giving himself a major-league record 12 hits in 12 at-bats and bringing the potential tying run to the plate. Doerr walked to load the bases with nobody out. Boots Poffenberger was brought in to replace Lawson. Peacock grounded out to Rogell, scoring Cronin. Pinch-hitter Fabian Gaffke also grounded out to Rogell, scoring Higgins to pull the Red Sox within one run, 5-4. But Cramer lined out to Walker in left field to end the inning.6
The Tigers got two hits in the bottom of the eighth inning but no runs. Poffenberger retired the Red Sox in order in the top of the ninth and the Detroit Tigers had a 5-4 victory.
Higgins finally made an out in his first at-bat the next day when Vern Kennedy struck him out in the second inning of an 8-2 Tigers victory.7
Newspaper coverage of Higgins's feat implied that he had 12 consecutive hits (e.g., the Detroit Free Press subheadline said, "Higgins Gets Twelve Straight Hits"). Technically, however, Higgins set the record for hits in consecutive at-bats, but his 12 hits were not consecutive as he drew two walks during his streak (one intentional). Higgins's record was tied by Walt Dropo on July 15, 1952.8 Unlike Higgins, Dropo had hits in 12 consecutive plate appearances. Nobody has matched Higgins's 12 hits in 12 consecutive at-bats since Dropo did so.
At the time of Higgins's feat, newspaper reports unanimously claimed this as a new major-league record, breaking the previous record of 11 consecutive hits by Tris Speaker in 1920. Higgins's feat was still regarded as a standalone major-league record when Dropo tied his record in 1952. In 2009, however, it was discovered by Trent McCotter that catcher Johnny Kling of the Chicago Cubs (then called the Colts) had 12 consecutive hits from August 24 through August 29, 1902. Like Dropo, Kling made his 12 hits in 12 consecutive plate appearances with no intervening walks.9
Sources
Baseball-Reference box score: baseball-reference.com/boxes/DET/DET193806212.shtml.
Retrosheet: retrosheet.org/boxesetc/1938/B06212DET1938.htm.
For games for which Retrosheet does not have complete play-by-play data, volunteers do deduced play-by-play from contemporary newspaper accounts and other available information. I recently deduced this game as part of working through the 1938 season.
Notes
1 James C. O'Leary, "Red Sox Move Up to Second," Boston Globe, June 20, 1938: 7.
2 J.V. Fitzgerald, "In the Wake of the Game," Washington Post, July 11, 1920: 20.
3 Jack Malaney, Boston Post, June 22, 1938.
4 James C. O'Leary, "Higgins Gets 8 Hits in Day for 12 in Row and Record as Red Sox and Tigers Split Twin Bill," Boston Globe, June 22, 1938: 9.
5 Jack Malaney, Boston Post, June 22, 1938.
6 Charles P. Ward, "Lawson Scores Third Straight Victory in 5-4 Nightcap," Detroit Free Press, June 22, 1938: 13, 16.
7 Charles P. Ward, "Kennedy Wins No. 10 as Tigers Beat Grove," Detroit Free Press, June 23, 1938: 13.
8 Lyall Smith, "Dropo Ties Consecutive Hit Mark; Tigers Lose 2," Detroit Free Press, July 16, 1952: 20.
9 Lyle Spatz, editor, Society for American Baseball Research Baseball Records Committee Newsletter, April, 2009.
Additional Stats
Detroit Tigers 5
Boston Red Sox 4
---
Briggs Stadium
Detroit, MI
Box Score + PBP:
Corrections? Additions?
If you can help us improve this game story, contact us.
Tags
https://sabr.org/sites/default/files/HigginsMike.jpg
600
800
admin
/wp-content/uploads/2020/02/sabr_logo.png
admin
2018-10-11 12:17:24
2020-04-17 10:23:53
June 21, 1938: Mike Higgins sets record with 12th consecutive hit for Red Sox