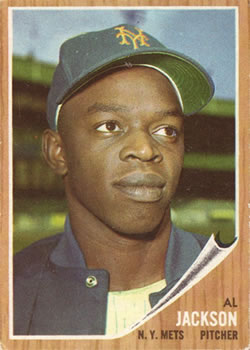 June 22, 1962: No no-hitter for Mets' Alvin Jackson
---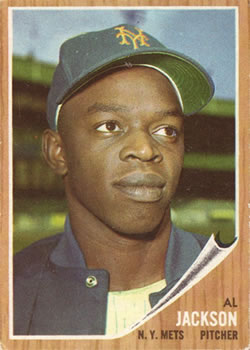 Baseball is a game of streaks, and an extended streak, whether successful or futile, tends to capture fans' imaginations.
The number 56 still makes many fans think of Joe DiMaggio's record hitting streak, while 86 reminds Red Sox fans how many painful years they went without a World Series title. And 50 still has some resonance for Mets fans, as well as those who like to tease Mets fans: It's the number of years the team of Tom Seaver, Jerry Koosman, Jon Matlack, and Dwight Gooden went without pitching a no-hitter.
Those first 50 years of Mets teams didn't want for quality pitching, as the above four names testify. Mets pitchers won three Rookie of the Year Awards and four Cy Young Awards in that timespan — five if you count R.A. Dickey's Cy Young in 2012.1 They led the league in wins three times and in ERA six times.
The team employed pitchers who had thrown no-hitters before coming to town — like Warren Spahn, Dean Chance, and Dock Ellis — and pitchers who threw no-hitters after leaving the team (most famously Seaver and Nolan Ryan).  Hideo Nomo who pitched for the Mets in 1998 threw  a no-hitter before he joined the team and another one after he left. But no pitcher in a Mets uniform could manage the combination of skill and luck necessary to throw a no-hitter until June 1, 2012, when Johan Santana managed the feat against St. Louis. According to the Ultimate Mets Database, Mets pitchers threw 35 one-hitters between the team's launch in 1962 and Santana's night of glory.2
The Mets' streak without a no-hitter formally began on the very first day the team took the field — April 11, 1962, against St. Louis. But you could argue that it began in earnest the first time a Mets pitcher came oh-so-close to posting that elusive scoreline of all zeroes. And that happened in the first game of a twilight-night doubleheader at the Polo Grounds on June 22, 1962, when a diminutive but tenacious left-hander from Waco, Texas, took the mound against the Houston Colt .45s.
Alvin Jackson was in his first full big-league season after cups of coffee with the 1959 and '61 Pirates. With the expansion Mets, he'd already run a broad gamut of experience. On April 29 he pitched the fledgling Mets' first shutout, scattering eight hits to beat the Phillies. But in May starts against the Cubs and Dodgers, he failed to get out of the third inning, and he brought a won-lost record of 3-8 and an ERA of 4.73 into his June 22 start. George Vecsey summed up Jackson's 1962 experience years later: "He would occasionally pitch a masterful low-run game when he managed to keep his pitches low. When his pitches were high, they took off into outer space."3
At the game's start, it appeared that Jackson might be headed for another difficult night. Second baseman Joey Amalfitano singled to left field with one out in the top of the first. After right fielder Roman Mejias struck out, first baseman Norm Larker drew a walk, putting runners at first and second. But Jackson came back to strike out center fielder Carl Warwick and get out of the inning.
After that he was, as an Associated Press reporter put it, "spectacular," setting down 21 straight Houston batters from the second inning through the eighth.4 Writing in the New York Times, Bob Lipsyte called Jackson "complete master of the situation," adding that he seemed to get stronger late in the game with a "humming" fastball and a "snapping" curve.5
As always seems to happen in low- or no-hit games, a few superb defensive plays helped Jackson along. In the fifth, Richie Ashburn jumped high against the Polo Grounds' right-field wall to pull in a challenging drive from Jim Pendleton.6 And in the eighth, shortstop Elio Chacon dove into short center field to snag a through-the-box grounder by Houston catcher Hal Smith. Chacon flipped to second baseman Charlie Neal, who relayed to first-base defensive replacement Gil Hodges for the out. The Times's Lipsyte called it "the finest piece of Mets fielding of the season."7
The Mets, meanwhile, managed only three hits off Colts starter Dick Farrell, but they made them count. New York found its margin of victory on the very first batter of the game, when Ashburn homered to right. The Mets pieced together a second run in the sixth on a walk to Ashburn, a sacrifice by Neal and a single by Felix Mantilla.
In classic '62 Mets fashion, Jackson worked himself into some drama to start the ninth. Pidge Browne, a 33-year-old rookie pinch-hitting for Farrell, led off with a walk, and speedy Al Spangler pinch-ran. Jackson had to face the top of the Colts' lineup — Bob Lillis, Amalfitano, and Mejias — in a ballpark where a well-aimed 280-foot fly ball would tie the score. It was exactly the kind of situation in which expansion teams, or losing teams, so often find a way to come apart.
Jackson didn't come apart. Lillis flied out to Gene Woodling in left field. Amalfitano and Mejias both struck out, giving Jackson his eighth and ninth K's of the game. Amalfitano, in the first, was the only Houston baserunner to make it as far as second base. The 11,484 people in attendance had seen the Mets' first, but by no means last, close call with a no-hitter. (By comparison, 18,775 people at New York's Madison Square Garden that same night saw wrestler Buddy "Nature Boy" Rogers defeat Cowboy Bob Ellis.)
Since Jackson gave up a hit in the first inning, the game didn't have the will-he-or-won't-he suspense that some not-quite-no-hit games have. Still, it was lost on no one that he'd come as close as he could: The New York Times's game coverage featured the headline "Single in First Spoils No-Hitter."
Jackson never did pitch a no-hitter, though he was responsible for all four shutouts posted by the '62 Mets. Five years later, pitching for the Cardinals, Jackson took a no-no into the eighth inning — again vs. Houston — before closing with a one-hit shutout.8
For fans of the 1962 Mets, Jackson's star turn was a reminder that their ragtag new heroes were capable of playing tight, exciting, well-executed big-league ball from time to time. The feeling didn't last long. In the second game of the June 22 doubleheader, the Mets made six errors, Houston hit four home runs, Colts starting pitcher Jim Golden went 3-for-5 with two triples, and the Colts bombed the Mets, 16-3.9 It was precisely the kind of game that established the first-year Mets' reputation for ineptitude.
Mets fans had no choice but to sit back, stay patient, and wait for better days to arrive. Their wait for a competitive team and a World Series title turned out to be considerably shorter than anyone ever expected. But their wait for one of the ultimate pitching feats would span five decades.  
Sources
https://retrosheet.org/boxesetc/1962/B06221NYN1962.htm
https://baseball-reference.com/boxes/NYN/NYN196206221.shtml
Notes
1 retrosheet.org/boxesetc/MISC/XOH.htm#A5.
2 ultimatemets.com/lowhit.php?tabno=3. As of 2019, Santana's no-hitter is still the only one in Mets history.
3 George Vecsey, Joy in Mudville (New York: McCall Publishing Company, 1970).
4 "Mets Divide," Associated Press, June 23, 1962, as reprinted in the Lewiston (Maine) Daily Sun: 5. news.google.com/newspapers?nid=IT5EXw6i2GUC&dat=19620623&printsec=frontpage&hl=en.
5 Robert Lipsyte, "Jackson Gives Only One Hit as Mets Beat Colts, 2-0, Before Losing 16-3," New York Times, June 23, 1962: 16. That day's NYT sports section is also the source of the information about the evening's wrestling match at Madison Square Garden.
6 "Jackson Shines," Associated Press, June 23, 1962, as reprinted in the Eugene (Oregon) Register-Guard: 2B. news.google.com/newspapers?nid=4pF9x-cDGsoC&dat=19620623&printsec=frontpage&hl=en.
7 Lipsyte.
8 St. Louis Cardinals 4, Houston Astros 0, April 25, 1967. Play-by-play information from Retrosheet: retrosheet.org/boxesetc/1967/B04250HOU1967.htm.
9 Houston Colt .45s 16, New York Mets 3 (2), June 22, 1962. Play-by-play information from Retrosheet: retrosheet.org/boxesetc/1962/B06222NYN1962.htm .
Additional Stats
New York Mets 2
Houston Colt .45s 0
Game 1, DH
---
Polo Grounds
New York, NY
Box Score + PBP:
Corrections? Additions?
If you can help us improve this game story, contact us.
Tags
https://sabr.org/sites/default/files/55-464Fr.jpg
600
800
admin
/wp-content/uploads/2020/02/sabr_logo.png
admin
2019-10-28 14:46:35
2021-06-02 16:04:05
June 22, 1962: No no-hitter for Mets' Alvin Jackson