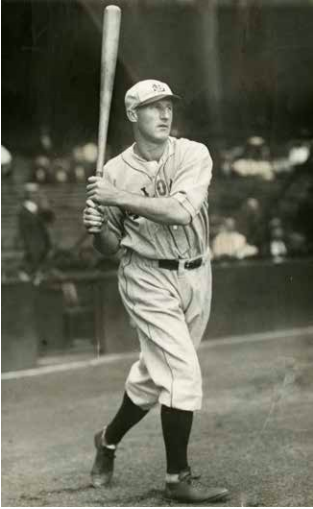 June 23, 1932: The Goose wallops three; Goslin's homers lift Browns over Yankees
---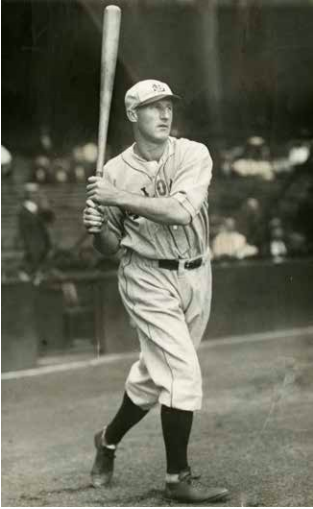 Goose Goslin was a dangerous hitter, suggested St. Louis sportswriter Charles Regan, especially for pedestrians walking along Grand Boulevard in front of Sportsman's Park, located on the north side of the Gateway City. Regan wondered whether the future Hall of Famer "would hurt many people" with his next moon shot in a slugfest with the New York Yankees.1
"The Bronx Bombers versus the Brownie Bashers" would have been an appropriate epithet to describe the teams' four-game series, which concluded on Thursday, June 23. On paper, skipper Bill Killefer's sixth-place Browns, coming off consecutive seasons with at least 90 losses, were an unlikely match for the league-leading Yankees, who had ridden roughshod over the competition since the beginning of the season en route to a 43-18 record. After losing the first two games (3-1 and 11-8) courtesy of late-inning Yankees rallies, the Browns exploded for 10 runs in the sixth inning of the third game and cruised to a 17-10 victory to improve their record to 31-31.
As the Great Depression tightened its stranglehold on St. Louis, catapulting the city's employment to an estimated 25 percent, Sportsman's Park was filled with only about 2,000 patrons to see the Browns conclude their 17-game homestand.2 That figure was actually about 500 more than the team's season average, the seventh of 18 consecutive seasons that the Browns finished last in AL attendance. Hopefully none of spectators expected a pitchers' duel on a warm, sunny afternoon with temperatures in the mid-80s. Toeing the rubber for the Browns was hard-throwing right-hander Bump Hadley, acquired on April 27 along with outfielder Bruce Campbell from the Chicago White Sox in exchange for budding star shortstop Red Kress. In parts of seven seasons, Hadley had compiled a 63-61 record, including 5-5 thus far in '32. His biggest bugaboo was control, and in the first inning he lacked it completely, walking four batters, including bases-loaded free passes to Lou Gehrig and Bill Dickey, giving the Yankees a 2-0 lead.
The Browns teed off against Yankees right-hander George Pipgras, whose 82-57 career slate, including 7-4 in '32, was enviable to any Brownie hurler. After Jack Burns and Campbell whacked consecutive doubles to cut the Yankees' lead in half, Goslin spanked one "high in the air," wrote Regan, "falling into Grand Boulevard without much fanfare" for a 3-2 Browns lead.3
Goslin's blast was music to Killefer's ears. Acquired from the Washington Senators in a blockbuster trade for future Hall of Fame flychaser Heinie Manush and pitcher General Crowder in June 1930, Goslin had averaged 20 round-trippers, 113 RBIs, and a .333 batting average in the previous eight campaigns (1924-1931). However, the New Jersey native had been a disappointment entering the Yankees series with just five homers and a .298 average. Two days earlier, he finally had gotten on track, belting a grand slam and tying his career-high single-game mark with six RBIs. To be competitive, the Browns needed their cleanup hitter to regain his form.
Hadley walked the bases full in the second but escaped the jam. Pipgras, who tied Lefty Grove for the AL lead with 24 victories in 1928, was having his own case of the "Hadleys." He walked Fred Schulte, who eventually scored on Campbell's single. Up stepped Goslin, who smashed a "whistling liner into the pavilion far down near the centerfield bleachers," as the St. Louis Star and Times put it, to increase the Browns' lead to 6-2 and send Pipgras to the showers.4
The Browns gave rookie right-hander Johnny Allen, coming off his third shutout in his last seven starts, a rude welcome to the Midwest. In the third, Schulte's single and Burns's second double led to two more runs in what had quickly transformed into a laugher. On the other hand, one could never count out the Yankees, the highest-scoring team in the majors.
The visitors from Gotham City staged their comeback in the fourth when Earle Combs led off with a single and scored on Gehrig's 18th round-tripper of the season, a towering shot over the right-field pavilion.5 The 29-year-old Gehrig was playing in his 1,103rd consecutive game, which tied teammate Joe Sewell for the second longest such streak in big-league history, though still far behind Everett Scott's 1,307. Hadley issued two more walks in the fifth. One of the men granted a free pass, Tony Lazzeri, scored on Combs's single to make the game interesting, 8-5.
Had the Rookie of the Year Award existed in 1932, Johnny Allen would have been the likely recipient with a sparkling 17-4 record, but on this day the country boy from North Carolina struggled. Jim Levey led off the fifth with a single and scored on Schulte's single. After a walk to Burns, Goslin did his best impression of the Sultan of Swat by belting a bullet, which, according to Regan, "scooted across [the field] on a terrific line that just skimmed the roof of the pavilion" before landing on Grand Boulevard to put the Browns up by seven runs, 12-5.6
Goslin's stature among AL sluggers of the 1920s and 1930s is often overlooked due to the prodigious exploits of Babe Ruth and Gehrig, as well as Philadelphia A's teammates Jimmie Foxx and Al Simmons. From 1924 to 1931, Goslin finished in the top seven in home runs every season, despite playing in Washington's Griffith Stadium, one of the largest in baseball. Goslin became just the third hitter in AL history to hit at least three home runs in a game three times, joining Ruth and Gehrig, whose record-setting four-home-run outburst against the A's three weeks earlier put him in exclusive company with four such games. Goslin was only the second St. Louis hitter, Cardinal or Brown, to whack three homers in a contest at Sportsman's Park, following Ken Williams's feat on April 22, 1922, against the White Sox.
Given Hadley's wildness (he'd go on to lead the majors with 171 walks) and the general ineptitude of the Browns staff (with its collective 5.01 ERA), the game was far from over despite the Browns' 12-5 lead. Hadley increased his walk total to 11 with free passes to Gehrig and Ruth to lead off the sixth and was yanked in favor of George Blaeholder. Victimized by six runs (five earned) in a two-inning start just two days earlier, Blaeholder fared no better in this game, retiring only two batters while yielding a two-run single to Lazzeri and an RBI double to pinch-hitter Sam Byrd. Combs's run-scoring single off the Browns third pitcher, Wally Hebert, made it 12-9.
McCarthy probably rued his decision to call on southpaw reliever Ed "Satchelfoot" Wells to start the sixth. On the positive side, the nine-year veteran retired three batters; however, he also surrendered three doubles, the latter two by Levey and Schulte, producing two more runs to push the Browns' lead to 14-9.
The game's scoring ended with Ruth's clout over the right-field pavilion, his 22nd of the season, to lead off the seventh. Goslin's attempt to join Gehrig as the second modern-day member of the four-home-run club failed in the seventh when he fanned.
The Yankees, concluding their 16-game Western swing and their 26th road game in their last 29 contests, were probably looking forward to the Pullman coaches on an overnight train back to New York. The Browns were probably sorry to see the Yankees leave town, a sentiment the club rarely harbored. Following the pitching duel between Lefty Gomez and Hebert in the first game, which featured just seven safeties (three by the Browns), the Browns offense exploded for 46 hits and 39 runs in the next three contests; true to their moniker, the Bombers pounded out 38 hits and scored 31 times.
Hadley's pitching line was a nightmare: a career-high 11 walks and seven runs (six earned) in just five innings, but he picked up the victory. Pipgras, charged with six runs in 1⅔ innings, took the loss.
Goslin finished the best four-game series of his career with 14 RBIs and four homers; he scored eight times. His seven RBIs in this game set a career high. He went on to hit 17 homers and drive in 104 runs, marking the eighth of 11 times he surpassed the century mark.
This article appears in "Sportsman's Park in St. Louis: Home of the Browns and Cardinals at Grand and Dodier" (SABR, 2017), edited by Gregory H. Wolf. Click here to read more articles from this book online.
Sources
In addition to the sources cited in the Notes, the author also accessed Retrosheet.org, Baseball-Reference.com, SABR.org, and The Sporting News archive via Paper of Record.
Notes
1 Charles "Kid" Regan, "Goslin's Homers Feature Browns Winning Stride," St. Louis Star and Times, June 24, 1932: 22.
2 Attendance estimate from William E. Brandt, "Goslin's 3 Homers Put Yankees to Rout," New York Times, June 24, 1932: 26.
3 Regan.
4 Ibid.
5 Play-by-play courtesy of James M. Gould, "Goslin Hits Three Home Runs; Two Are Made off Pipgras," St. Louis Post-Dispatch, June 23, 1932: 15.
6 Regan.
Additional Stats
St. Louis Browns 14
New York Yankees 10
---
Sportsman's Park
St. Louis, Mo
Box Score + PBP:
Corrections? Additions?
If you can help us improve this game story, contact us.
Tags
https://sabr.org/sites/default/files/Goslin_Goose.png
600
800
admin
/wp-content/uploads/2020/02/sabr_logo.png
admin
2018-11-07 12:50:45
2020-04-17 10:23:48
June 23, 1932: The Goose wallops three; Goslin's homers lift Browns over Yankees