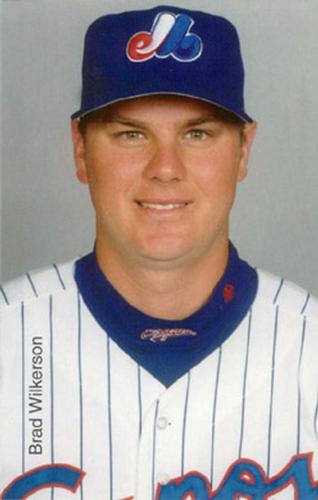 June 24, 2003: Expos' Brad Wilkerson rides 'le carousel'
---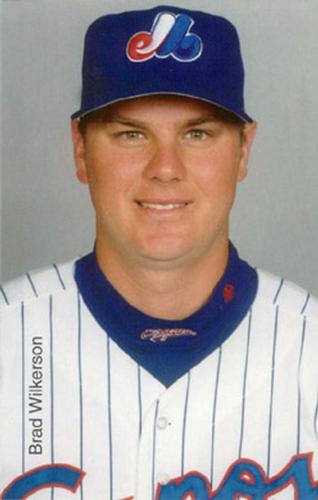 There was almost a poetic irony when the Montreal Expos moved to Washington in 2005 to become the Nats, because in the years prior to their departure, they were like gnats to the rest of the National League. They had this intangible way of irritating other teams, often being competitive when they shouldn't be and staying in division races despite having a payroll a fraction the size of their rivals. They finished second in the National League East in 2002 with an 83-79 record, albeit 19 games behind division champion Atlanta.
Major League Baseball decided to make things even more challenging for Montreal in 2003 by having them play 22 "home" games at Hiram Bithorn Stadium in San Juan, Puerto Rico. Despite the obstacles and ominous preseason predictions — Sports Illustrated had them finishing last in the National League East — the Expos nonetheless remained competitive early in the season. As of June 22, they held 42-34 record, a surmountable 7½ games behind division-leading Atlanta. Their success was due in part to the efforts of sparkplug players like Brad Wilkerson, who was entering his second full season after finishing second in Rookie of the Year voting in 2002 behind Colorado's Jason Jennings. Wilkerson showed no signs of a sophomore jinx — he was hitting .292 with 8 home runs and 37 RBIs in 64 games — as he prepared for a home game at Olympic Stadium on June 24 against Pittsburgh.
With June 24 being the St. Jean Baptiste holiday in Quebec, the 5,872 announced attendance at Olympic Stadium was disappointing. The few who were there saw Wilkerson become the fifth player in Expos history to hit for the cycle as Montreal defeated Pittsburgh 6-4.2
Pittsburgh went with Jeff D'Amico, 5-7 at the time, on his way to a 16-loss season, the most in the league. He had gone six innings for the win in his previous start, on June 18, as Pittsburgh defeated the Expos, 7-3, at PNC Park. Tomo Ohka (also 5-7) started for Montreal. He had won his last start, also at PNC Park, on June 19, going six frames in the Expos' 5-2 win.
Each team failed to score early on, as they both missed golden opportunities. The Pirates almost blew it open in the first when they loaded the bases with two out. Brian Giles singled, then Ohka walked Aramis Ramirez and hit Matt Stairs with a pitch. Reggie Sanders struck out swinging to end that threat.
The Expos' first opportunity came in the bottom of the second when both sides played by-the-book fundamental baseball. Wilkerson got his first hit on a flawlessly executed one-out bunt single to third; Ramirez, who was playing several steps off the line, could only wait patiently while the ball gently rolled to him before he picked it up and tossed it back to D'Amico. Wil Cordero followed with a double to left, but the Pirates played it perfectly when left fielder Giles threw it to the cutoff man, shortstop Jack Wilson, who relayed it to catcher Jason Kendall in time to nab Wilkerson.
Expos third-base coach Manny Acta gave Wilkerson the idea for the bunt when he noticed that Ramirez always played well back. "I was thinking about it my last at-bat Monday night, but we had a three-run lead so I saved it, Wilkerson said. "I saw the opportunity and took advantage of it."3
The next few innings were scoreless as Ohka and D'Amico traded zeroes on the scoreboard. Wilkerson didn't bat again until the fifth, but continued his ride on "le carousel" by bouncing a double off the right-field wall. Pittsburgh opened the scoring in the top of the sixth, when Kenny Lofton doubled and scored on a Kendall single. Montreal got that run back and more in the bottom of the frame thanks to Wilkerson and some bad fielding. Leadoff hitter Endy Chavez was safe at first on a throwing error by shortstop Wilson, but was forced at second on a fielder's choice by Edwards Guzman. One out later, Jose Vidro walked, prompting Pirates manager Lloyd McClendon to replace D'Amico with Joe Beimel just as Wilkerson was coming to the plate. Wilkerson tripled, scoring Guzman and Vidro. Cordero was walked intentionally to bring up Ron Calloway, who drove Wilkerson in with a double, giving the Expos a 3-1 lead. Beimel then walked Brian Schneider intentionally, and was removed from the game without getting anybody out. His ERA didn't take any more of a hit when new pitcher Salomon Torres struck out Jose Macias, who was pinch-hitting for Ohka.
Montreal built on its lead in the seventh. Torres got the first two batters out easily, but became a victim of destiny when Cabrera singled and scored on a Vidro double, which brought Wilkerson to the plate. Swinging on a 1-and-2 pitch, he drove the ball to straightaway center field; Lofton chased after it only half-heartedly because he knew it was gone. After much high-fiving when he returned to the dugout, Wilkerson acknowledged the fans' cheers with a curtain call.
"I wasn't thinking about hitting a home run," Wilkerson said. "It was in the back of my mind, I guess — I would be lying to you if I said otherwise, but I was just trying to get the head (of the bat) out and hopefully get a pitch that I could drive in the gap and get up in the air."4
But Pittsburgh wasn't going to give up without a fight. Julio Manon, who had replaced Ohka in the seventh, started the top of the eighth by giving up a Kendall double and walking Giles. After he got Ramirez to pop out to first, Manon's night was over and Joey Eischen came on to face Craig Wilson. The echo of the public-address system's announcing of Eischen's name had barely ended when he was sent to the showers after Wilson singled on a 1-0 pitch to score Kendall and send Giles to third. Dan Smith came on to face pinch-hitter Adam Hyzdu, who drove Giles home with a groundball to third, cutting Montreal's lead to 6-3 after 7½. Pittsburgh got one more run in the ninth when Kendall singled off Expos closer Rocky Biddle to score Carlos Rivera, who had doubled. That ended the scoring, and Biddle got his 21st save of the season.
Expos manager Frank Robinson was effusive in his praise for Wilkerson. "To get four hits, No. 1, is a good day. But to hit for the cycle — le carousel — I like that better," Robinson said. "That's just a tremendous achievement."5
McClendon, who was famous for his temper tantrums, was furious with his team because he felt that D'Amico pitched well enough to win. The manager who once literally stole first base from the ground during an argument with an umpire, stormed out of his office session with reporters, but not before sweeping all the papers off his desk in one fell swoop.
As for Wilkerson, he decided that he liked hitting for the cycle so much that he did it again in the Nationals' second-ever game on April 6, 2005, a 7-3 win over Philadelphia.
This article appeared in "Au jeu/Play Ball: The 50 Greatest Games in the History of the Montreal Expos" (SABR, 2016), edited by Norm King. To read more articles from this book, click here.

Sources
In addition to the sources listed in the notes, the author consulted:
Sports Illustrated.
Ballparks.com.
Baseball-reference.com.
Mlb.com.
Network.suntimes.com.
Box scores for this game can be found on baseball-reference.com, and retrosheet.org at:
http://www.baseball-reference.com/boxes/MON/MON200306240.shtml
http://www.retrosheet.org/boxesetc/2003/B06240MON2003.htm
Notes
Additional Stats
Montreal Expos 6
Pittsburgh Pirates 4
---
Olympic Stadium
Montreal, QC
Box Score + PBP:
Corrections? Additions?
If you can help us improve this game story, contact us.
Tags
https://sabr.org/sites/default/files/WilkersonBrad.jpg
600
800
admin
/wp-content/uploads/2020/02/sabr_logo.png
admin
2017-11-14 15:17:09
2020-04-17 10:25:00
June 24, 2003: Expos' Brad Wilkerson rides 'le carousel'