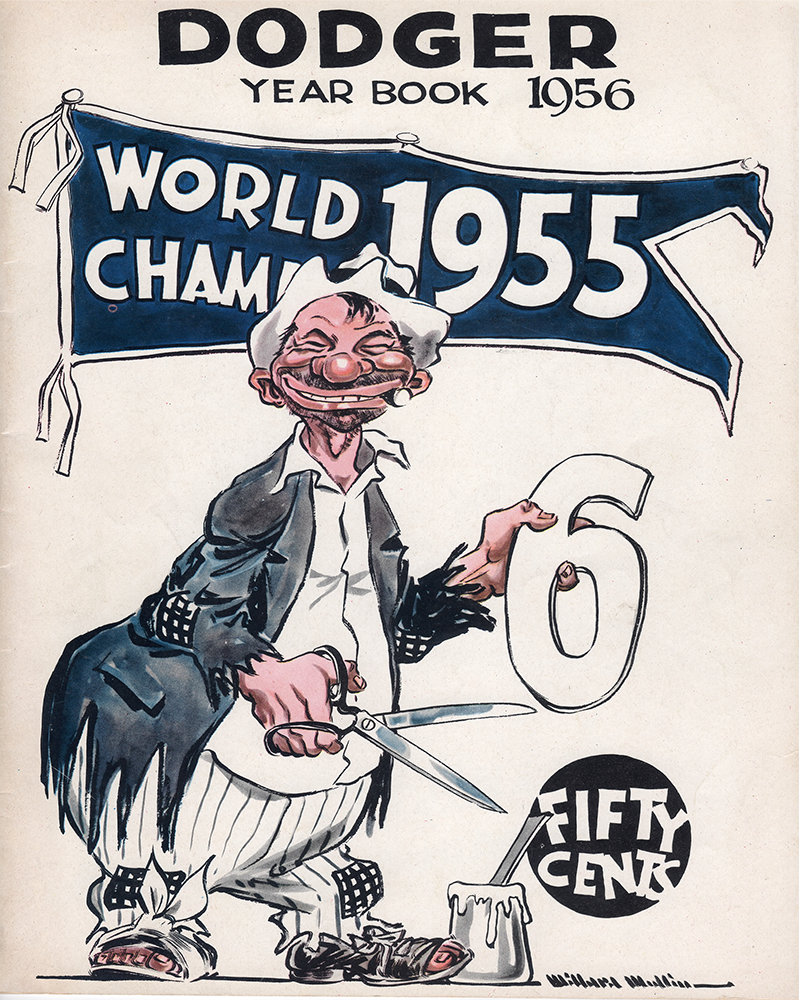 June 26, 1956: Sal Maglie pitches, Rube Walker hits Dodgers past Cubs
---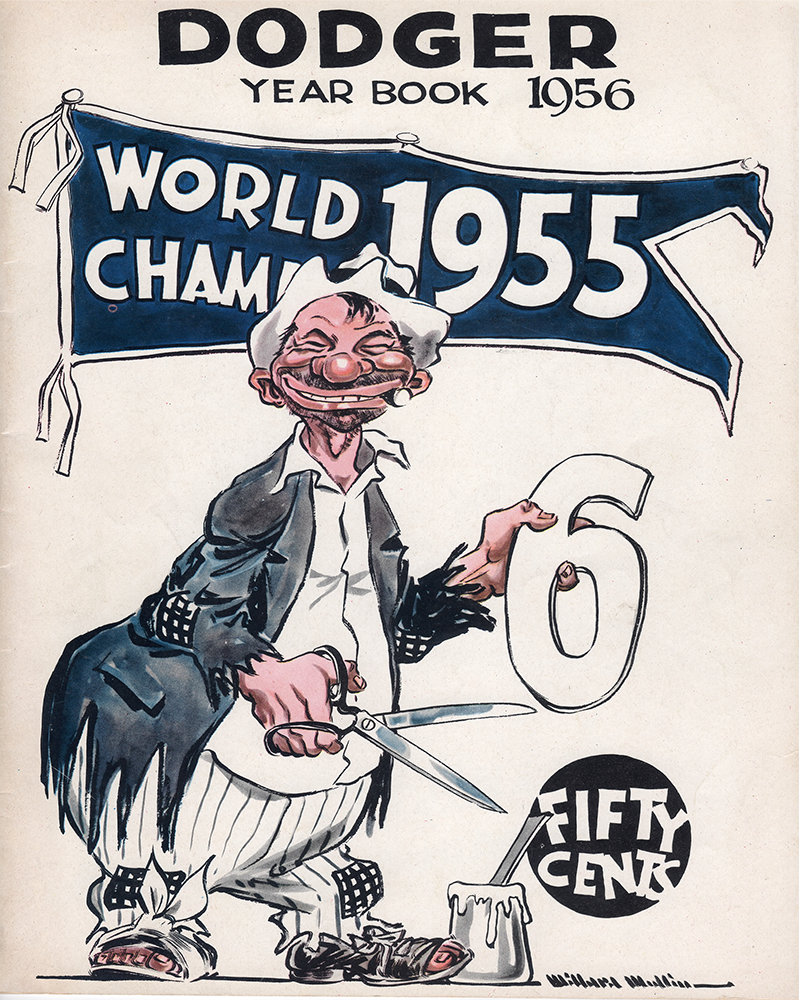 Wait 'til Next Year? The cry became a euphemism for a baseball season gone awry and nowhere did it receive greater play than in the 1940s and 1950s with the Brooklyn Dodgers and their long-suffering fans.1 The 1955 World Series title meant that next year was finally here. All the suffering was relegated to the past. They were the world champions, Brooklyn's first. The Willard Mullin cartoon on the cover of the 1956 Dodger Yearbook spoke volumes and the pages and photographs inside continued the celebration.
The atmosphere around the batting cage on Opening Day 1956 was loose in anticipation of the ceremony raising the world championship flag at Ebbets Field. As batting-practice balls flew onto Bedford Avenue or into the stands, Roy Campanella cautioned his teammates. "Don't mean a thing. The worst year I ever had I hit two home runs on Opening Day. Off Sal Maglie, too. Hey, whatever happened to Maglie? How's he doin'? Brother, there was a real good pitcher."2 Astoundingly, Campanella and Maglie would soon become teammates.
In late April the Dodgers hosted the Cleveland Indians in an exhibition game at Roosevelt Stadium in Jersey City, New Jersey. It was a chance for local baseball fans to see Bob Feller pitch in his last major-league season and for Maglie to feast on his former prey. In July 1955 Maglie had been claimed on waivers by the Indians from the New York Giants. There was no sadness in Brooklyn. He loved the mound at Ebbets Field, an 11-3 record as a Giants hurler from 1950-1955. On this night in Jersey City, Maglie pitched in relief, retiring the last eight Dodgers to record the 1-0 win.3 But wait! Former Dodgers nemesis Maglie was traded to the Dodgers two weeks later!
SABR's Maglie biographer Judith Testa was emphatic: "In what may be the greatest bargain in baseball history, the Dodgers' astute general manager Buzzie Bavasi out-bargained the Indians' Hank Greenberg and obtained Maglie for a mere $100." 4 The New York Times speculated that "the chances are he'll get more work, in relief or as a possible spot starter, with the Dodgers."5 The 1956 season would play out and prove one to be right and one to be wrong.
As the Dodgers readied for this Tuesday night game in late June, it was evident that the road to the World Series would be tougher than in 1955. After 60 games (33-27) they stood 3½ games behind the first-place Milwaukee Braves. One year earlier, they had held a 45-15 record, 11½ games ahead of the Cubs.
The gamesmanship between Cubs manager Stan Hack and Dodgers manager Walter Alston started with the penning of the starting lineups.6 Hack took note of how Reds southpaw Joe Nuxhall had easily handled the Dodgers two days earlier, so he called on Jim Davis (2-1, 4.26), a knuckleballing left-hander, to make his first start of the year. Alston countered with Maglie (1-1, 4.39 ERA) pitching and an all right-handed-hitting lineup with one exception, light-hitting Rube Walker, catching in place of Campanella, who still had a swollen thumb. Not only that, Carl Furillo wasn't patrolling in front of the right-field wall. He was in center field. Gil Hodges wasn't around the bag at first base. He was in left field. Jim Gilliam wasn't at second base or left field. He was making his season's debut in right field, etc. etc.
The Dodgers jumped out to a lead in the first inning on Jackie Robinson's solo home run. They added two runs in the second when Carl Furillo doubled to left and advanced to third base on a passed ball. After Charlie Neal walked, Walker, batting.190, legged out a triple to right, his first three-bagger since 1950, and the Dodgers led 3-0. It must have been quite the sight since Walker had stolen only the first base of his career the previous year after eight seasons in the majors.
Meanwhile, Maglie sailed through the first two innings, but faltered a bit in the next two. In the third inning, Don Hoak singled to left and Davis attempted a sacrifice bunt, reaching first on a fielder's choice. With two outs, Gene Baker homered on Maglie's first pitch to tie the score. In the fourth inning, Walt Moryn hit a solo home run for a 4-3 Cubs lead.
When Davis retired the Dodgers in order in the fourth inning, was his manager mindful that he had now pitched longer than at any other time this season? Regardless, Jackie Robinson tied the score with another solo home run in the fifth inning. Maglie steadied and Rube Walker came to bat in the sixth inning with one out and Furillo on first base after a single to center. The game turned. Walker promptly hit Davis's first pitch onto Bedford Avenue for his first home run of the season and a 6-4 Dodgers lead. He now had two extra-base hits in one game. Only one mere double in May stood out in his batting line for the season.
Vito Valentinetti replaced Davis on the mound in the seventh inning and the Dodgers bats responded. Duke Snider walked, stole second, and advanced to third on a fly-ball out. Successive singles by Hodges, Furillo, and Neal scored two more runs and Valentinetti was done for the night.
Cubs reliever Jim Hughes, a former Dodger, came in to face Walker.7 It was a repeat performance by Walker and quite a night for the well-respected backup catcher. He doubled to right field, again on the very first pitch, scoring both Furillo and Neal for a 10-4 lead. Walker now had a three-hit game for only the sixth time in his career, and his six RBIs doubled his season total to 12.
Maglie yielded the final Cubs run in the eighth inning. With one out, Ernie Banks singled and Moryn doubled him to third. Monte Irvin, Maglie's former Giants teammate, grounded out to second, scoring Banks for the game's final run in a 10-5 Dodgers victory. John Drebinger, the New York Times writer, noted that there were some rough spots for Maglie, but that he won his first game on the Ebbets Field mound as a Dodger.8 It was clear after the 132-pitch effort that Maglie was going to be a starting pitcher for the remainder of the season and he would have to be a good one if the Dodgers were to return to the World Series. He was!
When the calendar turned to September, the Dodgers were in second place, trailing the Milwaukee Braves by 2½ games. The 39-year-old Maglie turned back the clock to his prime and won six of seven starts with a 1.77 ERA. The Dodgers won four of their last five games, including Maglie's no-hitter against the Philadelphia Phillies, to edge the Braves by one game. Maglie finished the season with a 13-5 record. Indeed, Sal Maglie was not only a bargain, but a pitcher who won over the hearts of Dodgers fans. Players and fans alike wanted another shot at the Yankees in the World Series and they got it.
Author's note
I may very well have watched this game on WOR-TV Channel 9. If I did, then it was a "doubleheader." Each televised Brooklyn Dodgers game was preceded by a not-to-be-missed pregame show. On this night, Happy Felton's Knothole Gang9 featured Jackie Robinson answering questions and conducting a workout for three little leaguers, before he selected a winner. The previous night's winner had selected Pee Wee Reese for a solo chat and as the show concluded, Pee Wee took him into the dugout to meet other players. Definitely must-see television!
On a sweltering night in June 1952, my father took me to see Sal Maglie shut out the Dodgers on a three-hitter at the Polo Grounds. That game essay provides another profile and perspective on Sal Maglie at a time when he was on the other side of the intense Giants-Dodgers rivalry.10
Sources
The author accessed Baseball-Reference.com for box scores/play-by-play information (baseball-reference.com/boxes/BRO/BRO195606260.shtml) and other data, as well as Retrosheet.org (retrosheet.org/boxesetc/1956/B06260BRO1956.htm). The 1956 Dodger Yearbook, purchased at Ebbets Field in 1956, remains a kid's prized possession to this very day.
Notes
1 Paul Dickson, The Dickson Baseball Dictionary, 3rd Edition (New York: W.W. Norton & Company, 2009), 918. "A Willard Mullin cartoon (New York World-Telegram, August 9, 1939) depicted a character in a Dodgers uniform claiming that his theme song was 'Wait 'Till Next Year: A Torch Ballad in One Flat' with words and music by The Dodgers."
2 Arthur Daley, "Sports of the Times: Overheard at Ebbets Field," New York Times, April 18, 1956: 37. On Opening Day at the Polo Grounds, April 13, 1954, Roy Campanella hit two home runs off Maglie, who beat the Dodgers 4-3. In 1954 Campanella batted .207. In 1951, 1953, and 1955, he was named the National League's Most Valuable Player.
3 Roscoe McGowen, "Dodgers Lose , 1-0, to Indians in 10th," New York Times, May 1, 1956: 38.
4 Judith Testa, "Sal Maglie," in Bill Nowlin, C. Paul Rogers III, ed., The Team That Time Won't Forget: The 1951 New York Giants (SABR, 2015), 115. (Available at sabr.org/bioproj/person/01534b91 as part of the SABR Baseball Biography Project).
5 "Maglie, Ex-Nemesis of Dodgers, Bought by Brooks from Indians," New York Times, May 16, 1956: 41.
6 John Drebinger, "Dodgers, Behind Maglie, Rout Cubs; 3 Hits by Walker Pace 10-5 Verdict," New York Times, June 27, 1956: 37.
7 The player transactions between the Dodgers and the Cubs in the 1950s were so numerous that in any given box score of a Dodgers-Cubs game, you always seemed to find recognizable names of former players for one team or the other. Ironically, Jim Hughes was purchased by the Cubs from the Dodgers on the same day as Sal Maglie was traded by the Indians to the Dodgers. The box score for this game identifies Eddie Miksis, Walt Moryn, Don Hoak, Jim Hughes, Randy Jackson, Frank Kellert and Rube Walker as having played for both teams during their careers.
8 Drebinger.
9 Happy Felton's Knot-Hole Gang is also discussed and a video for the June 26, 1956, show is provided (youtube.com/watch?v=KsQuqhWhm8o) in another essay (Steven C. Weiner, "May 21, 1952: Dodgers rout Reds with 15-run first inning," SABR Baseball Games Project).
10 Steven C. Weiner, "June 26, 1952: Giants' Sal Maglie stops the Dodgers with three-hit shutout," SABR Baseball Games Project.
Additional Stats
Brooklyn Dodgers 10
Chicago Cubs 5
---
Ebbets Field
Brooklyn, NY
Box Score + PBP:
Corrections? Additions?
If you can help us improve this game story, contact us.
Tags
https://sabr.org/sites/default/files/1956-Dodgers-yearbook.png
600
800
admin
/wp-content/uploads/2020/02/sabr_logo.png
admin
2020-05-21 19:51:49
2020-05-28 15:24:16
June 26, 1956: Sal Maglie pitches, Rube Walker hits Dodgers past Cubs