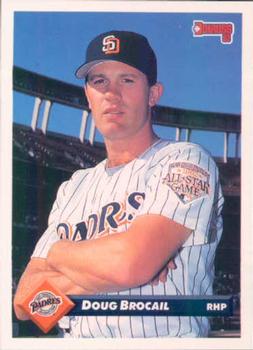 June 26, 1993: Rookie Doug Brocail, Padres foil Rijo, Reds in shutout
---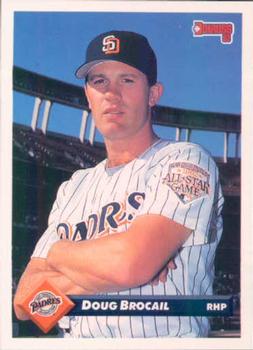 The San Diego Padres hosted the Cincinnati Reds in a National League West Division game two weeks before the 1993 All-Star Break. Geoff Hobson of the Cincinnati Enquirer characterized the contest with, "Jose Rijo can't catch a break, Barry Larkin can't catch a ball out of his time zone, and the Reds still can't catch fire."1 Rijo, Cincinnati's ace and workhorse,2 came into the game with 93 strikeouts, two shy of the National League lead. He was in search of his first victory since May 22, when he pitched eight innings enroute to a 6-2 win over the San Francisco Giants. But that was seven starts ago. For the Padres, manager Jim Riggleman penciled rookie Doug Brocail in as his starter. Brocail, San Diego's first-round draft pick (12th pick overall) in the 1986 free-agent draft, was making just his sixth start of the season. He had joined the San Diego rotation for a June 1st start against the Atlanta Braves, when he pitched six innings and earned a 2-1 win. Since then, though, the right-hander had dropped his next three decisions.
Neither team was making a move in the standings. The sixth-place Padres (28-45) had returned to Jack Murphy Stadium for a four-game series against the Reds, following a 3-6 road trip. They then lost the first two games of this series (this would be Game Three). Meanwhile, the fifth-place Reds (35-39) had won three of their last four but were still 15 games out of first place in the division. A moderate crowd of 26,471 turned out for the game.
Both teams were retired in order in the first, but in the next frame, Reggie Sanders and Jeff Branson each singled to center with two outs, giving Cincinnati a mini rally. However, Brocail snared a grounder to his left by Joe Oliver and made the easy toss to first for the third out.
Kevin Higgins broke up Rijo's no-hitter in the bottom of the third with a leadoff single past second base, but his teammates left him stranded. Cincinnati's Chris Sabo reached on an infield single to deep short in the top of the fourth, but the Reds did not capitalize and the game remained scoreless.
Then, the Reds "got off on the shaky foot in the bottom of the fourth."3 Rijo retired the first two batters and seemed to have a 1-2-3 inning when Derek Bell hit a grounder to Larkin at short. The ball popped out of Larkin's backhand and Bell was safe. This was the Reds' All-Star shortstop's sixth error in his last six games (all on the current road trip, making them all "out of his time zone"4) and his 12th error of the season. That brought Phil Plantier to the plate. On the first pitch, Bell stole second base. With the count 2-2, Plantier sliced a liner right at Bip Roberts, who was playing left field for the first time this season. The second baseman-turned-outfielder hesitated, charged, and then tried to make a sliding catch, but the ball sailed over his glove to the wall. Plantier raced all the way to third while Bell scored the first run of the game.
From then on, both Brocail and Rijo appeared to be in command over the batters, each yielding just a single in the sixth inning. Rijo was striking batters out, and Brocail's pitch count was low. He only threw five pitches in the fifth, 10 in the sixth, and seven in the seventh. When Brocail struck out Branson looking to end the seventh, it marked the first time in his big-league career that he had pitched seven innings. Through the first seven innings (21 outs), Brocail and Rijo had each faced 25 batters, but the Padres still held the 1-0 advantage.
In the top of the eighth, Oliver grounded out to Padres third baseman Archi Cianfrocco, and then Cincy skipper Davey Johnson inserted Gary Varsho as a pinch-hitter for Rijo. Varsho grounded out and Roberts popped out to the shortstop Ricky Gutierrez to end the inning. Rijo complained a bit after the game, saying, "I don't know why he took me out. We were down anyway. Maybe I could have gotten a couple more strikeouts and the complete game."5
Still down by a run, Johnson brought in Steve Foster, a right-hander, to pitch. This was Foster's third year as a major leaguer, and this turned out to be the final game of his career. After striking out Bill Bean, Foster gave up a single to Kurt Stillwell, who was pinch-hitting for Brocail. Jeff Gardner rolled a slow grounder to third, advancing Bean to second on the out. Stillwell then moved up to third on an infield single by Gutierrez. That brought up Tony Gwynn, the only member of the Padres to earn a trip to the 1993 All-Star Game in Baltimore. Gwynn was making his first start since June 12, when a calf strain hobbled him. He worked the count to 3-1 and then stroked an RBI single through the hole between first and second base, driving home Gutierrez. Foster struck out Bell on three straight pitches to end the inning, but San Diego now had a 2-0 advantage with the insurance run.
Brocail, who, according to the Cincinnati Enquirer was "a no-name pitcher,"6 shut out the Reds on four hits (all singles) through eight innings. Gene Harris (with his 1.63 earned run average) pitched the ninth, earning his 12th save. Larkin singled but Harris then retired the next three Reds batter to end the game. With a bit of sarcasm, Geoff Hobson wrote that Brocail's "only claim to fame before Saturday night was that in one three-game stretch he had allowed homers to his pitching opponents."7 In this game against the Reds, though, he was masterful, striking out four and not allowing a base on balls.
For Cincinnati, Rijo took the loss (his third of the season), despite holding the Padres hitters to a mere three hits and not allowing an earned run over his seven innings on the mound. After the game, he said, "I don't think I can pitch any better."8 He had struck out seven and extended his streak of not walking a batter to 29-2/3 innings. Manager Davey Johnson told reporters, "It's pretty tough to win when you only get five hits. We had never seen this guy before and he threw strikes. Fastball, curve, slider, … he just beat us."9 The Padres victory ended a "string of nine consecutive losses to the Cincinnati Reds."10 The game lasted just over two hours, as there were only 11 total hits (and no walks).
Postscript
The morning after this game, in addition to their usual recounts of games, sports pages across America also noted that Hall of Famer Roy Campanella, the former Brooklyn Dodgers catcher who slugged 242 home runs in his 10-year career, died on June 26, 1993, of a heart attack. The "sixth acknowledged black player to appear in the major leagues in the 20th century,"11 he was 71 years old.
Sources
In addition to the sources mentioned in the Notes, the author consulted baseball-reference.com, sabr.org and retrosheet.org.
https://www.baseball-reference.com/boxes/SDN/SDN199306260.shtml
https://www.retrosheet.org/boxesetc/1993/B06260SDN1993.htm
Notes
1 Geoff Hobson, "Rijo, Reds foiled again, 2-0," Cincinnati Enquirer, June 27, 1993: 27.
2 Rijo led the Reds in 1993 in innings pitched (257-1/3) and games started (36, which also led the league). He also led the team in wins (14) and earned run average for starters (2.48). Rijo finished the season with a league-best 227 strikeouts.
3 Hobson.
4 Ibid.
5 Ibid.
6 Ibid.
7 Ibid. On June 6, Florida's Chris Hammond tagged Brocail for his first home run off the season. On June 11, L.A.'s Kevin Gross hit his first homer of the season off of Brocail, and on June 16, Houston's Mark Portugal connected off of Brocail for his first round-tripper of the season.
8 Ibid.
9 Ibid.
10 "Padres 2, Reds 0," Courier-News (Bridgewater, NJ), June 27, 1993: 24.
11 Rick Swaine, "Roy Campanella," sabr.org/bioproj/person/a52ccbb5. Accessed June 2019.
Additional Stats
San Diego Padres 2
Cincinnati Reds 0
---
Jack Murphy Stadium
San Diego, CA
Box Score + PBP:
Corrections? Additions?
If you can help us improve this game story, contact us.
Tags
https://sabr.org/sites/default/files/BrocailDoug.jpg
600
800
admin
/wp-content/uploads/2020/02/sabr_logo.png
admin
2019-10-03 18:05:01
2020-04-17 10:22:30
June 26, 1993: Rookie Doug Brocail, Padres foil Rijo, Reds in shutout