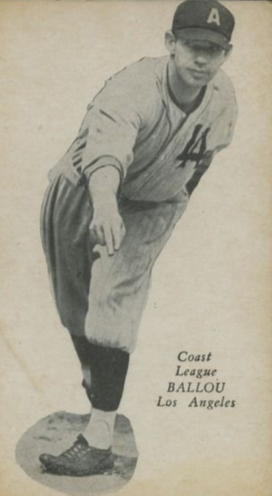 June 27, 1933: L.A. Angels overcome Joe DiMaggio's home run; Win Ballou earns win
---
N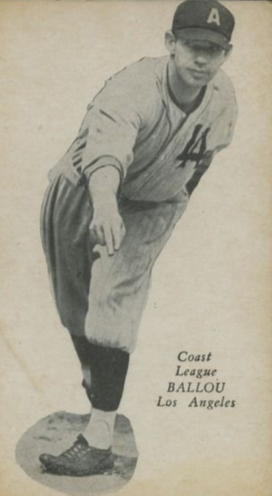 oble Winfred "Win" Ballou (pronounced buh-LOO) was "one of the most colorful pitchers in the history of the Pacific Coast League, or any other league."1 The man who called himself "Old Pard" was born in Mount Morgan, Kentucky. "It doesn't exist anymore," he said. "You see, the mine closed down … and a big wind came along one night, and there wasn't any more Mount Morgan. Ain't it a shame to be born in a city that you can't even find on the map."2
Ballou's best pitch was a curveball that he called a downer. "I could heave that downer of mine around the barn and hit the cow on the other side," 3 he said. He also threw a spitball and an emery ball. For the latter, he would roughen the surface of the ball using a concealed piece of sandpaper, a bottle cap, or "an inch long segment from the business side of a nutmeg grater."4
In the afternoon of Tuesday, June 27, 1933, Ballou was called on to pitch in relief for the Los Angeles Angels in the first game of a series against the San Francisco Seals at Wrigley Field in Los Angeles. The Angels, managed by Jack Lelivelt, were in fourth place in the eight-team PCL, and the Seals, led by Ike Caveney, were in the cellar. The starting pitchers that day were Bobo Newsom for the Angels and Curt Davis for the Seals.
Newsom was ineffective. Jerry Donovan led off the game for the Seals and drew a walk. Elias Funk singled to left field, and Joe DiMaggio, an 18-year-old phenom, belted a three-run homer over the screen in right field. The home run extended DiMaggio's hitting streak to 31 games. (DiMaggio would hit safely in 30 more games, in a remarkable 61-game hitting streak.) Then, after walking Augie Galan and yielding a single by Art Garibaldi, Newsom was removed from the game and replaced by Ballou. "Old Pard" put out the fire, getting Leo Ostenberg to hit into a double play and retiring John Fenton on a groundout.
The Angels scored twice in the bottom of the first inning. Jigger Statz led off with a single, advanced to third base on Jimmie Reese's single, and scored on a passed ball that got away from Seals catcher John Bottarini. Reese came home on a single by Jim Oglesby.
In the bottom of the fourth, the Angels launched a rally. After singles by Marv Gudat and Gene Lillard, Carl Dittmar got aboard and Gudat scored when Galan, the Seals' 21-year-old shortstop, misplayed Dittmar's grounder. Lillard then scored when Hugh McMullen stroked a ground-rule double that bounced into the right-field box seats.
Ballou stepped to the plate to face Davis with McMullen on second base and Dittmar on third. To say that Ballou was a weak hitter would be an understatement. While in the major leagues from 1925 to 1929, he had five hits in 93 at-bats for a .054 batting average, and he struck out 36 times in those 93 at-bats. For the Angels in 1932, he managed only seven hits in 102 at-bats for a .069 average. But on this occasion, Ballou surprised everyone with a sharp single to center field, scoring McMullen and Dittmar, and giving the Angels a 6-3 lead. A dejected Davis left the game and was replaced by a 19-year-old pitcher, Lee Stine, who was able to stop the rally.
The San Francisco bats were silenced by Ballou's clever deliveries for six innings but came alive in the top of the seventh. Ostenberg's drive bounced off the top of the center-field fence and went over for a solo home run, and Bottarini reached base on an error and scored on Donovan's double to center field. The Los Angeles lead was cut to 6-5.
In the bottom of the seventh, Gudat drew a walk from Stine, moved to second base on a wild pitch, and scampered home on a single by Oglesby. After Stine picked Oglesby off first, Lillard, Dittmar, and McMullen loaded the bases, and Ballou came to the plate with a chance to knock in more runs. But, in his true form, he struck out to end the inning.
Galan slugged a solo home run off Ballou in the eighth inning, and the Seals again trailed by one run. But Ballou held firm. After getting two outs in the ninth inning, he gave up a single to Donovan, but catcher Bill Cronin threw Donovan out attempting to steal second base and the game was over. The final score was Angels 7, Seals 6. Davis was charged with the loss, and Ballou earned the win.
Sources
Ray, Bob. "Seals Drop Opener to Angels," Los Angeles Times, June 28, 1933: 9, 11.
Notes
1 "'Old Pard' Ballou Is Dead at 63," San Francisco Examiner, January 30, 1963: 49.
2 Abe Kemp, "Pard's Home Town Ain't No More!" San Francisco Examiner, June 16, 1938: 27.
3 Abe Kemp, "Old Pard Ballou Prepares to Fool 'Em for 19th Season," San Francisco Examiner, February 26, 1938: 21.
4 Prescott Sullivan, "The Low Down," San Francisco Examiner, June 21, 1959: 48.
Additional Stats
Los Angeles Angels 7
San Francisco Seals 6
---
Wrigley Field
Los Angeles, CA
Corrections? Additions?
If you can help us improve this game story, contact us.
Tags
https://sabr.org/sites/default/files/Rice.png
600
800
admin
/wp-content/uploads/2020/02/sabr_logo.png
admin
2018-10-23 12:17:17
2020-04-17 10:23:51
June 27, 1933: L.A. Angels overcome Joe DiMaggio's home run; Win Ballou earns win