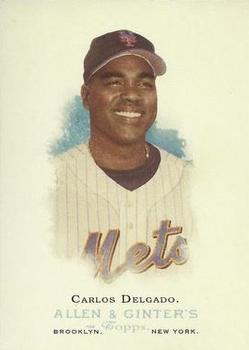 June 27, 2008: Carlos Delgado sets Mets record with 9 RBIs in opener at Yankee Stadium
---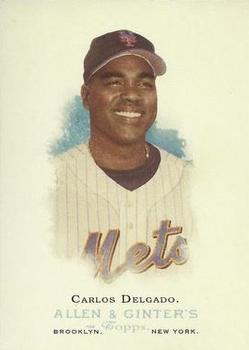 The Mets and Yankees woke up on Friday morning and readied themselves for a day of traveling. They would be playing an unusual day-night doubleheader scheduled since the May 16th game at Yankee Stadium was rained out. The first game would be played in the afternoon at Yankee Stadium and the second in the evening at Shea Stadium.
The Mets dressed in their road grays at Shea before boarding a bus for a police escort across two boroughs for their rendezvous with the Yankees. The orange-and-blue had beaten the men in pinstripes in their first meeting that season, winning two games at Yankee Stadium in May.
Right-hander Dan Giese took the mound for the Yankees. He was called up in June after spending the first two months with the Triple-A Scranton-Wilkes Barre Yankees. Giese struggled in his four starts since the call-up. He pitched a little more than three innings in those four starts and brought a 1-2 record into the game.
The Mets wasted no time in scoring off Giese. After striking out leadoff batter Jose Reyes, Giese walked Luis Castillo, who stole second before David Wright singled to bring him home with the first Mets run.
Mike Pelfrey started for the Mets. After winning his first two starts of the season, he lost six in a row. But he started to turn his season around in June and had won his previous two starts, including a three-hit outing against the Rockies five days earlier.
After striking out the first two Yankees he faced, Pelfrey walked Bobby Abreu and gave up a bloop single to Alex Rodriguez that landed on the grass just beyond second baseman Luis Castillo's grasp. With Abreu on third, Jason Giambi hit a single down the left-field line that tied the game, 1-1.
Giese walked a runner and gave up another single that put runners in scoring position in the second but was able to get out of trouble. In the third, Castillo led off with a single and reached second when he got his second steal of the game.
Castillo had been slowed by leg problems but that didn't stop him this afternoon. "We played an aggressive game. The pitcher gave us chances to steal and that's why we played like that," Castillo said afterward.1 He scored when Carlos Beltran blasted a home run over the right-field fence, giving the Mets a 3-1 lead.
The cheers of the numerous Mets fans who filled the Yankee Stadium seats did not last long. The Yankees jumped on Pelfrey in their half of the third inning. Derek Jeter led off with a double and came home on Rodriguez's second single of the game. Pelfrey then walked Giambi. When Jorge Posada followed with another single, the bases were loaded. Rodriguez scored when Robinson Cano hit on a weak groundball to the shortstop for a force out at second.
One pitch later, Giambi scored when Wilson Betemit beat out a weak grounder down the third-base line. By the time Pelfrey struck out Justin Christian to end the inning, the Yankees had pulled ahead, 4-3.
Giese got the Mets out in order in the fourth but things fell apart for him in the fifth. He walked Reyes, who stole second four pitches later. Giese then walked Castillo and gave up a single to Wright to load the bases.
Yankees manager Joe Girardi removed Giese. It was another disappointing performance for Giese, who said later, "You've got to step up, and I didn't do that. I just pitched very poorly. I'm very embarrassed."2
Girardi brought in right-hander Edwar Ramirez to face the switch-hitting Beltran. When Beltran grounded into a force at second, Reyes scored to tie the game. After taking two balls, Carlos Delgado doubled down the right-field line to bring home two more Mets runs. It was his first RBI since June 20, when he had two against the Rockies a 7-2 Mets win.
Delgado had struggled at the plate over the past week, hitting just 2-for-22. "You come in here, you understand how big the Yankees and the Mets series are. You want to contribute. You want to come in, especially with guys in scoring position, you want to come up with a big hit," he said afterward.3 Delgado's timely hit not only broke him out of his slump but gave the Mets the lead.
Ramirez quickly got himself in trouble the following inning. Brian Schneider singled and Ramirez walked Reyes. When Castillo hit a groundball back to the pitcher, Ramirez's only play was to second, leaving runners at the corners. Girardi called in Ross Ohlendorf from the bullpen.
Ohlendorf immediately surrendered a single to Wright that scored Schneider. Then he walked Beltran with the count full to load the bases. Ohlendorf quickly got behind in the count, 2-and-0, to Delgado. Girardi made a trip to the mound to settle down his pitcher. Ohlendorf said his manager told him to "relax and think about hitting the catcher's mitt."4 Ohlendorf threw another ball but his next pitch went right down the middle. Delgado took the strike and banged it over the center-field wall and into the bleachers for a grand slam. It brought his RBI total for the game to six and gave the Mets an 11-4 lead.
The grand slam was the 12th of Delgado's career. It his 443rd career home run, moving him past Dave Kingman into 34th place on the all-time list. "I got lucky," he said after the game. "Every time I came up, it seemed like we had a lot of men on base. I got some good pitches and was able to drive them."5
Pedro Feliciano took over for Pelfrey in the sixth and gave up a solo home run to Rodriguez. The Mets still remained ahead 11-5.
Ohlendorf set the Mets down in order in the seventh but got himself in trouble in the eighth when he gave up three consecutive singles to start the inning. LaTroy Hawkins was quickly brought in to try to stop the Mets from adding to their lead. After getting Beltran to ground into a force out, Delgado stepped to the plate and hit Hawkins' first pitch over the right-field wall. The Mets now had an almost insurmountable lead, 15-5.
The double brought Delgado's RBI total for the game to nine, the most by any Mets batter in their history. The previous mark was eight, set by Dave Kingman in 1976. In that game, he also hit three home runs as the Mets beat the Dodgers, 11-0.
All Delgado could say afterward was, "What can I tell you? I came in here pretty pumped up about this series and had a good game."6 Jerry Manuel, his manager, was much more emphatic: "To have this type of game on this type of stage is very impressive."7
The Yankees made a final attempt to win the game in the ninth. With Carlos Muniz on the mound for the Mets, Betemit doubled. He scored when pinch-hitter Johnny Damon singled. But it was not enough as Muniz got the next two batters to hit easy fly balls for the final two outs.
Girardi said he thought the Yankees had a chance early in the game but Delgado erased those chances. "I felt if we held them we had a chance to come back, but Delgado killed us today."8 Delgado came out of his slump in a big way as he led the Mets to a third consecutive victory against their crosstown rivals. In the process, he had turned the recent jeers by the Mets faithful into cheers.
Sources
In addition to the sources cited in the Notes, the author used Baseball-Reference.com and Retrosheet.org for box-score, player, team, and season information as well as pitching and batting game logs, and other pertinent material.
baseball-reference.com/boxes/NYA/NYA200806271.shtml.
retrosheet.org/boxesetc/2008/B06271NYA2008.htm.
Notes
1 Tyler Kepner, "Yankees and Mets' Two Games Are Miles Apart," New York Times, June 28, 2008.
2 Ibid.
3 Ibid.
4 George A. King, "Mets Maul Yankees, 15-6," New York Post, June 27, 2008.
5 Ibid.
6 Ibid.
7 "Delgado's nine RBIs a club record as Mets embarrass Yankees," ESPN.com, June 28, 2008.
8 King.
Additional Stats
New York Mets 15
New York Yankees 6
Game 1, DH
---
Yankee Stadium
New York, NY
Box Score + PBP:
Corrections? Additions?
If you can help us improve this game story, contact us.
Tags
https://sabr.org/sites/default/files/Delgado-Carlos-2006.jpg
600
800
admin
/wp-content/uploads/2020/02/sabr_logo.png
admin
2018-10-31 12:55:44
2020-04-17 10:23:49
June 27, 2008: Carlos Delgado sets Mets record with 9 RBIs in opener at Yankee Stadium