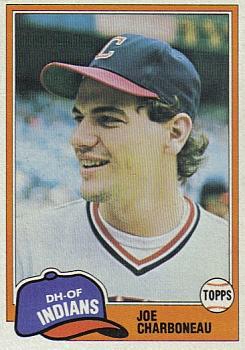 June 28, 1980: Legend of 'Super Joe' Charboneau launches at Yankee Stadium
---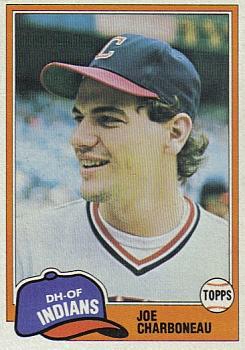 The legendary exploits of major-league baseball players are a primary component of the game's enduring appeal. Fans fondly recall now-mythical figures like Babe Ruth, Lou Gehrig, Ted Williams, and Hank Aaron, all of whom had extraordinary careers. They also remember players like Bobby Thomson, Bill Mazeroski, and Joe Carter, whose reputations were cemented by memorable moments in the postseason. However, while everyone is still familiar with a moniker like "Joltin' Joe" DiMaggio, far fewer fans can recollect lesser "legends," like the Cleveland Indians' "Super Joe" Charboneau, who quickly disappeared from the major-league stage.
Charboneau won the 1980 AL Rookie of the Year award after batting .289 with 23 home runs and 87 RBIs. His meteoric rise to fame began when he homered in his second major-league at-bat, against the California Angels on April 11, 1980. Soon, his star exploded into a fan club, posters, national TV appearances, and a "Super Joe" biography written by two Cleveland sportswriters about which Charboneau later confessed, "a lot of the stories are only minimally true, some are greatly exaggerated, and others were never true to begin with."1
In Cleveland it was true that "Not since the Rock – Rocky Colavito to the outside world – has a baseball player captivated the city as Charboneau has."2 As the 1980 season progressed, he even became the subject of a song, "Go Joe Charboneau," recorded by Section 36, a group so named because it was composed of fans who attended Indians games in Section 36 of Cleveland's Municipal Stadium. Though the tune has been described as having a sound "somewhere between a tribal chant and the groan of someone with a stubbed toe,"3 it rose to Number 3 on Cleveland's rock charts in 1980.
All the fuss about Charboneau might have seemed a bit much to the rest of the nation until a game between the Indians and the New York Yankees on June 28. Charboneau used the grand stage of New York City to demonstrate why there was such commotion surrounding him as he accomplished something that only two men before him had managed to do in Yankee Stadium.
The game was more exciting than a matchup between the sixth-place Indians and the first-place Yankees had a right to be, ending with the Yankees scoring two runs in the bottom of the ninth to come away with an 11-10 victory, but Charboneau provided a memorable moment in the game's early going. After Bobby Murcer had given the Yankees a quick lead with a two-run homer in the bottom of the first, Charboneau led off the second for the Indians. He worked a 3-and-1 count against Yankees starter Tom Underwood and then launched a home run into the third deck.
More than 20 years later, Charboneau said, "I remember it like it was yesterday. … As I was going around second base, I looked up to where the ball landed and thought to myself that I'd probably never hit another ball like that again. And I never did."4 Charboneau's rainbow drive came to rest in a part of Yankee Stadium that had been reached before him only by Hall of Famer Jimmie Foxx and Frank Howard. After the crowd's awe subsided, attention returned to the game that was still in progress.
The Yankees scored against Cleveland starter Wayne Garland in the bottom of the third inning to increase their lead to 3-1, but the Indians rallied back. Mike Hargrove led off the fourth inning with a single, and Charboneau drew a walk from Underwood, whose pitch he had launched into orbit in his previous at-bat. Toby Harrah and Bo Diaz followed with back-to-back doubles, and Dave Rosello added a two-out double that ended Underwood's night and gave the Indians a 5-3 lead.
The two teams traded runs in the fifth as Jorge Orta scored on a single by in the top of the frame, which Murcer recouped with his second home run of the game in the bottom half of the inning to draw the Yankees to within 6-4.
In the top of the sixth inning, Yankees reliever Ron Davis and his batterymate Rick Cerone appeared to be in a giving mood. Davis walked Jack Brohamer, who was pinch-hitting for Rosello, to lead off the inning. The next two batters, Miguel Dilone and Orta, both attempted sacrifice bunts and both reached safely on errors by Cerone and Davis respectively, with Brohamer scoring on the second error. Hargrove's single drove in Dilone and gave the Indians an 8-4 advantage.
The word of the day was "offense" as the Yankees tagged reliever Bob Owchinko, who had just entered the game in relief, for two runs in the bottom of the sixth on a leadoff homer by Jim Spencer and a triple by Cerone that brought home Lou Piniella. The scoring ceased for one inning, and then Hargrove smashed a triple that again scored Dilone and made the tally 9-6 for the visitors. As they had done before, the Yankees stormed back for three runs in the bottom of the eighth against a parade of Indians relievers – Mike Stanton, Sid Monge (who walked the only batter he faced), and Victor Cruz – that tied the game at 9 runs apiece. The final two runs of the Yankees' rally were driven in by Murcer, who finished the game 3-for-4 with two home runs and five RBIs.
Though the game was still deadlocked, the Yankees brought in closer Rich "Goose" Gossage to prevent the Indians from taking the lead, but the strategy failed. Ron Hassey, pinch-hitting for Diaz, led off with a single and was replaced by pinch-runner Dell Alston. Rick Manning singled and Alston advanced an extra base when third baseman Dennis Werth made a wild throw to first on the play. Two outs later, Dilone singled and Alston scored to put the Tribe in front, 10-9.
Any Yankees fan in the crowd of 42,192 who left early because the Indians had scored should have known better than to do so on this night. The Bronx Bombers went to work against Cruz with back-to-back singles by Bob Watson and Spencer, which were followed by Piniella's sacrifice bunt. After Cruz intentionally walked Bobby Brown to load the bases, Cerone sent the hometown fans away happy with a 2-RBI single that gave New York an 11-10 victory.
Yankees manager Dick Howser had used 19 players while his counterpart, Dave Garcia, had used 18 in the 3 hour 28-minute marathon, and the outcome of so much managerial maneuvering was reflected in each skipper's postgame comments. As Howser exulted, "This is the kind of win we needed," Garcia lamented, "What a way to lose."5 In spite of the game's dramatics, both teams would remember the outcome of a single regular-season contest for only a brief time. As it turned out, the same was true for Super Joe Charboneau and his epic blast into Yankee Stadium lore.
After his spectacular rookie campaign, Charboneau was beset by back injuries and played in 70 games combined over the 1981 and 1982 seasons before his major-league career came to an end. In 2010 Charboneau looked back on his season in the sun, saying, "It's still in the forefront of my mind. I can remember pitchers and the pitches they made to me in key situations. I remember big hits, big failures, Opening Day, the last game of the year, waiting for the announcement of Rookie of the Year. Day by day, at-bat by at-bat, that season is ingrained in my memory."6
Most fans do not share Charboneau's vivid recollections of his 1980 season, but every once in a while – particularly in Cleveland – there still may be a fan who heeds Section 36's exhortation:
"Raise your glass, let out a cheer.
Go Joe Charboneau.
For Cleveland's Rookie of the Year.
Go Joe Charboneau."7
Notes
Additional Stats
New York Yankees 11
Cleveland Indians 10
---
Yankee Stadium
New York, NY
Box Score + PBP:
Corrections? Additions?
If you can help us improve this game story, contact us.
Tags
https://sabr.org/sites/default/files/CharboneauJoe-Topps.jpg
600
800
admin
/wp-content/uploads/2020/02/sabr_logo.png
admin
2015-09-16 22:13:06
2020-04-17 10:26:43
June 28, 1980: Legend of 'Super Joe' Charboneau launches at Yankee Stadium