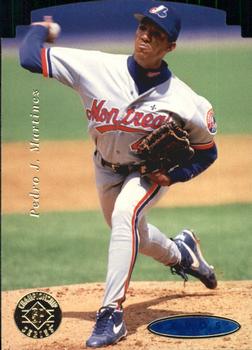 June 3, 1995: Pedro Martinez's nearly perfect game
---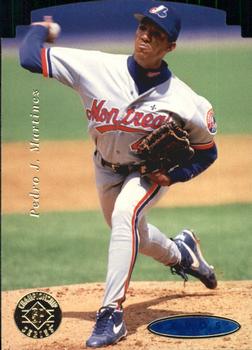 Harvey Haddix did the improbable back in 1959 when he pitched 12 perfect innings for the Pittsburgh Pirates against the Milwaukee Braves. But in the 13th, a throwing error, a sacrifice, and a double not only cost him the perfect game, but the victory as well.
Pedro Martinez was in almost the same boat as Haddix on June 3, 1995, when he threw nine perfect innings against the San Diego Padres. Unlike Haddix, Martinez had a chance to gain the victory and immortality with a perfect 10th, as his teammates had scored the go-ahead run in the top of the frame. But Bip Roberts ended Pedro's pursuit of perfection when he led off with a double that right fielder Tony Tarasco had no chance of catching. "It was a lucky hit to a lucky spot," Roberts told reporters.1
It was one of those classic pitchers' duels as Joey Hamilton of the Padres stayed in tune with Martinez, allowing no runs on three hits through nine innings. "That's big-league pitching at its best right there,"' San Diego's Tony Gwynn said of Martinez. "Not much you can say except superb and awesome. Tip your hat."2
Prior to Roberts' double, Martinez had pretty much breezed through the game, although he received some great defensive help from his teammates on four hard-hit line-drive outs — Roberts to second base in the fourth, Jody Reed to third base in the sixth, Brad Ausmus to right in the eighth, and Scott Livingstone, pinch-hitting for Reed, to deep right in the ninth, a blast that Tarasco caught as he banged into the wall.
"We went on to win but according to the rulebook, I could not be given credit for a perfect game even though I had gone nine perfect innings," Martinez said. "Reporters afterward told me that the last person to lose a perfect game in extra innings was Harvey Haddix. I really wasn't that upset about losing a perfect game according to a technicality. Everyone with the Expos thought I received some vindication.
"I know I'm still young but I've been around long enough now that I think I've shown some people what I can do. I'm not here to hurt anybody. But it seems like whenever I pitch, it's always the bad things that are brought up. It's never 'Pedro Martinez was 11-5 last year' or they never look back to how good I was in Los Angeles as a reliever. It's only the bad."3
That "bad" stemmed from Martinez's tendency to pitch just a little bit inside. Back on April 13, 1994, Martinez had pitched seven perfect innings against the Cincinnati Reds in Montreal before hitting Reggie Sanders with a pitch, prompting Sanders to charge the mound, and setting off a mini-melee. That was an example of the so-called "reputation" Martinez was gaining in only his second full season in the majors. Later that season, another brouhaha erupted after Martinez struck out Derek Bell of the San Diego Padres. Bell had barely made it back to the San Diego dugout when he turned around and ran to the mound to confront Martinez.
"This shouldn't be my first reputation as a pitcher because I have been here not very long, but long enough to show what I can do. When I'm fine, I can do a lot of stuff. I don't want to fight anybody. I'm here to play the game like I did tonight."4
Sitting in his manager's chair off to the side of the clubhouse after the game, manager Felipe Alou was impressed with Martinez's reply about vindication. "This was the best answer Pedro could give to all the harassment he's been going through," Alou said. "I'm not surprised that he threw this kind of game."5
Because of his tendency to go inside too often and keep batters on their toes, Martinez didn't think the near-perfect game would change things much as far as he was concerned. "I still had some control problems. Felipe didn't want me to stop pitching inside but he was in the middle of a jam, taking a lot of heat that I was generating," Martinez said.6
But back to that almost perfect game. In the Expos' half of the 10th inning, Shane Andrews singled to left off reliever Brian Williams, and after Martinez popped out attempting a sacrifice bunt, Andrews reached second when Lou Frazier drew a base on balls and scored when Jeff Treadway singled.
Manager Alou took Martinez out of the game immediately after Roberts got his hit. Martinez received a standing ovation from the crowd as he exited, and acknowledged the fans with a wave of his glove as he jogged toward the dugout. Mel Rojas took the mound and almost blew the lead when he threw a wild pitch that sent Roberts to third. After Steve Finley grounded out to first base unassisted, Rojas had to face the great Tony Gwynn. Gwynn grounded to Treadway at second; Roberts was off at the crack of the bat, but Treadway's throw to catcher Darrin Fletcher was in time for the out. Ken Caminiti fouled out to end the game.
"I'm still mad that I didn't get a big hit in that game to get Pedro the perfect-game victory," recalled Fletcher. "I had a chance in the top of the [ninth] to drive in a run with a man on [first] with [no] outs but I flew out to center. The thing I remember the most is feeling sorry for Pedro because we could not push a run across for him."7
Had Martinez been credited with a perfect game, it would have been the second in Expos history. His masterpiece came almost four years after Dennis "El Presidente" Martinez (no relation) threw a perfect no-no on July 28, 1991, against the Dodgers in Los Angeles that the Expos won 2-0.
This article appeared in "Au jeu/Play Ball: The 50 Greatest Games in the History of the Montreal Expos" (SABR, 2016), edited by Norm King.

Sources
In addition to the sources mentioned in the Notes, box scores for this game can be found on baseball-reference.com, and retrosheet.org at:
http://www.baseball-reference.com/boxes/SDN/SDN199506030.shtml
http://www.retrosheet.org/boxesetc/1995/B06030SDN1995.htm
Notes
Additional Stats
Montreal Expos 1
San Diego Padres 0
10 innings
---
Jack Murphy Stadium
San Diego, CA
Box Score + PBP:
Corrections? Additions?
If you can help us improve this game story, contact us.
Tags
https://sabr.org/sites/default/files/MartinezPedro-1995.jpg
600
800
admin
/wp-content/uploads/2020/02/sabr_logo.png
admin
2017-10-18 15:53:06
2021-06-03 02:54:37
June 3, 1995: Pedro Martinez's nearly perfect game