SABR Oral History: Harvey Haddix talks about his imperfect game in 1959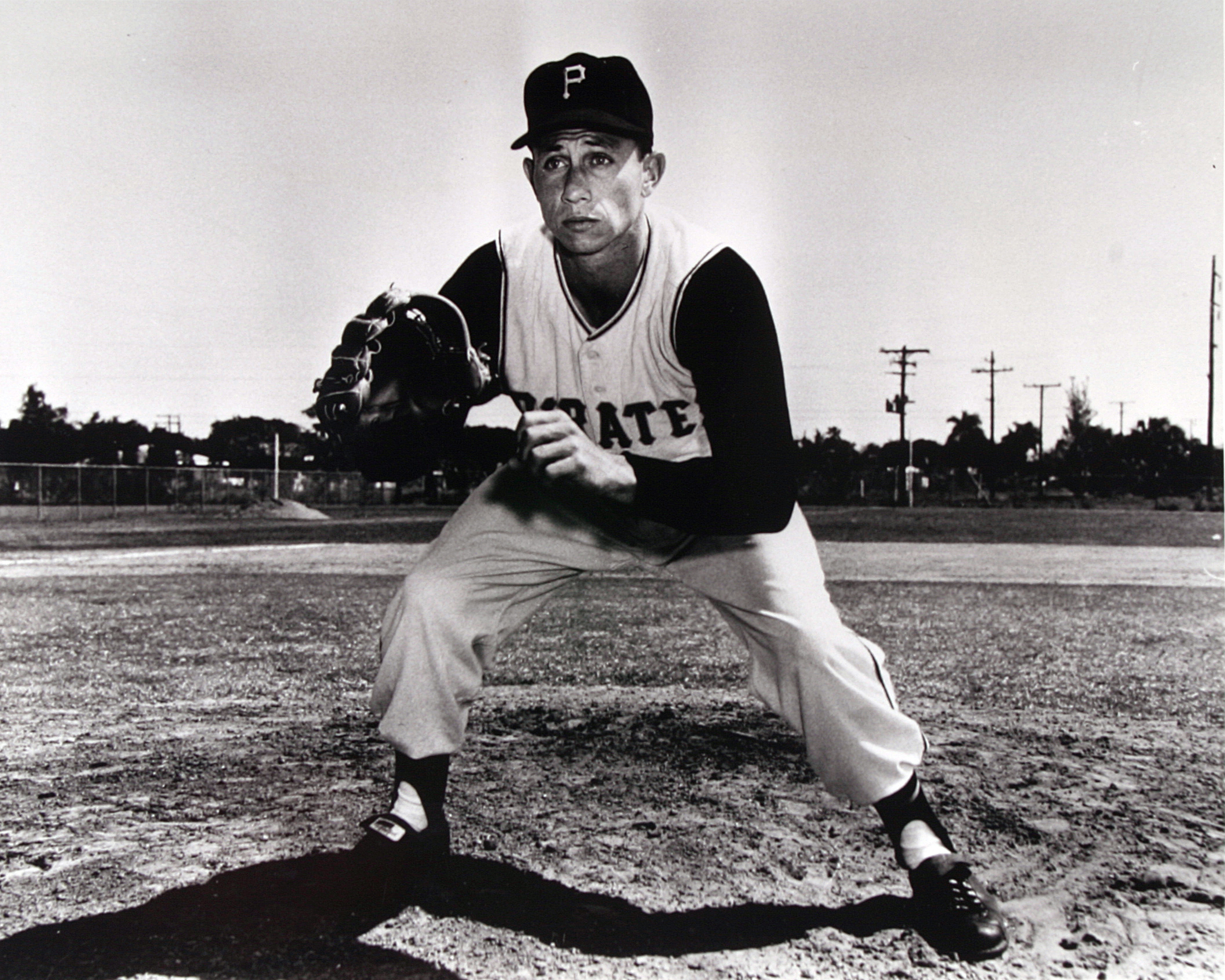 On Wednesday night, Rich Hill of the Los Angeles Dodgers suffered one of the unluckiest fates in baseball history.
The 37-year-old left-hander pitched eight innings without allowing a baserunner against the Pittsburgh Pirates only to see his perfect-game bid spoiled by an error in the ninth inning — the first time that's ever happened in the major leagues, according to research by SABR members Stew Thornley and Joe Cox. Hill recovered from third baseman Logan Forsythe's misplay to complete nine hitless innings, but the Dodgers still hadn't scored a run yet and the game went into extras.
In the 10th, Hill went back out to the mound and Josh Harrison led off the inning with a walkoff home run to left field. The Pirates' first hit of the game gave Hill a heartbreaking loss, one of very few for the powerhouse Dodgers in an otherwise magical season. It's been 22 years since Pedro Martinez of the Montreal Expos was the last pitcher to take a no-hitter into extra innings and more than a quarter-century since Mark Gardner (also for the Expos) became the last pitcher to lose a game after pitching nine no-hit innings.
Hill's performance called up reminders of Harvey Haddix, the Pirates left-hander who pitched 12 perfect innings against the Milwaukee Braves on May 26, 1959 — only to lose it all in the 13th inning on an error by third baseman Don Hoak and then a Joe Adcock game-ending home run (later scored a double because of a baserunning blunder by Hank Aaron.)
Nearly three decades later, Haddix spoke with author Walter Langford about his most famous day in baseball and his long, successful career. This interview from July 3, 1987, is part of the SABR Oral History Collection. Haddix explained how he was feeling before the game in Milwaukee, when he became conscious of the no-hitter, and how he learned the Braves were stealing his signs.
*****
A partial transcript of the SABR Oral History interview is below:
Walter Langford: Now then, let's go to May 26, 1959.
Harvey Haddix: Yes. Of course, I had just been traded over to Pittsburgh … to start that season. In fact, we were all new to Pittsburgh at the time. And we were in Milwaukee.
Early that morning, I got up in Pittsburgh about 6 o'clock. And we flew to Milwaukee for a night game. And on top of it, I had the flu. Yes, I sure did. I remember I didn't feel good until the middle of the afternoon. I had a hamburger and a milkshake, and I headed to the ballpark, not feeling good.
We get out there and [manager] Danny [Murtaugh] held the meeting of how we were going to pitch and play defense against the Milwaukee ballclub. Well, I'm conducting the meeting of how I'm going to pitch these guys. And I got on the old thing about pitching high-and-tight and low-and-away, and I can remember at the end of that meeting — it broke it up — Don Hoak spoke up and said, "Harvey, if you pitch those guys that way, you're going to pitch a no-hitter!" This was before the ballgame. And that broke up the meeting. We were all laughing and said, 'To heck with it, let's go.'
WL: And you're pitching against Lew Burdette.
HH: Lew Burdette, the man who I beat in his first ballgame in the major leagues. And I had the no-hitter going and … I felt lousy, I sucked on throat lozenges the whole ballgame so I wouldn't cough while I was out there on the mound. It was kind of a rainy, stormy night, so you didn't know if you were going to play or get rained out. There was lightning in the background and everything. It was a weird night. And the game kept going on and on …
WL: When did you first become conscious of the no-hitter?
HH: Well, I was conscious of it all the way. Before that, one time against Philadelphia, I went to the ninth inning with a no-hitter. And Richie Ashburn came up and broke it up for me to lead off the ninth inning. So I'd been through this thing before. I did not try for the no-hitter. I just kept right on going, one up, two up, three up and down they went. All through until the ninth inning and I said, 'I've been this close before, I'm going to go for it!' Now the score is nothing to nothing, of course. And that was the only inning of that ballgame when I really went and tried to throw a no-hitter. And I gave it my all, that time.
WL: And you got it.
HH: I got them out in the ninth inning, and of course we didn't score. So we keep on going. … I'd say from the seventh inning on, every time I appeared on the field, the people would stand and cheer me. The hometown fans. It made me feel pretty good.
Sometime late in the ballgame, I came to bat and Del Crandall was the catcher. He says to me, 'Harvey, you got a pretty good ballgame going.' He didn't say the magic words, he just said that. And I said, 'Yeah, I guess I have.' And we kept on going. Every inning, I'd walk in and out and there's the big scoreboard, right there in front of me. You can see exactly what's going on.
So it went into the 13th inning. The first batter up for Milwaukee was Felix Mantilla. And he hit the most routine groundball to third base that you could ever want, to Don Hoak. He had so much time that he picked the ball up, looked at the seams so he could get it just right, and he threw it in the dirt to first base. And [Rocky] Nelson didn't handle the ball, so the spell was broken with that man right there.
WL: The perfect game was broken and so was the spell.
HH: I didn't know I had done something that nobody else had ever done. I knew that I had a no-hitter, but I was never a stat man who worried about stuff like that. It did not affect my pitching as far as that's concerned.
Eddie Mathews sacrificed Mantilla to second base and I threw out Eddie at first. Hank Aaron, we walked him intentionally to set up a forceout or double play. The next man up was Joe Adcock.
WL: And you had handled him before.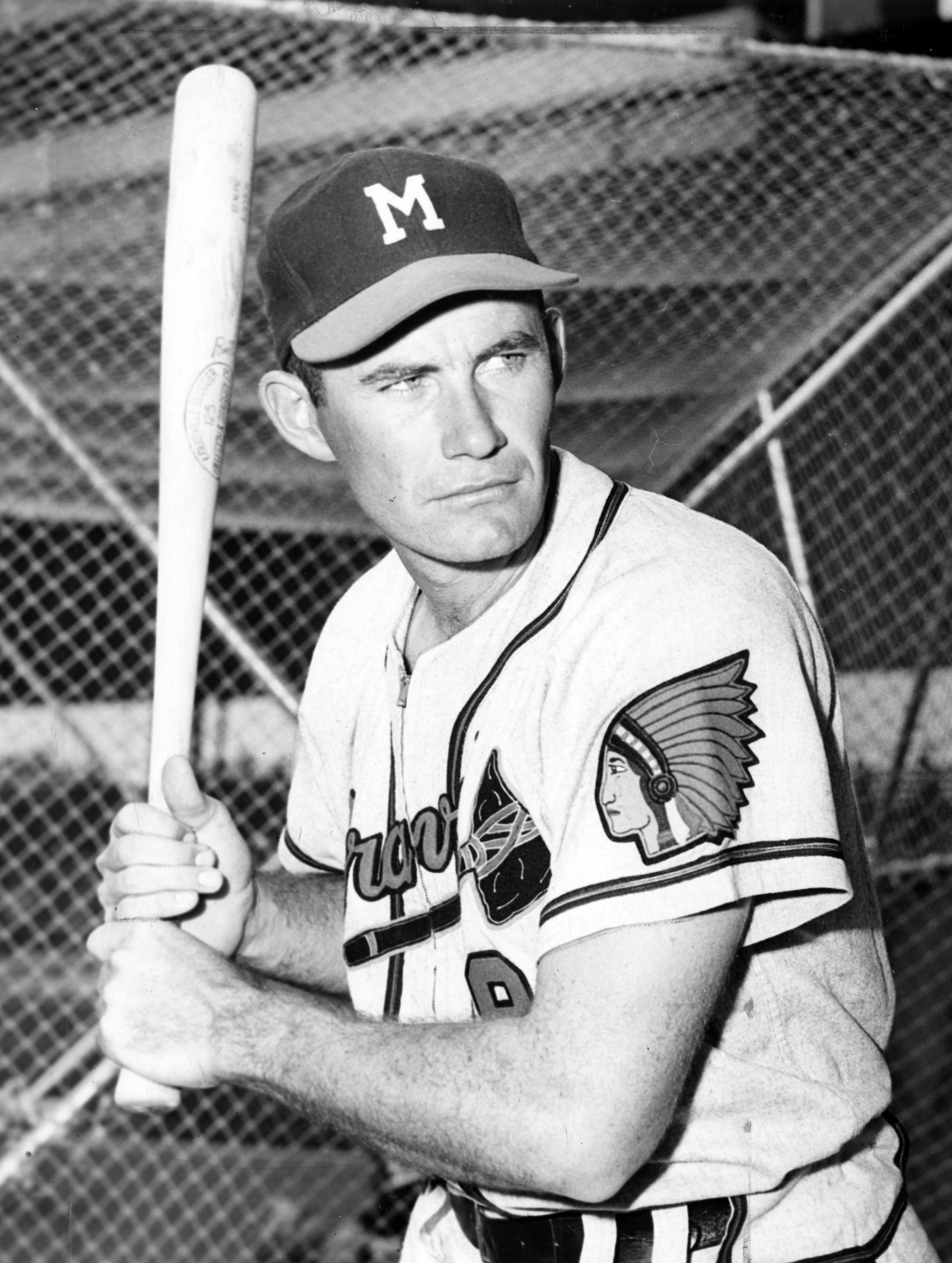 HH: With the second pitch to him, I got a slider a little bit up and over the plate. It wasn't a bad pitch and it wasn't a good pitch. It was good enough and you have to give him credit, he didn't try to pull the ball, he went with it and hit it over the right-center field fence as a right-handed batter.
Now, the score wound up 1-0. Here is what happened. Felix Mantilla rounded third and scored. Hank Aaron was on first, he ran down and touched second base — and turned around and ran across the pitcher's mound. He knew they needed only one run to win. In the meantime, Adcock had run around second base and the umpires ruled that he passed Aaron on the bases, and that's why the score wound up 1-0 instead of 3-0.
But two years ago [in 1985], I found out an almost impossible thing. Bob Buhl was a pitcher on the Milwaukee Braves at that time. And he said, 'I stood in center field with the binoculars and we relayed every pitch you threw to the hitters. And they still didn't get a hit, when they knew every pitch was coming.' He relayed them off of the catcher to a guy who was sitting next to him with a towel on his shoulder. If it was a fastball, they didn't move. If it was anything else, they moved the towel.
WL: I can't believe that. I've talked to so many guys who said 'We beat so-and-so' because they were calling the pitches.' I talked to Joe Sewell [Hall of Fame infielder] and he said in the 1920 World Series against Brooklyn, when Burleigh Grimes, the old spitballer, was pitching, Johnny Rawlings at second base would always reach down and get a handful of dirt when it was going to be a spitter. And years later, they told Burleigh and he said, 'I knew you were getting something!'
Anyway, I listened to that whole game of yours and it was a thrill to listen to it. It was a sad moment when that ball went over the fence. Your guys had lots of chances to win it.
HH: Yes, we had twelve hits off of Burdette.
WL: Were there any close plays where you could have scored a run?
HH: Well, there was a baserunning mistake by Roman Mejías and he hesitated going from second to third and I think he got thrown out. But the biggest thing is, remember I told you it was a stormy night? Bob Skinner hit a ball into right field and it was out of the ballpark. Henry Aaron went back to the fence and stood there and put his hands down. A gust of wind came up and blew it back in the ballpark and Aaron caught it.
But the strangest thing of all to me, there was only about two real tough plays from our side. Johnny Logan hit a real hot scooter at Dick Schofield at shortstop. Although Schofield was playing shortstop and Dick Groat wasn't, and I do not know why. I'll tell you another man was missing from our lineup and I did not realize it until later: Roberto Clemente did not play in that ballgame.
WL: That could have made the difference.
HH: It sure could have. Anyway, I think there was a ball hit pretty well to center field that Bill Virdon hauled down easily and there was a line drive by Mathews to first base that Rocky Nelson knocked down. All the rest of them were the most routine; there were no running, diving catches, or nothing. It seems so easy some nights!
WL: … Well, that was a great moment and it will live on in baseball history, Harvey. Somebody might someday pitch 13 or more hitless innings or perfect innings, but it hasn't happened yet.
HH: It's just one of those things, the situation has to be right. Usually a team has a run or so and so the opportunity has to be there for a fellow to actually pitch.
WL: It's very rare to have a scoreless game into the 13th, 14th inning. … Johnny Vander Meer tells me that in his two straight no-hitters, in two games together, there was only two plays that were really close.
HH: That's what makes our game of baseball so great. You never know what can happen.
Click here to listen to the full SABR Oral History interview with Harvey Haddix (1 hour, 13 minutes)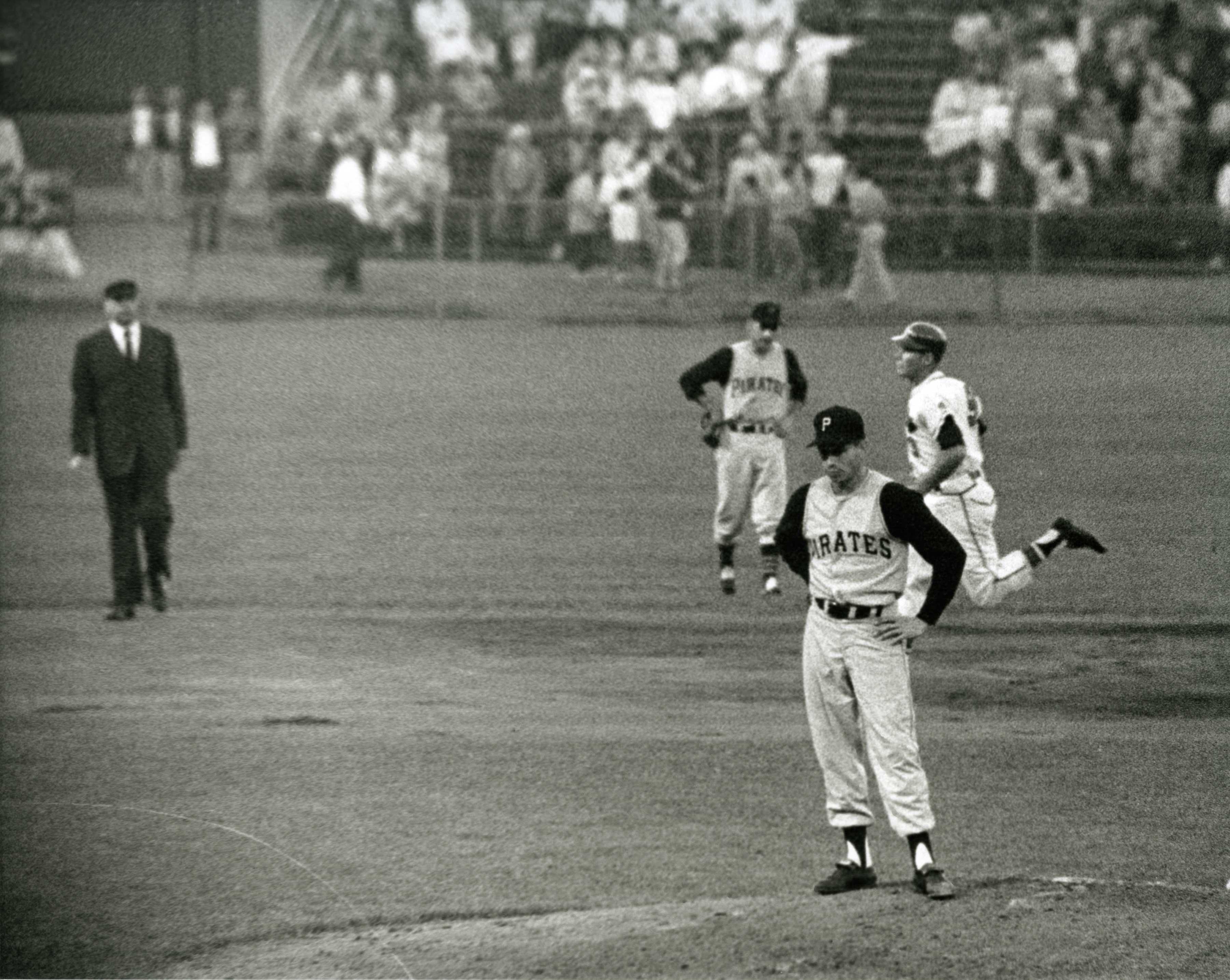 ---
Originally published: August 24, 2017. Last Updated: August 24, 2017.
https://sabr.org/wp-content/uploads/2020/03/research-collection4_350x300.jpg
300
350
admin
/wp-content/uploads/2020/02/sabr_logo.png
admin
2017-08-24 18:20:52
2017-08-24 18:20:52
SABR Oral History: Harvey Haddix talks about his imperfect game in 1959