June 30, 2017: Mets beat Phillies behind 12 strikeouts from Jacob deGrom
---
The New York Mets were trying to stay in the playoff race. They won their previous series against the Miami Marlins but remained 10½ games behind the Washington Nationals in the National League East. On their return to New York, Mets general manager Sandy Alderson told the press, "I think we feel differently about ourselves than we did two weeks ago."1 The Mets won five of six games before returning home to start a series against the Philadelphia Phillies.
The Phillies flew into New York after sweeping the Seattle Mariners in a two-game series. They scored 13 runs in that series and were looking to continue their offensive productivity when they arrived at Citi Field. They were also hoping to put a dent in the Mets' recent dominance of them. The Mets were 30-14 against them since 2015.
Jacob deGrom took the mound for the Mets. He had won his last three games and was looking to keep the Mets' playoff chances alive with another victory. "I think going into LA and getting our teeth kicked in was kind of a wakeup call. … Let's go," he said before the game.2
DeGrom kept the Phillies in check through the first four innings. He struck out six while not allowing any hits. The only runner was Andrew Knapp, who walked when he led off in the third. Knapp stole second but he was stranded there when deGrom got Odubel Herrera to ground out to shortstop.
The Phillies starter was Ben Lively. He had been called up from Lehigh Valley at the beginning of June. After winning his first game, on June 3, Lively lost twice in his next four games. He had struggled in his previous start, giving up five runs in 5⅓ innings against the Arizona Diamondbacks six days earlier.
Lively walked leadoff batter Curtis Granderson, surrendered a single to Asdrubal Cabrera, and loaded the bases when he walked Jay Bruce. But Lively managed to get out of the jam when Wilmer Flores grounded into a double play.
The Mets continued to get runners in scoring position in the second. T.J. Rivera doubled and Lively walked Jose Reyes. It looked as though he might get out of danger again when Travis d'Arnaud ground into a double play. But Lively then walked deGrom with the count full to put runners at the corners. Granderson fouled off five pitches before hitting an infield single that brought Rivera home to give the Mets a 1-0 lead.
The Mets added to their lead in the fourth. Reyes tripled to deep center field and came home on a single by d'Arnaud. After d'Arnaud, Lively retired the next nine Mets batters he faced. "It could have been way worse," he said later.3 The rookie had walked four of the first nine batters he faced and had to work out of jams twice early in the game before settling down. Afterward, Lively expressed frustration with his pitching. "I felt like I was delivering the ball fine, and it kept getting away from me, and then it kind of clicked," he said.4
DeGrom kept his no-hitter going until the fifth inning. With two out, Knapp hit a fly ball to center field. Granderson lost the ball in the twilight and it got past him. Knapp wound up with a triple. "Can't catch what you can't see," he said later. "There's a time every night where the ball goes up and you just hope it's not hit to you."5 When Ty Kelly singled, deGrom's shutout ended as Knapp scored.
DeGrom angrily threw his glove at the water cooler when he returned to the dugout. "I got to get that out right there," he said after the game. "Granderson lost the ball and that happens. But I got to be able to get that out right there. I left a fastball right down the middle. It was just a bad pitch on my part and I was very frustrated."6 By the time he returned to the field, deGrom had regained his composure and struck the side in the sixth inning.
DeGrom gave up his third hit of the night, a single to Nick Williams, in the seventh. It was Williams's first career hit in his initial big-league game. He had been called up a few days earlier from Lehigh Valley to replace Howie Kendrick, who had been put on the disabled list with a left hamstring strain. "It felt great, especially the first game and facing deGrom for the third time, it felt good," Williams told reporters after the game.7
Mets manager Terry Collins pulled a double switch when he pinch-hit for deGrom in the bottom of the seventh. Jerry Blevins, Paul Sewald, and Addison Reed came out of the Mets bullpen to help deGrom earn his eighth win of the year with the 2-1 victory.
Blevins allowed one hit, a double by pinch-hitter Cameron Perkins. After Blevins got pinch-hitter Daniel Nava to ground out, Collins brought in right-hander Sewald to face Freddy Galvis. With the count full, he got Galvis to fly out to left field to end the Phillies scoring threat. Reed pitched a perfect ninth, getting the Phillies out on seven pitches to earn his 13th save of the season.
DeGrom's performance left him with a 5-0 record against the Phillies.
Phillies shortstop Galvis complimented deGrom after the game, saying,"He keeps the ball down and works the outside corner well against lefties, and the slider was a good pitch for him."8 The Phillies' first five hitters were a combined 0-for-19 against deGrom. Phillies manager Pete Mackanin also complimented deGrom, saying, "He's a good pitcher. He threw more breaking balls than I recall in the past."9
"He's in a groove, for sure. I didn't think tonight was his best command, but yet he is such a competitor," Mets manager Collins said after the game.10 deGrom was clearly putting himself in a position to make the All-Star Game roster, which would be announced in two days.
Postscript
The Mets were never able to get themselves into the playoff picture. After finishing with a .500 record in June, they had losing records from July through September. They eventually finished in fourth place in the NL East. Terry Collins stepped down as manager after the season and was replaced by Mickey Callaway. The team improved only slightly under Callaway's guidance in 2018. deGrom did not make the All-Star team. Michael Conforto was chosen as the Mts' only representative in the game.
The Phillies remained in the basement of the NL East through the rest of the season. At the end of the year, Pete Mackanin was replaced by Gabe Kapler. Kapler improved the team's performance in 2018. Although they still finished with a losing record, they ended up in third place in the NL East.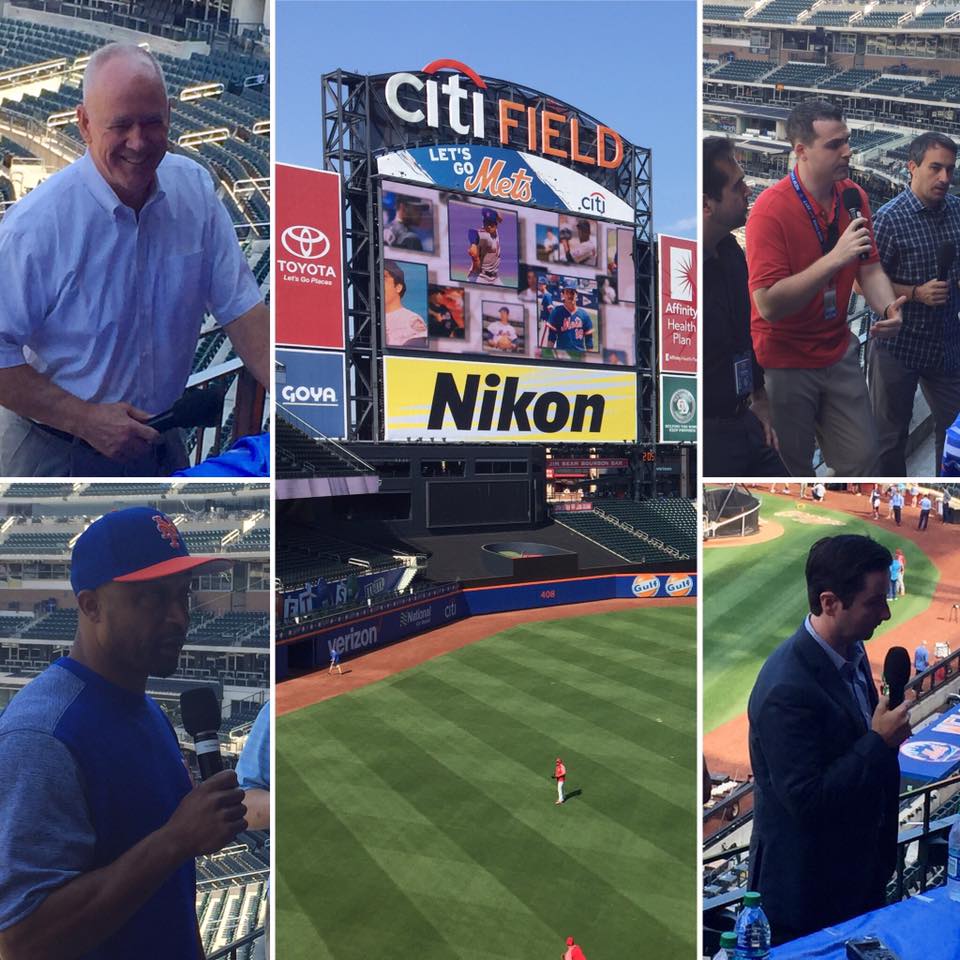 Before the Mets' game against the Philadelphia Phillies, a special SABR 47 ballpark session took place at Citi Field with Mets general manager Sandy Alderson, first-base coach and former major-leaguer Tom Goodwin, a Broadcasters Panel with Josh Lewin, Wayne Randazzo, and Steve Gelbs, and an Analytics Panel with Director of Baseball Research and Development T.J. Barra, Sr. Coordinator of Baseball Systems Development Joe Lefkowitz, and assistant hitting coach Pat Roessler. The session was emceed by SABR CEO Marc Appleman, with interviews by Barry M. Bloom of MLB.com.
Sources
In addition to the sources cited in the Notes, the author used Baseball-Reference.com and Retrosheet.org for box-score, player, team, and season information as well as pitching and batting game logs, and other pertinent material.
https://www.baseball-reference.com/boxes/NYN/NYN201706300.shtml
https://www.retrosheet.org/boxesetc/2017/B06300NYN2017.htm
Notes
1 Wallace Matthews, "Sandy Alderson's Mood Brightens, and So Do Mets' Hopes," New York Times, June 30, 2017.
2 Associated Press, "Mets Edge Phillies 2-1 Behind 12 Ks from Dominant deGrom," ESPN.com, June 30, 2017.
3 Ibid.
4 Marc Narducci, "Mets, deGrom Snap Phillies' Two-Game Win Streak," Philadelphia Inquirer, June 30, 2017.
5 Matthews.
6 Matthews.
7 Narducci.
8 Ibid.
9 Ibid.
10 Associated Press.
Additional Stats
New York Mets 2
Philadelphia Phillies 1
---
Citi Field
New York, NY
Box Score + PBP:
Corrections? Additions?
If you can help us improve this game story, contact us.
Tags
https://sabr.org/wp-content/uploads/2022/09/62-deGrom-Jacob.jpg
600
800
Chance Nelson
/wp-content/uploads/2020/02/sabr_logo.png
Chance Nelson
2022-09-27 01:02:59
2022-09-28 16:23:18
June 30, 2017: Mets beat Phillies behind 12 strikeouts from Jacob deGrom