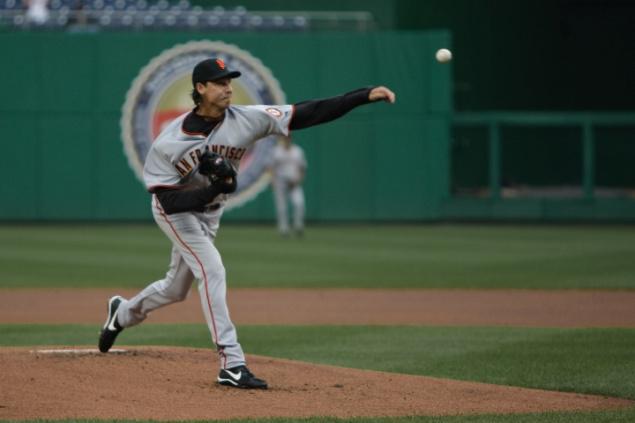 June 4, 2009: Randy Johnson wins his 300th career game
---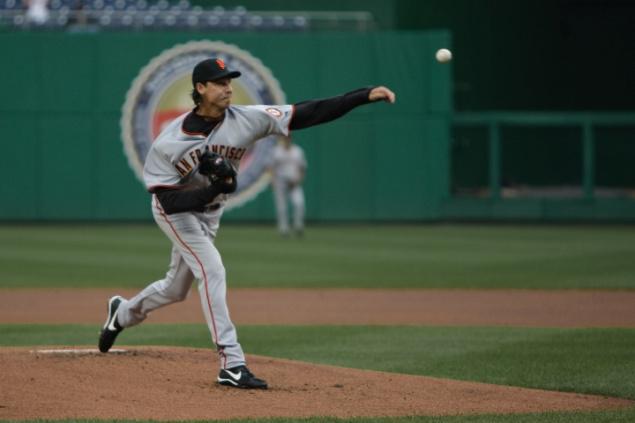 For certain, if you were at Nationals Park on this date for a late-afternoon doubleheader, you were a certified baseball fan, regardless of your rooting interests. On the previous day, thunderstorms, some hail, and 1.5 inches of rain necessitated postponement of the second game of the three-game series and the first pitch forecast for this day was not much better. In fact, ominous clouds hovered in the vicinity and a tarp covered the field before the start, which was delayed for 36 minutes. Weather aside, you were at Nationals Park for one reason only, an opportunity to see Randy Johnson1 in his first attempt to win the 300th game of his long and storied career.
Johnson made his major-league debut in 1988 with three late-season victories for the Montreal Expos. Clearly, he was a work in progress, "a gangly left-hander who threw harder than any other lefty in the game, but was so raw that half the time neither he nor the batter had any idea where his pitches were going."2
In 1989, the trade market for the Seattle Mariners' star lefty, Mark Langston, heated up early. The Montreal Expos coveted Langston for a run at a National League pennant. In May, the Expos general manager, Dave Dombrowski, traded Johnson, Gene Harris, and Brian Holman to the Mariners for Langston and a player to be named later, Mike Campbell. Understated as it was, "No one knew," said Dombrowski, "that Randy Johnson would become that good."3 The Expos held first place until August 7, but faded badly by season's end to finish in fourth place, 12 games behind the Chicago Cubs. Now a Seattle Mariner, Randy Johnson began his career-long climb to a place in the Baseball Hall of Fame as one of the game's elite pitchers.
For this day the stage was set, Randy Johnson vs. Jordan Zimmermann. Zimmerman (2-2, 6.07 ERA), in his rookie season for the Nationals, was making his ninth start of the season. The Nationals, in last place in the National League East since the third day of the season, were on the long road toward baseball respectability. (In just five days the speed limit on that road would increase substantially with the selection of Stephen Strasburg as the first pick in the amateur draft.4)
The Giants started the scoring in the top of the second inning after Fred Lewis singled and Travis Ishikawa doubled off Zimmermann. Juan Uribe grounded out to second to score the first run and a single to center by Emmanuel Burriss gave the Giants a 2-0 lead. Burriss would be the last Giant to reach base in Zimmermann's six innings of work. Fortunately for the Giants, it was evident early on that Johnson was having his strongest start of the season since he limited the Arizona Diamondbacks to a single hit in seven innings on April 19 for his first win of the season. He didn't allow his first hit until Elijah Dukes singled to lead off the fifth inning. A walk to Austin Kearns put Johnson in a jam, but two groundballs, one for a double play, ended the fifth and left Johnson with a very manageable 65-pitch count.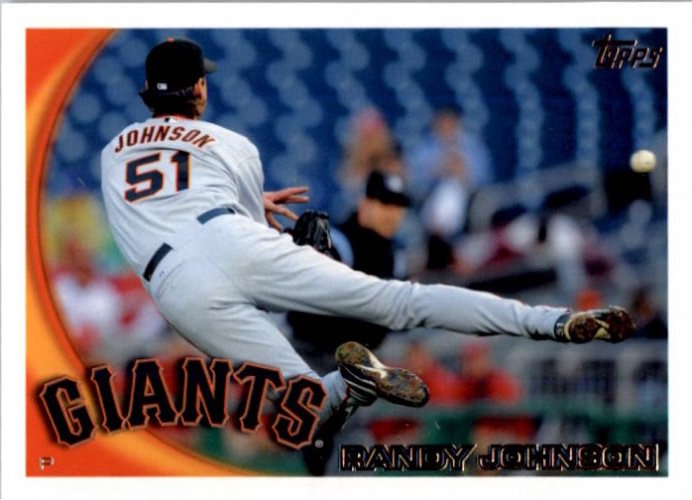 The action in the bottom of the sixth inning would ultimately help determine the outcome of the game. It started with Johnson hitting the turf to field a weak grounder by pinch-hitter Anderson Hernandez and getting the first out with a diving and sideways throw.5 A throwing error by shortstop Edgar Renteria allowed Alberto Gonzalez to reach first from where he scored on Nick Johnson's line-drive double. Johnson managed to hold the lead by retiring the heart of the Nationals batting order, Ryan Zimmerman and Adam Dunn. But Johnson was done for the game with a bruised left shoulder; he left with a 2-1 lead and a laudable line – six innings, two hits, one unearned run, two walks, and two strikeouts.
Brandon Medders retired the Nationals in order in the bottom of the seventh inning but those among the crowd of 16,787 who were there solely to see Johnson's 300th victory got nervous in the eighth inning and Giants manager Bruce Bochy responded accordingly. When Wil Nieves singled to start the inning, Bochy brought in Jeremy Affeldt, who retired Cristian Guzman and Alberto Gonzalez. When Nick Johnson walked, it was time for the Giants closer, Brian Wilson. Wilson loaded the bases by walking Ryan Zimmerman, but Adam Dunn looked at a controversial full-count fastball strike that looked low to many. "Dunn took four steps toward first base. But home plate umpire Tim Timmons froze for a moment before drawing his right fist back to signal strike three."6 The eighth-inning threat was over. After the game, Wilson reflected with a smile, "You really don't want to see a 300th lost on a walk."7
The Giants padded their one-run lead in the ninth inning when Joel Hanrahan yielded four consecutive hits, two doubles and two singles, for a 4-1 Giants lead. A sacrifice fly by Pablo Sandoval off Joe Beimel ended the scoring, leading to a rather uneventful bottom of the ninth inning. When Brian Wilson struck out Wil Nieves swinging to end the game, Randy Johnson became MLB's 24th 300-game winner and the first to do so on his first attempt since Tom Seaver in August 1985. At 45 years and 267 days old, Johnson became the second oldest pitcher to reach that coveted mark, behind only Phil Niekro, who closed the 1985 season with his 300th victory at 46 years and 188 days old.8
After the game, Johnson said he felt the way he did after throwing a perfect game for the Arizona Diamondbacks against the Atlanta Braves on May 18, 2004. "It didn't really sink in," he said. It wasn't like I set out to do that. It just happened."9 He understood his place in baseball history, but he admitted a lingering thought: "I only have 211 more to catch Cy Young."10
Joseph Wancho's statistical summary of Randy Johnson's pitching career that led to five Cy Young Awards is simply stated but powerful in its breadth. "In 22 major-league seasons, his record was 303-166 with a 3.29 ERA. He struck out 4,875, second to Nolan Ryan (5,714). He threw 37 shutouts and pitched 100 complete games."11
Immediately after Johnson's accomplishment, the speculation began. When would baseball see another 300-game winner?12 At the time, Jamie Moyer ranked second among active pitchers with 250 victories, but he retired after the 2012 season with a record of 269-209. The feat hadn't happened again through the 2017 season and the active pitchers closest to that magic number were Bartolo Colon and C.C. Sabathia with 240 and 237 wins, respectively.
Nonetheless, the question continues to be asked and answered from different perspectives. For example, one answer was posed as a different question. "Will anyone ever again want to win 300 games enough to actually do it?"13 Most pitchers who won 300 games had not done so by the time they turned 40 years old, well past their prime for any assortment of fastballs, curves, and sliders. Are today's pitchers willing to endure the grind of the baseball season at that age? "Will they keep on going, pitching through pain, begging for a job, just to get to 300 wins?"14 A great pitcher could certainly do so but only with intense desire and peak physical conditioning.
New York Times columnist Tyler Kepner noted in 2017 that managers armed with lots of data and specialized bullpens were increasingly reluctant to use a starting pitcher more than two or three times through the batting order.15 Justin Verlander was the last pitcher to work 250 innings in a season, in 2011, and only 16 pitchers reached even 200 innings in 2016. In 1988, Randy Johnson's first season in the major leagues, 54 pitchers reached 200 innings. Johnson himself achieved that mark 14 times in his career.
After the game, Giants manager Bruce Bochy put it simply and perhaps put it best. "We don't know if we'll see another one."16 Was he hinting that we won't see a 25th 300-game winner and acknowledging the grit, determination and resolve that Randy Johnson exhibited over 22 seasons to reach that milestone? I think he was.
Author's note
We were strategically located in Section 204, Row J, staying out of the rain to concentrate on what was about to be achieved by Randy Johnson. Yes, there was a second game and the Giants won 4-1, behind the pitching of Matt Cain, who won his seventh game of the season. After the Giants batted in the sixth inning, the game was halted because of rain. Mercifully, the game was postponed after a 67-minute delay. Nationals fans saw their team lose a doubleheader in miserable weather, a small price to pay for the opportunity to witness the culmination of Randy Johnson's baseball career.
Sources
The author accessed Baseball-Reference.com for box scores/play-by-play information (baseball-reference.com/boxes/WAS/WAS200906041.shtml) and other data, as well as Retrosheet.org (retrosheet.org/boxesetc/2009/B06041WAS2009.htm).
Notes
Additional Stats
San Francisco Giants 5
Washington Nationals 1
Game 1, DH
---
Nationals Park
Washington, DC
Box Score + PBP:
Corrections? Additions?
If you can help us improve this game story, contact us.
Tags
https://sabr.org/sites/default/files/JohnsonRandy-2009.jpg
600
800
admin
/wp-content/uploads/2020/02/sabr_logo.png
admin
2017-11-02 03:03:27
2020-04-17 10:25:01
June 4, 2009: Randy Johnson wins his 300th career game