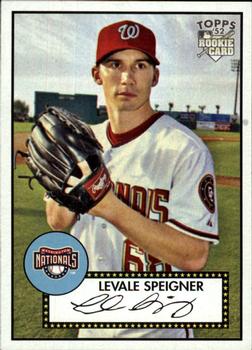 June 9, 2007: Battered Rule 5 draft pick Speigner bests Twins' Santana
---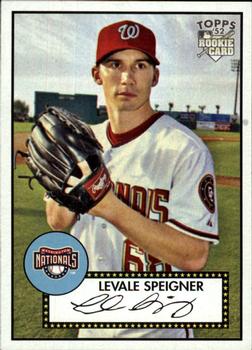 The 2007 Washington Nationals were plodding along a dozen games under .500 when the team arrived in Minnesota late on June 7 for an interleague weekend series. The Twins were playing .500 ball, clearly a disappointment a year after they had won the division behind Most Valuable Player
Justin Morneau
, batting champ
Joe Mauer
, and Cy Young Award winner
Johan Santana
. Still, just 6½ games behind first-place Cleveland, Minnesota still had plenty of time to try to turn the season around.
The Nationals, on the other hand, had headed into 2007 with a starting rotation of question marks and retreads. In addition, the team had lost its two of its best hitters from 2006: Alfonso Soriano to free agency and Nick Johnson to a broken leg. Some pundits wondered if these Nats would threaten the '62 Mets' record of 120 losses.1 Given the early-season outlook, the results at this point could have been worse.
John Patterson, the one pitcher with a bit of a track record, had won once in seven starts and gone on the disabled list, never to return.2 Shawn Hill could not overcome career-ending arm trouble. Matt Chico, who hadn't pitched above Double-A, was the only man to start more than 21 games that season, and his performance was shaky enough that he was sent to the minors briefly in August.3
Pittsburgh had beaten the Nats, 3-2, on Thursday afternoon as Washington ended a nine-game homestand with six losses. But the team had rebounded from a 9-25 start, having reached that depth on May 9. The Twins were idle on Thursday as they returned home from a west coast trip.
The Nationals' scheduled starters for the series were Jason Simontacchi, a one-time Cardinals' prospect, on Friday, and journeyman Mike Bacsik on Sunday. Both were back in the majors for the first time since 2004, trying to resurrect their careers. (Two months later, Bacsik would serve up the home run, career number 756, that gave Barry Bonds the all-time record.) Simontacchi, handed an 8-0 lead in the opener against the Twins, held on for an 8-5 win Friday night. The Twins salvaged the final game of the series, beating Bacsik and the Nats 6-3 on Sunday afternoon.
In between, a Rule 5 draft pick who made the team out of spring training — slender right-hander Levale Speigner, 26 — would be given the task of matching up with Santana on Saturday. Santana was not quite as sharp in 2007 as he had been in winning two Cy Youngs, but the lefty was on his way to the fourth of five consecutive seasons with 15 or more victories.
The rookie Speigner — his first name was Jimmy, but he went by his middle name — entered the game having made four starts among 16 career mound appearances. His earned-run average in those starts was 14.44. His longest outing was four innings. That Speigner was in the Nationals' rotation at all told the story of the team's pitching woes.
"It's not like we have a line of options," manager Manny Acta said. "We have a lot of guys hurt here and in Triple-A. So the kid will go out there again."4 In his last start on June 2, Speigner had given up six runs in the first inning against San Diego and taken the loss. His lone previous win had come came in a one-inning relief appearance on April 18 as Washington walked off against the Phillies in 13 innings.
In an unusual coincidence — because teams rarely carry two Rule 5 draft picks — Jesus Flores would catch Speigner that night. Flores had been selected from the Mets system; Speigner from these same Twins. (A Rule 5 pick has to stay on the selecting team's major-league roster all season or be offered back to his original organization.)
A crowd of 39,742 showed up for Saturday evening's 6:10 P.M. game at the Hubert H. Humphrey Metrodome, a figure likely boosted by Santana's scheduled start. Understandably, Acta was apprehensive about Speigner's prospects.
"I thought it was going to get to him a little bit, pitching against his old team and with 40,000 people and against Johan Santana," the manager said.5
Each pitcher struck out two batters in the first. Santana allowed a harmless single that inning and then worked around a leadoff ground-rule double by Austin Kearns in the second.
In the bottom of the second inning, Speigner, who relied mostly on a fastball and a slider, threw one of his occasional curves to Morneau. The Twins' slugger crushed the 2-and-2 pitch over the center-field fence. It looked then that the right-hander wouldn't last long, but in fact the Twins would manage just two more baserunners over his six innings: Nick Punto's walk on a 3-and-2 pitch to lead off the third and Jason Tyner's lined single to left, also on a 3-and-2 pitch, with one out in the fifth.
Twins' third baseman Punto booted a grounder by Nook Logan leading off the top of the third. Logan stole second and Cristian Guzman lined a one-out single sharply to center. Logan stopped at third, bringing up Ryan Zimmerman.
The count went to 1-and-2. Santana threw a changeup. Zimmerman sent it deep into the left-field stands for a 3-1 lead. "He just made that one mistake, and I put a good swing on it," the Nats' young third baseman said.6
When Speigner departed after six innings, Acta used Ray King, Jesus Colome, Jon Rauch, and Chad Cordero over the final three to hold the lead at 3-1. Cordero picked up his eighth save.
"We got outpitched tonight, if that was possible," a seemingly stunned Twins manager Ron Gardenhire said.7 Santana went seven innings, gave up two earned runs, fanned five, and walked nobody.
Speigner credited pitching coach Randy St. Claire with speeding up his delivery and helping him avoid tipping his pitches. "I know he gets tired of some of the mistakes I make," Speigner said, "but … we keep working and working and working."8
The unexpected performance by Speigner meant the Nationals to that point had been tough against National League front-line starters, winning two games started by San Diego's Jake Peavy, beating Atlanta's John Smoltz twice and Philadelphia's Cole Hamels once. Now they were turning their attention to the American League.
"You look at some of our matchups, and a lot of people say, 'You got no chance,' said Ray King, who struck out the one batter he faced in relief of Speigner. "We hear the broadcasters from other teams saying, 'This is where they can take off, with the Washington Nationals coming in.' I think now, people are going to stop saying that."9
The 2007 Nationals won a surprising 73 games. The Twins finished four games under .500.
Sadly for Speigner, vanquishing Santana and the Twins earned him just one more start. He yielded 10 hits and seven runs to the Blue Jays in 3⅓ innings on June 16. His ERA stood at 8.76. On June 20 Speigner was designated for return to the Twins under Rule 5.10 A few days later, the Nationals worked out a deal, sending a Triple-A outfielder to the Twins so they could keep Speigner and send him to the minors, where he spent the rest of 2007. After seven September relief appearances in 2008, his major-league career was over.
But he will always have June 9, 2007, to remember.
Sources
In addition to the sources cited in the Notes, the author accessed team, player, and season pages at Baseball-Reference.com.
https://www.baseball-reference.com/boxes/MIN/MIN200706090.shtml
http://www.retrosheet.org/boxesetc/2007/B06090MIN2007.htm
Notes
1 Rick Maese, "D.C. Teams Dominate in Sports Futility," (Baltimore) Sun, April 13, 2007: 1C.
2 Patterson had pitched in his last major-league game on May 5.
3 The Nationals set a strange record in 2007. The team had no pitcher who won 10 games and no pitcher
4] Marc Craig, "After Surgery, Wagner's Out for the Season," Washington Post, June 6, 2007: E7
5 Barry Svrluga, "Speigner, Nats Have Surprise," Washington Post, June 10, 2007: E1.
6 Ibid.
7 Ibid.
8 Ibid.
9 Ibid.
10 Svrluga, "Ayala Is Back, Speigner and Abreu Depart," Washington Post, June 21, 2007: E7.
Additional Stats
Washington Nationals 3
Minnesota Twins 1
---
Metrodome
Minneapolis, MN
Box Score + PBP:
Corrections? Additions?
If you can help us improve this game story, contact us.
Tags
https://sabr.org/sites/default/files/SpeignerLevale.jpg
600
800
admin
/wp-content/uploads/2020/02/sabr_logo.png
admin
2018-06-12 14:20:13
2020-04-17 10:24:46
June 9, 2007: Battered Rule 5 draft pick Speigner bests Twins' Santana