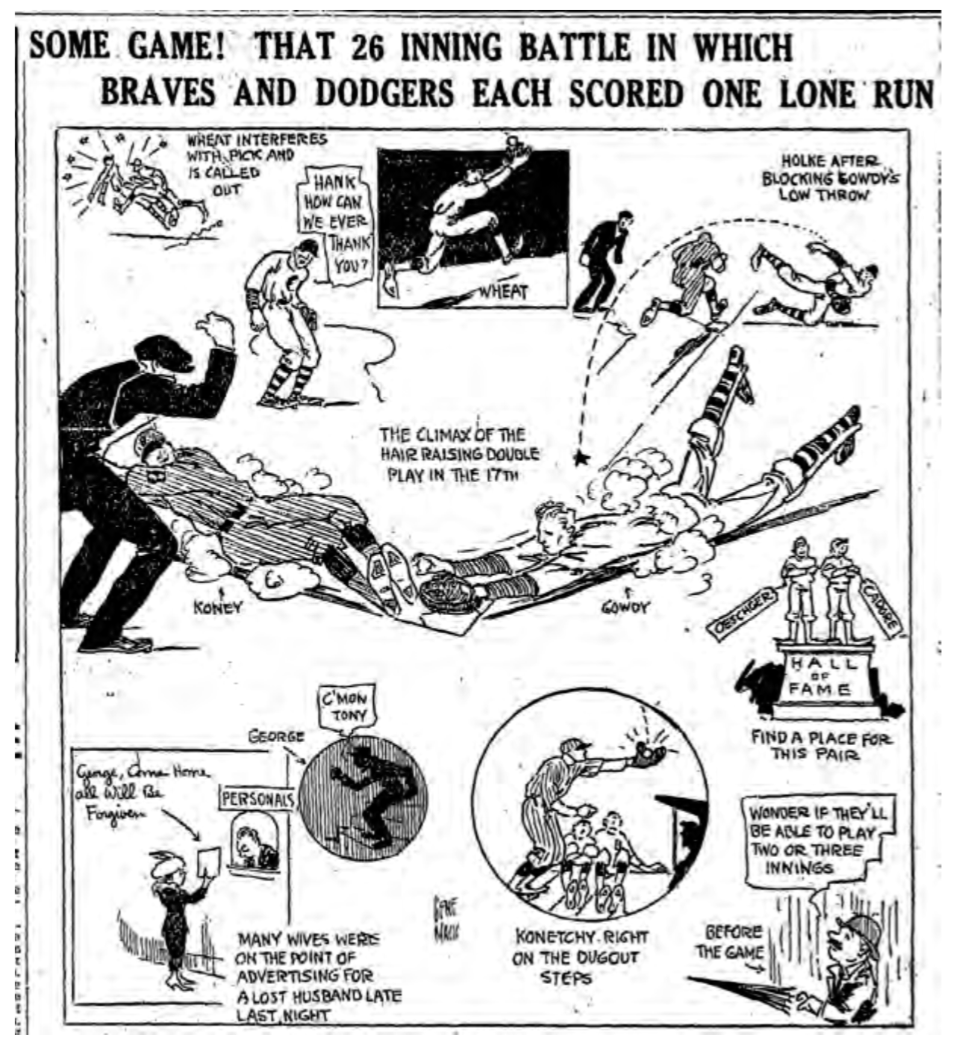 May 1, 1920: An extreme exercise in futility: Braves, Dodgers play 26 innings to no decision
---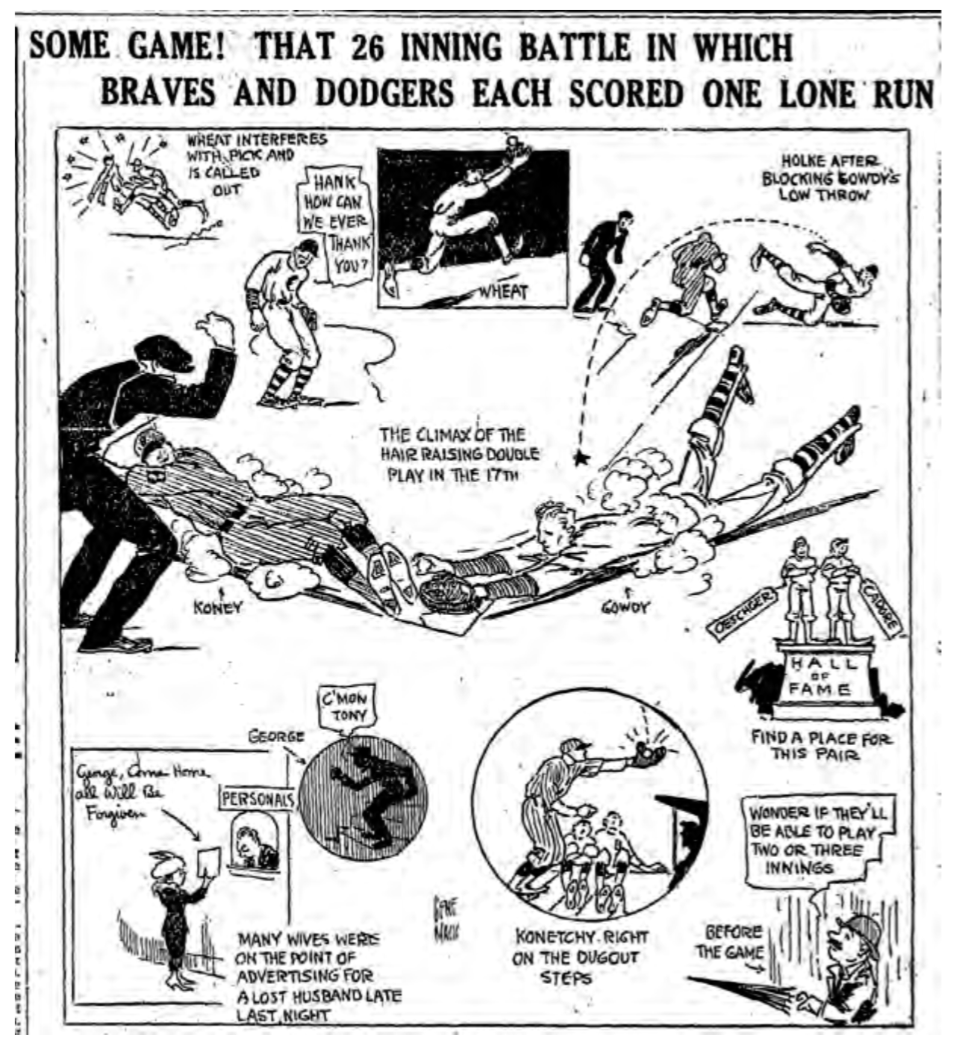 It rained all morning in Boston. Not hard, just a persistent drizzle. When Joe Oeschger and his roommate, Leslie Mann, sat down to breakfast, they figured they were looking at a day off. Their Boston Braves were scheduled to play the Brooklyn Dodgers1 that Saturday afternoon.
Hearing no word from the ballclub, they reported to Braves Field. That's when Oeschger found out he would be the starting pitcher, if and when.2
By game time at 3:00 P.M., the rain had let up, but it was overcast, damp, and raw, not much more than 50 degrees, when Oeschger threw the first pitch in the longest game in major-league history. The game lasted 26 innings. So did Oeschger. So did the Dodgers' pitcher, Leon Cadore. They were both right-handed, both 28 that year, neither a star.
The Dodgers scored in the fifth after Oeschger walked the leadoff batter and bobbled a double-play grounder. With a runner on second, Dodgers second baseman Ivy Olson poked a two-strike, broken-bat flare over shortstop to give Brooklyn a 1-0 lead.
The Braves tied it in the next inning. Walt Cruise tripled to the scoreboard in left and crossed the plate on Tony Boeckel's single up the middle. Rabbit Maranville followed with a double, but Boeckel was thrown out at home.
After that, nothing. The teams played 20 scoreless innings.
Boston missed a chance to win in the bottom of the ninth. Maranville led off with a single. Pinch-hitter Lloyd Christenbury tried to sacrifice him to second, but both were safe when Cadore's throw to first hit Christenbury. After a sacrifice moved the runners up, Dodgers manager Wilbert Robinson ordered an intentional walk to fill the bases with one out. The Braves' Charlie Pick slapped a hard grounder to second baseman Olson, who made a fine stop, tagged the runner coming from first, and threw out Pick for a game-saving double play.
Leon Cadore's defense had bailed him out, not for the first time. At least one Brave had reached base in each of the first nine innings on 11 hits, two walks, and an error. A writer for the Sun & New York Herald commented, "Time and again it looked as if Cadore would fall, but time and again the Brooklyn men behind him rose to heights of superefficiency as they converted seeming hits into outs and lifted their pitcher out of many a tight situation."3 In addition to Olson's double play, left fielder Zack Wheat had made a shoetop catch and first baseman Ed Konetchy snared a foul popup while teetering on the dugout steps.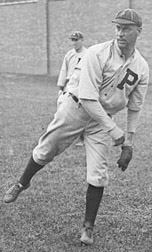 Oeschger, throwing fastballs almost exclusively, was just hitting his stride. Beginning in the eighth, he set down 18 consecutive Dodgers. Only six of them got the ball out of the infield.
The Dodgers got to Oeschger in the 17th, when they loaded the bases with one out. Rowdy Elliott grounded back to the mound and Oeschger threw home for the force out. Catcher Hank Gowdy fired to first, going for an easy double play, but his throw was wide and first baseman Walter Holke could only knock it down. The Dodger runner from second, the slow-moving Konetchy, saw Holke scrambling after the ball and lumbered around third, carrying the go-ahead run. Holke's desperate throw pulled Gowdy off the plate, but he sprawled headlong in front of Konetchy's spikes and put on the tag to complete a spectacular double play. Gowdy's dive "saved my neck," Oeschger said.4
Oeschger didn't allow another hit for the final nine innings. Cadore, relying on his curveball, had found his groove, retiring 15 straight, allowing a single in the 20th, and then setting down 19 more. A misty rain was falling again. Newspapers estimated that anywhere from 2,000 to 4,500 spectators had been in the stands at the start; there's no telling how many went home as the afternoon grew chillier.
In the 20th inning manager Robinson offered to relieve Cadore, but the pitcher replied, "If that other fellow can go one more inning, I can too."5 Braves manager George Stallings never asked Oeschger how he was holding up. Oeschger explained, "If a pitcher couldn't go the distance, he soon found himself some other form of occupation."6
The 23rd inning set a new National League record; the Dodgers and Pirates had played 22 in 1917. In the 25th it became the longest game in major-league history, surpassing a 24-inning contest between the Philadelphia Athletics and Boston Americans in 1906. Braves second baseman Charlie Pick made the last out in the 25th to finish his own historic day. His batting line for the game, 0-for-11, has not been equaled in at least 100 years.
A quirk of the calendar made the longest game possible. May 1 was the first day of Daylight Saving Time, meaning sunset came an hour later than the day before. The 26th inning ended at 6:50 P.M. EDT, still nearly an hour before official sundown, but the sun was nowhere in sight. The dark clouds and mist made it hard to see. Oeschger said, "The batters were griping to end the game."7 The umpire in chief, Barry McCormick, talked to both managers and called a halt because of darkness.8
The teams played 26 innings, almost three full games, in 3 hours and 50 minutes. Each half-inning, on average, took less than five minutes, even counting the breaks in between. While there has never been another 26-inning game in the majors, the White Sox and Brewers played 25 in 1984; that one, completed over two days because of a curfew, lasted 8 hours and 6 minutes. The 1974 Cardinals and Mets played 25 innings in a brisk 7:04. Obviously players moved at a different pace in 1920.
At the time nobody knew how many pitches Oeschger and Cadore threw. Nobody asked until more than 30 years later. Oeschger guessed his total was about 250. Cadore thought he was close to 300.
"I don't say I wasn't a little tired after those 26 innings," Oeschger said, "but I have been more fatigued in some nine-inning games when I got into a lot of jams. They are what wear a pitcher out. There weren't too many tight situations in this long game."9 Oeschger went on to win 20 games the next season, the best year of his career.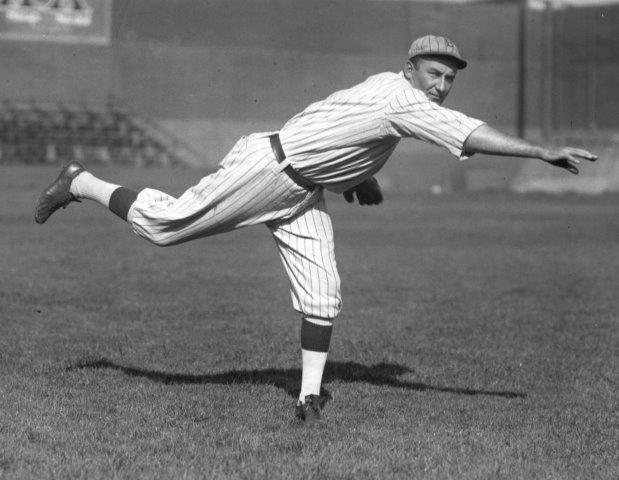 Cadore finished the 1920 season with the 10th best ERA in the league. He pitched in the majors for four more years, but said his arm was never the same after the marathon game.
Today a 26-inning complete game seems preposterous, not to mention abusive. Even by the standards of 1920, Oeschger and Cadore's feat was recognized as extraordinary. A Boston Globe cartoon the next day portrayed them taking their place in the Hall of Fame. (The Hall did not exist, but the idea did.)
Marathon pitching performances were rare, but not unknown. In the previous record-longest game, in 1906, Jack Coombs of Philadelphia and Boston's Joe Harris pitched all 24 innings. With the help of Retrosheet, baseball-reference.com, and researcher Philip J. Lowry, the author has identified 20 times when a starter worked 20 or more innings. The first was in 1892, the last in 1929. Oeschger himself went 20 in 1919, the only man to reach that mark twice. We can wish for a time machine to take us back to July 4, 1905: Cy Young against Rube Waddell for 20 innings.
Mercifully, the Braves had a day off after the longest game, because Sunday ball was not allowed in Boston. But the Dodgers took a train home, where they played 13 innings before losing to the Phillies, 4-3. Then they returned to Boston to wrap up the series there. The two teams played 19 innings on Monday, as the Braves squeaked out a 2-1 win. The Dodgers had fought through 58 innings in three days, without a single victory to show for their labors.
This article appeared in "Braves Field: Memorable Moments at Boston's Lost Diamond" (SABR, 2015), edited by Bill Nowlin and Bob Brady. To read more articles from this book, click here.
Sources
Box scores for this game can be seen on baseball-reference.com, and retrosheet.org at:
http://www.baseball-reference.com/boxes/BSN/BSN192005010.shtml
http://www.retrosheet.org/boxesetc/1920/B05010BSN1920.htm
Retrosheet's play-by-play account had not yet been published when this article was written. David W. Smith of Retrosheet.org provided it.
"Boston and Brooklyn Break Big League Record by Battling for 26 Innings," New York Times, May 2, 1920.
"Brooklyn Ties in Record Game of 26 Innings," Sun & New York Herald, May 2, 1920.
Corbett, Warren. "Marathon Men." The Hardball Times Baseball Annual. Fangraphs and the Hardball Times, 2014.
Cunningham, Ed. "Darkness Finds Longest Game in All Big League History Still Undecided," Boston Sunday Herald, May 2, 1920.
"How It Seems to Pitch a 26-Inning Game," Baseball Magazine, July 1920.
Lieb, Fred. "Leon Cadore, Who Pitched 26-Inning Duel, Dies at 65," The Sporting News, March 26, 1958.
Lowry, Philip J., email, August 23, 2014.
"Major League Record Broken; Score is 1-1," New York Tribune, May 2, 1920.
Murphy, Edward T. "Cadore Recalls That 26-Inning Duel with Oeschger," New York World Telegram and Sun, April 30, 1955.
Murphy, Edward T. "Cadore Replays Longest Major Game – 26-Inning Dodger-Brave Tie in '20," The Sporting News, January 18, 1956.
National Weather Service and weatherunderground.com.
O'Leary, James C. "Braves-Dodgers in 26-inning Tie," Boston Globe, May 2, 1920.
O'Leary, James C. "Oeschger in Good Trim After His Record Game," Boston Globe, May 3, 1920.
Rice, Thomas S. "Superbas in 26 Inning Tie," Brooklyn Eagle, May 2, 1920.
Rice, Thomas S. "Bats Not Swinging True for Dodgers," The Sporting News, May 13, 1920.
Ruane, Tom. "A Retro Review of the 1920s," Retrosheet.org, retrosheet.org/Research/RuaneT/rev1920_art.htm#A1920, accessed June 18, 2014.
Notes
Additional Stats
Boston Braves 1
Brooklyn Dodgers 1
26 innings
---
Braves Field
Boston, MA
Box Score + PBP:
Corrections? Additions?
If you can help us improve this game story, contact us.
Tags
https://sabr.org/sites/default/files/1920-Boston-Globe-cartoon-26-inning-game.png
600
800
admin
/wp-content/uploads/2020/02/sabr_logo.png
admin
2017-08-11 00:58:24
2020-04-17 10:25:45
May 1, 1920: An extreme exercise in futility: Braves, Dodgers play 26 innings to no decision