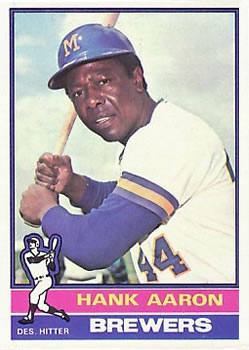 May 1, 1975: Hank Aaron breaks the Babe's RBI record
---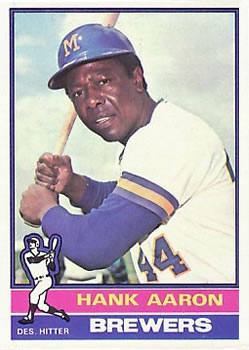 The old, the young, and the immortal converged at County Stadium on May 1, 1975, as Henry Aaron broke another of Babe Ruth's records and marveled at the emergence of another player who was younger than Aaron's career was old.1
Aaron was in his first year with the Brewers after an offseason trade from the Atlanta Braves, with whom he had enjoyed 21 stellar seasons. At 41, his best years were behind him, but he wanted to end his major-league career in the city where it began. And being in the American League, he could stay in the lineup as a designated hitter and not worry about having to play in the field. He was showing his age, however, as he was adjusting to a new league and new pitchers, and was hitting only .157 going into the game.
The standings in the American League East on May 1 told a rather different story from how matters would unfold. The Brewers, 9-7, were one game behind the 10-6 Detroit Tigers, as the teams met in the second of a two-game series. The eventual division champion Boston Red Sox were three games back with a 7-9 record. Milwaukee had defeated Detroit 6-2 the previous night behind Jim Slaton's 7⅓ innings of five-hit pitching.
Vern Ruhle started for Detroit. He went into the game with a 1-1 record, and had a no-decision in his previous start, a 3-2 Tigers win over Boston in which he gave up two unearned runs in six innings. Pete Broberg started for the Brewers; he was coming off a 7-0 complete-game win at Yankee Stadium, which improved his record to 3-2. That was the same game in which Aaron had tied Ruth's record of 2,209 RBIs.2
The first inning belied what was to come as Detroit took an early 2-0 lead when Gary Sutherland singled and then scored on a two-run homer by Aaron's DH counterpart, Willie Horton.
Milwaukee cut that lead in half in the bottom of the second with some light strokes from heavy hitters. George "Boomer" Scott, who would lead the American League in home runs, RBIs, and total bases (36, 109, 318), singled and moved to second on Aaron's base hit. After Ruhle walked Darrell Porter to load the bases, Scott scored on a sacrifice fly by Mike Hegan.
Aaron got his historic RBI in the third. Don Money singled with one out, but was forced at second on a grounder by Robin Yount. Sixto Lezcano singled to move Yount to second, and the 19-year-old shortstop then scored on Scott's single. Next, Aaron made history with the Brewers' third consecutive base hit, driving Lezcano home and giving Milwaukee a 3-2 lead.
Unlike the April 8, 1974, game where Aaron broke Ruth's home-run record, the moments following this achievement were relatively subdued. "Aaron, after a brief examination of the ball [that he hit to set the record], flipped it to General Manager Jim Baumer, who made sure it would be headed to Cooperstown and the Hall of Fame," wrote Lou Chapman in The Sporting News.3
The Tigers continued trying to make a game of it in the fifth. With two out, speedster Ron LeFlore walked, stole second, and advanced to third when Brewers catcher Porter became the latest in a long line of backstops who made throwing errors trying to gun LeFlore down at second. Horton singled to score Leflore and tie the game, 3-3.
Milwaukee took control of the game for good with five runs in the bottom of the inning. Money led off with a single off eventual losing pitcher Ray Bare and scored quickly on Yount's double. Two outs later, Aaron began his effort to make his RBI record unbreakable by driving Yount home with a two-bagger of his own. Porter made up for his error by tripling in Aaron, and then scoring on an error by second baseman Sutherland, who was trying to cut Porter down at third. (Detroit committed four errors in the game while Milwaukee made three.) Hegan got in on the scoring fun by walking, stealing second, and then crossing the plate when Pedro Garcia blasted a triple of his own. The Brewers led, 8-3.
The only thing better than scoring five runs in one inning is scoring five runs in another one, and that's exactly what the Brewers did in the seventh. Aaron led off with a single — even he couldn't drive in a run if he was the first batter in the inning — after which manager and former teammate Del Crandall removed him from the game after a 4-for-4 performance for pinch-runner Bobby Mitchell. Pitcher Tom Makowski's error on a ball hit back to the mound allowed Porter to reach and Mitchell to advance to second; both moved up on Rob Ellis's sacrifice (Ellis replaced Hegan in left field in the sixth). Garcia's fly ball scored Mitchell and moved Porter up to third. Bob Coluccio walked and, with runners on first and third, Money singled to score Porter.
At this point, the Brewers had hit singles, doubles, and triples, but were a home run away from a team cycle for the game. Yount took care of that with a three-run shot that scored Coluccio and Money ahead of him. After seven, it was a 13-3 laugher for Milwaukee.
The Brewers had one more turn at bat in the eighth, and they clearly didn't want to be greedy, so they only scored four runs. Mitchell walked and came home on Porter's home run, after which the Brewers loaded the bases on a Garcia walk sandwiched between singles by Ellis and Coluccio. Kurt Bevacqua, pinch-hitting for Money, hit a sacrifice fly that drove Ellis home. Garcia closed out the scoring when he crossed the plate on an error by shortstop Tom Veryzer. The final score was Milwaukee 17, Detroit 3.
Aaron felt a sense of relief after the game because he no longer had to climb the summit with the specter of Ruth on his back: "Sure, it felt good to break the record," said Aaron. "Any time you can get your name mentioned alongside a guy like Babe Ruth in the record book, it's got to feel good. I'm just glad it's over."4
He was happier talking about his young teammate Yount, who had a home run, a double, and four RBIs in the game: "That Robin Yount!," exclaimed Aaron. "This kid is for real. … He has tremendous talent and he wants to play."5
Aaron wasn't the only member of the Yount Fan Club: "He's swinging like the catcher is telling him what's coming," said Scott. "The kid's got the kind of swing that everyone wishes he had."6
By winning the game, Milwaukee tied Detroit for first place in the American League East, but neither club would enjoy its lofty status for long, as they plummeted to the two worst records in the American League. The Brewers finished with a 68-94 mark while Detroit was a horrendous 57-102.
This article appears in "From the Braves to the Brewers: Great Games and Exciting History at Milwaukee's County Stadium" (SABR, 2016), edited by Gregory H. Wolf. To read more stories from this book at the SABR Games Project, click here.
Sources
In addition to the sources listed in endnotes, the author also consulted Baseball-reference.com
Notes
1 Aaron already had 40 home runs by the time Yount was born.
2 Baseball-Reference credits Ruth with 2,214 RBIs. At the time, 2,209 was the accepted number, according to the commissioner's office
3 Lou Chapman, "'No More Plateaus,' Says King Henry," The Sporting News, May 17, 1975.
4 Dale Hofmann, "RBI Record No Big Deal For Aaron," Milwaukee Sentinel," May 2, 1975.
5 Mike O' Brien, "Aaron, Young spark Brewers past Tigers 17-3," Post-Crescent (Appleton, Wisconsin).
6 Chapman, "Hank's Record Turns Mates On," Milwaukee Sentinel, May 2, 1975.
Additional Stats
Milwaukee Brewers 17
Detroit Tigers 3
---
County Stadium
Milwaukee, WI
Box Score + PBP:
Corrections? Additions?
If you can help us improve this game story, contact us.
Tags
https://sabr.org/sites/default/files/AaronHank-1976Topps.jpg
600
800
admin
/wp-content/uploads/2020/02/sabr_logo.png
admin
2018-04-05 14:54:05
2020-04-17 10:24:50
May 1, 1975: Hank Aaron breaks the Babe's RBI record