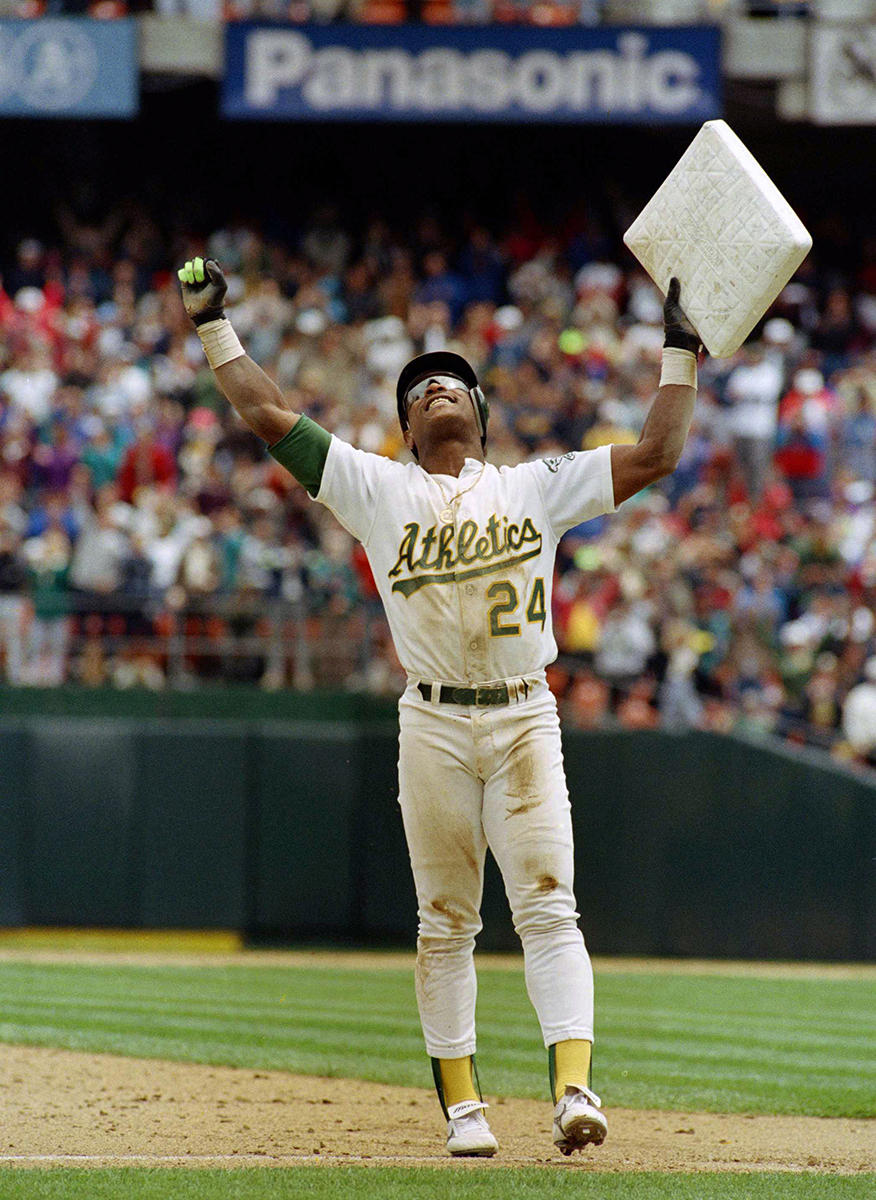 May 1, 1991: Rickey Henderson becomes baseball's new stolen base king
---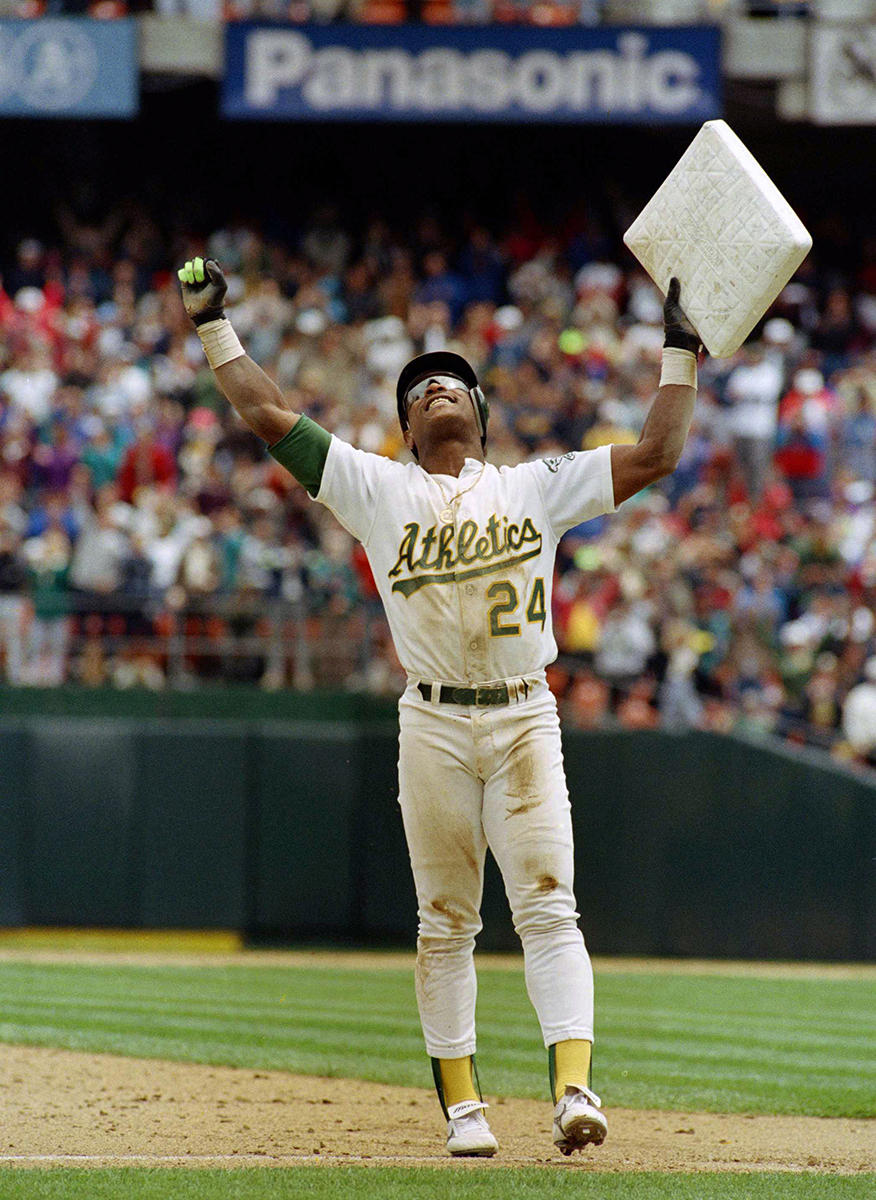 The waiting can be interminable, but most milestones that are surpassed are foregone conclusions. Some records take longer to break. Some carry over from one season to the next. When the 1990 season ended, Rickey Henderson totaled 936 stolen bases. He trailed all-time leader Lou Brock by two.
The question was not if, but when Henderson would take the crown as the all-time leader in stolen bases. He stole a base on Opening Day against Minnesota on April 9. A few days later, he was placed on the 15-day disabled list with a pulled left calf muscle. He returned to the lineup and tied Brock on April 28 against California. Henderson, who was in his 13th season in the big leagues, was 32 years old. By comparison, Brock was in his 18th season when he broke Ty Cobb's record. At the beginning of the 1991 season, Henderson had played in 1,008 fewer games than Brock.1 One had to believe there were a whole lot more bases to be stolen by Rickey Henderson.
Now, it seemed as if Henderson would pick his spot, pick his moment, to be number one. The New York Yankees came to the Bay Area for a two-game set at the Oakland-Alameda County Coliseum. Henderson, who began his career in 1979 with Oakland, played for the Yankees from 1985 to 1989, when he was traded back to the Athletics in midseason.2 Oakland was his hometown, and with his mother, family, friends, and Lou Brock looking on, the day had come for Henderson to claim the title of all-time leader in stolen bases.
Oakland was the reigning three-time American League champions, having won the pennant from in 1988, 1989, and 1990. Surprisingly, they had been swept in the 1990 World Series by Cincinnati. In the beginning of the 1991 season, the A's (13-7) held a half-game lead over the Chicago White Sox (11-6) as April came to a close.
For the visiting Yankees, it had been 10 years since they made the postseason. Their prospects for a successful 1991 season were not great at the beginning as New York (6-11) ended April in sixth place in the AL East.
The pitching matchup for the game was Tim Leary (2-0, 4.67 ERA) for the Yankees going up against Mike Moore (4-0, 2.52). Leary was looking to turn things around from a dreadful 1990 season, when he led the AL in losses (19) and wild pitches (23). Moore was a solid yet overlooked starter on the Oakland staff. While Dave Stewart and Bob Welch may have received more accolades, it was Moore who had a 4-1 record over the last two postseasons.
The Yankees scored in the top of the first inning. With one out, Steve Sax walked and stole second base. He went to third on an infield single by Don Mattingly. Kevin Maas walked to load the bases. Mel Hall's line out to right field scored Sax.
In the bottom of the first inning, Henderson led off with a walk. But Yankees catcher Matt Nokes gunned him down as he tried to steal second. In the bottom of the second inning, the A's loaded the bases against Leary with a single and two walks. Up to bat came Henderson, but he took a called strike three to end the threat.
Dave Henderson led off the home half of the third inning with a home run, his seventh of the season. After Jose Canseco struck out, Harold Baines doubled. Terry Steinbach flied out to right field for the second out. Mark McGwire walked and then Ernest Riles tripled to center to clear the bases, and Oakland led 3-1.
New York got a run back in the top of the fourth inning when Nokes hit a two-out homer off Moore. It was Nokes's third home run on the year.
Rickey Henderson led off the fourth inning and hit a groundball to Yankees shortstop Alvaro Espinoza. The ball snuck under Espinoza's glove and he was charged with an error. Dave Henderson followed with an infield single to third. Rickey Henderson moved to second, and stayed put after Canseco flied out. But on the next pitch, he took off for third base and beat Nokes's one-hop throw to Yankees third baseman Randy Velarde. Rickey Henderson was the new all-time stolen-base leader.
The game was stopped for eight minutes to honor the new king. Henderson's mother, Bobbie, and Brock joined him on the field. "Lou Brock is the symbol of great basestealing, but today, I am the greatest of all time," Henderson told the roaring crowd.3 He acknowledged his first minor-league manager, Tom Trebelhorn, and the late Billy Martin, his manager in both Oakland and New York. "I love you, Billy. I wish you were here,"4 said Henderson, looking skyward.
Brock said, "Today you are the greatest competitor who ever ran the bases in the big leagues. I congratulate you. You are now a legend in your time."5
Hoopla aside, there was still a game to be played. Baines followed with a single to score Rickey Henderson. Dave Henderson moved up to second base and went to third on a fly out off the bat of Steinbach. Leary walked McGwire to load the bases. New York manager Stump Merrill went to the bullpen, bringing in reliever Rich Monteleone. Riles greeted him with a single to score Dave Henderson. The A's now led 5-2.
The Yankees inched closer. They scored one run in each of the fifth and sixth innings on RBI singles by Sax and Hensley Meulens respectively. In the bottom of the fifth inning, Rickey Henderson laced a one-out double to left. But he was cut down again by Nokes when he tried to steal third base.
Oakland got another run in the bottom of the sixth when Riles singled home Canseco, who had walked and stolen second base. The A's put the game on ice in the bottom of the eighth inning. Canseco led off with a double. Lance Blankenship followed with a grounder to short and Espinoza committed his second error of the game, allowing Canseco to take third base. After Steinbach lined out to right, Canseco came home on a sacrifice fly to left field by McGwire.
The final score was 7-4, Oakland. Moore was less than stellar in improving his record to 4-0. He went 5⅓ innings, gave up four runs, walked three, and struck out four. Leary (2-1) was charged with the loss.
The hitting hero for the Athletics was Ernest Riles, who went 4-for-5 with four RBIs. Both stats tied his career high. But the day belonged to Rickey Henderson. "I said to myself, 'It's all over,'" said Henderson. "I'm number 1. A lot of pressure left me at that moment. I felt 50 pounds lighter; there was a lot of pressure to get it done. I haven't been sleeping well. I became a new man after I stole that base."6
"This record will go up there with any of them," said Oakland manager Tony La Russa. "It will be with any of the hardest of them. I'm thrilled. It's right up there with the greatest records baseball keeps. I recognize how special it is."7
Henderson retired after the 2003 season. He stole 1,406 bases in his career.
Sources
The author accessed Baseball-Reference.com for box scores, play-by-play information, and other data, as well as retrosheet.org.
baseball-reference.com/boxes/OAK/OAK199105010.shtml
retrosheet.org/boxesetc/1991/B05010OAK1991.htm
Notes
1 Leonard Koppett, "Fast When Breaking Records, Too," New York Times, May 2, 1991: B19.
2 Henderson was traded for Greg Cadaret, Eric Plunk, and Luis Polonia.
3 Michael Kay, "Rickey Bags Theft Crown," New York Daily News, May 2, 1991: 65.
4 Ibid.
5 Ibid.
6 Ibid.
7 Ibid.
Additional Stats
Oakland Athletics 7
New York Yankees 4
---
Oakland-Alameda County Coliseum
Oakland, CA
Box Score + PBP:
Corrections? Additions?
If you can help us improve this game story, contact us.
Tags
https://sabr.org/sites/default/files/Henderson-Rickey-1991-AP.jpg
600
800
admin
/wp-content/uploads/2020/02/sabr_logo.png
admin
2019-07-17 00:59:57
2020-04-17 10:22:35
May 1, 1991: Rickey Henderson becomes baseball's new stolen base king