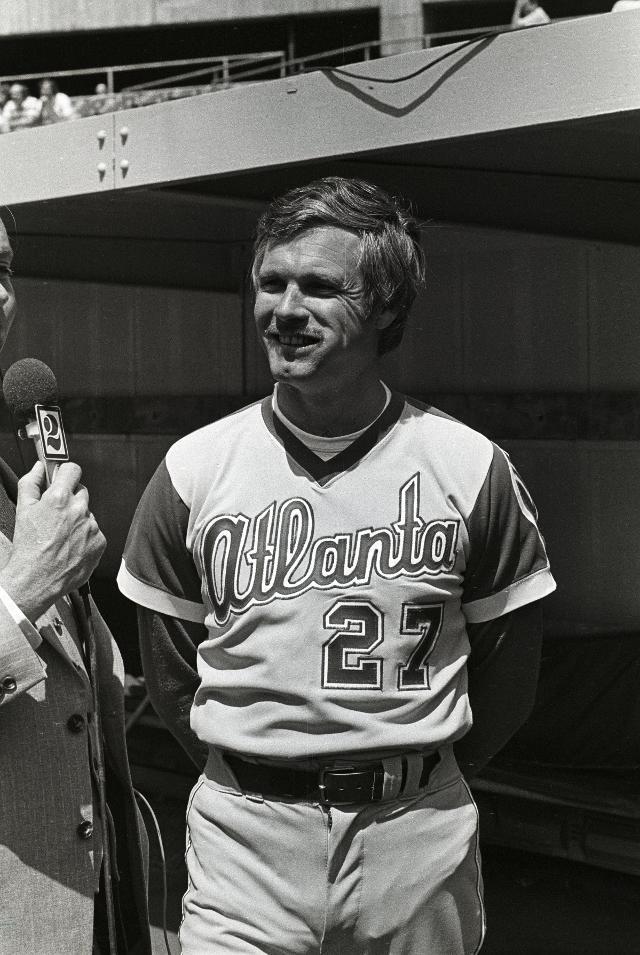 May 11, 1977: Braves owner Ted Turner takes reins as manager
---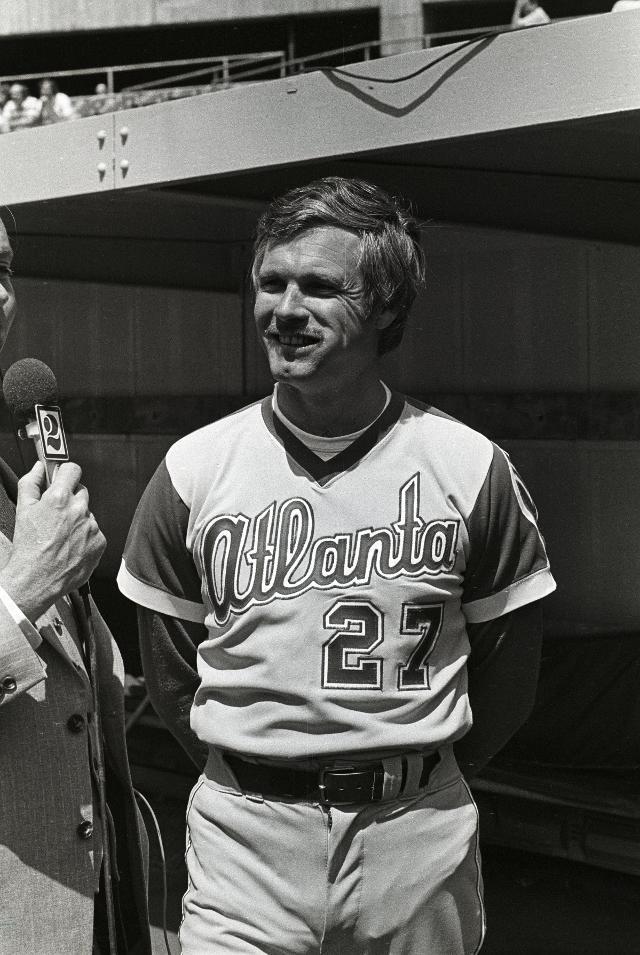 Budding media mogul Ted Turner, who had obtained the rights to broadcast Atlanta Braves games on his television station, WTCG, in 1973, purchased the franchise in 1976 and attempted to engineer an immediate reversal of its faltering fortunes. Turner dipped into the brand-new free-agent market and signed one of its trailblazers, Los Angeles Dodgers pitcher Andy Messersmith, who had won 19 games in 1975. In spite of the new owner's hopes for an instant turnaround, Messersmith posted only an 11-11 record as the Braves finished the 1976 season in last place in the National League West with a 70-92 record, 32 games behind the first-place Cincinnati Reds.
On November 17, 1976, the Braves signed another big-money free agent, San Francisco Giants outfielder Gary Matthews. Unfortunately for Turner, he had made a comment to Giants' owner Bob Lurie about recruiting Matthews during the 1976 World Series, which constituted tampering.1 Commissioner Bowie Kuhn fined Turner $10,000, suspended him for one year,2 and forced the Braves to forfeit their first pick in the January 1977 draft. Turner protested, saying, "I am a rookie in this business. I should be allowed a few errors."3 It may have been the only time in his life that Turner, whose arrogance and oft-outrageous statements had earned him the unflattering nickname "The Mouth of the South," admitted that he did not know everything.
The Braves began 1977 by winning eight of their first 13 games, but from April 23 to May 10 they endured a 16-game losing streak that tried Turner's always-thin patience. It soon became obvious that he had not been chastened by Kuhn's punishment for his "error" in the Matthews signing. It also became evident that he believed he now knew everything there was to know about baseball; consequently, his remedy for the Braves' losing ways was to give manager Dave Bristol a 10-day vacation and to install himself as the interim manager. Bristol's response to Turner was, "You're crazy. But go ahead. It's your team."4
Turner no doubt thought he was sane. After all the Philadelphia Athletics' Connie Mack had set the precedent for owning and managing a ballclub. The difference between the two men, of course, was that Mack had been an ex-player whose knowledge of the game's intricacies had garnered him the sobriquet of "The Tall Tactician" while Turner knew nothing about baseball strategy. Additionally, Turner was unaware that after Mack retired in 1950, baseball passed a new rule that prohibited an owner from managing a team in which he owned stock.
On May 11, 1977, Turner emerged in uniform for the Braves' game against the Pirates at Pittsburgh's Three Rivers Stadium. Braves reliever Buzz Capra was amused at the sight of his new manager, later recalling:
"I'm sitting at my locker, and here he comes. … He's got the hat pulled down and he's got the uniform on and he's got his pants all the way up to his knees and he's got the stirrups backwards, with the high end in the front … and I grabbed a towel and stuffed it in my mouth to keep from laughing hysterically, he looked so ridiculous. And he's got a cigar in his mouth."5
Veteran knuckleballer Phil Niekro, the Braves' scheduled starter, jokingly asked Turner, "Ted, what spot you got me hitting in today?" Turner's response was, "Hell, I don't know. … You've been around here long enough. Hit wherever you want to." Fortunately, Niekro knew better and informed his temporary skipper, "I don't think that's going to work, Ted. Put me in that ninth spot."6
A mere 6,816 fans were in attendance to witness the spectacle of Turner-as-manager in what was a relatively uneventful game. Turner had sufficient good judgment to rely on two of his coaches to guide him through the game's tactical decisions. Bullpen coach Chris Cannizzaro remembered, "[Third-base coach] Vern [Benson] and I tried to explain things to him. You can do this, you can't do that."7 In spite of the assistance Turner received, Braves infielder Darrel Chaney observed, "It looked to me that every time [Pirates manager Chuck] Tanner would cross his legs, Turner would cross his legs. … Like he was trying to figure out what to do."8
The Pirates opened the scoring in the bottom of the first. Number-two hitter Frank Taveras struck out but reached first base safely when Niekro's knuckleball got past catcher Vic Correll for a wild pitch. Dave Parker singled and advanced to second base when Braves center fielder Barry Bonnell tried unsuccessfully to throw Taveras out at third. After Al Oliver flied out, Willie Stargell was walked intentionally to load the bases, and Rennie Stennett beat out an infield single to give the Bucs a 1-0 lead.
Niekro limited the damage to that lone run, and the Braves tied the game against Pirates lefty John Candelaria in the top of the second when Bonnell singled and drove in the inning's leadoff batter, Cito Gaston, who had reached first on an error by shortstop Taveras and advanced to second on a single by Tom Paciorek. The deadlock lasted only until the bottom of the third inning, when Parker launched a solo home run to give the Pirates a 2-1 advantage that held up as the final score and extended the Braves' losing streak to 17 games.
The only excitement after Parker's homer occurred in the top of the ninth inning. Correll hit a one-out single and gave way to pinch-runner Pat Rockett. After Bonnell flied out, Turner decided on his own to send switch-hitter Chaney to the plate to pinch-hit for Niekro. Chaney had never been asked to pinch-hit right-handed in his nine-year career and asked his teammate Rod Gilbreath, "Can you believe this?"9 Nevertheless, Chaney clouted a double, but it was a ground-rule two-bagger that forced Rockett to stop at third base. Goose Gossage relieved Candelaria and struck out pinch-hitter Rowland Office to end the game.
Though the Braves had lost again, "The Mouth of the South" roared excitedly afterward. Chaney recalled with disdain, "… Ted was walking into the clubhouse and, just as loud as he always was, 'How you like that move, I put Chaney in there!' We had lost the game. 'How you like that move putting Chaney in there, hitting that double!' you know."10
Fortunately for Chaney, the Braves, and all of major-league baseball, Commissioner Kuhn and NL President Chub Feeney invoked the Connie Mack-inspired rule that prohibited owners from managing their teams against Turner the next day. Kuhn said, "It [Turner managing] just wasn't right. It was embarrassing, and that's good enough for me. Conduct not in the best interests of the game."11
Turner's response to being ordered out of the dugout was, "They must have put that rule in yesterday. If I'm smart enough to buy the team, I ought to be smart enough to manage it."12 His follow-up, "This is like a game to me. This is just a big Little League team," certainly gave credence to the idea that his conduct was detrimental to the game.13
Benson took over as manager the next day and the Braves finally won again, defeating the Pirates 6-1 behind a strong outing by starting pitcher Max Leon, who helped his own cause with three RBIs. Bristol rejoined the Braves on the following day as they returned to Atlanta to face St. Louis; he managed the team for the remainder of the season, which they finished in last place in the NL West with a 61-101 record.
Turner briefly persisted in his attempt to manage. He said that he asked Kuhn "if it was OK if I went and managed in the minors for a year and really learned how to do it. He said, 'Nope.'"14 Thus, Turner's career managerial record will forever remain 0-1.15
Sources
In addition to the sources cited in the Notes, the author used the Baseball-Reference.com and Retrosheet.org websites for material pertinent to this article.
Notes
1 Murray Chass, "Kuhn Suspends Turner, Braves' Owner, for Year in Matthews Case, New York Times, January 3, 1977.
4 Dan Epstein, Big Hair and Plastic Grass: A Funky Ride through Baseball and America in the Swinging '70s (New York: St. Martin's Press, 2010), 219.
5 Phil Pepe, Talkin' Baseball: An Oral History of Baseball in the 1970s (New York: Ballantine Books, 1998), 271.
15 Turner Broadcasting and Time Warner merged in 1995, and Turner was vice chairman of the company until he resigned in 2003. In 2007 Time Warner sold the Braves to the Liberty Media Corporation, ending Turner's connection to the franchise. Though Turner now is eligible to manage the team, the new Braves ownership is unlikely to indulge him.
Additional Stats
Pittsburgh Pirates 2
Atlanta Braves 1
---
Three Rivers Stadium
Pittsburgh, PA
Box Score + PBP:
Corrections? Additions?
If you can help us improve this game story, contact us.
Tags
http://sabr.org/sites/default/files/TurnerTed-Braves.jpg
600
800
admin
/wp-content/uploads/2020/02/sabr_logo.png
admin
2016-10-04 18:28:20
2020-04-17 10:26:01
May 11, 1977: Braves owner Ted Turner takes reins as manager