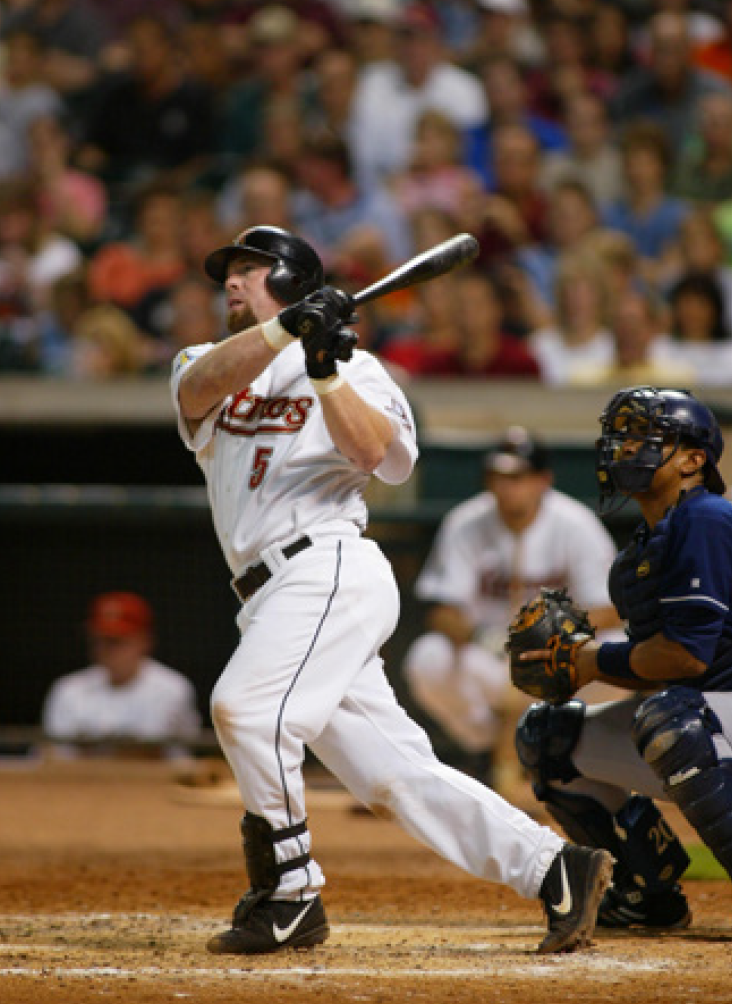 May 11, 1999: Astros blast Bucs 19-8 and set team records for runs, doubles
---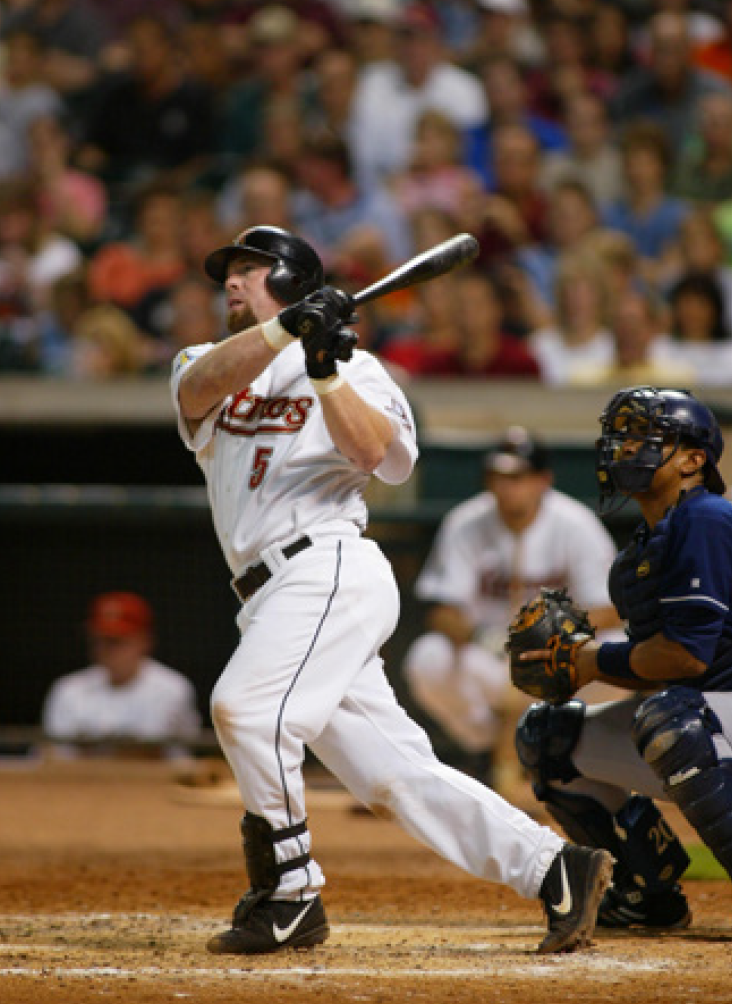 Runs had historically been hard to come by in the Astrodome, but on May 11, 1999 — in the building's last season — the Astros proved an exception to the rule, blasting the Pirates 19-8 in front of 18,450. The Dome had opened as the modernistic "eighth wonder of the world,"1 but its design made the games played there seem to be part of the Deadball Era, when runs were at a premium, extra-base hits were infrequent, and "it [took] three players to make a run."2 With their new $250 million downtown park (built by Halliburton Corporation, under the leadership of former Defense Secretary Dick Cheney) nearing completion, the Astros gave their fans a night to remember in the old Dome.3
The Astros, coming off a 102-win season, entered the game with a 19-12 record, good for first place in the NL Central under manager Larry Dierker. The Pirates, meanwhile, were a surprising 16-15 after finishing last in the NL Central in 1998 with just 69 wins under manager Gene Lamont. Sean Bergman took the mound for Houston, while Lamont countered with Todd Ritchie, an offseason scrap-heap signing who entered the game at 2-1 with a 2.53 ERA on his way to a career year. He would end up with 15 victories and the sixth best ERA in the NL.
The game itself was relatively uneventful through the top of the third, with the score tied 1-1. Ritchie was touched up for a run in the first when Ken Caminiti singled to score Jeff Bagwell. The Pirates starter then helped himself at the plate in the top of the second by singling to extend the inning, after which Al Martin drove in Warren Morris.
The Astros scored three in the bottom of third. Craig Biggio was hit by a pitch, Derek Bell reached on an error by shortstop Pat Meares on what might have been a double-play ball, and Bagwell drilled a two-run double. One out later, Carl Everett's groundout scored Bagwell to make it 4-1. Richard Hidalgo doubled with two out but the Pirates avoided more damage when right fielder Brian Giles threw out Hidalgo at the plate as he tried to score on Tim Bogar's base hit.
Houston blew open the game in the fourth and fifth innings. The Astros sent nine men to the plate and scored five runs in each inning. In the fourth, Biggio doubled with one out, Bell reached on an error by third baseman Ed Sprague, Bagwell walked, and Caminiti banged out a two-run double. After Chris Peters replaced Ritchie for the Pirates, csingles by Everett and Hidalgo knocked in three more runs as Houston increased its lead to 9-1.
Pittsburgh got two runs back in the top of the fifth on Martin's second home run of the season but that had no effect on the Astros. In the fifth another error by Sprague allowed leadoff batter Bergman to reach base. Then came consecutive hits by Biggio, Bell, and Bagwell (a double), a sacrifice fly by Caminiti, another base hit by Everett (who had a career-high five RBIs on this night), and a two-out RBI double by Paul Bako.
With a 14-3 lead after five innings, the Astros tried to put the game on cruise control, but the Pirates got three back in the top of the sixth. A single by Brant Brown, a double by Sprague, and a three-run homer by Morris chased Bergman, who wound up with the win despite a messy pitching line that included 11 hits and six runs in five-plus innings. He was apologetic after the game, saying, "The offense was definitely the story. The way I pitched was unacceptable. We scored runs, and I should have been able to get guys out. I didn't do my job."4
Dierker went with lefty Trever Miller to replace Bergman, and he got out of the sixth without allowing any more scoring. The Pirates picked up two runs in the seventh off Jeff McCurry, who had — somewhat curiously — replaced Miller after Giles lined out to start the inning. Jason Kendall singled, Brown doubled, and Sprague knocked them both in with a double. Brian Williams finished the seventh and pitched a clean eighth inning as well.
With the Pirates trailing 15-8, manager Lamont inserted catcher Keith Osik to make his first major-league pitching appearance in the bottom of the eighth. Osik was the first position player to pitch for Pittsburgh since outfielder John Cangelosi did so on May 3, 1988.5 After getting Derek Bell to foul out, Osik walked Jack Howell (pinch-hitting for Bagwell) and Bill Spiers. Everett doubled to score Howell, Hidalgo was hit by a pitch and, after Bako struck out, Bogar doubled down the third-base line to clear the bases and give the Astros a 19-8 lead.
In the ninth, fireballing Astros closer Billy Wagner, who had not pitched in six days, came on to get some work and close out the game. He did it with ease, on two strikeouts and a fly ball.
Asked about Osik's pitching after the game, Everett said, "I treated it like BP. A guy used to throwing from a flat surface isn't normally going to throw as hard as a guy used to throwing off a mound."6 For his part, Osik said, "I was just trying to help the bullpen. Those guys have been pitching their butts off and someone needed to suck up an inning for them."7
The Astros' starting pitcher, Bergman, was unable to finish the sixth inning despite an 11-run lead. "It was kind of an ugly game from both teams' standpoint," manager Dierker said. (The Pirates made five errors.) "This is not the type of game I would have preferred, but you certainly want to be on the winning end of it."8
The Astros' 19 runs tied a club record and their 10 doubles set a new team mark.9 Everett, for one, was not surprised: "If we put our heads together like this, there's no telling how many times we can do it. It's a great club, and everyone can hit."10
The game was long enough, at 3 hours and 22 minutes, to be described in the Houston Chronicle as a "marathon."11 (By 2014 a major-league game lasted an average of 3 hours and 8 minutes.12) Everett said after the game, "I think we were more anxious to try and get this game over with. Your feet start hurting."13
This article appears in "Dome Sweet Dome: History and Highlights from 35 Years of the Houston Astrodome" (SABR, 2017), edited by Gregory H. Wolf. To read more articles from this book at the SABR Games Project, click here.
Notes
1 James Gast, The Astrodome: Building an American Spectacle (Boston: Aspinwall Press, 2014), 130.
2 Bill James, The Baseball Abstract 1983 (New York: Ballantine Books, 1983), 66-67. James credits Craig Wright; see also, John Thorn and Pete Palmer, The Hidden Game of Baseball: A Revolutionary Approach to Baseball and Its Statistics (Garden City, New York: Doubleday Dolphin, 1985), 82.
3 Gary Gillette and Eric Enders (with Stuart Shea and Matthew Silverman), Big League Ballparks: The Complete Illustrated History (New York: Metro, 2009), 462.
4 Joseph Duarte, "AstrosBreak Out Their Whipping Sticks; Runs Record Matched in 19-8 Rout of Pirates," Houston Chronicle, May 12, 1999): Sports, 1.
5 Ibid.
6 Associated Press, "Astros Prevail With an Unusual Onslaught," available at https://articles.latimes.com/1999/may/12/sports/sp-36552.
7 Ibid.
8 Duarte.
9 Ibid.
10 Ibid.
11 Ibid.
12 Ted Berg, "Why Are Baseball Games Getting So Much Longer?" USA Today, September 30, 2014. https://ftw.usatoday.com/2014/09/mlb-games-length-three-hours-pace-of-play.
13 Ibid.
Additional Stats
Houston Astros 19
Pittsburgh Pirates 8
---
Astrodome
Houston, TX
Box Score + PBP:
Corrections? Additions?
If you can help us improve this game story, contact us.
Tags
https://sabr.org/sites/default/files/BagwellJeff.png
600
800
admin
/wp-content/uploads/2020/02/sabr_logo.png
admin
2018-10-02 13:42:40
2020-04-17 10:23:54
May 11, 1999: Astros blast Bucs 19-8 and set team records for runs, doubles