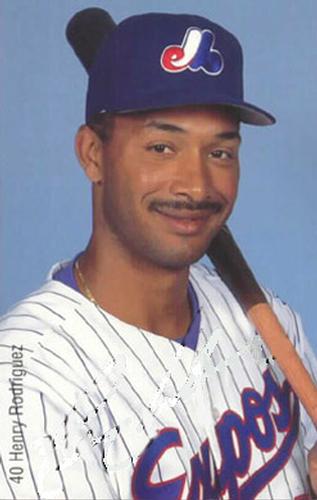 May 12, 1996: Oh Henry! Expos' Rodriguez finds home run swing
---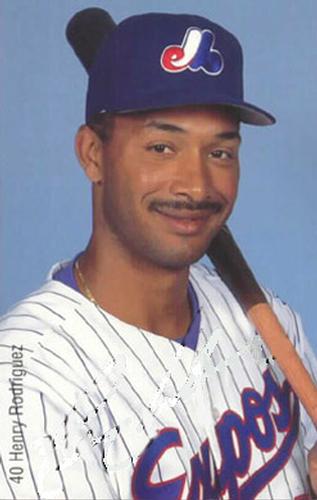 Hurling baseballs back after opponents' home runs, flinging caps onto the rink after a hat trick in hockey, and tossing flowers onto the ice in honor of a figure skater's performance are three traditions where throwing things onto the field of play is acceptable behavior at sporting events.
However, take an unlikely baseball power hitter, fans hungry for a competitive team, and a candy bar, and a new form of accolade gained national notice at the game between the Houston Astros and Montreal Expos on May 12, 1996.
Henry Rodriguez, a 28-year-old outfielder for the Expos, "suddenly" found his home-run swing in 1996. Montreal manager Felipe Alou attributed his success to weight-lifting, adding 15 pounds of muscle, and having the initials "HR."1
In 1994, the Expos sported the best record in baseball, but had no postseason because of the players' strike. The following season found them at the bottom of the NL East. Seeing the 1996 incarnation of Roger Maris/Babe Ruth playing at StadeOlympique however, reinvigorated fan enthusiasm.
As the season progressed, fans handed Oh Henry! candy bars to Rodriguez after batting practice or home runs. Soon fans were tossing them onto the field. By May 6, Rodriguez had collected 16 bars. On June 10 left fielder Rodriguez swatted two home runs in a 5-2 win over Houston. Astros right fielder Derek Bell visited the Expos clubhouse after the game and yelled, "Yo! Henry: keep them (expletive deleted) chocolate bars out of right field now. They can throw them in left, I don't care. But keep them away from me; otherwise I'll be eating them during the pitching changes."2
"Hammerin' Hank" mania continued the next night. Despite striking out twice, Rodriguez returned to his position to cheers and a shower of chocolate bars in the fourth inning.
Montreal led the NL East (25-12) while Houston sat atop the NL Central with a sub-.500 record (18-19). On the mound, Houston's Mike Hampton faced UguethUrbina, just up from the Triple-A Ottawa Lynx.
The Astros featured the "Killer B's," consisting of future Hall of Famer Craig Biggio, four-time All-Star Jeff Bagwell, and Bell.3 Rodriguez (15 home runs, 43 RBIs, and .352 batting average), Moises Alou (son of Felipe), and David Segui (son of former major-league pitcher Diego Segui) led Montreal's offense.
In the bottom of the first, Montreal's Mark Grudzielanek led off with an infield single. He advanced to third on a passed ball by Houston catcher Jerry Goff and a wild pitch by Hampton. After Mike Lansing walked, Grudzielanek scored when Alou reached first on an error by Biggio. With two outs Goff committed his second passed ball, moving the runners to second and third.F.P.Santangelo plated both with a double to left for a 3-0 Montreal lead.
Goff responded to his miscues in the top of the second with his first home run of the season to make it 3-1.
The offense continued for the Expos in the bottom of the second. Third baseman Shane Andrews doubled to left. Urbina singled to right, but right fielder Bell gunned down Andrews at the plate.Grudzielanek advanced Urbina to second with a single to right. After a groundout moved both runners into scoring position, Henry Rodriguez stepped to the plate. "Oh Henry!" did not disappoint, knocking in two with a double to center field, expanding Montreal's lead to 5-1.
The double led to a shower of candy littering the field. The umpires ordered the Astros off the field for safety and cleanup. Five minutes after the candy bars had been cleared, play had not yet resumed. Expos manager Alou, seeking an explanation for the delay, strode out to speak to third-base umpire/crew chief Harry Wendelstedt, who ejected him from the game.
Wendelstedt commented afterward, "Alou didn't like my method of taking control. … I told him, 'Settle down because your action, your body language indicates that you condone the throwing.' He got a little angrier and then I ejected him."4After the delay, Houston manager Terry Collins lifted Hampton in favor of Anthony Young, who recorded the last out of the inning.5
The Expos' scoring continued in the third. After Santangelo again doubled to left, Young intentionally walked Andrews. With Urbina up, Goff committed two more passed balls on consecutive pitches, the second scoring Santangelo with Montreal's sixth run.
Houston tallied one run in the fourth when Bell reached on an error by shortstop Grudzielanek, advanced to second on a single to right by Derrick May, and scored on a single by the still-atoning Goff. The runners took second and third on a groundout, but Urbina stopped the Astros threat by striking out the next two batters. The Astros trailed 6-2.
In the fourth Grudzielanek greeted new Houston pitcher Jeff Tabaka with an infield hit to shortstop and moved to second when Mike Lansing singled to left. Yet two more Goff passed balls, once more on consecutive pitches, allowed Grudzielanek to score and Lansing to reach third. But Bell again denied the Expos a run as he nailed Lansing attempting to score on a fly ball by Alou. Montreal now led 7-2.
The Astros plated another run on Craig Biggio's home run in the fifth inning to cut the lead to 7-3.
The Astros inched closer in the sixth. With two outs, Ricky Gutierrez reached base on Grudzielanek'ssecond error and advanced on a wild pitch by Urbina. After pinch-hitter Sean Berry walked, Expos acting manager Jim Tracy sent in reliever Mike Dyer. John Cangelosi welcomed him with an RBI single to right. With Berry on third, catcher Lenny Webster threw out Cangelosi attempting to steal second. Montreal's lead shrank to 7-4.
In the bottom of the sixth, the Astros' Xavier Hernandez surrendered a pinch single to right by Andy Stankiewicz. Grudzielanek followed with his fourth single of the day and stole second before Rodriguez struck out to end the inning.
The Astros had a productive seventh inning. Biggio doubled to left field off Dave Veres, Montreal's third pitcher, Bagwell walked, and a wild pitch moved them 90 feet. Biggio scored on a grounder by Bell, making it a 7-5 game. New pitcher Omar Daal gave up an RBI single to pinch-hitter James Mouton, scoring Bagwell. Houston now trailed by one, 7-6. The inning ended when Goff struck out and Webster threw out Mouton trying to steal second.
In the eighth Houston's Brian Hunter lined into an inning-ending double play, Lansing to Segui at first, which caught Gutierrez, who had singled.
A scoring chance fizzled for the Expos when Lansing struck out with runners on first and second after pinch-hitter Sherman Obando singled and Grudzielanek did, for the fifth time.
The Astros managed a single by Bagwell in the ninth before Mel Rojas, Montreal's sixth pitcher, closed out the game for his fifth save of the season. Urbina, who earned his first win of the year, would become Montreal's closer the following season.6
Two of the game's three big stories involved players having great days offensively and terrible days defensively.
Jerry Goff's only major-league appearance of 1996 was also the last of his six-year, 90-game career as he soon found himself with Triple-A Tucson. This day, he finished with a bang at the plate: 2-for-4 with a home run and two RBIs, but a whimper behind it, committing a National League record six passed balls7 that accounted for five Montreal unearned runs.8"I don't have an answer," said Goff. "After the first one got by, I got a little tentative. It just snowballed from there. It was ugly. I'm not making excuses. I just wish I had an answer."9
Mark Grudzielanek recorded his second five-hit day, all singles.10 However, his two errors led to two unearned runs.
And Oh Henry! Rodriguez? His double indirectly halted the game leading to his manager's ejection. He finished 1996 with career highs in home runs (36), RBIs (103), hits (147), doubles (42), and strikeouts (160) and was selected to the NL All-Star team for the first and only time. Colin Anderle of the Cauldron blogsite noted Rodriguez as having one of the "five wackiest power surges in the steroid era."11
Soon after this game, Rodriguez was signed as an Oh Henry! spokesman. Hershey's sponsored an Oh Henry! promotion at the June 24 game against Pittsburgh with tickets at a reduced price and free Oh Henry! T-shirts. Henry came through, going 3-for-3 with two more home runs — both bringing a rain of candy — a double, and four RBIs. After the 1997 season he became a Chicago Cub and "Oh Henry!" showers continued until 1999, when five Cubs fans were arrested for disturbing the peace. Although the Cubs had the charges dropped, it marked the end of the "Oh Henry" phenomenon.12 Rodriguez returned to the Expos in 2002, at the age of 34, but managed just one single in 20 at-bats before being released. The magic of 1996 was long gone.
This article appeared in "Au jeu/Play Ball: The 50 Greatest Games in the History of the Montreal Expos" (SABR, 2016), edited by Norm King. To read more articles from this book, click here.

Sources
In addition to the sources listed in the notes, the author consulted:
"1902 Enemies Within the Gate," thisgreatgame.com/1902-baseball-history.html.
Associated Press (AM cycle), "Alou Gets Birthday Present — Ejection,lexis-nexis.com, May 12, 1996.
Associated Press, "Major League Roundup," Hamilton (Ontario) Spectator, June 25, 1996.
Bill Beacon, "Oh Henry! Expo slugger sweet swinging surprise," Calgary Herald, May 7, 1996.
Jeff Blair, "Mr. Nice Guy: Rodriguez quickly becoming fan favorite," Gazette (Montreal), May 11, 1996.
Sam Carchidi, "A Sweet Season For Henry Rodriguez," Philadelphia Inquirer, July 8, 1996.
Mike Downey, "Rodriguez Is a Favorite in Montreal, Bar None," Los Angeles Times, May 13, 1996.
"NL Roundup," Chicago Tribune, June 25, 1996.
"Passed Balls Trivia,", retrieved July 21, 2015.
WayneScanlan. "Pitter-patter of parade begins for Expos fans," Ottawa Citizen May 12, 1996.
PaulSullivan, "Wild Bunch. Henry On Crackdown: Oh, No!" Chicago Tribune, June 3, 1999.
Box scores for this game can be found on baseball-reference.com, and retrosheet.org at:
http://www.baseball-reference.com/boxes/MON/MON199605120.shtml
http://www.retrosheet.org/boxesetc/1996/B05120MON1996.htm
Notes
Additional Stats
Montreal Expos 7
Houston Astros 6
---
Olympic Stadium
Montreal, QC
Box Score + PBP:
Corrections? Additions?
If you can help us improve this game story, contact us.
Tags
https://sabr.org/sites/default/files/RodriguezHenry.jpg
600
800
admin
/wp-content/uploads/2020/02/sabr_logo.png
admin
2017-10-26 17:59:45
2020-04-17 10:25:41
May 12, 1996: Oh Henry! Expos' Rodriguez finds home run swing