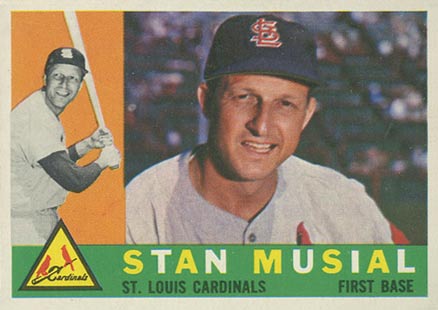 May 13, 1958: Stan Musial delivers in the pinch for his 3,000th hit
---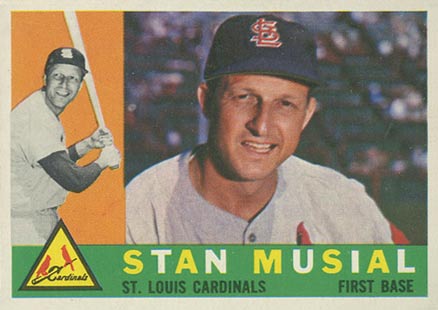 Stan Musial didn't expect to play when his St. Louis Cardinals took on the Chicago Cubs on the North Side of the Windy City. The 37-year-old future Hall of Famer was in perfect health; he was also sitting on 2,999 hits, and with the Redbirds back in the Gateway City the next day, skipper Fred Hutchinson had every intention of letting Stan the Man join an exclusive fraternity in front of his hometown fans. Only an emergency could derail Hutchinson's plan.
In his 17th season, Musial showed no sign of slowing down. He was coming off a spectacular season in 1957, having led the NL in batting average (.351) for the seventh time and in on-base percentage (.422) for the sixth time; he also belted 29 round-trippers and knocked in 100-plus runs for the 10th time. Musial was the big leagues' hottest hitter thus far in '58. He was leading both leagues with a .483 batting average (42-for-87) and a .553 on-base percentage through 22 games, and paced the senior circuit with a .782 slugging percentage. Since he debuted as a mid-September call-up in 1941, one aspect of his hitting had remained constant: his unorthodox stance. "He stands far back from the plate," wrote the New York Times about the converted pitcher, "his feet close together, right shoulder pointed toward the pitcher, the bat posed motionless and out farther than any player holds it. His head is bent slightly and turned toward the pitcher."1 You can't argue with success.
Musial played on Redbird pennant winners in his first four full seasons (1942-1944; 1946; he was in the military in 1945), but the glory years of three World Series championships must have seemed far off in '58. The Cardinals (8-14) had floundered in last place most of the season, but their current five-game winning streak pulled them into sixth, tied with the Philadelphia Phillies, seven games behind the Milwaukee Braves. Skipper Bob Scheffing's fourth-place Cubs (13-13) had dropped their last six to fall out of the top spot. The pitching matchup featured a pair of struggling right-handers. The Redbirds' Sam Jones's 1-3 record (5.28 ERA) dropped his career slate to 38-50 while the Cubs' Moe Drabowksy (1-2, 5.40 ERA) was 16-21 in parts of three seasons.
The first half of the game was a Lee Walls highlight reel. He got the Cubs rolling in the first by doubling and subsequently scoring on Ernie Banks's sacrifice. After a walk, two errors and Irv Noren's single tied the game for the Cardinals in the third, Walls smacked a deep home run, his 10th, over the "wide screen in left," according to sportswriter Edward Prell of the Chicago Tribune, to give the Cubs a 2-1 lead.2 With the bases loaded and one out in the fifth, Walls's sacrifice fly drove in Bobby Thomson for another run.
The Cardinals trailed, 3-1, when Gene Green led off the top of the sixth with a double. After Hal Smith grounded out, Hutchinson motioned to Musial to grab a bat and pinch-hit for Jones. Musial wasn't sitting on the dugout bench; rather, he had been "sunning himself in a green folding chair in the Cardinals' bullpen" along the first-base line, according to the Tribune.3 His afternoon leisure rudely interrupted, Musial sauntered to the plate. After fouling off three pitches to the left and taking two balls, Musial took a cut at the sixth offering and sent a liner into the left-field corner for an RBI double.
Musial's hit brought the modest crowd of 5,692 at Wrigley Field on a Tuesday afternoon to its feet for a rousing standing ovation. The following few minutes were, according to St. Louis sportswriter Bob Broeg, like a scene from "Mack Sennett's old Keystone Kops" routine.4 Photographers, normally barred from field, poured onto the diamond to record the feat for posterity. While play was interrupted, Musial walked to the pitcher's mound, where he was met by Hutchinson and third-base umpire Frank Dascoli, who gave him the historic ball. After a few ceremonial waves to the crowd, Musial walked back to the dugout, savoring the moment, and was replaced by pinch-runner Frank Barnes.
The Cardinals tied the score, 3-3, two batters later when Don Blasingame, hitless in his last 16 at-bats, singled. After Drabowsky intentionally walked Joe Cunningham to load the bases with one out, Noren's groundout force at second plated Dick Schofield to give the Cardinals the lead. Wally Moon's double to right drove in Blasingame, but Noren was out at home on second baseman Tony Taylor's relay strike to catcher Sammy Taylor.
The final 3½ frames were anticlimactic. Jones was relieved by Billy Muffett, who tossed four scoreless innings, yielding two hits and walking one. He fanned Chuck Tanner to end the game in 2 hours and 27 minutes. The victory went to Jones, whose five-hit, three-run outing was less than stellar. Tagged with the loss, Drabowsky surrendered eight hits and five runs (four earned) in seven innings.
Immediately after the game, Cubs announcer Jack Brickhouse of WGN interviewed Musial on the field. "I was pressing a little the last few games," said Musial in his Western Pennsylvanian accent. "I was mighty anxious to get this 3000th hit and get it over with."5 True to his approach to hitting, Musial said he was just trying to make contact and not blast one out of the park. "I went for a base hit. It was a curveball going away, I swung and the next thing I knew I was on second with a double."6
Musial became the first major leaguer to reach 3,000 hits since the Boston Braves' Paul Waner in 1942 (though most of his hits were as a Pittsburgh Pirate). Cap Anson (1897), Honus Wager (1914), Nap Lajoie (1914), Ty Cobb (1921), Tris Speaker (1925), and Eddie Collins (1925) preceded them.
The celebration for Musial's accomplishment began in earnest that evening when he and his teammates boarded an Illinois Central Railroad train at Union Station and headed home to St. Louis. He was in a car with close friends from Pennsylvania and Missouri, as well as his wife, Lil. According to the St. Loui Post-Dispatch, Musial was presented with a cake with the number 3,000. A team of St. Louis broadcasters gave him a pair of commemorative cufflinks.7 When the train pulled into Union Station in the Mound City later that evening, about a thousand fans enthusiastically greeted Musial.
Musial continued to pelt the pill the rest of the season, finishing with a .337 batting average (third highest in the league), though his power numbers dropped. For the first time since 1947, he failed to hit at least 20 home runs, finishing with 17, and his 62 runs batted in were a career low. Musial retired after the 1963 season with an NL record 3,630 hits.
This article appears in "Wrigley Field: The Friendly Confines at Clark and Addison" (SABR, 2019), edited by Gregory H. Wolf. To read more stories from this book online, click here.
Sources
In addition to the sources cited in the Notes, the author also accessed Retrosheet.org, Baseball-Reference.com, and SABR.org.
https://www.baseball-reference.com/boxes/CHN/CHN195805130.shtml
http://www.retrosheet.org/boxesetc/1958/B05130CHN1958.htm
Notes
1 "Safeties in Numbers: Stanley Frank Musial," New York Times, May 14, 1958: 39.
2 Edward Prell, "Musial's 3000th Is Pinch Hit," Chicago Tribune, May 14, 1958: C1.
3 Ibid.
4 Bob Broeg, "Musial Eyes .400 Average After Getting 3000 Hits," St. Louis Post-Dispatch, May 14, 1958: 4D.
5 "Musial Relaxes, Now That Pressure's Off," Chicago Tribune, May 14, 1958: C1.
6 Ibid.
7 The St. Louis Post-Dispatch did not mention the names of the broadcasters; however, at the time they were Jack Buck, Harry Caray, and Joe Garagiola. See Broeg.
Additional Stats
St. Louis Cardinals 5
Chicago Cubs 3
---
Wrigley Field
Chicago, IL
Box Score + PBP:
Corrections? Additions?
If you can help us improve this game story, contact us.
Tags
https://sabr.org/sites/default/files/images/MusialStan-1960Topps.jpg
600
800
admin
/wp-content/uploads/2020/02/sabr_logo.png
admin
2019-12-03 13:51:07
2020-04-17 10:22:23
May 13, 1958: Stan Musial delivers in the pinch for his 3,000th hit