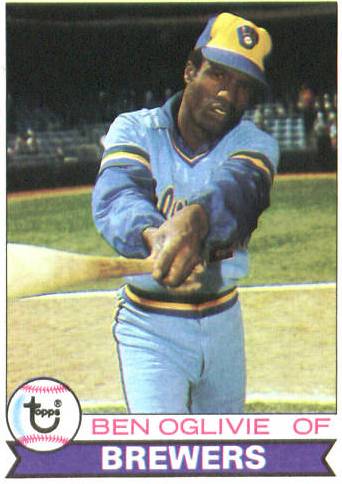 May 14, 1983: Good things come in threes for Brewers' Ben Oglivie
---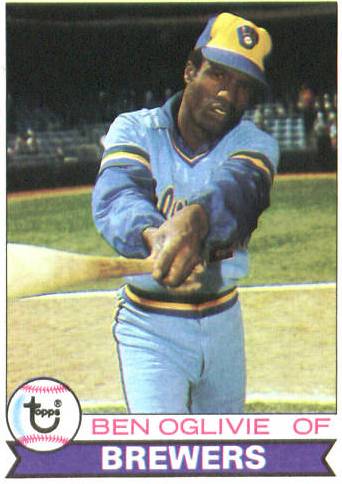 The magic number was 3 at County Stadium in Milwaukee on Saturday, May 14, 1983, as the Brewers hosted the Boston Red Sox. The temperature was brisk (53 degrees) but Ben Oglivie was hot, entering the game hitting .323 with a .427 on-base percentage. His bat would play a deciding role on this evening.
The Red Sox (17-12) and Brewers (15-13) were in a tight race in the American League East; Boston was a half-game behind the Orioles with Milwaukee in fifth place but only two games back of the Orioles.
Manager Harvey Kuenn's Brewers had just lost their first World Series, in seven games to the St. Louis Cardinals. The Red Sox were three years away from their 1986 World Series against the Mets. Five future Hall of Famers were on the field: Jim Rice, Wade Boggs, and Carl Yastrzemski for Boston; and Paul Molitor and Robin Yount for Milwaukee.
A crowd of 26,180 saw Milwaukee's rookie right-hander Chuck Porter and Boston lefty Bruce Hurst each set down the opposing sides 1-2-3 in the first inning.
Porter was appearing in just his eighth major-league game. He would start 21 games in 1983, with a 7-9 record and 4.50 ERA. This was Hurst's first of 10 consecutive seasons with at least 11 victories (1983-1992).
Boston sent nine men to the plate in the top of the second, scoring four runs before an out was made. Wade Boggs singled to left field and scored after Porter walked the next three batters. Boggs, in his second season in the majors, was batting cleanup for Boston and would go on to lead the AL in batting (.361) and on-base percentage (.444). Dave Stapleton lined a single to left, driving in two and Glenn Hoffman followed with an RBI double to left field, advancing Stapleton to third and putting Boston up 4-0. Jim Slaton came on in relief of Porter. Jerry Remy grounded out to his counterpart Jim Gantner at second, who froze Stapleton at third. After Dwight Evans flied to right, Slaton got Rice to ground out to end the inning.
The Brewers got on the scoreboard in the bottom of the inning when Ogilvie, who began his career in Boston in 1971, hit a solo home run to make the score 4-1.
Boston tallied another run in the top of the third. Yastrzemski (who was batting .300 in his 23rd and final season), Rich Gedman, and Rick Miller all singled to load the bases. Stapleton brought in Yastrzemski with a sacrifice fly to center field to make it 5-1, Boston.
Milwaukee cut into the lead in the bottom of the fourth. Cecil Cooper singled to center. Ted Simmons forced Cooper at second, advanced to second on a single by Gorman Thomas, and to third on an Oglivie force out. With two outs and runners on first and third, Hurst balked Simmons home, closing the gap to 5-2, in Boston's favor.
The Red Sox put up another run in the top of the fifth. Yastrzemski walked with one out and was doubled to third by Gedman. With the infield drawn in, Rick Miller grounded to shortstop Robin Yount, who threw out Yastrzemski at the plate, leaving runners at the corners. Stapleton singled in Gedman from third with his fourth RBI of the game; the Red Sox now led 6-2.
In the bottom of the fifth, Charlie Moore doubled to left field. However, Hurst retired the three longtime Brewer mainstays (Gantner, Molitor, and Yount), who went on to play 15 seasons together, the most ever by three position players.1
Remy led off the Boston sixth with a single to left and Dwight Evans followed with a walk. Though 1983 was one of the worst statistical seasons of Evans's career at the plate (.238), he was awarded his sixth of eight Gold Gloves despite playing only 99 games in the outfield. With one out, Jamie Easterly came on in relief of Slaton and got Wade Boggs to hit into an inning-ending double play.
Milwaukee added two runs in the sixth when Oglivie followed a two-out Gorman Thomas single with his second home run of the game, the 200th of his career. The Red Sox lead was cut to two: Boston 6, Milwaukee 4.
In the Boston seventh, Yastrzemski led off by drawing his third walk. Pinch-runner Ed Jurak advanced to second on a sacrifice by Gedman. After Miller grounded out to second, rookie Bob Gibson, making just his sixth major-league appearance, relieved Easterly and retired Stapleton on a fly ball to left to end the Boston threat.
Milwaukee entered the bottom of the ninth still down by two, 6-4. Thomas led off with his third single to left, off closer Bob Stanley, who was having the best season of his career. (He would finish the season with 33 saves.) Then came the big blow — Oglivie's third home run, knotting the game at 6-6. After Don Money flied out to center, Moore doubled to left, putting the potential winning run at second. Boston manager Ralph Houk brought in Mark Clear to replace Stanley. After walking Gantner, Clear retired both Molitor and Yount in succession, sending the game into extra innings.
For Ben Oglivie, his three home runs gave him six (of 13) for the season and 201 (of 235) for his career. However, it was seven weeks until his next home run. The two home runs off Hurst and one off Bob Stanley were his only ones against them in his career. The most? Six off Dennis Eckersley. This was Oglivie's third and final three-home-run game, all against his former teams (first two came against Detroit on July 8, 1979, the first by any Brewer player — and on June 20, 1982). Oglivie was selected to the AL All-Star team for the third time in 1983.
Larry Doby, who managed Oglivie in the Venezuelan League in 1972, called him a five-tool player (hit, run, field, throw, and hit for power).2 Rod Carew once said of Oglivie's swing, "He's the only hitter who makes me uncomfortable when I'm holding a runner on first base."3 Oglivie, a highly intelligent and well-read man, followed the advice of two of his favorite philosophers: martial artist Bruce Lee ("Like a cobra, your stroke should be felt before it is seen") and Henry David Thoreau ("In the long run men hit only what they aim at.")4
Boston responded to the Brewers' ninth-inning rally when Rick Miller singled leading off the 10th and moved to third on a one-out single by Hoffman. Boston regained the lead, 7-6, when Miller scored on Remy's grounder to second. Evans flied to right to end the inning.
For the second time in two innings, the Brewers' backs were against the wall in a must-score situation. With one out, Ted Simmons singled to center. Then Mark Clear's control wavered; he walked Thomas and Oglivie to load the bases. Don Money, a 16-year veteran struggling through his final season with an average of .184, took ball four on a 3-and-1 pitch5 to force home pinch-runner Marshall Edwards and tie the game, 7-7.
Right-hander Luis Aponte entered the game to face Moore, who already had two hits. The Brewers right fielder stepped to the plate and lined a pitch to left field over shortstop Hoffman's head6 for the game-ending single, scoring Gorman Thomas and sending the Brewers home with an 8-7 extra-inning victory.
Losing pitcher Clear, an All-Star in 1982, had a rough 1983 with a 6.28 ERA in 48 games. Gibson got his first career victory in his sixth major-league appearance; his ERA was just 1.50. (He would end up 3-4 with a 3.90 ERA.)
The defending AL champion Brewers finished 12 games over .500, good only for fifth in the AL East, 11 games behind the world champion Orioles. Not until 2008 did the Brewers see the playoffs again. Boston finished one place lower, sixth, 20 games out.
Ben Oglivie's early-season performance led to his third selection as an All-Star. The number 3 worked for Mr. Oglivie.
This article appears in "From the Braves to the Brewers: Great Games and Exciting History at Milwaukee's County Stadium" (SABR, 2016), edited by Gregory H. Wolf. To read more stories from this book at the SABR Games Project, click here.
Notes
1 "BrewerFan.net, "Fan Forum" forum.brewerfan.net/viewtopic.php?f=63&t=21889, April 6, 2010.
2 Jay Hurd, "Ben Oglivie," SABR BioProject, sabr.org/bioproj/person/6eb958b1. Information was found in a folder of newspaper clippings from the A. Bartlett Giamatti Research Center at the National Baseball Hall of Fame.
3 Steve Wulf, "Swingo, Ergo Sum: So Ben Oglivie, the philosopher-home run king of baseball, seems to be saying with his bat," Sports Illustrated, June 8, 1981. si.com/vault/1981/06/08/825701/swingo-ergo-sum-so-ben-oglivie-the-philosopher-home-run-king-of-baseball-seems-to-be-saying-with-his-bat .
4 Wulf.
5 United Press International sports wire, May 14, 1983, A.M. cycle.
6 UPI, "Blue Jays Turn In 1-Hitter," New York Times, May 15, 1983, nytimes.com/1983/05/15/sports/blue-jays-turn-in-1-hitter.html.
Additional Stats
Milwaukee Brewers 8
Boston Red Sox 7
---
County Stadium
Milwaukee, WI
Box Score + PBP:
Corrections? Additions?
If you can help us improve this game story, contact us.
Tags
http://bioproj.sabr.org/bp_ftp/images4/OglivieBen.jpg
600
800
admin
/wp-content/uploads/2020/02/sabr_logo.png
admin
2018-04-13 13:35:58
2020-04-17 10:24:49
May 14, 1983: Good things come in threes for Brewers' Ben Oglivie