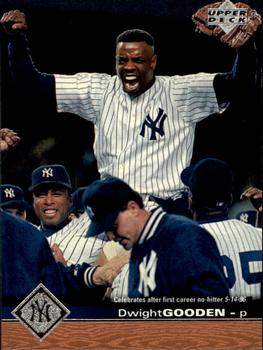 May 14, 1996: Dwight Gooden pitches no-hitter for Yankees
---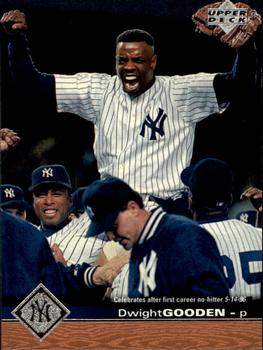 Dwight Gooden had been suspended from baseball when he tested positive for cocaine in 1994. After he failed a second test and was suspended for the entire 1995 season, the Mets released him. As his suspension drew to a close, Gooden was looking for a fresh start on his career. The New York Yankees decided to take a chance and signed him as a free agent on February 20, 1996.
After Yankees owner George Steinbrenner signed Gooden, he claimed that the 31-year-old hurler could win 15 games.1 Gooden recalled leaving his initial interview with Steinbrenner feeling frustrated that he had made a poor impression. "But not long after, George called me and made me an offer. We met one more time, this time with my dad at my side, and I agreed to a one-year guaranteed deal with team options for a second and third year. More importantly, he said, 'Stay out of trouble, pitch hard, and everything will work out.'"2
Gooden struggled when the 1996 season started. In his first three starts, his ERA was an atrocious 11.47.3 But he began to turn things around in May. On May 3, he pitched 6 shutout innings. In his next start on May 8, he gave up three runs to the Tigers in the first inning but then pitched seven shutout innings for the win. Those two starts "definitely gave me a boost of confidence," he said.4
At the beginning of May, Gooden learned that his father would require open-heart surgery. The surgery was scheduled for May 15 and Gooden prepared to fly home on the morning of May 14. But he started to think about what his father had told him when he was growing up about being a man and putting the job first. "I started to think that my dad would probably want me to pitch. So I said, 'You know what, I'm going to pitch, and then I'll go home.'"5
Gooden took the mound against the Seattle Mariners. A crowd of 20,765 showed up at Yankee Stadium hoping to see the Doctor K of old. Gooden was "just thinking about pitching good enough to get through six or seven innings and give my team a chance to win."6 He faced Sterling Hitchcock, who had won his first three games of the season but had not earned a win since April 12.
In the first inning, Gooden walked leadoff hitter Darren Bragg. Alex Rodriguez hit a line drive to the center fielder, Gerald Williams, who was subbing for the injured Bernie Williams. Gerald made a superb running catch and threw to first to double off Bragg. Gooden then walked Ken Griffey Jr. before getting Edgar Martinez to fly out to right field. Hitchcock got the Yankees out in order in the bottom of the first.
In the second, after getting Jay Buhner to fly out, Gooden gave up his third walk, to Paul Sorrento. Once again the Mariners could not capitalize on having a runner on base as Gooden got the next two batters out. Again in the third, Gooden walked a Mariner (Rodriguez) and Seattle didn't score.
Hitchcock also pitched well. Through the first five innings, he just gave up two singles and three walks. The Yankees finally scored in the sixth inning. Wade Boggs and Joe Girardi, singled. Paul O'Neill ground out to first and the runners moved up. Ruben Sierra was intentionally walked, but instead of hitting into a double play, Tino Martinez hit a fly ball to deep center to score Boggs and move Girardi to third. The future Yankees manager scored when Jim Leyritz singled. At this point Michael Jackson replaced Hitchcock. Gerald Williams lined out to shortstop, but the Yankees were leading 2-0.
From the fourth inning through the seventh, Gooden was almost perfect. The Mariners got a baserunner in the sixth when Yankees first baseman Martinez fumbled Bragg's grounder. But Williams made a shoestring catch of Edgar Martinez's sinking line drive to end the inning.
All evening Gooden would blow on his hands between pitches. He explained later that it was his way of getting rid of his nervous energy.7 But with each inning Gooden became more confident as he continued to keep the Mariners hitless. "The more zeros I put up, the more confidence I was gaining. I was walking out to the mound with more of a swagger," he said in an interview 10 years later.8 Every time Gooden returned to the dugout, he paced and appeared on the verge of tears as he thought about the battle his father would face the next day.9
Gooden had some anxious moments in the Mariners ninth. When he strolled to the mound for the start of the inning, the crowd stood and cheered. Gooden walked leadoff batter Rodriguez. He got Griffey to ground out to first, with Rodriguez moving to second. But then he walked Edgar Martinez and threw a wild pitch on his first offering to Buhner. The tying runs were in scoring position and Buhner represented the go-ahead run.
Yankees manager Joe Torre went to the mound to speak with Gooden. Everyone watched in silence as they realized that if Torre pulled him out, he would not get the no-hitter.10 But Torre left him in the game. Gooden settled down and fanned Buhner swinging, for his fifth strikeout of the game.
Paul Sorrento was the next batter and as it turned out, the final batter. With the count 2-and-1, he popped out to Derek Jeter and the game was over, the no-hitter intact. "If I dropped the ball," Jeter said, "I would've been banned from ever playing again in New York."11 Gooden watched as Jeter caught the ball, his arms over his head. Gooden dropped his glove and flipped off his cap as his teammates swarmed the mound. It was the ninth Yankees no-hitter and, coming off his yearlong suspension, it may have been the most surprising one. The win turned Gooden's season around. He went 8-2 over his next 11 starts and finished the season 11-7.
Recalling Sorrento's popup in the interview in 2006, Gooden said: "When I saw the ball go up into the air, I was thinking, 'No way.' When Derek caught it, I was thinking that [t]his is the greatest feeling of my life. To be through what I've been through and now this, I can't describe it. In my wildest dreams I could never imagine this. I was thinking about where I was a year and a half ago at this time. It was a situation where I didn't know if I'd ever be in this position again."12
Gooden wasted no time in reaching out to his family. He flew to Tampa the next morning to be with his father. The doctor told him that his father began to cry after the game and "that surprised me because he never really got emotional. My mom pulled everyone out of the room and just let me have a moment alone with my dad. That's when I gave him the ball from the last out."13
Sources
In addition to the sources cited in the Notes, the author also used the Baseball-Reference.com, Baseball-Almanac.com, and Retrosheet.org websites for box-score, player, team, and season pages, pitching and batting game logs, and other pertinent material.
baseball-reference.com/boxes/NYA/NYA199605140.shtml.
http://www.retrosheet.org/boxesetc/1996/B05140NYA1996.htm
Notes
Additional Stats
New York Yankees 2
Seattle Mariners 0
---
Yankee Stadium
New York, NY
Box Score + PBP:
Corrections? Additions?
If you can help us improve this game story, contact us.
Tags
https://sabr.org/sites/default/files/GoodenDwight-1996.jpg
600
800
admin
/wp-content/uploads/2020/02/sabr_logo.png
admin
2017-12-08 00:22:20
2020-04-17 10:24:59
May 14, 1996: Dwight Gooden pitches no-hitter for Yankees