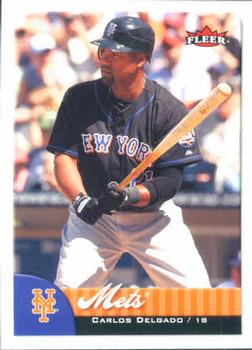 May 17, 2007: Delgado's walk-off lifts Mets in a fatigued comeback
---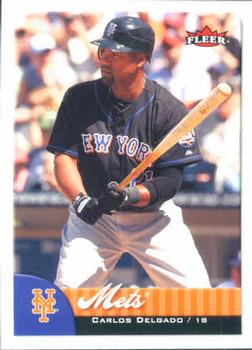 The New York Mets had good reason to be tired when they took the field at Shea Stadium at 1:10 on Thursday afternoon to wrap up their four-game series with the Chicago Cubs. About 12 hours earlier, manager Willie Randolph's squad had left the diamond after an 8-1 victory that began more than three hours late due to inclement weather. That win improved the Mets' record to an NL-best 25-14 and pushed them back into first place, a half-game ahead of the Atlanta Braves.
With the spectacle of the Mets-Yankees interleague series about to take over Gotham for the coming weekend, Randolph, himself a former five-time All-Star second baseman for the Bronx Bombers, decided to give some of his players a day off. "There were so many regulars missing," opined sportswriter Ben Shpigel of the New York Times, "that some Mets who wandered by did not know which understudy was playing where."1 Taking a seat on the pine were five former All-Stars, including three-quarters of the infield — shortstop Jose Reyes, second baseman Damion Easley, and third baseman David Wright — as well as catcher Paul Lo Duca and center fielder Carlos Beltran. Another past All-Star, Moises Alou, was also missing, having been placed on the disabled list the day before because of a quadriceps injury. "We've got the strongest bench in baseball," joked Shawn Green, who, along with slugger Carlos Delgado, occupied their customary third and fourth positions in the batting order.2
The Cubs (18-20), in third place in the NL Central, six games behind the streaking Milwaukee Brewers, might have breathed a sigh of relief when they saw the Mets lineup. But as beat writer Paul Sullivan of Chicago Tribune noted, "Misery happens, especially when the Cubs invade New York."3 Losers of five of their last seven games, the North Siders were also without a major component of their offense, slugger Derrek Lee, who missed his third straight game with neck pain. "Without Lee," wrote Sullivan," the lineup looks average."4
Shea Stadium was packed with 42,667 partisan fans who took advantage of a spring afternoon with temperatures in the mid-60s and skies partly cloudy. To their delight, 24-year-old southpaw Jason Vargas set down the all nine Cubs batters in the first three innings. Vargas, who had just been called up from Triple-A New Orleans because starter Orlando Hernandez landed on the DL with shoulder bursitis, was making his first appearance for New York since being acquired from the Florida Marlins in an offseason trade. His teammates welcomed him back to the big club by shaving his head.5
The Cubs' 25-year-old right-handed starter, Angel Guzman, winless in six decisions in his career, benefited from a 6-4-3 double play to erase Endy Chavez's leadoff single and then overcame a rough third (a hit batter and a walk) to keep the game scoreless.
In the fourth, the Cubs struck first when Aramis Ramirez connected for a two-out single to drive in Angel Pagan, who had singled and stole second.
After putting two men on base in three of the first four innings, the Mets tied the game in the fifth. Chavez followed the Pagan method by singling and swiping second base. When Ruben Gotay doubled to right field, it was even at 1 apiece. Gotay moved to third on Green's single, but Delgado grounded back to Guzman who initiated a timely inning-ending twin killing.
Vargas had yielded only two hits through five innings, but stumbled in the sixth, surrendering a two-run round-tripper to Pagan, his second of the season, and another two-run blast to Ramirez, his 10th of the campaign, to give the Cubs a 5-1 lead. With just one out, Randolph seemed committed to resting his players, including his staff, no matter what the outcome. The bullpen remained silent and Vargas calmed down to retire the next two batters.
Suffering from what the Tribune called "hamstring cramps," Guzman did not return for the sixth.6 Relievers Michael Wuertz and Will Ohman hurled three hitless innings to put Guzman in position to pick up his maiden victory, but that day would have to wait (in fact, he waited two more years).
Reliever Ambiorix Burgos took over for Vargas to start the eighth and held the Cubs hitless for two innings to set the stage for one of the Mets' most exciting and least expected come-from-behind victories.
Among the Achilles heels of the Cubs was its bullpen. Coming into this game, relievers had sported a dismal 2-10 record and seven blown saves. Skipper Lou Piniella called on closer Ryan Dempster, a 30-year-old right-hander coming off a lackluster 2006 campaign (1-9, 4.80 ERA with 24 saves). However, with a sturdy 2.37 ERA in 19 innings thus far in 2007, Dempster was one of Piniella's few bright spots in relief.
David Newhan ignited the Mets' comeback by leading off with a line-drive single. New York's first stroke of lucked occurred when Cubs right fielder Matt Murton snared Ramon Castro's short fly and then, according to the Tribune, failed to double up Newhan, who had almost reached second base.7 Carlos Gomez followed with a single, which drew Piniella from the dugout to calm down his closer. It didn't help. Dempster walked pinch-hitter Beltran to load the bases, then issued another free pass, to Chavez, to force in Newhan as the Shea faithful were on their feet. Representing the winning run, Gotay stepped to the plate. With just three hits in 19 at-bats entering the afternoon, Gotay admitted candidly, "I thought I was going to be pinch-hit for." Gotay wasn't, and whacked a single to short left — just "beyond the outstretched glove" of shortstop Cesar Izturis, according to the New York Times, bringing Gomez home and pulling the Mets to within two runs.8
Piniella had enough. He yanked Dempster in favor of Scott Eyre, a 35-year-old rubber-armed LOOGY9 with left-hander Shawn Green at the plate. Randolph, who recognized the shift in momentum, made his chess move by sending in the right-handed David Wright to bat for Green, who was no longer the threat that he once was in his 15th and final big-league season. In the first pinch-hit scenario in his career, Wright connected on Eyre's first offering for a single to drive in Beltran and put the Mets only one run behind. With the bases loaded and one out, to the plate stepped Delgado. Although he was mired in a season-long slump with just three home runs and a .217 batting average, the 35-year-old Delgado was still considered one of the most feared sluggers in the NL, having averaged 36 round-trippers per year over the last 11 seasons. "We got the bases loaded down by four, but with only one out," said the Puerto Rican native. "[Dempster] wasn't throwing strikes and I said we've got a chance."10 Delgado connected on Eyre's 1-and-0 fastball, sending a screeching grounder between first and second into right field, easily scoring Chavez and Gotay for a dramatic 6-5 victory in 2 hours and 31 minutes.
Delgado's hit "brought the Mets out of their dugout as they were a high school team," wrote sportswriter Harvey Araton of the New York Times.11 The club's 11th comeback victory already in the early season made Burgos the winner, while collaring Dempster with his second loss. The win also marked the Mets' biggest ninth-inning comeback since they scored five runs against the Philadelphia Phillies' Curt Shilling on May 23, 1999.
While the Mets celebrated and gradually turned their eyes to their series with the Yankees, Lou Piniella of the Cubs fumed about another bullpen meltdown. "These guys have to do it," said the feisty skipper. "I don't know what else to say."12 Dempster, who was charged with five runs while recording just one out, had little to add. "I just lost the game. Not much more to say."13
This article was published in "Met-rospectives: A Collection of the Greatest Games in New York Mets History" (SABR, 2018), edited by Brian Wright and Bill Nowlin. To read more articles from this book at the SABR Games Project, click here.

Sources
In addition to the sources cited in the Notes, the author also consulted
Baseball-Reference.com, Retrosheet.org, and SABR.org.
https://www.baseball-reference.com/boxes/NYN/NYN200705170.shtml
http://www.retrosheet.org/boxesetc/2007/B05170NYN2007.htm
Notes
1 Ben Shpigel, "Mets' Makeshift Lineup Jells in Ninth," New York Times, May 18, 2007: D4.
2 Ibid.
3 Paul Sullivan, "Not-So-Sweet Charity; Dempster, Eyre Give Up 4-Run Lead as Mets Rally for 5 in 9th," Chicago Tribune, May 18, 2007: 4, 3.
4 Paul Sullivan, "Letter From the Cubs Beat," Chicago Tribune, May 18, 2007: 4, 14.
5 Kevin Devaney Jr., "No Win, but Vargas Feels He Fits In," Journal News (White Plains, New York), May 18, 2007: 5C.
6 Sullivan, "Not-So-Sweet Charity."
7 Ibid.
8 Shpigel.
9 LOOGY is an acronym for "left-handed, one-out only guy."
10 Kevin Devaney Jr., "Subs Super in Mets' Victory," Journal News (White Plains, New York), May 18, 2007: 5C.
11 Harvey Araton, "Sometimes It's Hard to Tell Which Team Is Really Up," New York Times, May 18, 2007: D1.
12 Sullivan, "Not-So-Sweet Charity."
13 Ibid.
Additional Stats
New York Mets 6
Chicago Cubs 5
---
Shea Stadium
New York, NY
Box Score + PBP:
Corrections? Additions?
If you can help us improve this game story, contact us.
Tags
https://sabr.org/sites/default/files/DelgadoCarlos-NYM.jpg
600
800
admin
/wp-content/uploads/2020/02/sabr_logo.png
admin
2019-10-17 13:38:02
2020-04-17 10:22:26
May 17, 2007: Delgado's walk-off lifts Mets in a fatigued comeback