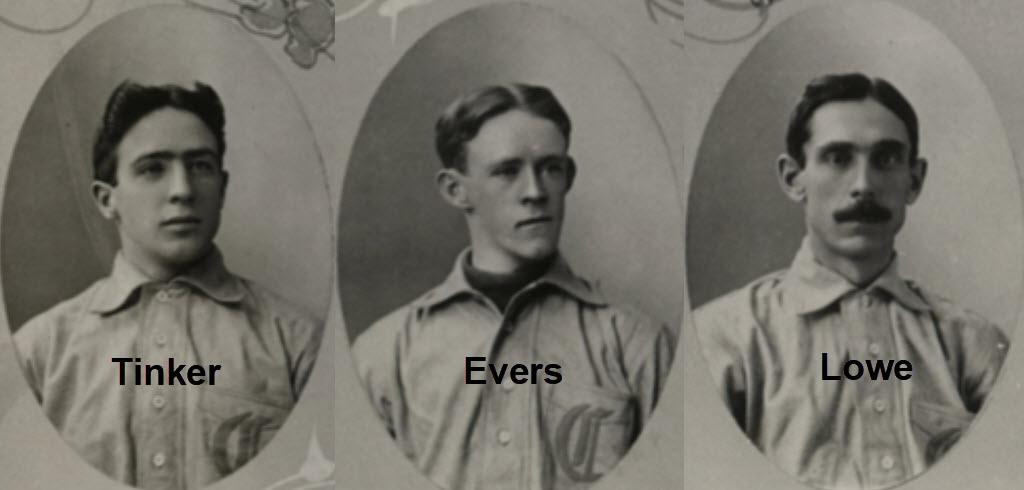 May 18, 1903: Cubs sit alone in first place thanks to Tinker to Evers to … Lowe
---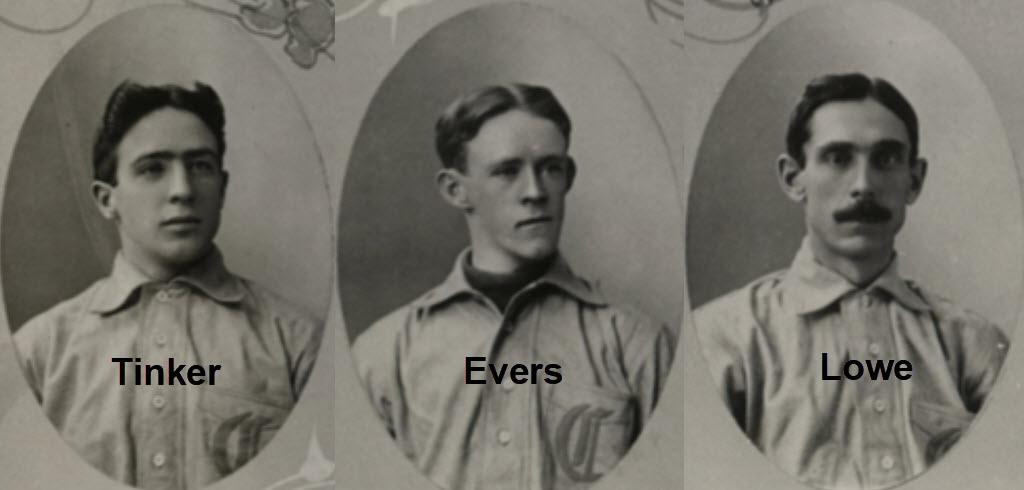 If there was one man upon whom manager Frank Selee could depend, it was Bobby Lowe. Selee signed Lowe to a contract in 1889, and for the next 12 seasons, Lowe capably played second base and other positions for Selee's Boston Beaneaters. When Selee became manager of the Chicago Colts in 1902, he brought Lowe with him and named Lowe captain of the team. "Lowe combines all the best traits that a ballplayer can have," said Selee. "He is gentlemanly in every sense of the word, is a man of rare intelligence, [and] knows the game from one end to the other."1
While captaining Selee's Colts in the spring of 1903, the 37-year-old Lowe was bothered by a bad knee, which forced him to accept a utility role and hand the second-base job to a 21-year-old understudy, Johnny Evers, a promising but unproven youngster. Lowe's "cool, well-skilled leadership"2 helped the Colts achieve an 18-9 record to start the 1903 season. On Monday, May 18, in the second game of a three-game series at Boston's South End Grounds, he filled in at first base for the injured Frank Chance. Besides Lowe and Evers, the Colts' infield that day featured Joe Tinker, an impressive 22-year-old shortstop who led the team with a .390 batting average, and Jimmy Casey, a 33-year-old third baseman hitting .379.3 Casey was known as "Doc" after his recent graduation from a Baltimore dental school.4
Selee and Lowe were immensely popular in Boston, and a large crowd turned out for the game. The attendance was reported to be 2,922, "by far the largest crowd seen on the South End Grounds except on Saturday for two years."5 The starting pitchers were both southpaws: Tornado Jake Weimer, a 29-year-old rookie, was selected by Selee to start for the Colts, while manager Al Buckenberger tabbed Wiley Piatt to start for the Boston Nationals. The great Kid Nichols, who pitched for Selee's Beaneaters from 1890 to 1901, coached Weimer at Kansas City in 1902 and recommended him to Selee.
Each team scored a run in the first inning. Chicago's leadoff man, Dick Harley, got aboard after Boston's second baseman, Ed Abbaticchio, fumbled his grounder. Jimmy Slagle hit into a force out at second base and later scored on Tinker's single to left field. In the bottom half of the inning, the Nationals loaded the bases on two scratch singles and a hit batsman, but managed to score only one run, on a fielder's choice.
In the bottom of the second inning, after Joe Stanley drew a base on balls, Malachi Kittridge lined the ball to Lowe at first base, who quickly doubled up Stanley.
Tinker got his second hit of the game, a double in the top of the fourth inning, and stole third base. After Piatt fanned Casey, Evers singled, scoring Tinker. Evers then stole second base, and he came home when shortstop Charlie Dexter fielded Johnny Kling's grounder and threw wildly to first.
In the bottom of the fourth, Duff Cooley led off with a single, and Pat Carney followed with a sharp grounder to Tinker, who started "a brilliant double play," 6 from Tinker to Evers to Lowe.
With one out in the bottom of the fifth, Piatt had to leave the game after swinging at a ball that struck a finger on his pitching hand. Frank Bonner pinch-hit for him and flied out to Slagle in left field. Dexter then made amends for his throwing error by slugging a home run over the left-field fence.
John Malarkey, a right-hander, replaced Piatt as the Boston pitcher and gave up a run in the sixth inning. Casey drew a walk and scored on Kling's "rattling double" off the fence in right field.7
The game was scoreless after that. Stanley doubled with two outs in the bottom of the ninth, but Kittridge flied out to Harley in right field to end the game. The final score was Chicago 4, Boston 2. Weimer earned the victory; he pitched a complete game and allowed only six hits and two walks. Piatt was the losing pitcher.
Tinker, Evers, and Lowe had two hits apiece. "Evers seemed to cover acres of territory"8 at second base; he "didn't let a chance slip by and some of his stops were marvels."9 Twice he threw wildly to first base after making a great stop, but Lowe saved him by making sensational catches. Lowe caught one on a short hop, reaching far to his right, and the other was "a jumping catch"; it "was positively the most artistic performance seen at first base in many seasons,"10 said the Boston Globe.
The Colts were aggressive on the base paths and stole six bases, including two each by Tinker and Evers, though Kittridge, the Boston catcher, threw out four runners attempting to steal second base.11
With this victory, the Colts were alone in first place in the National League standings. The Chicago White Sox were in first place in the American League, and the Chicago Tribune said, "It's the first time Chicago ever had the distinction of leading two big leagues at one and the same time."12
Frank Chance returned to the starting lineup on May 21. Lowe returned to the bench, but through his coaching, he was "a tower of strength"13 to the Colts.
Then in early July, Lowe suffered a broken kneecap. It appeared that his playing career was over, and the Colts released him.14 The Colts needed a new captain.
"Selee decided to try something unheard of; to submit the election of a captain to the vote of the players themselves. There were three candidates. … Selee's choice was Casey; Kling and Chance both had admirers among the men. The election was held in the club house, Selee actively exerting his influence for Casey, while some of the players were urging Chance as the veteran of the squad. The result of the vote was Chance, 11; Casey, 4; Kling, 2. Selee was dumbfounded and for a time annoyed, but events proved the players had made the wisest selection." — Johnny Evers15
Lowe recovered and in 1904 he played in 140 games at second base for the Detroit Tigers. He became the Tigers captain in June16 and their manager in July.
Author's note
Though Baseball-Reference.com refers to the 1903 Chicago and Boston teams as the Cubs and Beaneaters, respectively, newspaper accounts of their games usually referred to them as the Colts and Nationals.
On May 30, 1894, Bobby Lowe became the first player to hit four home runs in a major-league game.
Sources
Game coverage in the May 19, 1903, issues of the Boston Globe, Boston Post, Chicago Inter Ocean, and Chicago Tribune.
Notes
1 "Bobby Lowe May Soon Become a Manager," Pittsburgh Press, July 6, 1903: 13.
2 Sporting Life, June 27, 1903.
3 "Batting and Fielding," Chicago Inter Ocean, May 18, 1903: 4.
4 Sporting Life, October 10, 1903.
5 "Colts Win Game at Boston," Chicago Tribune, May 19, 1903: 8.
6 "Nationals Lose Again," Boston Post, May 19, 1903: 2.
7 Chicago Inter Ocean.
8 Boston Post.
9 Chicago Inter Ocean.
10 "Has the Goods," Boston Globe, May 19, 1903: 5.
11 Boston Post.
12 Chicago Tribune.
13 "Fan Fodder," Detroit Free Press, July 10, 1903: 9.
14 "Baseball Notes," Pittsburgh Press, July 10, 1903: 16.
15 John J. Evers and Hugh S. Fullerton, Touching Second (Jefferson, North Carolina: McFarland, 2004), 51. This is a reprint of a book originally published in 1910.
16 "Bobby Lowe is Now Detroit Team Captain," Detroit Free Press, June 18, 1904: 9.
Additional Stats
Chicago Colts 4
Boston Nationals 2
---
South End Grounds
Boston, MA
Box Score + PBP:
Corrections? Additions?
If you can help us improve this game story, contact us.
Tags
https://sabr.org/sites/default/files/1903-Tinker-Evers-Lowe.jpg
600
800
admin
/wp-content/uploads/2020/02/sabr_logo.png
admin
2018-07-12 22:40:20
2020-11-23 11:55:03
May 18, 1903: Cubs sit alone in first place thanks to Tinker to Evers to … Lowe