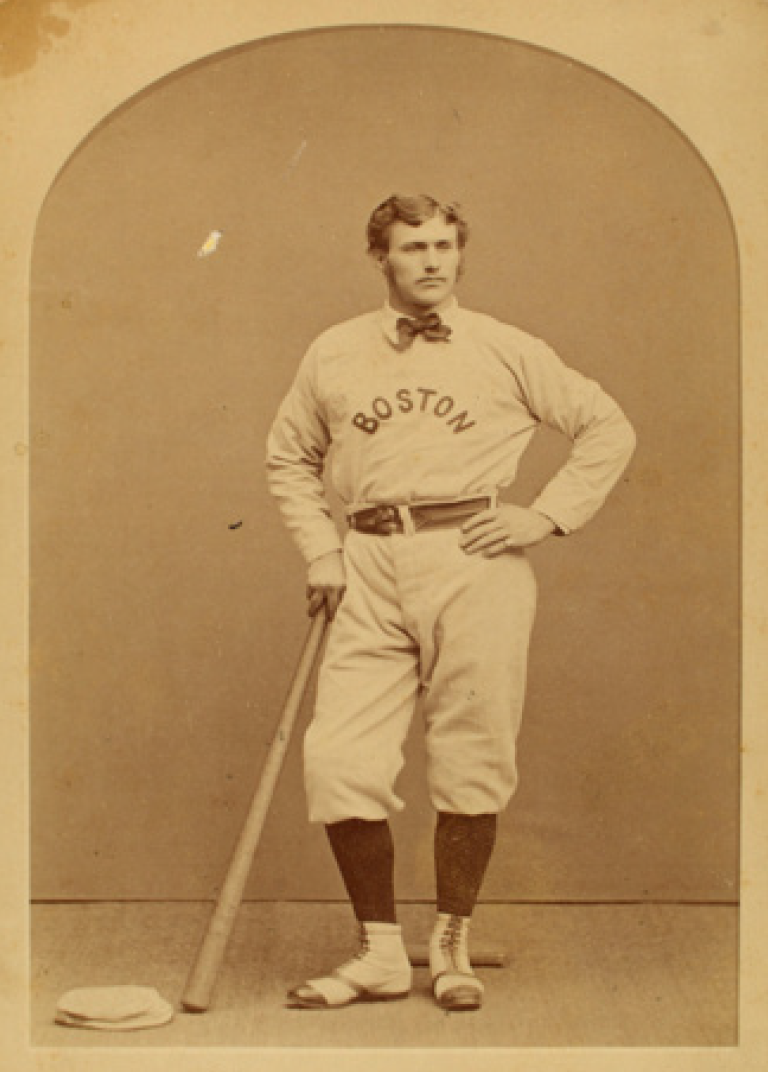 May 2, 1874: Cal McVey leads Red Stockings to an Opening Day victory
---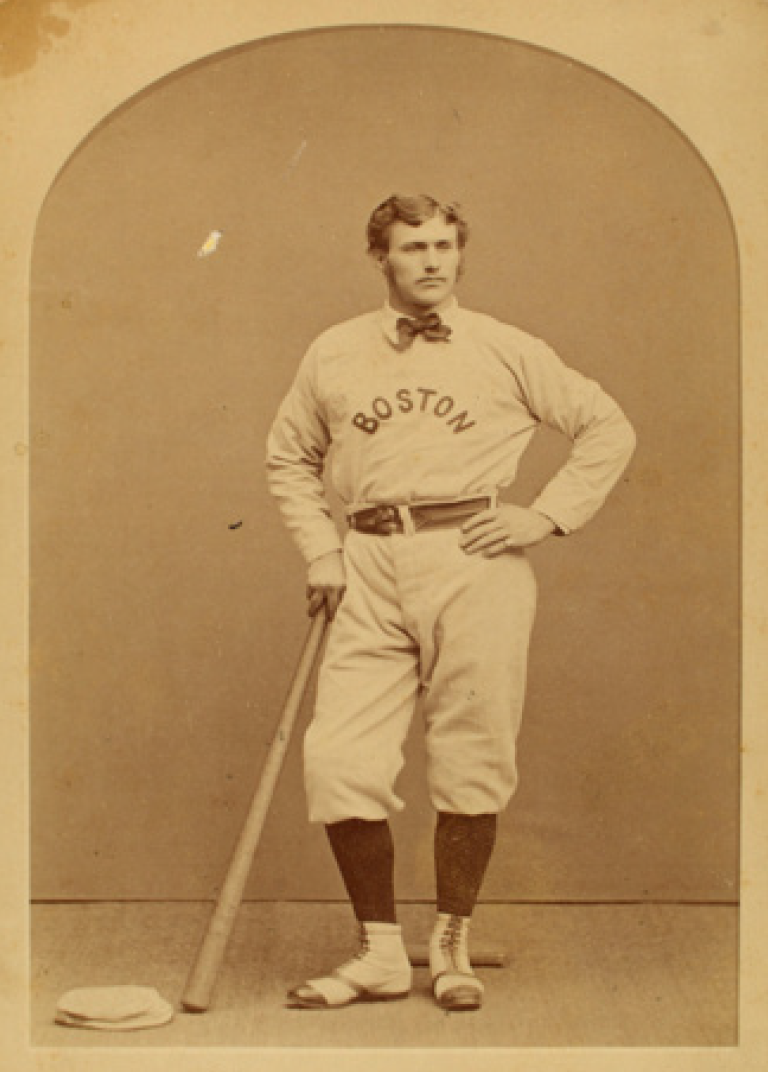 Mother Nature and Old Man Winter were not yet in a "base ball" mood when the Red Stockings were supposed to begin their season in late April 1874. Two officially scheduled dates were snowed out and rained out respectively before May 2, when the Reds could finally open their season against the Mutuals of New York.
April was not completely bad: The Red Stockings started their practice regimen on April 2 before a huge crowd of 2,000 to 3,000 on a fairly nice spring day when they beat a Picked Nine, 10-8. Such a throng was unexpected but publicity about the Reds' European Tour later in the year had hiked the notoriety of and affection for the club. Fans were eager to see their two-time champions, who were now going to take their sport to England. On the "Nine" were normal subs Tommy Beals, Jack Manning, and the third Wright brother, Sam. Three days later the temperature was reported as 24 degrees in the Hub.1
Trying to stay in shape after that frigid spell, the next week Boston played and twice beat the Beacons, a makeshift "Field Team," and finally the Harvard boys, 24-10, in what was "not Spring-like weather" on April 22 according to the New York Clipper.2 On April 25 the Philadelphia White Stockings were supposed to open the season but it snowed just as the game was about to start. (Elsewhere in this volume is a story about what the players did instead that day.) New Association entry Hartford was rained out on the 29th.
Eventually calendars turned to May in hope of better conditions. By elimination New York's solid Mutual club became the Opening Day opposition. But they got caught in a two-way trap. They played in Hartford the day before and because the Dark Blues were postponed with the Reds, it was the first-ever National Association game for a Hartford team. New York was better and made more hits, but the home crowd wildly cheered the Blues to a 10-7 win behind slugger Lipman Pike (three hits/one run/three RBIs) and Tom Barlow (two hits/three runs). Ross Barnes of the Reds was the umpire.
The next day the Mutuals were at the South End Grounds to face the pent-up Reds. The New York Clipper claimed, "The Bostons appeared with a nine as strong perhaps as ever fought beneath the banner of the Red Stockings on any field."3 Even with champion manager-outfielder Harry Wright sitting down and James "Deacon" White slightly injured, the game was over quickly as Boston jumped to a 9-0 lead and won 12-3. The poor Mutuals were beaten but unbowed, as the Clipper noted, "(Bobby) Mathews played pluckily between the pitcher's points and 'old reliable' (Joe Start), again proved himself worthy of the title at first base. Jack Burdock covered third in fine style."4 It was not enough.
Basking in their home glory and chilly sunshine, the Reds were nearly flawless. Al Spalding gave up New York's three runs in the eighth inning, on hits by John Hatfield (two hits/run), John Candy Nelson (two hits/run), and Burdock's triple/run/RBI. Boston's attack was paced by Cal McVey (three hits/four runs), Jim O'Rourke (three hits/two runs), and George Wright's three hits/run. The Clipper was terse: "The Reds put it to the Yorkers."5 Hartford's Scott Hastings, whose contract miscues helped cost the Reds the 1871 pennant, umpired the Opening Day game, likely a reciprocal favor for Barnes's work the day before.
Little Tommy Bond's Great Feat
Two days later the Reds whipped the Mutuals and Mathews, 11-4, behind the hitting of McVey again (three hits/three runs), Spalding (three hits/two runs), and George Hall (three runs). "Reliable" Start (three hits/run) and pitcher Mathews' same output were no match. Ex-Red Dave Birdsall did the umpiring. McVey would lead the NA that season in hits, runs, and RBIs, and finish second to Levi Meyerle in batting (.359). Three more pummelings gave the Reds a 5-0 mark and a huge 75-18 run differential. Excited Hartford came to town after winning its first four games by a total of 58-24. The confident Hub Stockings first crushed them 25-3 and then 8-1 back in Hartford. After another six road victories, the Reds cruised home at 13-0.
Twice they had beaten the Brooklyn Atlantics in that span, 8-2 and 6-2. Now at the South End Grounds the Atlantics shockingly repaid that debt by dragging the Reds back, briefly, to reality on May 23 and 26. Little rookie Tommy Bond had absorbed both Brooklyn losses but regained more than a little dignity and grabbed a few headlines by holding the run-crazed Stockings (averaging 14-4 wins) to just five tallies in two games, winning 9-3 and 6-2. A feat so rare as to be astounding. Brooklyn got seven runs in the first inning of the first game, while Boston managed only three hits all day. Though the Atlantics made 11 bobbles behind hero Bond they still won handily under umpire Ross Barnes's fair and square decisions. Barnes was injured and played in neither game. Three days later the Reds got seven hits but made nine errors and Tommy won again as Brooklyn hitters combined for four runs in the third inning. Brooklyn had no real standout batters in those two contests but tosser Bond did hit and score in both. The Reds took their medicine dose and then won five straight games for an 18-2 record. Warren Briggs of nearby Malden umpired that second Atlantic game, the only such game in his life.
Bond had split four decisions against the mighty Bostons in the first seven games of his career. In 1874 he topped the league in losses (32), home runs given up (15), and runs allowed (440). Tommy would later become a Boston legend when he joined the National League Bostons in 1877. He pitched for them five years and was the last hurler to win 40 games in three straight seasons. He continued to live there in quiet celebrity and operate a leather-goods business for the rest of life, passing away in January 1941.
This article was originally published in "Boston's First Nine: The 1871-75 Boston Red Stockings" (SABR, 2016), edited by Bob LeMoine and Bill Nowlin. To read more articles from this book at the SABR Games Project, click here.
Sources
"Out-Door Sports; Opening of the Base Ball Season in Boston," Boston Daily Advertiser, May 4, 1874: 1.
"Out-Door Sports," Boston Globe, May 4, 1874: 2.
"Out Door Sports. Base Ball," Boston Journal, May 4, 1874: 4.
New York Clipper issues for April, May, and June 1874.
Notes
1 "Weather Report," Boston Daily Advertiser, April 6, 1874: 1.
2 "Boston vs. Harvard," New York Clipper, May 2, 1874: 37.
3 "Boston vs. Mutual," New York Clipper, May 9, 1874: 42.
4 Ibid.
5 Ibid.
Additional Stats
Boston Red Stockings 12
New York Mutuals 3
---
South End Grounds
Boston, MA
Corrections? Additions?
If you can help us improve this game story, contact us.
Tags
https://sabr.org/sites/default/files/CalMcVey.png
600
800
admin
/wp-content/uploads/2020/02/sabr_logo.png
admin
2018-09-04 14:10:19
2020-04-17 10:24:42
May 2, 1874: Cal McVey leads Red Stockings to an Opening Day victory