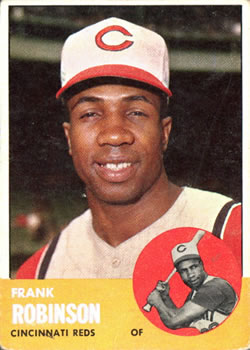 May 2, 1959: Frank Robinson's cycle leads Reds' bombardment
---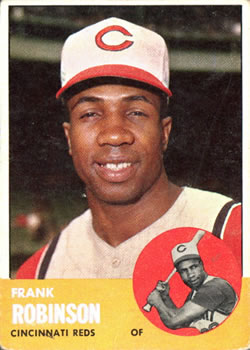 Before a Saturday Ladies Day crowd of 5,247 at Crosley Field, "Frankie and Vada waved the big sticks as the powerhouse Reds battered out a 16-4 decision over the Los Angeles Dodgers."1 Frank Robinson hit for the cycle and Vada Pinson contributed a 3-for-4 day as the duo knocked in nine of Cincinnati's 16 runs. The victory pulled the Redlegs into a virtual three-way tie in the National League with the Dodgers and Milwaukee Braves, all a half-game behind the San Francisco Giants.
The Redlegs took advantage of poor Dodgers pitching. Cincinnati batters "clubbed four Los Angeles hurlers for 13 resounding wallops along with drawing 13 passes in their second wildest scoring spree of the young season."2 Rookie pitcher Jim O'Toole started for Cincinnati. Signed to a $50,000 bonus contract in 1957,3 he was named the 1958 Minor League Player of the Year by The Sporting News after winning 20 games for Nashville, and was in the major leagues in 1958. Opposing O'Toole for the Dodgers was fellow rookie Gene Snyder, a left-hander making his first career start and just his second major-league appearance.
The first 2½ innings passed without any scoring. In the bottom of the third Snyder walked leadoff batter Dutch Dotterer. O'Toole successfully sacrificed him to second, and he scored on Johnny Temple's single up the middle. Temple advanced to second base on the throw home, and scored when Pinson laced a groundball single to right field. Snyder then gave up a single to Frank Robinson and wild-pitched the runners to second and third. An intentional walk to Frank Thomas loaded the bases, but Walt Dropo hit a grounder to third for an inning-ending double play.
O'Toole couldn't hold the lead. Don Demeter led off the top of the fourth with a single. Carl Furillo doubled Demeter home, and he scored when Gil Hodges singled to right field. Hodges was out trying to get to second base. Rip Repulski and Jim Baxes both singled, and Repulski scored on a sacrifice bunt to the pitcher by Joe Pignatano. O'Toole struck out Snyder to end the rally.
In the bottom of the fourth, trailing 3-2, Cincinnati chased Snyder, scoring seven runs. With one out, Snyder walked Roy McMillan and Dutch Dotterer. O'Toole singled to load the bases. Dodgers manager Walter Alston called Johnny Klippstein out of the bullpen. Temple greeted the reliever with a two-run double to center. Alston then ordered Klippstein to intentionally walk Pinson, and pitch to Robinson with the bases loaded, "but the strategy backfired as Robinson quickly cleaned them with a triple to right-centerfield."4 Robinson scored on a sacrifice fly by Frank Thomas, then Dropo smacked his first home run of the season to make the score 9-3.
O'Toole walked the first two Milwaukee batters in the fifth inning. Redlegs skipper Mayo Smith lifted O'Toole for Willard Schmidt. The first batter Schmidt faced, Demeter, grounded a ball to second for a double play, and Furillo grounded out to end the inning. The Dodgers manufactured a run off Schmidt in the sixth with a walk to Hodges, a sacrifice by Repulski, and RBI single by Baxes. Schmidt pitched to 11 batters in the last three innings, allowing two singles and two walks, but he escaped any damage as he induced two more groundball double plays. For the game, Cincinnati turned four double plays, giving them 25 DPs in 17 games.5
The game was "put beyond recall"6 in the sixth inning when the Redlegs hit everything Sandy Koufax served up. Koufax came on at the start of the inning, replacing Klippstein. It was his first relief appearance of the year.7 Eleven batters came to the plate. Pinson doubled to lead off the attack, and Robinson blasted his fifth home run, "a towering shot that just missed clearing the towering flagpole above the left-centerfield exit gate. It landed on the first bounce in the parking lot on the far side of Western Avenue."8 Reporters listed the distance at 450 feet.9 Koufax lasted just two-thirds of an inning, being touched for four hits and four walks, which led to five earned runs. His season ERA soared to 12.27. After Koufax walked Pinson with the bases loaded, Carl Erskine came in as the fourth Dodgers pitcher and struck out Robinson for the third out.
In the bottom of the eighth, after Temple drew a two-out walk, Pinson added his third homer of the campaign, "driving an Erskine curve ball over the 390-foot marker on the right-centerfield fence."10 The Dodgers were scoreless in the ninth and the Redlegs were 16-4 winners.
Robinson was 4-for-5 with a walk, two runs scored, and five runs batted in. His batting average shot up 38 points to .328, and his slugging percentage increased by 90 points. He was the only major leaguer to hit for the cycle in 1959, and his was the first in two seasons. (Mickey Mantle hit for the cycle on July 23, 1957.) Robinson's cycle was the sixth in Cincinnati history. Defensively, Robinson was playing left field for the Redlegs. He spent 125 games at first base in 1959, and it was as a first baseman that he was named to the 1959 All-Star team, joining teammates Temple and Pinson.11
In addition to Robinson's and Pinson's displays of power, Temple contributed to the barrage with three runs batted in, while Dropo added his solo home run. Seven Cincinnati players had hits, and every one of the starting nine scored at least one run.
Schmidt picked up the win in relief. O'Toole gave up three runs on six hits and four walks in four innings. Schmidt allowed one run in five innings. For the Dodgers, Snyder faced 18 batters in 3⅓ innings, allowing four hits and five walks, one intentional. He was charged with five earned runs. Dodgers pitchers walked 13 batters and O'Toole and Schmidt of the Redlegs walked 7. Snyder made his final major-league appearance on July 14, 1959.12 The four Los Angeles pitchers "were mauled mercilessly to the ecstatic enjoyment"13 of the Redlegs and their fans. Of the 13 hits allowed by LA, seven were for extra bases, bringing the total of extra-base hits allowed by Dodgers pitching to 59 in their 19 games, and they allowed 88 walks (8 of them intentional).
This victory was Cincinnati's fifth in seven games and their second straight over Los Angeles. In this game, the Dodgers "looked even lousier than Detroit, if that's possible."14 They hardly looked like a team that would go on to win the 1959 World Series, as they had been "battered beyond recognition by Frank Robinson and his rip-roaring Cincy teammates, 16-4."15 In speaking about the Cincinnati players after the game, "shell-shocked Walt Alston said, 'Every last … guy in their lineup can knock the ball out of the park.'"16
This article was published in "Cincinnati's Crosley Field: A Gem in the Queen City" (SABR, 2018), edited by Gregory H. Wolf. To read more articles from this book at the SABR Games Project, click here.
Sources
In addition to the sources mentioned in the Notes, the author consulted Baseball-Reference.com, mlb.com, and retrosheet.org.
Notes
1 Lou Smith, "Robby, Vada Star as Reds Win, 16-4," Cincinnati Enquirer, May 3, 1959: 66.
2 Ibid. Three days earlier, on April 29, Cincinnati had exploded for 18 runs against the Chicago Cubs at Crosley Field.
3 Mike Havey, "Jim O'Toole," SABR BioProject, accessed online at https://sabr.org/bioproj/person/8ebbcdb9.
4 Smith.
5 For the season, the Redlegs turned 157 double plays in 154 games.
6 Smith.
7 Koufax had made four starts in 1959 before entering this game as a reliever. He failed to get through the fourth inning in any of the four, and his early season earned-run average was 8.71. He was not the pitcher of record in any game.
8 Smith.
9 Frank Finch, "Dodgers Take It on Chin, 16 to 4," Los Angeles Times, May 3, 1959: 76.
10 Smith.
11 For the Dodgers, Wally Moon was an All-Star in 1959. He pinch-hit in the ninth inning of this game, hitting a single to center, but his teammates stranded him there.
12 Snyder had been traded with two other players by the Philadelphia Phillies to the Los Angeles Dodgers in exchange for Sparky Anderson on December 23, 1958. Snyder spent 11 games (26⅓ innings) in the major leagues, all in 1959. His ERA was 5.47.
13 Frank Finch, "Dodgers Slip as Cincy Wins, 16 to 4," Los Angeles Times, May 3, 1959: 75.
14 Ibid. The standings on May 2, 1959, listed the Tigers in last place in the American League, with a record of 2-15.
15 Ibid.
16 Finch, 76.
Additional Stats
Cincinnati Reds 16
Los Angeles Dodgers 4
---
Crosley Field
Cincinnati, OH
Box Score + PBP:
Corrections? Additions?
If you can help us improve this game story, contact us.
Tags
https://sabr.org/sites/default/files/RobinsonFrank-CIN.jpg
600
800
admin
/wp-content/uploads/2020/02/sabr_logo.png
admin
2019-10-02 15:34:25
2020-04-17 10:22:30
May 2, 1959: Frank Robinson's cycle leads Reds' bombardment