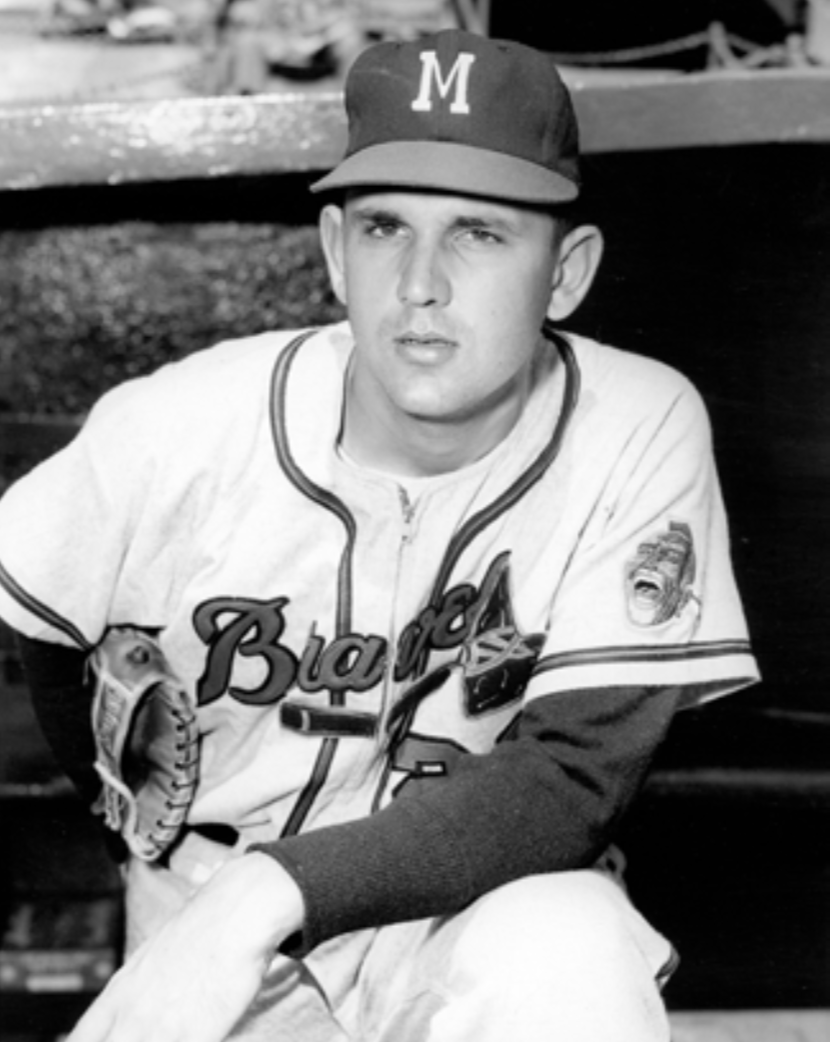 May 26, 1956: Braves walk off in 11th to preserve Crone's complete-game gem
---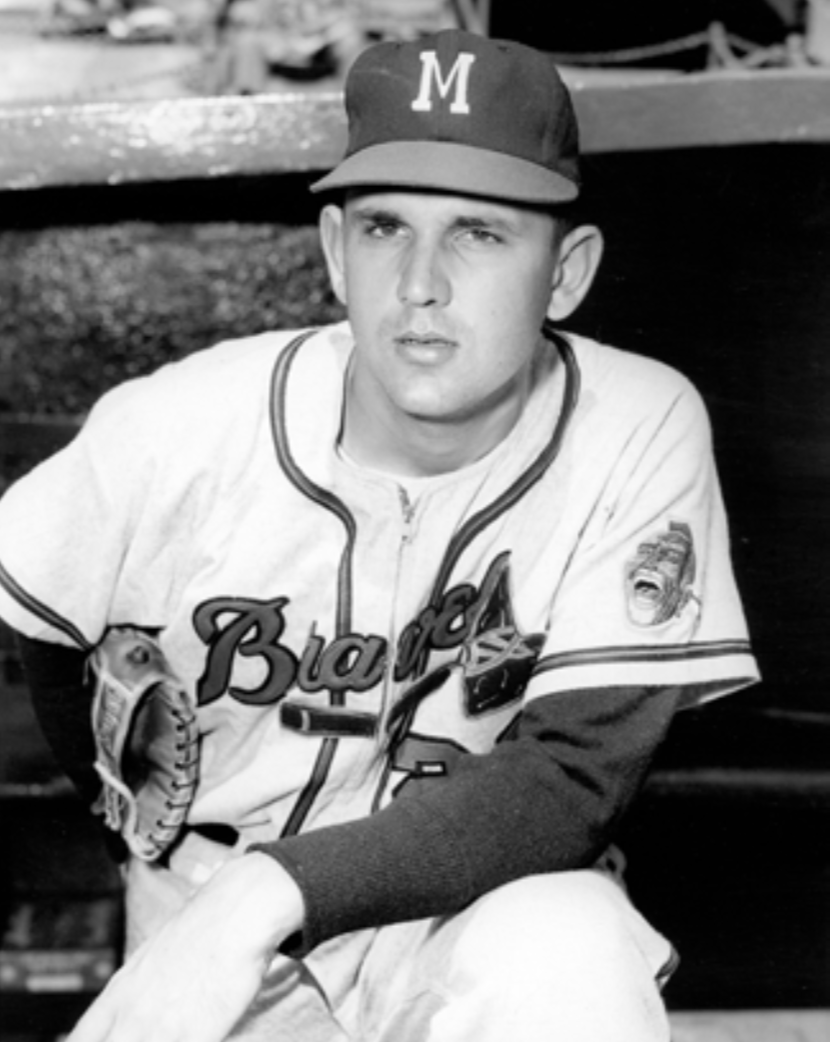 "It was the kind of game that made you talk to yourself," wrote Lou Smith of the Cincinnati Enquirer.1 Lou Chapman of the Milwaukee Sentinel suggested that the game made fans, players, and the coaching staff "ready for the psychiatrist's couch."2 Somehow the Braves were held hitless for 9⅔ innings, yet won the game.
Coming off a second-place finish in 1955, though a distant 13½ games behind the World Series champion Brooklyn Dodgers, the Braves were expected to give "Dem Bums" another run for their money in '56. Skipper Charlie Grimm's squad was 14-9, in third place in the tightly-packed NL, where only 2½ games separated the top five teams. After 11 consecutive losing seasons, the Cincinnati Redlegs' third-year manager, Birdie Tebbetts, had his team off to its best start since 1944. At 18-12, the Redlegs were just a half-game behind the front-running St. Louis Cardinals.
Toeing the rubber for Braves was Ray Crone, a crafty 24-year-old right-hander. A former phenom at Christian Brothers High School in Memphis, Crone had signed with the Braves as a 17-year old in 1949, and worked his way up the farm. He was in limited action in his rookie campaign (2.02 ERA in 49 innings) in 1954, which included a 10-inning complete game to beat the Chicago Cubs in his first big-league start, on May 23. Coming off a 10-9 record as a swingman the following year, Crone began the 1956 campaign by tossing complete-game victories in his first two starts, and sported a robust 2.25 ERA coming into the game. His counterpart was Johnny Klippstein, a flamethrowing righty who had originally signed with the St. Louis Cardinals as a 16-year-old in 1944. After showing fleeting signs of brilliance in his first five seasons (1950-1954) with the Cubs, but being plagued by wildness, Klippstein was shipped to the Redlegs prior to the '55 season. He responded by lowering his ERA almost 1½ runs off his career average, to 3.39, and went 9-10 as a trusted swingman. On September 11 Klippstein flirted with history, holding the Dodgers hitless for 8⅓ innings before Pee Wee Resse ended the fairy tale with a single to right field, in an eventual one-hitter.
A Ladies Day crowd of 22,936 showed up at County Stadium on Saturday afternoon, May 26, to see what the Milwaukee Sentinel's Lou Chapman called a "'screwball' cake" game.3 After 1½ innings of uneventful ball, Klippstein hit Hank Aaron to lead off the second and walked Bobby Thomson and Billy Bruton to load the bases. Frank Torre, subbing for the injured Joe Adcock, then hit a bullet to left field. Twenty-year old rookie Frank Robinson made what the Cincinnati Enquirer described as a "brilliant one-handed running catch" to save a potential bases-clearing hit.4 Aaron tagged up to score the game's first run. Klippstein fanned Del Crandall and Crone to end the threat.
Crone settled into a groove, yielding three hits and three walks through seven innings. Competently and easy," wrote Don Trenary of the Milwaukee Journal, "[Crone] set the muscle men of Cincinnati down."5 Klippstein temporarily overcame his lapse of control in the second inning. He mowed down the Braves from the third inning through the sixth, surrendering only two walks.
The Braves threatened in the seventh when Thomson led off with a walk and moved to second on Bruton's sacrifice. Klippstein retired Torre and walked Crandall intentionally to face Crone. The plan backfired as Klippstein issued his seventh walk of the game before the hard thrower reared back and struck out Wes Covington to end the inning.
The unthinkable happened in the top of the eighth. After Smoky Burgess led off with a single and moved to second on Roy McMillan's sacrifice, Tebbetts sent in 33-year-old journeyman Joe Frazier to pinch-hit for Klippstein, who was working on a messy no-hitter. Crone calmly dispatched Frazier and pinch-hitter Ed Bailey to end the threat with Burgess stranded on third. There's "no room for sentimentality" in baseball, wrote the Enquirer's Smith.6 "Sure I feel bad about it," said Klippstein after the game, "but I don't blame Birdie for taking me out for a pinch-hitter."7
The game was far from over. After Hersh Freeman set down the Braves in order in the eighth, Crone took the mound in the ninth with the chance to become the first pitcher in the modern era to toss a complete-game victory despite his team being no-hit. Crone quickly retired the first two batters, then Ted Kluszewski hit a single that landed in front of center fielder Bruton, who was playing deep against the dangerous slugger. Wally Post followed with a hard shot that seemed to sail over the third-base bag, and beat Eddie Mathews' throw to first. However, third-base umpire Frank Dascoli overruled the fair call by home-plate umpire Frank Secory, and Post was sent back to the plate. After Tebbetts protested the ruling, Post smashed a 1-and-2 pitch to deep left field. Thomson fired the ball in to Johnny Logan, who made the relay for what should have been an "easy out" at the plate (according to Red Thisted of the Sentinel), but the shortstop's throw was wide and late as pinch-runner Jim Dyck slid past Crandall to tie the game.8 "If I could have gotten the Redlegs out in the ninth, we would have all made history," Crone told the author.9
For the remainder of the game, the County Stadium crowd "hushed during pitches and vented its noise only in the intervals between batters," wrote Don Trenary.10 With two outs in the 10th, Jack Dittmer, making just his third plate appearance of the season, clouted a ball down the right-field line. Just a "shade" from a homer, Dittmer had a standup double off Joe Black to end the Redlegs' no-hitter, but was left stranded.
With the Braves' bullpen silent, Crone retired reliever Joe Black to start the 11th. "Black had to bat," said Crone with a chuckle. "Birdie Tebbetts had used all of his hitters." [The Redlegs used all 16 position players and three pitchers]. Crone then retired Gus Bell on a grounder back to the mound before yielding his seventh and final hit of the game, a single by Dyck. "[Crone] seemed at this stage to be tiring," wrote Trenary. "He moved slower, put more body into his pitches."11 Up stepped Post , coming off a career-high 40 homers in '55, with a chance for more heroics. "I never cared who the batter was," said Crone. "I went right at Post, but walked him." With two on, two out, and the game on the line, Crone fanned Ray Jablonski to end the frame.
The Braves finally caught a break in the 11th when Aaron connected for a broken-bat liner to right field off Black. Post had difficulty fielding the ball as it caromed off the wall, enabling Aaron to slide into third with one out. Black intentionally walked both Chuck Tanner and Bruton to set up a potential double play. With the infield playing in, Torre whacked at the first pitch; his shot "zoomed chest-high past the desperate reach" of first baseman Dyck. Aaron coasted home for the winning run.12
"It would be easy to overlook [Crone's] sturdy work," opined Trenary, as most of the postgame discussion centered on the Redlegs holding the Braves hitless for 9⅔ innings.13 In a performance described as "dazzling" by Chapman and "masterful" by Red Thisted, Crone faced 42 batters, fanned four and walked four in the longest outing of his career.14
"I don't remember anyone asking me if I was tired," said Crone nearly 60 years after hurling his masterpiece. "Grimm was a conservative, old-school kind of manager. He didn't care how long a pitcher pitched, and probably didn't even think about removing me. I have no idea how many pitches I threw — we never talked about that in those days. I threw fastballs, curves, and sliders. I tried to throw strikes and move the ball around, but I wasn't a tactician. I just went out there with my stuff and mixed it up and never thought about being cerebral. In hindsight I wished I would've thrown more changeups, but we just didn't throw many back then."
The rookie Torre basked in the attention of his first big-league walk-off hit. According to Chapman, Torre emerged from clubhouse after the game smoking a cigar and was "surrounded by at least 50 of the younger fry" seeking autographs as he went to his car.15
Under the rules at that time, Klippstein, Freeman, and Black were credited with an unprecedented three-man no-hitter. In 1991 the MLB Committee on Statistical Accuracy changed the definition of a no-hitter, stipulating that the pitcher or pitchers must complete a game of at least nine innings without allowing a hit. The effort of the Redlegs' trio, as well as 50 other no-hitters, were removed from the record books. Included among those was arguably the most famous "no-hitter" in history when Harvey Haddix of the Pittsburgh Pirates tossed a perfect game against the Braves only to lose in the 13th, 1-0, on May 26, 1959 — also at County Stadium.
This article appears in "From the Braves to the Brewers: Great Games and Exciting History at Milwaukee's County Stadium" (SABR, 2016), edited by Gregory H. Wolf. To read more stories from this book at the SABR Games Project, click here.
Acknowledgments
The author wishes to thank Ray Crone, whom he interviewed on August 4, 2015, about this game.
Notes
1 Lou Smith, "Braves Edge Reds in Zany Contest," Cincinnati Enquirer, May 27, 1956: 56.
2 Lou Chapman, "Weird's the Word for Saturday's Tilt," Milwaukee Sentinel, May 27, 1956.
3 Ibid.
4 Lou Smith, "Braves Edge Reds in Zany Contest."
5 Don Trenary, "Hitless Until Tenth, Braves Win in 11th for Crone, 2-1, Milwaukee Journal, May 27, 1956.
6 Lou Smith, "Notes," Cincinnati Enquirer, May 27, 1956: 59.
7 "Broken Bat — Boom Triple," Cincinnati Enquirer, May 27, 1956: 56.
8 Red Thisted, "Braves Escape No-Hitter in 10th, Tip Reds in 11th," Milwaukee Sentinel, May 27, 1956: 56.
9 Author's interview with Ray Crone, August 4, 2015. All quotations from Crone are from this interview.
10 Trenary.
11 Ibid.
12 Ibid.
13 Ibid.
14 Thisted; Chapman.
15 Chapman.
Additional Stats
Milwaukee Braves 2
Cincinnati Redlegs 1
11 innings
---
Milwaukee County Stadium
Milwaukee, WI
Box Score + PBP:
Corrections? Additions?
If you can help us improve this game story, contact us.
Tags
https://sabr.org/sites/default/files/Crone.Ray_.png
600
800
admin
/wp-content/uploads/2020/02/sabr_logo.png
admin
2018-03-22 13:41:51
2020-04-17 10:24:52
May 26, 1956: Braves walk off in 11th to preserve Crone's complete-game gem