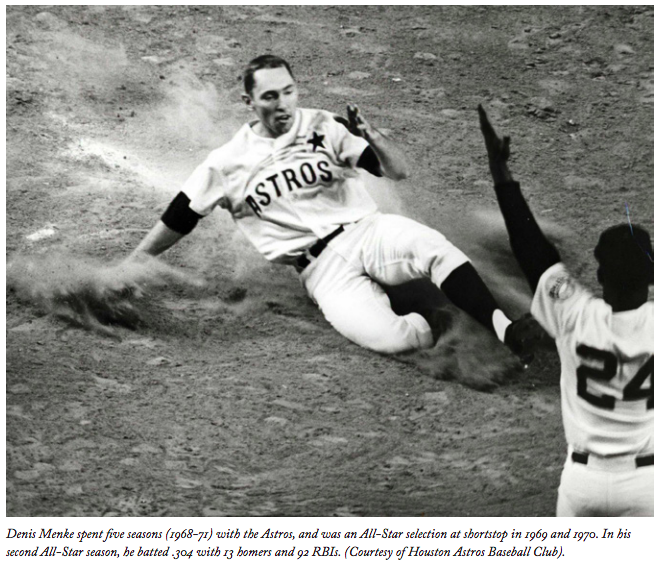 May 27, 1969: Doug Rader's walk-off slam sinks Phillies
---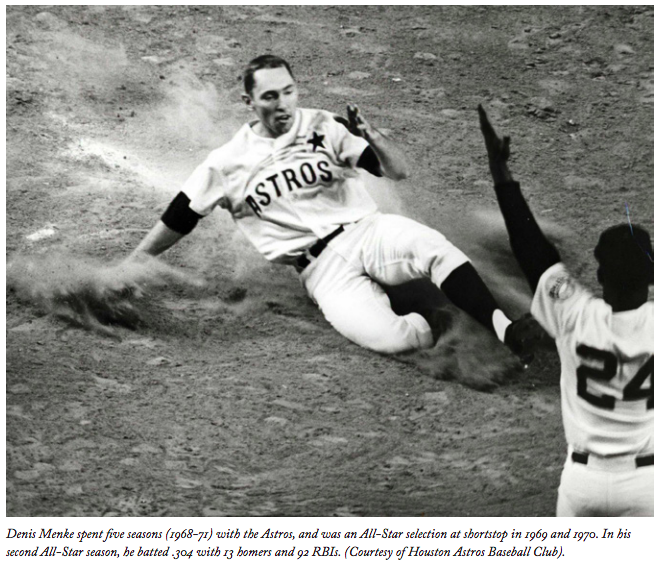 Houston Astros third baseman Doug Rader had hit two home runs in 164 at-bats over his team's first 44 games. One was a three-run bomb in a 5-2 victory over the Los Angeles Dodgers on April 13, while the other was a solo shot that aided a 4-0 win over the Cincinnati Reds on May 1. Apparently he was primed for more dramatic achievements, this time at the expense of the Philadelphia Phillies, who were in fifth place in the NL East.
A sparse crowd of 13,188 watched the Astros push their May record to 18-4. Rader delivered a game-winner off reliever Luis Peraza, a 27-year-old rookie right-hander whose eight games pitched this season constituted his entire major-league career. The clutch four-bagger was the first in Rader's young career.1 Although they didn't call them walk-offs back then, this clout qualified as one and ended a tight battle.
Douglas Lee Rader, who was born on July 30, 1944, in Chicago, was nicknamed "Red Rooster" because of his thick bundle of red hair.2 He had signed with the Astros as an amateur free agent out of Illinois Wesleyan University before the 1965 season, jumping the gun on the first-ever amateur draft, which didn't take place until June 1965. Rader, known mostly for his defensive prowess at the hot corner, debuted with the Astros in 1967 and did not disappoint. In 168 at-bats, he posted a .333/.360/.481 line with 10 doubles, 4 triples, and 2 home runs. Despite the presence of sparkling defensive third basemen like Ron Santo and Clete Boyer, Rader won five consecutive gold gloves starting in 1970.
This was still 1969, however, and Rader entered the game hitting just .226 with the two homers and 22 RBIs. In the second inning, with his club down 1-0 after a home run by Dick Allen, Rader hammered a long double that caromed off the glove of Phillies right fielder Johnny Callison.3 The hit advanced Denis Menke, who had walked, to third. Johnny Edwards followed with a sacrifice fly that tied the score at 1-1 and advanced Rader to third.
With Norm Miller batting next, Rader decided to perform his Ty Cobb imitation and try to swipe home. Not known for his speed, the risk-taking Rader was gunned down at the plate for the final out of the inning. Miller entered the game with a.305 batting average, making Rader's feeble attempt to break the tie a peculiar decision, even with two out.
After the Astros evened the score, starting pitchers Don Wilson of Houston and Grant Jackson of Philadelphia each pitched three scoreless innings. The Astros were retired without a baserunner in all three of their frames. The Phillies managed a single and walk but were also caught stealing twice during that span; Larry Hisle (in the third inning) and Cookie Rojas (in the fourth) were the victims of catcher Johnny Edwards's powerful right arm. Rojas's steal attempt came as Wilson struck out Allen, resulting in a double play.4
A frightening moment occurred during the third inning. As Wilson swung at one of Jackson's offerings, the bat slipped from his grasp, bounced off the Phillies dugout, and continued into the stands, where it struck a young girl in the face. The child was taken to the emergency room of a local hospital, where her injuries were determined to be minor.5
The Phillies botched a golden chance to break the tie in the top of the fifth inning, which began when Deron Johnson reached safely on a throwing error by Rader.6 After Wilson walked Don Money, the Phils were in business, or so it seemed. Mike Ryan laid down a bunt, that Wilson fielded and threw out Johnson at third. With one out, Larry Hisle followed with his own bunt toward Wilson, who opted for the sure out by throwing out Hisle at first.
Hisle's decision to bunt with pitcher Jackson on deck was a curious one. Was Hisle trying to reach on a bunt single, or was he merely aiming to advance the runners? The second-year slugger was no speed demon, although he did record 18 stolen bases in 1969. Regardless, Wilson rendered this query moot by striking out Jackson to thwart the threat. The teams remained tied heading into the sixth, which would prove to be an unexpectedly dramatic inning.
After striking out the leadoff hitter, Tony Taylor, Wilson gave up three consecutive singles, coincidentally occurring from left to right, in order. Rojas singled to left field, Allen to center, and Callison to right. Right fielder Norm Miller's quick throw on Callison's single prevented Rojas from scoring on the play. With the bases loaded, Wilson struck out Johnson and it appeared that the gritty right-hander would avoid giving up the lead run. However, with Money batting, first-base umpire Bob Engel called a balk on Wilson that allowed Rojas to score and gave the Phillies a 2-1 edge. Rojas had apparently faked a move toward home, prompting Wilson to rush a pitch to the plate, and Rojas's tactic had paid off.7
Houston manager Harry Walker became incensed and did not conceal his objections. Walker argued vociferously that Engel was not in position to see any balk. He said third-base umpire Augie Donatelli had the better view and chose not to make a call. The Houston Chronicle wrote that Walker exhibited "one of his angriest displays since he became manager." After a long, heated exchange, Walker returned to the dugout but Engel ejected him anyway. It was the first time since 1967 that Walker had been tossed from a game. "That's a long time for me," admitted Walker.8 Coach Buddy Hancken took over the managerial duties.9
Possibly fired up himself after the verbal melee, Wilson recorded his third strikeout of the inning by fanning Mike Ryan to end the inning. (He would total 13 K's in the game.) Jackson retired the Astros in order in the sixth, and Wilson heaped the same fate on the Phillies in the seventh, setting down Hisle, Jackson, and Taylor, before Denis Menke led off Houston's half of the inning with a game-tying homer. The eight-year-veteran shortstop now had hit safely in 18 of his last 19 games.10
In the top of the eighth, Wilson issued his fourth free pass of the night, this time to Rojas. Dick Allen lined a "viciously-hit liner"11 to Miller in right for the first out. Callison popped out to Edwards in foul territory, but the catcher then allowed a passed ball that advanced Rojas to second. However, like clockwork, strikeout artist Wilson whiffed Johnson for the second time to end the inning.
After the Astros went down quietly in the eighth and Wilson worked his way out of the ninth, Rader, who thus far had an eventful night with a double, a caught stealing, and an error, took center stage again in the bottom of the ninth. Phillies manager Bob Skinner made the first pitching change of the game, replacing Jackson with rookie hurler Bill Wilson. The decision backfired on Skinner as Wilson issued consecutive walks to Joe Morgan and Jimmy Wynn, who had scorched a long foul ball on a fastball down the middle that seemed to have rattled the young right-hander. After walking Wynn, he threw a wild pitch to advance the runners to second and third and force an intentional walk to Menke.
With the bases loaded and nobody out, Skinner replaced Wilson with Peraza, who ran the count to 3-and-1 on Rader. Rader could have attempted to take a walk to earn the game-winning RBI, but he said after the game, "I wanted to hit a fly ball." He did just that, cranking the next pitch into the screen near the left-field foul pole for a dramatic, game-winning grand slam.12 that John Wilson of the Houston Chronicle called a "four-megaton explosive." 13
Peraza had delivered four straight sliders to Rader before the walk-off swing. "I had watched him warm up and knew he threw a changeup," said Rader after the game. "I knew he wasn't going to throw me the slider again. My thinking was that it was going to be a straight ball – either the fastball or the change. So I set myself to be able to get around on the fastball and hit a fly ball or pull it if it was a change."
The Phillies had put the lead runner on base in four of the nine innings but had failed to score each time. Rader, citing his team's nine-game winning streak, offered this: "I just hope three or four guys can stay hot at one time. During the whole stretch, we never have had everybody hot at once – just enough to win and that's what I hope can continue."14
This article appears in "Dome Sweet Dome: History and Highlights from 35 Years of the Houston Astrodome" (SABR, 2017), edited by Gregory H. Wolf. To read more articles from this book at the SABR Games Project, click here.
Notes
1 Clark Nealon, "Rader Sparks 6-2 Victory," Houston Post, May 28, 1969.
2 John Wilson, "Astros Top Philly by 6-2 Count," Houston Chronicle, May 28, 1969.
3 Ibid.
4 Ibid
5 Nealon.
6 Wilson.
7 Ibid.
8 Ibid.
9 Nealon.
10 Ibid.
11 Wilson.
12 Nealon
13 Wilson.
14 Ibid.
Additional Stats
Houston Astros 6
Philadelphia Phillies 2
---
Astrodome
Houston, TX
Box Score + PBP:
Corrections? Additions?
If you can help us improve this game story, contact us.
Tags
https://sabr.org/sites/default/files/MenkeDenis.png
600
800
admin
/wp-content/uploads/2020/02/sabr_logo.png
admin
2018-09-12 12:42:34
2020-04-17 10:24:40
May 27, 1969: Doug Rader's walk-off slam sinks Phillies