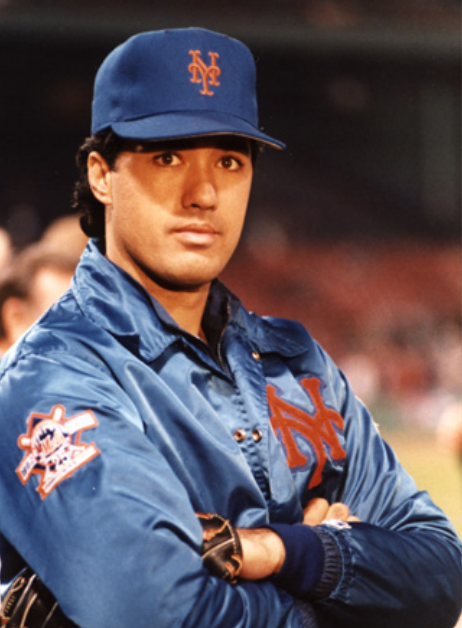 May 27, 1986: Darling whiffs 12 as Mets brawl with Dodgers
---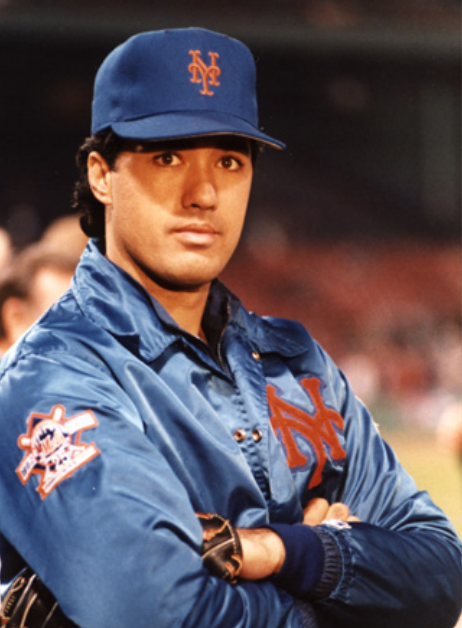 The New York Mets were in a bad mood. After bolting out of the gate and looking seemingly invincible with a 20-4 record to start the 1986 season, they had appeared all too human, posting just a 6-5 record on their recently concluded 11-game road trip. Manager Davey Johnson, in his third season as the club's pilot, hoped the nine-game homestand would cure whatever ills had befallen his club, which occupied first place in the NL East with a major-league best 27-11 record. The homestand began with a three-game set against the Los Angeles Dodgers on Tuesday, May 27. The Dodgers were playing their best ball of the young season. Victorious in 8 of their last 11 games, skipper Tom Lasorda's team had evened its record (22-22), which was good enough for only fifth place in the competitive NL West.
Toeing the rubber for the Mets was 25-year-old right-hander Ron Darling, whom Craig Wolff of the New York Times described as "present[ing] perhaps the Mets biggest melodrama."1 The good-looking hurler from Hawaii had a career record of 34-18 in parts of four seasons, including a 5-0 start in 1986; however, the New York media had reported on his supposedly contentious relationship with his ofttimes prickly manager. "I don't have a feud with Ronnie," said Johnson. "Maybe I expect too much out of him."2 Even little squabbles could be blown up in Gotham, where Mets fans starved for their first division crown since the "you gotta believe" club in 1973. "I don't pay any attention to what Davey says about me," said Darling somewhat nonchalantly. "It's not like a new thing. He does it because I can do better."3
For decades the Dodgers had cultivated a feel-good, all-American reputation, but they were on edge, too. Prior to their game against the Mets, a clubhouse fight broke out between All-Star second baseman Steve Sax and his double-play partner, first sacker Greg Brock. Tom Niedenfuer, a stout 6-foot-5 relief pitcher, who was officially listed at 225 pounds, but might have been 25 pounds heavier, stepped in to break up the brouhaha. Sax and Brock downplayed the altercation and assumed the role of church choirboys to the national media. "We grew up together, came up through the system together," said Brock. "We go a long way back."4
Los Angeles threw the proverbial first punch of the game when Ken Landreaux parked a one-out offering by Darling in the stands for his third round-tripper of the season, giving the Dodgers a 1-0 lead and hushing the partisan crowd of 35,643. The Dodgers' starting pitcher, 29-year-old right-hander Bob Welch, with a 96-67 career record, including 3-3 in '86, mowed down the first nine batters he faced. The Mets tied the game in the fourth when Gary Carter hit a sacrifice fly to right field to drive in Wally Backman.
Darling and Welch did their best Seaver and Koufax impressions by recording all six outs via strikeouts in the fifth inning. Darling had whiffed the side in the third, as well, and with eight punchouts through five innings had already exceeded his previous season high of five.
Depending on one's perspective, the sixth inning was either memorable or forgetful. The first five Mets collected hits off Welch. Backman doubled down the right-field line to drive in Lenny Dykstra and Carter singled to short right-center to plate Backman and increase the Mets' lead to 3-1. Danny Heep, starting in right field in place of slugger Darryl Strawberry (sidelined with sprained ligaments in his left thumb), singled to load the bases and send Welch to the showers.
Tom Niedenfuer, fresh off his pregame domestic peacekeeping mission, replaced Welch to face 37-year-old George Foster. In his 18th and final big-league season, the five-time All-Star with his trademark sideburns was no longer the home-run threat that he had been with the Big Red Machine, for whom he belted 52 and 40 round-trippers to lead the NL respectively, in 1977 and 1978; however, he was in the right situation at the most opportune time. Niedenfuer, making his 21st appearance of the season, had been struggling with the long ball, and had yielded five homers in just 27 innings. "It took just one quick turn on a fastball thrown across the letters," wrote Craig Wolff, to change the tenor of the game.5 On an 0-and-1 count, Foster clouted one over the 388-foot sign in left field for the 13th and final grand slam of his career, and gave the Mets a seemingly insurmountable 7-1 lead. The strikeout-prone, right-handed hitting Foster was originally not scheduled to start against the righty Welch, but Johnson had made a lineup change at the last minute. "I guess it was good I played," said Foster after the game.6
Foster's hit, wrote Craig Wolff, "turned a cool quiet evening at Shea Stadium into a rollicking, explosive affair."7 With his next pitch, Niedenfuer hit Ray Knight on the left forearm. Knight, whose wife, professional golfer Nancy Lopez, had given birth to a child the previous day, was a former Golden Gloves boxer with a chiseled 185 pounds on a 6-foot-1 frame.8 "I charged the mound," said Knight. "He [Niedenfuer] tried to tackle me. Then I hit the ground – people were scratching at my face, so I started swinging again."9 A benches-clearing brawl ensued with players coming together in one large rugby-like scrum. When order was finally restored, neither Knight nor Niedenfuer was ejected, drawing the wrath of Lasorda. "I felt he threw at me," explained Knight after the game. "I've always had the philosophy that I would never charge the mound unless I knew for sure."10 Niedenfuer, who had hit only one batter in 106⅓ innings of work in '85, denied throwing at Knight. The pitch to Foster was "not where I wanted it to be, and neither was the one to Knight," he said.11 After hitting Knight, Niedenfuer yielded a single to Rafael Santana and misplayed Darling's bunt to load the bases. His night was over. Reliever Ed Vande Berg got out of the jam by retiring Dykstra on a short fly to center, and inducing Backman to hit into an inning-ending double play.
Through all of the chaos, Darling kept his cool on the mound, but was not surprised by the brawl. "Whenever someone hits a grand slam to more or less put the game out of reach, you can anticipate something like this happening," he said. "Being a pitcher, I can understand what's going through Niedenfuer's mind. I know I was the first one off the bench."12 Darling quashed a mini-rally by the Dodgers in the seventh (runners on first and second with one out) by fanning Franklin Stubbs and dispatching Mariano Duncan on a grounder to short. Darling benefited from yet another run of support when Keith Hernandez led off the seventh with his third home run of the season to give the Mets an 8-1 lead. Typically regarded as a finesse pitcher, unlike his hard-throwing teammates Dwight Gooden and Sid Fernandez, Darling recorded his 11th and 12th punch outs in the final frame sandwiched around a one-out double by Steve Nicosia. He induced Stubbs to ground out to second for the last out of the game and tied a team record with his sixth consecutive victory to start a season.
"I think I've had just as good stuff in other games, but today I got ahead of hitters," said Darling, whose curveball and split-finger fastballs mesmerized Dodger hitters, eight of whom were rung up looking.13 His 12 strikeouts tied a career high, and it was the third of eight times in his 13-year career (364 starts) that he whiffed at least 10 batters. Darling often struggled with control, leading the NL with 114 walks in '85, but issued only two free passes while recording his first complete game of the season.
With the victory the Mets moved to 28-11, and two games later completed the three-game sweep against the Dodgers behind Gooden's complete-game five-hitter with 10 strikeouts and Fernandez's four-hitter over eight strong frames.
This article is included in the book "The 1986 New York Mets: There Was More Than Game Six" (SABR, 2016), edited by Leslie Heaphy and Bill Nowlin.
Notes
Additional Stats
New York Mets 8
Los Angeles Dodgers 1
---
Shea Stadium
New York, NY
Box Score + PBP:
Corrections? Additions?
If you can help us improve this game story, contact us.
Tags
http://sabr.org/sites/default/files/Darling-Ron.png
600
800
admin
/wp-content/uploads/2020/02/sabr_logo.png
admin
2016-12-28 15:12:54
2020-04-17 10:25:57
May 27, 1986: Darling whiffs 12 as Mets brawl with Dodgers