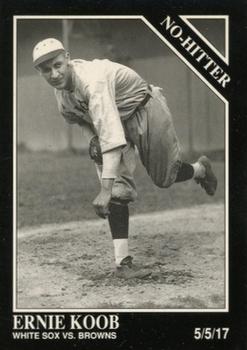 May 5, 1917: On second thought, it's a no-hitter for Ernie Koob
---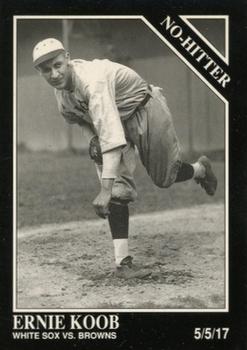 An incorrect headline is a publisher's nightmare. The most famous such blunder occurred the day after the presidential election in 1948 when the Chicago Tribune proclaimed "Dewey Defeats Truman" in the first edition of the morning paper on November 3.1 Thomas E. Dewey had been leading in the polls and the Tribune's managing editor, J. Loy "Pat" Maloney, went with his gut instinct, even though results on the West Coast had not been completely tallied. Thirty-one years earlier, as the 1917 baseball season was still in its infancy, Ernie Koob of the St. Louis Browns "tantalized and teased" the Chicago White Sox, holding them hitless in Sportsman's Park in the Gateway City on May 5.2 The next day the Tribune's headline read, "Koob Tames Sox in One Hit Game, 1-0."3 How did the Tribune, and other papers across the country using wire services for their sports reports get it wrong? Koob's no-hitter, opined sportswriter W.J. O'Connor in the St. Louis Post-Dispatch, was "hardly immaculate," and added, "[I]t was slightly tainted, stained with doubt in its very incipiency."4
Skipper Fielder Jones's Browns were itching to get back on the diamond on Saturday, May 5, to play the first game of a six-game series against the White Sox. The "dark, dank, dismal days of sunless Spring," as O'Connor put it, had forced the postponement of the Browns' games with the Detroit Tigers the previous two days.5 Coming off their first winning season in eight years and just their fourth in franchise history as a charter member of the AL, the Browns had split their first 16 games, and were in fourth place, three games behind the front-running Boston Red Sox. The Pale Hose (11-7), piloted by Pants Rowland, had pennant aspirations, having finished runners-up to the Red Sox the previous year. However, the club had lost five of its last seven games to fall out of first place.
The inclement weather and poor field conditions suggested an advantage for the hurlers. Chicago sent its ace, 33-year-old right-handed knuckleballer Eddie Cicotte, to the mound. On April 14 the 11-year veteran, with a career record of 121-101 (2-1 thus far in '17), had opened the season by hurling the first no-hitter in the history of Sportsman's Park, defeating the Browns, 11-0. The Brownies countered with Koob, a 24-year-old southpaw and part-time starter who had entered the season with a 15-13 career record. In his last outing, on April 29, he was scorched for four hits and four runs in just 1⅔ innings of relief against the Cleveland Indians, but notched the victory to improve his record to 2-1.
After Koob fanned leadoff hitter Shano Collins to start the game, Buck Weaver hit a sharp grounder to second baseman Ernie Johnson, in what proved to be the most important and controversial play of the afternoon. A journeyman infielder making his first career start at the keystone sack, Johnson replaced the injured Del Pratt, generally acknowledged as one of the best second basemen of the era. Johnson "gave it a valorous battle," opined O'Connor, while sportswriter I.E. Sanborn of the Tribune noted that Johnson "tore in and tried to pull a brilliant stop."6 O'Connor poetically described Johnson's struggles in the Post-Dispatch: He "fielded [the ball] with his chest, and knocked it silly at his feet. He then laid a prehensile paw on the pill and came up with ample time" to throw to first baseman George Sisler. "But he suddenly lost his prehensileness and threw the ball over his shoulder like a superstitious person throwing salt to avoid a fight."7 Weaver easily reached first as Johnson searched for the ball behind him. Johnson's fumbling act, noted O'Connor, instantly evoked a debate in the press box about whether Weaver deserved a hit or Johnson an error. The official scorer, John B. Sheridan, a St. Louis sportswriter, ruled immediately and emphatically that it was a hit. Johnson redeemed himself just moments later. Koob scooped up Eddie Collins's grounder back to the mound and tossed to Johnson to initiate an inning-ending twin killing. "Johnson has a great arm for a middle man in double-murders," gushed O'Connor.8
The Browns threatened to tally the game's first run in the bottom of the third when light-hitting Doc Lavan (batting just .135 entering the game) popped a one-out single over first baseman Chick Gandil's head. After Koob walked, Burt Shotton loaded the bases when second baseman Eddie Collins misplayed his grounder.9 Cicotte, one of the game's most notorious shine-ballers, escaped the jam when Jimmy Austin grounded to shortstop Swede Risberg and Sisler struck out on what the Post-Dispatch considered "three bad balls."10
The fifth proved to be Koob's "severest test," according to O'Connor, when the White Sox advanced as far as second base for the first and only time of the game.11 Gandil led off with a grounder and raced 180 feet following shortstop Lavan's two-base throwing error. After Risberg and Ray Schalk were retired on "anemic flies" to right fielder Baby Doll Jacobson, Cicotte walked. Lavan then atoned for his miscue by fielding Shano Collins's grounder and beating Cicotte to the bag to squelch the rally.12
The outcome of the game rested on Austin's routine pop-up behind second base in the sixth. According to the Post-Dispatch, Risberg, calling off second sacker Eddie Collins and center fielder Happy Felsch, "tangoed back and hesitated," but fumbled the ball for an error, enabling the speedy Austin to reach second.13 Up stepped Sisler, emerging as one of the league's best hitters, who entered the game batting .381, third highest in the AL. Sisler lined a single to right field to drive in Austin for the game's only run.
O'Connor described the game as "featureless … as pitched battles always are."14 Save for Johnson's muff in the first, Koob set down the White Sox, the big leagues' highest-scoring team in 1917, without the help of any exceptional defensive gem; nonetheless, he profited from heads- up, fundamentally sound ball. As tension mounted in the pitchers' duel, Risberg drew a one-out walk in the seventh, Koob's fifth free pass (all with two outs) of the game. Third baseman Austin fielded Schalk's lazy grounder to initiate the Browns' second double play, in exciting 5-4-3, around-the-horn fashion.
As the game wore on, "grave doubt," wrote the Post-Dispatch, arose in the press box about the hit awarded to Weaver in the first.15 Koob had thrown two shutouts in his career, a five-hitter against the Washington Senators and a marathon 17-inning, 14-hitter against Boston that ended in a tie, but had never seriously flirted with a no-no.
The Browns tried to add on when Armando Marsans, the third Cuban-born big-league player and the first to start regularly, led off the seventh with a double and moved to third on Johnson's sacrifice bunt. He broke for home when Lavan grounded up the middle. Eddie Collins fielded the ball cleanly and rifled a strike to his fellow future Hall of Famer, Ray Schalk, who tagged Marsans at the plate. Koob fouled out to end the frame.
Koob "moved merrily along," gushed O'Connor, "mowing 'em down with great éclat."16 He retired all six batters he faced in the eighth and ninth to finish the game in 1 hour and 34 minutes. Without celebrations, the contestants retired to their clubhouses; the Brownies delighted with Koob's one-hit shutout. Koob "throttled Comiskey's de lux twenty-four cylinder machine," praised the Tribune.17 Cicotte, a tough-luck loser, surrendered just five safeties.
While the ballpark emptied and the players dressed, Sheridan harbored doubts about his first-inning ruling. He "sought sounder counsel," wrote the Post-Dispatch, and conferred with umps, players, and coaches.18 According to the paper, "to a man" all parties agreed that Johnson deserved an error and Koob a no-hit game. The Post-Dispatch admitted there was a "suspicion of gang ethics" and attempts by the Browns to influence Sheridan's decision but O'Connor tried to defuse those accusations. "The able and honorable official scorer yielded reluctantly under the preponderance of evidence and erased the hit, substituting an error."19 Koob was credited with the first no-hitter by a St. Louis Browns pitcher in Sportsman's Park, and just the second in franchise history.20
"I made a rank error," Ernie Johnson told the St. Louis Star and Times the next day.21 "The ball was hit straight at me and although I got in front of it, it hopped out of my hands. But as it fell 'dead' at my feet, I still had a second chance to get the batter. … [A] throw to Sisler would have had him but the ball slipped out of my hand and flew over my shoulder."
Sheridan's flip-flop caused a scandal. The Base Ball Writers Association of America lodged a formal protest with the both league offices on May 6. It also polled its members on a resolution asking both league presidents to instruct official scorers that their rulings cannot be reversed except in cases on "misinterpretation of the rules."22 There was also an unsuccessful attempt to change Sheridan's decision back to a hit.
This article appears in "Sportsman's Park in St. Louis: Home of the Browns and Cardinals at Grand and Dodier" (SABR, 2017), edited by Gregory H. Wolf. Click here to read more articles from this book online.
Sources
In addition to the sources cited in the Notes, the author also accessed Retrosheet.org, Baseball-Reference.com, the SABR Minor Leagues Database, accessed online at Baseball-Reference.com, SABR.org, and The Sporting News archive via Paper of Record.
https://www.baseball-reference.com/boxes/SLA/SLA191705050.shtml
http://www.retrosheet.org/boxesetc/1917/B05050SLA1917.htm
Notes
1 Tim Jones, "Dewey defeats Truman," Chicago Tribune. https://chicagotribune.com/news/nationworld/politics/chi-chicagodays-deweydefeats-story-story.html.
2 W.J. O'Connor, "No-Hit Game Nets Koob and Browns One-Run Victory," St. Louis Post-Dispatch, May 6, 1917: 1S.
3 I.E. Sanborn, "Koob Tames Sox in One Hit Game, 1-0," Chicago Tribune, May 6, 1917: 1.
4 O'Connor.
5 Ibid.
6 O'Connor; Sanborn.
7 O'Connor.
8 "Sisler, Who Leads Cobb in Batting, Strikes Out With Bases Filled," St. Louis Post-Dispatch, May 6, 1917: 1S
9 There is some discrepancy on this play. The Post-Dispatch and the Chicago Tribune charged Collins with an error; the game account on Baseball Reference.com does not.
10 "Sisler, Who Leads Cobb in Batting, Strikes Out With Bases Filled."
11 O'Connor.
12 O'Connor.
13 "Sisler, Who Leads Cobb in Batting, Strikes Out With Bases Filled."
14 O'Connor.
15 Ibid.
16 Ibid.
17 Sanborn.
18 O'Connor.
19 Ibid.
20 The first no-hitter in Browns history belongs to Earl Hamilton who beat the Detroit Tigers, 5-1, at Navin Field on August 30, 1912.
21 "Koob Is Entitled to a No-Hit Game, E. Johnson Claims," St. Louis Star and Times, May 7, 1917: 11.
22 "Baseball Writers to Protest Koob's No-Hit Contest," Pittsburgh Daily Post, May 7, 1917: 7.
Additional Stats
St. Louis Browns 1
Chicago White Sox 0
---
Sportsman's Park
St. Louis, MO
Box Score + PBP:
Corrections? Additions?
If you can help us improve this game story, contact us.
Tags
https://sabr.org/sites/default/files/KoobErnie.jpg
600
800
admin
/wp-content/uploads/2020/02/sabr_logo.png
admin
2018-05-03 14:27:37
2020-04-17 10:24:48
May 5, 1917: On second thought, it's a no-hitter for Ernie Koob