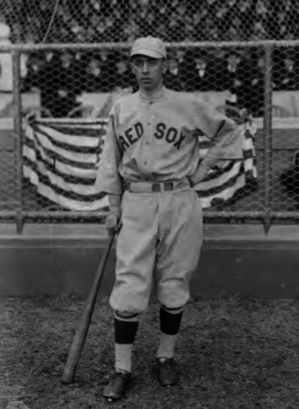 May 5, 1918: Breaking the Sabbath: Navy Yard stars win exhibition at Braves Field
---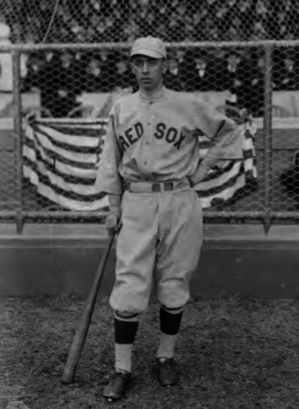 Though the crowd for the joyous May 7, 1918, Braves Field record 16-0 blowout was rather sparse in comparison, just two days earlier the Wigwam was filled to capacity for what in previous years would have been an illegal Sunday ballgame. Connie Mack's former star shortstop Jack Barry and his Charlestown Navy Yard All Stars were pitted against his old teammate Harold Janvrin's Army squad from the Camp Devens Training Base located near Ayer, Massachusetts. Sunday ball was not allowed, but a quickly enacted city ordinance decreed that games between servicemen were acceptable if no admission was charged. On a beautiful May 5, more than 40,000 "freebie" fans were admitted before the gates had to be closed for safety reasons well before the scheduled 3 P.M. first pitch. Monday's Boston Post claimed it was the "largest Sunday crowd ever to witness a sporting event."1 Meanwhile each city newspaper was filled with World War coverage of various European battlefronts, the sinking of Allied ships, and casualty reports of New Englanders. Six local soldiers were lost in that day's fighting.
The game was intended to benefit sailors and soldiers "help" funds via an expected courtesy "collection" throughout the stands but First Naval District Rear Admiral Spencer S. Wood nixed the idea by citing official Navy Department policy that prohibited its personnel from playing in any contest that involved gate receipts or any form of money exchange, even donations. An innocent compromise was suggested that all proceeds go to the Red Cross but Wood vetoed that, too. Major General Harry Hodges (Camp Devens), Commandant William Rush, and Captain A.L. Key of the Charlestown Navy Yard, many Boston clergymen, and Boston Mayor Andrew J. Peters were seated in prime home-plate boxes for the well-played, 105-minute contest between the friendly rivals. Rear Admiral Wood arrived in the fourth inning.
Former A's "$100,000 Infield" shortstop Barry, who played second base and managed the Red Sox in 1917, was a Navy Yard employee, as were all of his players: pitcher Ernie Shore (of perfect-game fame), shortstop Walter "Rabbit" Maranville (Braves, future Hall of Famer), first baseman Del Gainer (Red Sox/Tigers), outfielder Ladislaw Whitey Witt (Athletics), outfielder Charles "Chick" Shorten (Red Sox/Tigers), catcher Art Rico (Braves, from the Roxbury neighborhood of Boston),2 third baseman Marty Killilea (several minor-league teams), and outfielder Jimmy Walsh (Athletics/Red Sox). On the team but not playing that day were future Hall of Fame pitcher Herb Pennock (Red Sox/Yanks) and hurler Lore "King" Bader (Texas League star, Red Sox).
Devens field general Janvrin had no such major-league firepower but made a good showing in losing just 5-1. His locally grown stars were hurler Ralph Waldo "Rube" Cram (Melrose High ace, Brown University), outfielder Billy Mulcahy (Woburn High, Tufts University), outfielder Frank Kane (Weymouth, Providence Grays), catcher Fred "Brick" Wilder (Maynard High, Buffalo, Springfield, Omaha), first baseman William Whalen (East Boston), shortstop Jim Cooney (Red Sox), a kid named Powers from Roxbury who played outfield, and another boy named Glennon who played third base. Veteran National League umpire Charles "Cy" Rigler and rookie ump Charlie Moran donated their time. They were in Boston to oversee the New York Giants sweep that continued on Monday, interrupted only by the scheduled day off on the "Lord's Day." The Braves paid all the policemen and the ushers who directed delighted fans to their priceless seats.
Both of the "military" squads had been assembled less than a week before the game. The local papers followed the practice progress of both and promoted the Sunday contest daily. The likely starting lineups were posted and touted. To fine-tune for the clash, Barry's Navy recruits found Harvard University an easy mark on Saturday, 12-0, behind Bader's four-hitter and his own three safeties at Soldier Field in front of 2,000 fans. Meanwhile Janvrin's Devens boys smacked an all-star team from nearby Somerville, 11-1, in that Boston suburb. Whalen (three runs) and Powers each had four hits. The Somerville hurler, A. Graham, gave up 16 hits but clouted a solo home run. The Boston Sunday Post sports page had a prophetic headline: "Big Crowd Expected at Game, Plan for Overflow at Braves Field Today." The accompanying story declared, "With favoring weather this afternoon it is almost certain that the crowd … will break all baseball attendance records for this city or elsewhere."
Before the Sunday throng, Cram pitched well for Devens against the superb Navy Yard lineup, but two misplayed fly balls, one called an error and one ruled a double by Killilea, led to three Navy runs in the fifth inning. It was claimed that young flychasers Powers and Mulcahy were not ready for the expanse of the Braves Field pasture. Witt singled and scored in the first inning on Gainer's hit while Captain Barry walked and found his way home in the sixth on a Shorten single. Whalen's hit, a groundout, and a single by Wilder got Camp Devens on the board in the seventh. Rabbit Maranville provided entertainment for the huge throng with his "vest pocket" catches, fast play at the keystone sack, and a humorous wrestling match at home plate. Husky Devens catcher Brick Wilder pinned little Rabbit near the plate when an outfielder's throw rolled away from him. He quickly grabbed the ball and tagged Maranville but umpire Rigler ruled that holding the runner down was illegal and allowed Rabbit his score.
The game was such a success that the Army boys played the following Sunday at Braves Field with Cram beating outclassed Fort Strong, 12-2, behind Kane's four singles, Janvrin's two triples (three runs), and Cooney's four scores. The Army team amassed 12 hits, 12 steals, and received 14 walks. This time 20,000 fans showed up and donated $1,100 to the Devens athletic fund.
Navy bragging rights from May 5 were short-lived, however, as on May 8 the flashy Charlestown squad was scuttled by Rear Admiral Wood's decision to transfer many of Barry's stars. He disliked pro players on so-called "Navy" teams even though Barry had assembled possibly the most elite wartime ballclub in the country. Wood staunchly stated: "I have a policy, and a well-defined one, in regard to baseball matters as well as other sports. All athletic contests shall be kept free from professionalism, and in the ranks of amateurism."3 Maranville, Witt, Gainer, Leo Callahan (Phillies), Mike McNally (Red Sox/Yanks), and Herb Pennock were given over to Boston's 1st Naval District for duty. (Some papers reported it would be "sea duty."4) The next Sunday (the 12th) in Worcester, Captain Jack's leftovers and new recruits swamped the 302nd Regiment, 16-1, as the entire lineup got hits (20) and touched home plate.
Boston Herald sports scribe Burt Whitman used the May 5 game's magnificent turnout to write eloquently in favor of Sunday baseball, which was banned in Boston until a 1928 statewide referendum. Monday morning's Herald front page included this Whitman observation: "It was the second Sabbath game of ball played in this state under the recently enacted law that teams composed wholly of men in service may play on Sunday, provided there be no admission charged. It was a convincing and human argument for properly regulated sport on Sunday. There was nothing boisterous, nothing loud, nothing hilarious about the gathering. Less than twenty-five percent were juveniles. Thousands of women not with their escorts, many of the latter unquestionably seeing their first 'big time' ball game in years, because of inability to attend games through the week."5
The Boston American agreed with its headline: "40,000 Approve Sunday Baseball." Writer Nick Flatly typed, "It was a typical Sunday holiday crowd. Everybody and his best girl was there and enjoyed a real holiday. There was cheering, of course, but not the semblance of anything that could possible raise the least protest against the national pastime on the Sabbath."6 It didn't take long for one front office to notice the benefits of Sunday ball. The May 20 Boston Post had a simple headline for one particular American League game, "First Sunday Ball in East, 15,000 See Senators Beat Indians, 1-0, in 12 Innings. A Boston Globe story datelined May 19 led, "Sunday baseball in the national capital was inaugurated today with a 12-inning game in which Washington defeated Cleveland, 1-0." Senators veteran spitballer Yancey "Doc" Ayers scored the winning run to beat Stan Coveleski. Each team had six errors, while each pitcher walked two, fanned just one, and allowed seven hits.
Nonetheless, it was not until April 1929 that a major-league baseball game was played in Boston on a Sunday.
This article appeared in "Braves Field: Memorable Moments at Boston's Lost Diamond" (SABR, 2015), edited by Bill Nowlin and Bob Brady. To read more articles from this book, click here.
Sources
Baseball-Reference.com
Johnson, Lloyd, and Miles Wolff, Encyclopedia of Minor League Baseball (Durham, North Carolina: Baseball America, 2007).
The author also consulted contemporary issues of the Boston American, Boston Globe, Boston Herald, Boston Post, Brooklyn Eagle, and New York Times.
Notes
Additional Stats
Charlestown Navy Yard All-Stars 5
Camp Devens Training Base 0
---
Braves Field
Boston, MA
Corrections? Additions?
If you can help us improve this game story, contact us.
Tags
https://sabr.org/sites/default/files/BarryJack.png
600
800
admin
/wp-content/uploads/2020/02/sabr_logo.png
admin
2017-06-01 19:09:01
2020-04-17 10:25:49
May 5, 1918: Breaking the Sabbath: Navy Yard stars win exhibition at Braves Field