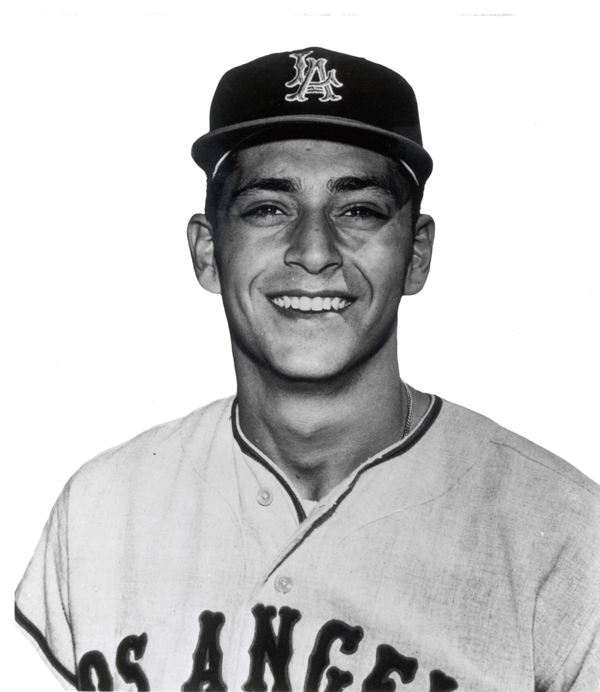 May 5, 1962: Bo Belinsky blanks Baltimore, strikes out nine in no-hitter
---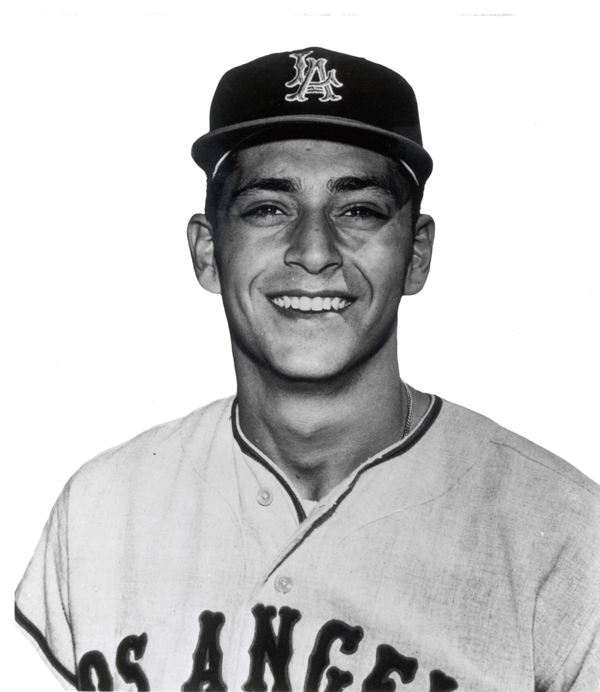 The first major-league no-hitter on the West Coast belongs not to Sandy Koufax, who would have been an obvious choice. On May 5, 1962, a rookie just 17 days into his major-league career threw a no-hitter for the Los Angeles Angels against the Baltimore Orioles: Robert "Bo" Belinsky. It took place at Dodger Stadium because the expansion franchise — which débuted in 1961 — did not get its own ballpark until Angel Stadium was finished in 1966. Both teams were at .500 in the young season: The Orioles were 10-10, the Angels 9-9.
The no-hitter belied Belinsky's mediocre pitching record of 10-11 in 1962; his career record is 28-51. But it elevated the 25-year-old southpaw into synonymity with the freewheeling atmosphere of early 1960s Southern California, making him an avatar for the male ideal — professional athlete, beautiful women on his arm — and a mainstay of Los Angeles nightlife, as visible at celebrity-laden watering holes as surfboards at Malibu. And he didn't do it alone. Male bonding over booze happened with actors, and gossip king Walter Winchell; hero worship from fans ignited because of Belinsky's social calendar, which involved dating actresses including Tina Louise and Ann-Margret. Those with only a minimal knowledge of baseball became aware of Belinsky after he got engaged to sex kitten Mamie Van Doren. Though the marriage did not materialize, Belinsky's celebrity factor boomed, which was interesting because he was far from being a superstar.
Fast living had consequences — Belinsky became an alcoholic and a drug addict. But he turned his life around in later years when he worked at Findlay Automotive Group, a Las Vegas-based car dealership that blossomed into a mammoth operation with outlets in several states.
A Depression-era baby born in 1936, Belinsky's childhood in Trenton, New Jersey was more Bowery Boys than Andy Hardy. While other kids occupied their free time with hobbies, Belinsky learned how to make bank shots in Trenton's pool halls, hardly a place to spend one's formative years.
Belinsky (3-0, 2.21 ERA) began the game with dominance, striking out Orioles second baseman Johnny Temple — who split his time with Baltimore and Houston in 1962 — and utility player Dick Williams, a lifetime .260 hitter who became a manager with four AL pennants and two World Series titles. Third baseman extraordinaire Brooks Robinson, who batted .303 that season, grounded out.
The Angels got their first run in the bottom of the first inning when second baseman Billy Moran scored on a wild pitch after getting on base with a single and advancing to third on Leon Wagner's double. Wagner, a right fielder, was the team's power hitter — he led the '62 squad with 107 RBIs and 37 home runs. First baseman and fan favorite Steve Bilko struck out the first of two times that afternoon, followed by Félix Torres' strikeout to end the inning.
Belinsky's control came into question in the top of the second when he hit Baltimore first sacker Jim Gentile and walked catcher Gus Triandos, who batted an anemic .159 in 66 games that season. Right fielder Dave Nicholson, another Oriole with a sub-.200 average in 1962, grounded into a 6-4 play that forced out Triandos. Shortstop Ron Hansen ended the inning by giving Belinsky his third K of the afternoon.
The Angels added their second run in the bottom of the second; right-hander Steve Barber — who went 18-12 the previous season — walked left fielder Earl Averill and gave up a double to Belinsky's battery mate, Buck Rodgers. With runners in scoring position and no outs, shortstop Joe Koppe got one of his 40 RBIs in 1962 with a 4-5 fielder's choice play that scored Averill and retired Rodgers at third. Belinsky moved Koppe to second on a sacrifice bunt, but leadoff hitter and center fielder Albie Pearson fouled out to Gentile ended the rally.
In the third inning, Williams became a two-time strikeout victim of the southpaw's pitching repertoire. The Angels managed to get one man on base in their half of the third with Wagner's single, but Barber tallied two strikeouts: Moran got caught looking and third baseman Torres swung and missed.
Belinsky got into trouble in the top of the fourth. After striking out Robinson, he walked Gentile and center fielder Jackie Brandt, then Torres' error let Triandos get to first safely. With the bases loaded, the Orioles had Nicholson at the plate. Belinsky got his second strikeout of the inning when Nicholson whiffed, followed by Hansen's F-8 fly ball.
Angels fans glanced at the scoreboard to find six strikeouts for the rookie so far. While too early to think about a no-hitter, the tally was cause for celebration.
Barber went three-up-three-down in the bottom half of the fourth, striking out Averill and getting Rodgers and Koppe on two groundouts.
Belinsky's control looked a little shaky again in the fifth when he hit Barber, hardly a batting threat with a .071 average in 1962. But he retired Temple on a fly ball to Wagner; Williams on an out to Koppe; and Barber on Robinson's 5-4 groundball that forced out the Orioles hurler at second base.
The Angels began their half of the fifth with Belinsky's 1-3 grounder and Pearson getting caught looking. Moran singled but hopes were short-lived when Wagner flied out to Brandt.
In the sixth, the no-hitter was in jeopardy when Hansen crushed a ball to the warning track.1 Pearson snared the ball and protected Belinsky's journey toward notoriety. Triandos walked for the second time in the game, but any worry for the Halos was dismissed when Nicholson struck out for the second time that afternoon.
Averill got a two-out single in the sixth. Los Angeles manager Bill Rigney replaced him with pinch-runner Lee Thomas, who played in 160 games that season. Rodgers's 6-4 grounder put an early end to the threat.
The Orioles tried to change things up in the seventh when infielder Marv Breeding pinch-hit for Barber, but he got called out on strikes. Hansen and Temple grounded out.
In the bottom of the seventh, the Orioles sent in reliever Wes Stock, who retired Koppe, Belinsky, and Pearson on grounders. Barber left the game with a formidable performance, including seven strikeouts, four walks, and a scoreless game after the second inning.
Belinsky got Williams on a fly to left to lead off the eighth; Robinson followed with a 4-3 groundout and Gentile lined to third.
The Angels fared no better in the bottom of the eighth: Stock retired three in a row.
In the top of the ninth, Belinsky struck out Brandt for his ninth K of the afternoon; got Triandos on a 6-4 groundout; and secured his no-hitter with Nicholson's foul out to Torres. "I started thinking about [the no-hitter] in the sixth inning, but I didn't get cautious," said Belinsky after the game. "In fact, I started throwing harder. I wanted to get to the ninth inning as fast as I could because I knew that's what the fans wanted. They were enjoying it as much as I was. This thing's good for me and the [Angels]."2
Even more delicious was the opponent. Belinsky was in the Baltimore draft system, but got released in the winter. So, there was a bit of sweet revenge to the rookie's achievement. "It couldn't have happened to a nicer team,"3 said Belinsky.
Rodgers was also in his rookie season, for all intents and purposes, having only played 16 games in 1961 and 155 in 1962. He helmed his former team in the early 1990s. When Belinsky died in 2001, Rodgers praised his former battery mate: "He could challenge anybody with that fast ball. He got the screwball over early, but the fast ball set up everything. When Bo was on, he had that electric kind of stuff."4
A few days before the no-hitter — which was his fourth victory in as many starts — The Sporting News extolled Belinsky as "the most pleasant surprise of the 1962 Los Angeles Angels." Angels pitching coach Marv Grissom declared, "He could be the best pitcher on our club. His improvement just between his first and second starts for us was amazing. There is no telling how far he can go. It's up to him."5 Unfortunately, Bo never reached his potential. But Angels fans can point with pride to the afternoon of May 5, 1962 as the best he had to offer.
Sources
The author used Baseball-Reference and retrosheet.org for box scores and play-by-play information:
baseball-reference.com/boxes/LAA/LAA196205050.shtml
retrosheet.org/boxesetc/1962/B05050LAA1962.htm
Notes
1 Ross Newhan, "Belinsky Throws No-Hitter," Independent Press-Telegram (Long Beach, CA), May 6, 1962: 50.
2 Newhan.
3 Newhan.
4 Linda Dougherty, "Trenton's Belinsky Dead At 64: 'Bo' knew both starlets and baseball glory," The Trentonian, trentonian.com/trenton-s-belinsky-dead-at-bo-knew-both-starlets-and/article_346b3047-15e3-5744-805a-884b21070707.html, November 25, 2001.
5 Braven Dyer, "Belinsky, Ex-Pool Shark, Pockets Wins for Angels," The Sporting News, May 9, 1962: 20.
Additional Stats
Los Angeles Angels 2
Baltimore Orioles 0
---
Dodger Stadium
Los Angeles, CA
Box Score + PBP:
Corrections? Additions?
If you can help us improve this game story, contact us.
Tags
https://sabr.org/sites/default/files/Belinsky-Bo.jpg
600
800
sabr
/wp-content/uploads/2020/02/sabr_logo.png
sabr
2020-04-19 16:23:44
2020-06-22 16:51:27
May 5, 1962: Bo Belinsky blanks Baltimore, strikes out nine in no-hitter