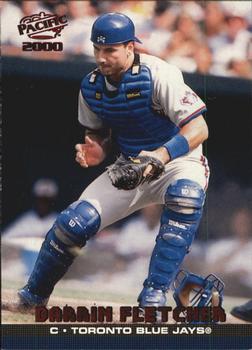 May 5, 2000: Darrin Fletcher scores walk-off run for Blue Jays
---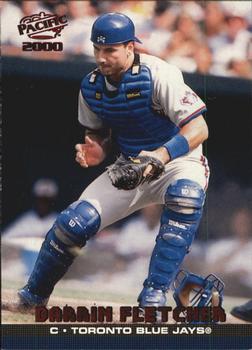 The Toronto Blue Jays in early May were hovering near .500, five games behind the American League East-leading New York Yankees. The Blue Jays had been mired in third place the past two seasons, behind the Yankees and Boston Red Sox during another peak period of the historic New York-Boston rivalry, finishing 14 games behind the AL East-winning Yankees in 1999 and 26 games back in 1998. Toronto boasted a powerful offense led by first baseman Carlos Delgado and center fielder Jose Cruz Jr., with corner outfielders Shannon Stewart and Raul Mondesi providing speed and solid defense. Veteran David Wells anchored a starting rotation that included struggling youngsters Kelvin Escobar and Chris Carpenter. During spring training, the Jays were predicted for a third consecutive third-place AL East finish, based on a fast offense that could manufacture runs but a questionable rotation.1
The 13-12 Cleveland Indians were enduring a five-game losing streak but remained only 3½ games behind the AL Central Division-leading Chicago White Sox as they prepared for the second game of their four-game series in Toronto. The Blue Jays had defeated the Indians 8-1 the previous night, led by Wells.2 Winners of the past four AL Central Division titles, the Indians featured an explosive offense led by future Hall of Famers Roberto Alomar and Jim Thome, with Manny Ramirez adding power and Kenny Lofton leading off. Emerging ace Bartolo Colon led the pitching staff with veterans Dave Burba and longtime Indian Charles Nagy solidifying the rotation.
Roy Halladay started for Toronto. The young right-hander was pitching in his third year for the Blue Jays. His future was bright; one publication noted, "Once he puts all of his considerable gifts together, he projects as an ace."3 However, in a solid rookie campaign in 1999, Halladay was shut down late in the season with tendinitis and struggled in April 2000. Through six starts, he was 2-4 with a lofty 10.57 ERA. Opposing hitters compiled a 1.044 OPS (on-base plus slugging average) against him, and his strikeout-to-walk ratio was a mediocre 1.0. In each of his last five starts, he had allowed at least five earned runs and pitched less than six innings. His control issues had plagued him since spring training, when the youngster was "frustrated by a lack of sharp control on his off-speed pitches."4
Nagy started for Cleveland. The durable right-hander, selected by the Indians in the first round of the June 1998 amateur draft, had pitched at least 200 innings in each of the past four seasons. Selected as an All-Star for the third time the previous season, Nagy was also struggling with his effectiveness, compiling a 1-4 record and 6.03 ERA in April. Nagy's pitching repertoire included a slider, sinking fastball, splitter, and changeup.5
Cleveland interim manager Grady Little shuffled his lineup to help the Indians' offense emerge from its hitting slump, moving Alomar to the leadoff spot and Justice to the third spot.6 The game began with Alomar walking on a full count. David Justice doubled with one out, and Thome walked on a full count. With two outs Halladay struck out Richie Sexson on three pitches, including a called third strike, to keep the Indians scoreless. Halladay wasn't as lucky in the second inning. After Einar Diaz singled, Alomar singled, and Vizquel walked, the bases were again jammed. With two outs, Justice cleared them on a double to deep right. Halladay walked Ramirez and Thome to load the bases for Sexson again. Again he struck out Sexson, this time swinging, to avoid further damage, though the struggling pitcher had thrown as many balls as strikes over the first two innings (35).7 Darrin Fletcher put Toronto on the scoreboard with a solo homer in the bottom half and cut Cleveland's lead to 3-1. Cleveland missed an opportunity to pad its lead in the third inning when Diaz doubled with one out but was left stranded. The Blue Jays responded with greater force in their half of the inning. Cruz and Homer Bush led off with singles and Mondesi launched a three-run blast over the center-field wall with no outs to give Toronto a 4-3 lead.
Halladay never established his rhythm that evening. In the fourth frame with one out, Justice walked on a full count and Cleveland regained the lead on Ramirez's seventh homer. The Indians pounced as Halladay struggled, with both Thome and Sexson hitting singles, then scoring on Diaz's center-field double. Halladay's night was finished. Reliever Eric Gunderson didn't fare much better as Jolbert Cabrera, his first batter, singled Diaz home. After a bunt groundout, Cleveland led 8-4. In the bottom half, Cruz plated Alex Gonzalez to offer Jays fans hope for a comeback. Toronto kept chipping away at Cleveland's lead; in the fifth inning, Nagy was sent to the showers after Delgado's two-run blast, which reached the top of the center-field restaurant8 and cut the Indians' lead to one run at 8-7. Nagy was replaced by Tom Martin.
Gunderson returned for the sixth inning. Travis Fryman grounded out. Diaz doubled for a third time. Cabrera singled, and Cleveland threatened with runners at the corners. Lance Painter relieved Gunderson and induced Alomar to hit into an inning-ending double play. Marty Cordova led off Toronto's half with a full-count walk. After Gonzalez struck out, Cruz deposited his 11th homer over the left-field wall, and Toronto regained the lead, 9-8.
Although Painter retired the first three Indians he faced, he wasn't immune to Cleveland's bats. In the seventh inning with two outs, he walked Ramirez on four pitches, then allowed a two-run clout by Thome as Cleveland snagged the lead, 10-9. In the bottom half, Cleveland reliever Ricardo Rincon allowed a leadoff single to Delgado, but set down the next three Blue Jays on a lineout and two fly outs.
The Indians didn't add to their lead in the eighth inning. Diaz started the inning with a single to left, his fifth hit. He was erased on a double play as reliever Paul Quantrill prevented Cleveland from scoring. Paul Shuey relieved Rincon for Cleveland. Cordova struck out. Gonzalez launched his first offering from Shuey into the left-field seats to tie the game.
Cleveland threatened in the ninth inning; Fryman missed an opportunity to push Cleveland ahead when he grounded out on the first pitch he saw with two runners in scoring position and two outs. Shuey returned to the mound for the Indians in the bottom of the ninth and struck out Mondesi and Delgado to start the inning. But Brad Fullmer delivered a two-out broken-bat single and Tony Batista worked a seven-pitch walk to move Fullmer into scoring position. On a full count, Fletcher singled down the left-field line to drive Fullmer home with the game-winning run as Toronto prevailed in the 11-10 slugfest that lasted 3 hours and 42 minutes.
Billy Koch was the winning pitcher after getting the final out in the top of the ninth. inning Shuey, who struck out five over 1⅔ innings, was charged with the loss after allowing the tying and winning runs. Diaz delivered a career-high five hits, doubling three times and scoring three runs, while Justice doubled twice and plated three runs. Game hero Fletcher went 2-for-5 with two RBIs and Cruz banged out three hits, including a homer and double, with three RBIs. After the game Fletcher noted, "There were a lot of hits, a lot of lead changes, and we went through a lot of pitchers."9
The victory was the 1,800th win in Blue Jays history.10 Toronto finished the season 83-79, in third place in the AL East, 4½ games behind the division-winning Yankees. Cleveland ended the campaign 90-72, second in the AL Central, five games behind the White Sox. The Seattle Mariners edged out Cleveland by a single game for the wild-card spot. Diaz finished the season with a .272 batting average and .715 OPS in 275 plate appearances as the backup to Sandy Alomar Jr. Fletcher ended the season with career highs in hits (133), home runs (20), batting average (.320), and OPS (.869) in 122 games and 445 plate appearances. Both Halladay and Nagy endured forgettable seasons; Halladay was demoted to the minors on May 1611 after compiling a 3-5 record and 11.97 ERA in 35⅓ innings. Nagy suffered through an injury-plagued season, spending time on the disabled list for the first time since 1993.12 Fletcher remained positive regarding Halladay's control challenges: "He's young. That's the thing. He's going to do well. I think that struggling has a way of making you better."13
Sources
Besides the sources cited in the Notes, the author consulted Baseball-Reference.com, Retrosheet.org, and the following:
2000 Cleveland Indians media guide
2000 Toronto Blue Jays media guide
James, Bill. The New Bill James Historical Baseball Abstract (New York: The Free Press, 2001).
baseball-reference.com/boxes/TOR/TOR200005050.shtml
retrosheet.org/boxesetc/2000/B05050TOR2000.htm
Notes
1 Tom Maloney, "Toronto Season Preview," The Sporting News, March 27, 2000: 74.
2 John Lott, "Thompson Delivers for Toronto," National Post (Toronto), May 5, 2000: 43.
3 "Roy Halladay," in Josh Dewan, Don Zminda, and Jim Callis, eds., The Scouting Notebook 2000 (Morton Grove, Illinois: Stats, Inc. Publishing, 2000), 316.
4 Tom Maloney, "Toronto," The Sporting News, April 3, 2000: 40.
5 Bill James and Rob Neyer, The Neyer/James Guide to Pitchers: An Historical Compendium of Pitching, Pitchers, and Pitches (New York: Fireside Books, 2004), 320.
6Associated Press, "Blue Jays Outslug Cleveland, Sending Tribe to Their Sixth Straight Loss," Hanover (Pennsylvania) Evening Sun, May 6, 2000: 11.
7 Chris Jones, "The Doc's Ills Continue, but Jays' Bats Find the Cure," National Post, May 6, 2000: 23.
8 "Jays Win Slugfest," Windsor (Ontario) Star, May 6, 2000: 21.
9 Associated Press.
10 Associated Press.
11 John Lott, "Halladay Misses Triple-A Start, Visits Specialist," National Post. June 1, 2000: 39.
12 2001 Cleveland Indians media guide (Cleveland: Cleveland Indians Baseball Club), 206.
13 Jones.
Additional Stats
Toronto Blue Jays 11
Cleveland Indians 10
---
SkyDome
Toronto, ON
Box Score + PBP:
Corrections? Additions?
If you can help us improve this game story, contact us.
Tags
https://sabr.org/sites/default/files/FletcherDarrin-2000.jpg
600
800
admin
/wp-content/uploads/2020/02/sabr_logo.png
admin
2020-05-05 15:53:22
2020-05-28 15:34:21
May 5, 2000: Darrin Fletcher scores walk-off run for Blue Jays