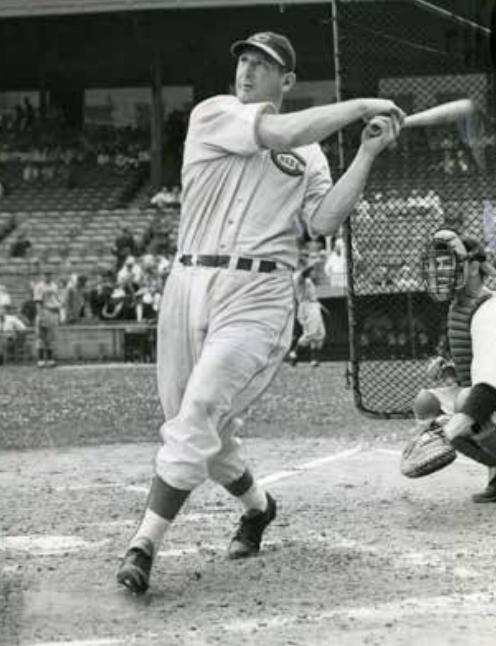 May 7, 1932: Bombardi! Ernie Lombardi's walk-off triple helps Reds sink Braves
---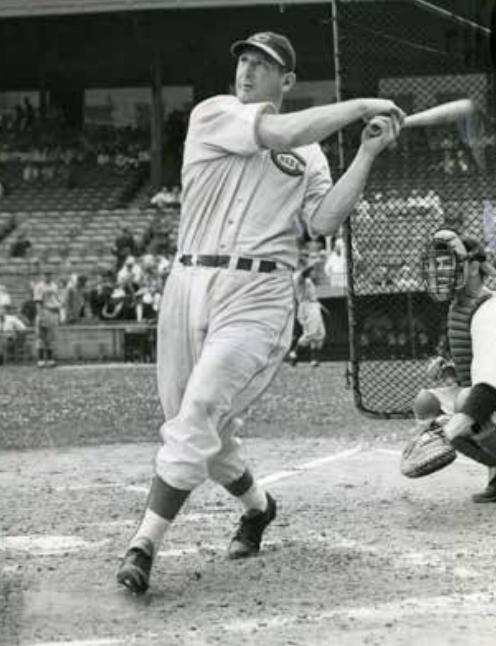 On a warm Saturday afternoon in early May 1932,1 the day Burgoo King captured the 58th running of the Kentucky Derby, young Reds catcher Ernie Lombardi proved he was "king" of Redland Field when his screaming line-drive triple in the 12th inning completed an improbable 9-8 comeback victory for the hometown club over the Boston Braves. This heroic feat by "The Schnozz," as he was affectionately known in the clubhouse because of his outsized proboscis, launched a decade-long love affair between Lombardi and Reds fans that would culminate in two National League championships and a World Series title in 1939-1940.2
For the period 1927-1937, the Reds were an abysmal team. In this span, the club finished in the second division of the National League each season and for four consecutive years, 1931-1934, the Reds owned last place. Despite such a perennial losing habit, Reds owner Sidney Weil worked tirelessly to move players in pursuit of fielding a more competitive nine. On February 4, 1932, the Reds purchased second baseman George Grantham from the Pittsburgh Pirates. A month later on March 14, Weil completed a blockbuster six-player deal with the Brooklyn Dodgers, shipping catcher Clyde Sukeforth, second baseman Tony Cuccinello, and third baseman Joe Stripp to the Dodgers for third baseman Wally Gilbert, right fielder Babe Herman, and rookie catcher Ernie Lombardi. Herman was the prize of this trade, but Lombardi had shown promise in 73 games with the Dodgers in 1931. Again, on April 11, the Reds obtained slugging left fielder Chick Hafey from the St. Louis Cardinals for pitcher Benny Frey, first baseman Harvey Hendrick, and cash.3
Weil's offseason wheeling and dealing resulted in significant offensive power as Grantham, Hafey, Herman, and Lombardi all batted above .290 during the 1932 season. Ironically, despite such prowess at the plate from its top players, the Reds finished last the NL in team batting with a .263 average in 1932.
Reds pitching was an entirely different matter. While the club finished fourth in the league in 1932 with a respectable 3.79 ERA, every starting pitcher possessed a losing record. Even the gem of the rotation, Red Lucas, sported a 13-17 record in spite of leading the league with 28 complete games. The bullpen fared even worse; relief pitchers were unable to hold leads in many games.
The Boston Braves were also dragging anchor in the National League standings. The club had finished in the second division for all but one season since World War I. Bill McKechnie, one of the game's most admired managers, who would take the Reds to glory by decade's end, had led the Braves since 1930. An effective team builder and an ardent disciple of strong defense and pitching as the keys to victory, McKechnie completed a revamping of the roster for 1932 with center fielder Wally Berger as the team's foundation.4 Other notables on this squad were left fielder Red Worthington, shortstop Billy Urbanski, and the always colorful, future Hall of Fame infielder Rabbit Maranville at second. Pitching was the decisive factor for McKechnie's club in 1932; the Braves staff finished second in the league with a 3.53 ERA. The starting five, Ed Brandt, Huck Betts, Bob Brown, Tom Zachary, and Socks Seibold, all sported winning percentages of .500 or better in 1932.
Hope sprang eternal as both clubs met for the first time in the 1932 campaign. Although the Reds had just returned home from a brutal three-game series with the St. Louis Cardinals in which they scored only one run, the team entered the Boston series with a 9-11 mark, good enough for fourth place and only four games out of first. The Beantown squad came into Cincinnati in first place by percentage points over the Chicago Cubs at 12-4. Helping advance the Braves to the top of the standings was a six-game winning streak in April.
The first two games of this four-game series went to the Reds, thanks in large measure to catcher Lombardi. The native Californian proved time and again that his 6-foot-3 frame, enormous hands and arms, and an unorthodox use of a golf grip while batting paid handsome dividends when it counted.5 In the first game, Lombardi blasted a run-scoring triple and a three-run homer while leading the Reds to a 9-6 victory. The next day he stayed hot as he connected for two doubles in a 14-1 trouncing of the Braves.
As the small crowd of 5,500 settled into their seats for the third game, McKechnie attempted to reverse the Braves' misfortunes by penciling shortstop Billy Urbanski and leadoff third baseman Fritz Knothe into the starting lineup.6 Right-hander Bob Brown, who would have his most productive season with a 14-7 record in 1932, took the mound for the Braves. This game was only Brown's second start of the season. Opposing Brown was veteran Reds right-hander Larry Benton. This was Benton's third start of the season; he had lost the first two.
Benton sailed through seven innings, yielding only an unearned Braves run on two hits. Meanwhile, the Reds worked Brown for four runs on 10 hits in the same span, including a tally in the fourth on a fly to right by first baseman Mickey Heath, a run-scoring single in the sixth by Heath, and two runs in the seventh on a triple to right by right fielder Estel Crabtree and a double to right by Lombardi. (Crabtree had entered the game in the first when Babe Herman was ejected for disputing a called third strike.)
In the eighth Reds manager Dan Howley brought in reliever Ownie Carroll when Benton surrendered three consecutive singles and a run to begin the inning. Carroll gave up a second tally when Knothe scored on Worthington's fielder's choice grounder. Not to be outmatched, the Reds put across another run in the bottom of the inning (this one unearned because of an error by Braves first baseman Randy Moore).
Further intrigue ensued in the ninth inning as the Braves tied the score, 5-5, when substitute shortstop Bill Akers drove in Moore and Maranville with a two-out single to center. McKechnie brought in reliever Bruce Cunningham in the Reds' half of the ninth, and Cunningham dispatched Lombardi, Hafey, and third baseman Wally Gilbert with fly outs.
With the game knotted at 5 apiece, the bats for both clubs fell silent during most of the first two extra innings. The Reds put their loyal following on the edge of their seats in the bottom of the 11th by loading the bases on a single to left field by rookie second baseman Jo-Jo Morrissey, a hard-hit single to left by Lombardi, and a walk to Hafey. Gilbert spoiled the fun, though, when he flied out to Braves right fielder Wes Schulmerich to end the inning.
In the 12th inning the Braves went on a hitting spree that seemed to dash any hopes for a third straight series victory for the home team. The visitors got three runs, two scoring with two outs on doubles by Worthington and Maranville and a three-bagger by catcher Pinky Hargrave, brother of former Reds catcher Bubbles Hargrave.
As some fans headed toward the exits, the Reds dug down deep and put on a most amazing comeback. With two out and two on by way of walks, Morrissey slapped a roller to the right of Braves shortstop Akers for what looked like the third out. Akers bobbled the grounder, and the bases were loaded. Ailing future Hall of Famer Harry Heilmann came to the plate for one of his final appearances as a big leaguer and punched a single to right field, scoring two runs. Cliff Heathcote ran for Heilmann as Lombardi entered the batter's box. Braves reliever Tom Zachary ran the count to Lombardi full and then delivered a fatal pitch to the heart of the plate.7 Lombardi, known for his powerful swings, launched the ball like a rocket to the wall in right-center, scoring the tying and winning runs. Reds prevailed, 9-8!
Always good for a quote, Rabbit Maranville put it this way: "How'd you get the idea around here that that two-legged whale behind the bat for the Reds is named Lombardi. All wrong. His real moniker is Bombardi."8
Maranville was correct. Lombardi accumulated five hits in seven plate appearances, including two doubles and the game-winning triple, driving in three crucial runs and scoring once. This day would prove to be the second most productive day in Lombardi's career for hits. And while the Reds would go on to sweep the series with 38 runs (Lombardi knocked in nine alone) — its biggest offensive output for one series that season — the team declined swiftly thereafter. But for one moment in May when unemployment in the Queen City reached a staggering 28 percent, the Reds and the great "Bombardi" played like champions for the Redland Field faithful.9
This article was published in "Cincinnati's Crosley Field: A Gem in the Queen City" (SABR, 2019), edited by Gregory H. Wolf. To read more articles from this book at the SABR Games Project, click here.
Sources

In addition to the sources cited in the Notes, the author consulted the following:
Baseball-Reference.com.
Cincinnati Reds Hall of Fame & Museum — cincinnati.reds.mlb.com/cin/hof/.
"Lombardi Again Drives in Runs to Beat Braves," Boston Sunday Globe, May 8, 1932: 22.
Swope, Tom. "Third Place Is Prize in Three-Day War Between Redlegs and Phillies," Cincinnati Post, May 9, 1932, 8.
Whitman, Burt. "Braves Beaten By Cincinnati in 12th, 9-8," Boston Herald, May 8, 1932: 33-34.
Notes
1 "Weather Forecast," Cincinnati Enquirer, May 8, 1932: 6.
2 Joseph Wancho, "Ernie Lombardi," SABR Biography Project, https://sabr.org/bioproject.
3 Lee Allen, The Cincinnati Reds (New York: G.P. Putnam's Sons, 1948), 215-216; 1932 Cincinnati Reds Transactions, Retrosheet.org.
4 Warren Corbett, "Bill McKechnie," SABR Biography Project, sabr.org/bioproject.
5 Wancho.
6 Jack Ryder, "Three in Twelfth for Braves — Four for Reds — Score Is 9-8," Cincinnati Enquirer, May 8, 1932: 8.
7 "Braves Blow Up in 12th 9 to 8; Sox Lose 1 to 0," Boston Advertiser, May 8, 1932: 1 (Sports Section).
8 "Slugging Reds Stir Boston Tribe From Flag Dream," Cincinnati Times-Star, May 9, 1932: 18.
9 "Unemployment in Cincinnati, 1929-1940," Handbook of Labor Statistics 1941 Edition, US Department of Labor, Bureau of Labor Statistics, Washington, D.C.: US Government Printing Office, 1942, v. 1, 208-209.
Additional Stats
Cincinnati Reds 9
Boston Braves 8
12 innings
---
Redland Field
Cincinnati, OH
Box Score + PBP:
Corrections? Additions?
If you can help us improve this game story, contact us.
Tags
https://sabr.org/sites/default/files/Ernie%20Lombardi.png
600
800
admin
/wp-content/uploads/2020/02/sabr_logo.png
admin
2019-09-18 15:41:21
2020-04-17 10:22:32
May 7, 1932: Bombardi! Ernie Lombardi's walk-off triple helps Reds sink Braves