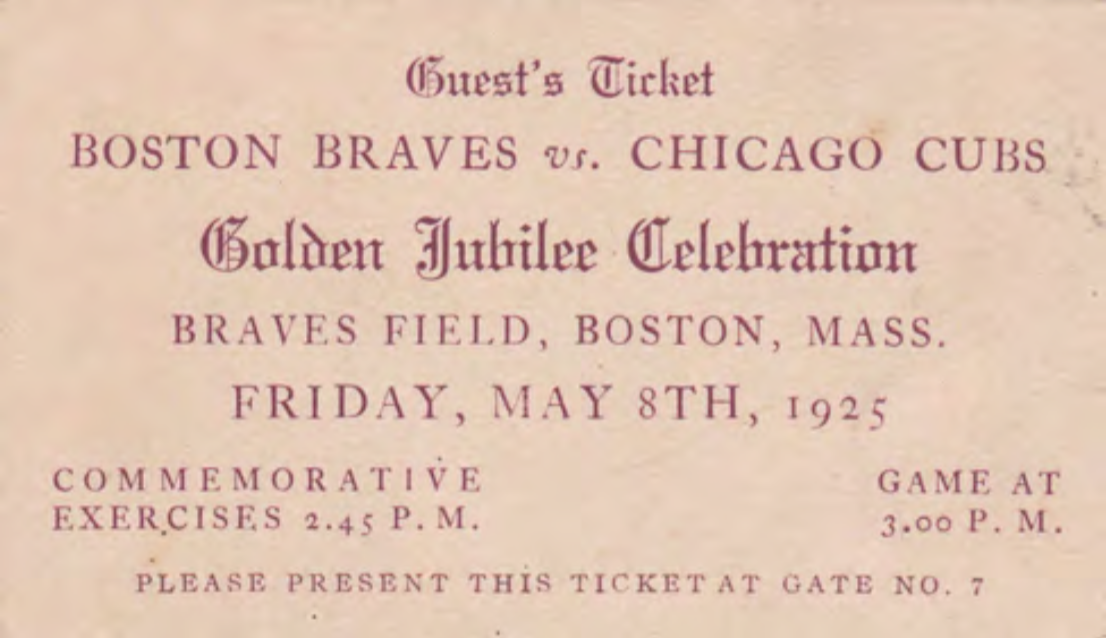 May 8, 1925: Braves, Cubs celebrate National League's Golden Jubilee
---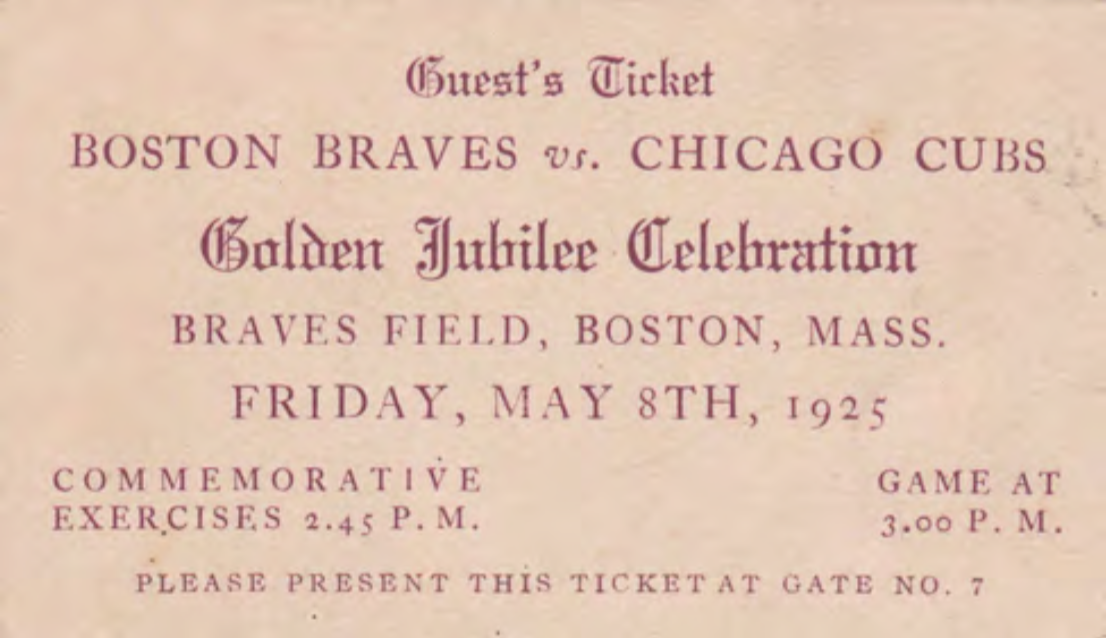 "By gory," blurted Jack Manning to former teammate George Wright at Braves Field. "They say these fellows are faster than we were, George, but they make as many mistakes. See that, now, he's pitching outside to him, when it's a cinch he could not hit a ball in close."1
A trip to Braves Field in Boston on that brisk day, May 8, 1925, was a stroll down memory lane. The occasion was the "Golden Jubilee" game, which celebrated the 50th anniversary of the National League and the genesis of Organized Baseball as we know it today. The National League began on April 22, 1876, after Alexander Graham Bell received a patent for the telephone and before General Custer's demise at the Battle of Little Bighorn. As America's Founding Fathers began a new country in Philadelphia, so baseball became a "national" game there a century later, about three miles across town at the Jefferson Street Grounds.2 Ford Sawyer of the Boston Daily Globe recalled "the days when baseball playing was a rather precarious undertaking and one didn't know whether or not financial adversity would cause the league to toss up the sponge."3
The league survived but only two charter teams of the original eight remained, Boston and Chicago, and they would play the first Jubilee Game. Each National League team would host its own celebration later in the season. This would be a moment unlike any other in baseball history. Hundreds of living legends from a bygone era stepped from the pages of the 19th century and onto the field as a great cloud of witnesses. Braves Field provided one of the last glimpses of baseball's early National League pioneers, where past met present in the cool Boston air. "Old timers, grayed and stooped, came to the game today despite a chilly wind and clouds that alternated with the sunshine," reported the Associated Press.4
They stood at the center-field flagpole and helped raise the Golden Jubilee pennant, followed by the 101st Regiment Band playing the "Star Spangled Banner." Then in front of the Boston dugout they acknowledged the applauding fans while the band played "Auld Lang Syne."
"We hobnobbed with royalty out at Braves Field yesterday afternoon, meeting the grand old baseball veterans, now silvery haired and rapidly ageing … old in years, but young in spirit," wrote Ford Sawyer of the Boston Daily Globe.5
Three players from the 1876 Boston opener were present: shortstop George Wright, first baseman Jack Manning, and second baseman John Morrill. Actually, Morrill didn't play in the opener because, as James O'Leary of the Daily Boston Globe remembered, "In the old days the regular players on a team alternated as gatekeepers."6
Also present was Billy McLean, the 92-year-old who umpired the first National League game. McLean was ribbed for his failing eyesight, but gladly recalled that in his day he would read distant signs that players couldn't, to prove his keen eyesight. "The chill in the atmosphere had a depressing effect on the spectators, but Billy McLean … did a jig step to show how young he felt," wrote O'Leary.7
Joining them were 92-year-old William H. Conant, Boston Nationals team owner from 1877 to 1907, Baseball Commissioner Kenesaw Mountain Landis, National League President John A. Heydler, Massachusetts Governor Alvan T. Fuller, "and hundreds of others who played the game in later years."8
Joe Genewich was the starting pitcher for the Braves, opposing future Hall of Famer Grover Cleveland Alexander. Genewich was making his fourth start of the season, bringing a 2-1 record with a 1.12 ERA. Alexander was 2-2 with a 3.44 ERA.
The game was scoreless until the bottom of the third inning, when the Braves' Dave Bancroft doubled to left field and scored on a single by William Marriott. In the fourth inning, Bob Smith doubled home Jimmy Welsh. Welsh had been recently purchased for $50,000, and as he batted, Conant recalled signing 1870s star Mike Kelly for $10,000. "One could buy a whole club for $50,000 in the '70s," joked Wright.9
In the fifth inning, Bancroft tripled home Genewich, and the Braves had a 3-0 lead. The numerous foul balls hit into the stands conjured up a memory for Wright. "We didn't have so many balls in those days," he recalled, "and when a ball went over a fence or into the crowd we would often halt the game for a few minutes until the ball was returned, then the ball would be put back into the game."10
In the sixth inning, the Cubs got on the scoreboard as Sparky Adams singled home Jigger Statz. A double steal followed by a walk to Gabby Hartnett loaded the bases. Bob Barrett's sacrifice fly cut the Braves' lead to 3-2. The Braves answered with two runs of their own after two were out in their half of the sixth inning. Mickey O'Neil doubled home Bob Smith and later scored on a single by Genewich to give the Braves a 5-2 lead.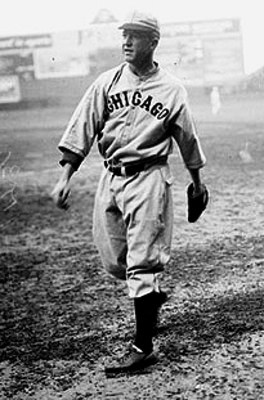 Alexander lasted only six innings, surrendering 12 hits. He would one day join the ranks of the legends … but not today. "As he swung along towards the exit with his sweater over a shoulder and slightly stooped, he was a memory-stirring picture for those old time players of 50 or less years ago. In his day Alexander had been a wonderful pitcher, one of the best of all time, but those old boys in the front box seats out there know from experience, as does Alec, that the time inevitably comes when the arm loses its strength and the wrist its cunning swerve," wrote Burton Whitman of the Boston Herald.11
Genewich allowed only two hits through the first five innings. There was a scary moment in the ninth inning as a sharp line drive by Ike McAuley hit him in the shin and "for a few moments it was thought his leg was broken, as it would not support him. It was only numbed, however," wrote James C. O'Leary.12 Genewich struck out the last two batters to finish the complete-game 5-2 victory.
McLean reminisced. "They have much better facilities. When Wright was at short, he might have had his chest broken any time by a bad bounding ball. The diamond was not as smooth then as it is now … and what an easy time the umpires have. There are three out there. I used to work all alone, without a mask or protector in between the catcher and batter. I had to watch bases and batters. I had my jaw broken twice by foul tips, but I'm 92 and still going."13
That evening the legends were treated to a dinner at Boston's Copley Plaza. Commissioner Landis praised Manning and Morrill, who "played baseball before it was professionalized. … They and their companions were the foundation of the present national game. … [T]oday they live to see baseball played throughout the country, in every place that is commercially active, and in places that have not so advanced."14
McLean was introduced by Landis as the man "who was 27 years old when Lincoln was inaugurated."15
"Their stories were of rough diamonds, of 'games every day, but with exhibitions in various places,' and of pitching that at first started from the knee and finally developed into the overhand delivery," the Boston Daily Globe reflected on the evening affair.16
One man at the dinner had almost literally seen it all. John "Tony" Marsh of Boston attended the first National League game in 1876 and attended nearly every Boston game, even traveling to away games, until his death in 1940. Marsh was hailed as the "No. 1 major league baseball fan in New England," and "his circle of friends resembled baseball's hall of fame."17
This article appeared in "Braves Field: Memorable Moments at Boston's Lost Diamond" (SABR, 2015), edited by Bill Nowlin and Bob Brady. To read more articles from this book, click here.
Sources
Game information was supplied by the sources listed in the notes as well as retrosheet.org and baseball-reference.com.
http://www.baseball-reference.com/boxes/BSN/BSN192505080.shtml
http://www.retrosheet.org/boxesetc/1925/B05080BSN1925.htm
Notes
Additional Stats
Boston Braves 5
Chicago Cubs 2
---
Braves Field
Boston, MA
Box Score + PBP:
Corrections? Additions?
If you can help us improve this game story, contact us.
Tags
https://sabr.org/sites/default/files/Braves-Cubs-NL-Golden-Jubilee.png
600
800
admin
/wp-content/uploads/2020/02/sabr_logo.png
admin
2017-05-08 01:27:27
2020-04-17 10:25:51
May 8, 1925: Braves, Cubs celebrate National League's Golden Jubilee