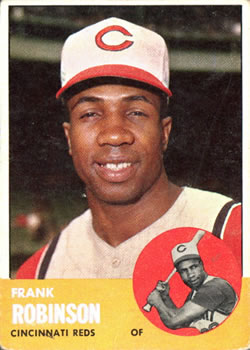 May 9, 1963: Frank Robinson knocks in seven runs for Reds
---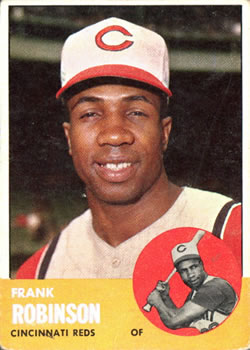 On Thursday, May 9, 1963, the cellar-dwelling Houston Colt .45's faced the sixth-place Reds at Crosley Field in Cincinnati before a sparse ladies night crowd of 7,008 (5,870 paid). Though the game had little meaning in the standings at this early stage of the season, it would be a career day for future Triple Crown Winner and Hall of Famer Frank Robinson.
Jim Maloney, a 22-year-old right-handed flamethrower, took the mound for the Reds. He was at the start of his breakout year in 1963, coming into the game with a 3-1 record and a 2.37 ERA. Maloney had been known as a just a thrower, but pitching coach Jim Turner had helped turn him into a true pitcher.1
Maloney's roommate and batterymate Johnny Edwards noted, "Jim's fastball is his big pitch and it will be for years. But now he can get the curveball over and it is giving him more confidence in his changeup."2
On the mound for the Colt .45's was another right-hander, veteran knuckleballer Ken Johnson, who was on the Reds' NL championship team of 1961. (Both Johnson and Maloney pitched in World Series Game Five, their only appearance in the '61 Series, as the Yankees clinched the title, 13-5.)
Johnson shut down the Reds in the first two innings, allowing singles to third baseman Eddie Kasko, subbing for a slumping Gene Freese (batting .154), and Robinson in the first, but was pulled by Colt .45's manager Harry Craft after failing to retire a batter in the third. Cincinnati loaded the bases with a leadoff walk to Maloney followed by a single by Kasko (breaking an 0-for-9 hitless streak) and a walk to Pete Rose. Vada Pinson and Robinson hit consecutive two-run doubles to give the Reds a 4-0 lead. Reliever Russ Kemmerer came on in relief and stopped the bleeding.
Kemmerer was not so lucky in the fourth. Tommy Harper singled and was sacrificed to second by Maloney. Kasko hit his third consecutive single, moving the speedy Harper to third. Rose plated Harper with a sacrifice fly to left field.
The Reds put across another run against Kemmerer in the fifth. Robinson and first baseman Gordy Coleman singled and advanced an extra base on a passed ball by catcher Jim Campbell. Johnny Edwards' groundout scored Robinson.
Jim Umbricht relieved for Houston in the sixth. Two months earlier, Umbricht had undergone surgery for malignant melanoma in his leg. As he took the mound for his first appearance of the season he sported 100 stitches in his affected leg.3 (Umbricht would die of the melanoma five days before the start of the 1964 season. In the Opening Day game between the Colt .45's and Reds, the Houston players wore black armbands in his honor.4)
In this game, Umbricht retired Maloney on a fly ball. Kasko, who had three singles so far, walked this time and went to third on rookie Rose's double, his first of 746 career two-baggers, second on the all-time list. Pinson followed with a run-scoring single and Robinson hit his fifth home run of the season. Cincinnati's lead was now a comfortable 10-0.
Maloney was dominant through seven innings, blanking Houston on two hits and two walks. But he lost his magic in the eighth. New Colt .45's catcher John Bateman socked a leadoff home run, ending Maloney's 16-inning scoreless streak. (Maloney had shut out the St. Louis Cardinals in his previous start.) Johnny Temple drew a one-out walk and 19-year-old rookie center fielder Brock Davis doubled, his first career major-league hit. Both scored on consecutive singles by Warwick and another 19-year-old rookie, Rusty Staub. Houston was now on the board, trailing 10-3.
The Reds answered with three runs of their own in the bottom of the inning. With one out, Rose and Pinson singled off Chris Zachary, yet another 19-year-old Houston rookie. Robinson stepped to the plate and knocked out a three-run opposite-field home run (his second of the game and sixth of the season) to right field, giving him five hits and seven RBIs for the contest. It was now 13-3.
Runnels singled for Houston in the top of the ninth, but Maloney slammed the door to win the game.
Winning pitcher Maloney had a breakout season in 1963, putting together one of the best seasons for a Reds pitcher. Going 23-7, he set a team record with 265 strikeouts. Though he logged only four strikeouts in this game, his season average of 9.53 strikeouts per nine innings led the NL. He pitched a career-high six shutouts and the first of five career one-hitters and 10 two-hitters. Later in the season he tied a modern major-league record striking out eight consecutive Milwaukee Braves in a 16-strikeout game.5 By season's end Maloney was acknowledged as one of the premier pitchers in the major leagues.
The Reds' Rose won NL Rookie-of-the-Year honors in his first of 24 major-league seasons. Pinson had three of his league-high 204 hits in the game and would lead the senior circuit in games played and triples while batting .313.
For Robinson, it was the second time he had seven RBIs in a game; the first was in 1961 against the Los Angeles Dodgers. (Robinson's career high for RBIs in a game was eight, achieved in 1970 when he slugged two grand slams in a game against the Washington Senators.) His five hits tied his career high; he also had five-hit games in 1957 and 1959. After two more seasons in Cincinnati, Robinson was dealt to the Baltimore Orioles and led them to the World Series title in 1966 while winning the AL Triple Crown.
This article was published in "Cincinnati's Crosley Field: A Gem in the Queen City" (SABR, 2018), edited by Gregory H. Wolf. To read more articles from this book at the SABR Games Project, click here.
Sources
In addition to the sources cited in the Notes, the author also consulted Baseball-Reference.com, Retrosheet.org, and:
Smith, Lou. "Maloney Cuffs Colts, 13-3; Robinson Swats 2 Homers," Cincinnati Enquirer, May 10, 1963.
https://www.baseball-reference.com/boxes/CIN/CIN196305090.shtml
https://www.retrosheet.org/boxesetc/1963/B05090CIN1963.htm
Notes
1 Hank Zureick, publicity director, Cincinnati Reds, press release, July 9, 1963. Hall of Fame file from Gregory H. Wolf, "Jim Maloney," SABR BioProject, sabr.org/bioproj/person/de00e781.
2 Ibid.
3 Astros Daily, Jim Umbricht Timeline, AstrosDaily.com, astrosdaily.com/players/p/timeline/Umbricht_Jim.html.
4 Steven Schmitt, "Ken Johnson," SABR BioProject, sabr.org/bioproj/person/b91f51e5#sdendnote9anc.
5 Wolf.
Additional Stats
Cincinnati Reds 13
Houston Colt .45's 3
---
Crosley Field
Cincinnati, OH
Box Score + PBP:
Corrections? Additions?
If you can help us improve this game story, contact us.
Tags
https://sabr.org/sites/default/files/RobinsonFrank-CIN.jpg
600
800
admin
/wp-content/uploads/2020/02/sabr_logo.png
admin
2019-10-07 00:37:29
2020-04-17 10:22:30
May 9, 1963: Frank Robinson knocks in seven runs for Reds