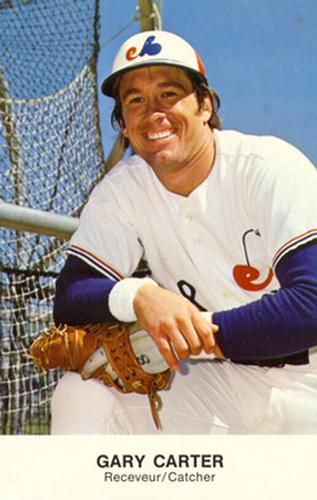 May 9, 1978: Gary Carter's 9th-inning homer lifts Expos to exciting win
---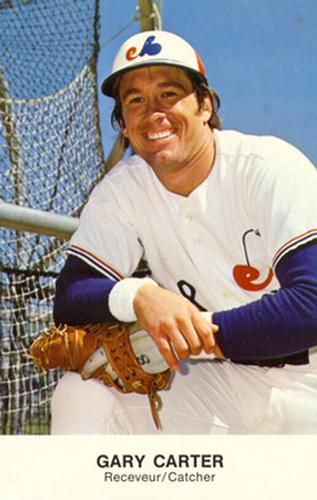 There was no shortage of outstanding performances in Gary Carter's Hall of Fame career. Twice he blasted three home runs in a game, and he drove in seven runs in another regular-season matchup.1 In the 1981 All-Star Game, Carter hit two round-trippers to lead the National League to a 5-4 win. Some of his greatest games were under the pressure of the postseason, such as Game Five of the 1986 NLCS, a thriller capped by his walk-off RBI single in the bottom of the 12th inning. He also hit a pair of homers and a double to propel the Mets over the Red Sox in Game Four of the 1986 World Series. Two years later, with the Mets down to their last strike in the ninth inning of Game One of the 1988 NLCS, Carter doubled in two runs in a stunning 3-2 victory over the Dodgers. But the game in which he had the greatest impact, as measured by Win Probability Added (WPA), was the long-forgotten nightcap of the May 9, 1978, doubleheader between the Montreal Expos and the Atlanta Braves.2
The up-and-coming Expos started that day in second place with a 14-10 record, one game behind the front-running Philadelphia Phillies. In the first game of the twin bill, reliever Bill Atkinson gave up a pair of runs in the bottom of the ninth for a tough 3-2 walk-off loss. The Expos' fifth starter, 23-year-old right-hander Hal Dues, took the mound in the second game. Dues had an 0-1 record and a 5.40 ERA, although his pitching line was not entirely indicative of his performance, with all six earned runs charged against him having scored after he had been removed from the game in his two previous appearances. Frustrating scenarios like these weren't out of the ordinary during the 1978 season, as the Expos were saddled with the worst bullpen in the major leagues.
The sad-sack Braves had suffered two consecutive last-place finishes in the NL West, and the forecast for 1978 didn't look any brighter. They came into the doubleheader tied for last place with a 10-15 record, 5½ games behind the Dodgers. Atlanta's staff ace, 39-year-old knuckleballer Phil Niekro (2-5, 3.47 ERA), drew the starting assignment against Dues.
Fortunately for Montreal, Niekro didn't have his best stuff on this night. After retiring the Expos in order in the opening frame, he was touched for four singles, a double, and a walk over the next three innings. All the Expos could manage was a single run on an RBI groundout by backup catcher Bob Reece in the top of the fourth.
Dues, on the other hand, cruised through the first three innings, facing only one batter over the minimum. However, he ran into trouble in the fourth, surrendering consecutive singles to Rowland Office, Biff Pocoroba, and Jeff Burroughs to load the bases with nobody out. A passed ball by Reece allowed Office to scamper home and tie the game, 1-1. After Dues walked right fielder Brian Asselstine to reload the bases, manager Dick Williams yanked Dues in favor of another righty, Fred Holdsworth.3 First baseman Dale Murphy singled off Holdsworth to score Pocoroba, although Burroughs was thrown out at home to keep the score 2-1, Atlanta.
Burroughs, the league's leading hitter, slammed a two-run home run off Holdsworth in the fifth.4 Both teams added two runs over the next couple of frames to make the score 6-3, Atlanta after seven innings of play.
Chris Speier opened the top of the eighth inning by reaching on an error by Murphy. The next batter was Carter, who had pinch-hit for Reece in the sixth inning and drawn a walk. This time Carter singled, and two batters later Niekro hit Warren Cromartie with a pitch to load the bases with one out. With an ineffective Niekro having surrendered 10 hits and three walks in 7⅓ innings, 36-year-old rookie manager Bobby Cox called for his ace reliever, Eddie Solomon. Solomon started the day with a 0.90 ERA and a string of 15 consecutive innings without giving up an earned run, but his streak was snapped in the first game of the doubleheader on a solo home run by a red-hot Andre Dawson. After an RBI groundout by Dave Cash cut Atlanta's lead to 6-4, Solomon gained a measure of revenge on Dawson by inducing him to ground out to third baseman Rod Gilbreath, stranding a pair of baserunners.5
After Solomon retired the first two batters in the top of the ninth inning, back-to-back singles by Larry Parrish and Speier kept Montreal's slim hopes alive. When Carter stepped into the batter's box with two outs, runners on first and second, and trailing by two runs, Montreal had a Win Expectancy of only 7 percent. That figure skyrocketed when Solomon grooved a fastball down the middle of the plate and Carter jumped all over it, hammering the pitch deep into the left-field seats for a three-run homer.6 Suddenly, the Expos led 7-6.
Atkinson, the first-game loser, had entered the second game in the bottom of the eighth inning and struck out the side. The native of Chatham, Ontario, returned to the mound for the ninth looking to redeem himself for the earlier blown save. Atkinson preserved Montreal's one-run lead to earn his second victory of the season and give him a decision in both ends of the doubleheader.
Not surprisingly, Williams was much happier after the second game. "We threw the first game away and we were pretty down," he said. "This shows you that we've got a good club and can bounce back."7 Carter discussed his approach in his pivotal at-bat. "I was looking for a pitch to hit out of the ballpark," he revealed. "We were down in the game and the only thing I could do was try to hit one."8
Carter's walk, single, and three-run home run represented a WPA of 0.834.9 It turned out to be the highest single-game WPA of his illustrious 19-year career. The closest he ever came to surpassing that mark was the 0.724 WPA he posted in Game One of the 1988 NLCS.
His game-winning home run gave him a .260 batting average with four homers and 21 RBIs in 96 at-bats. He homered again the next day before falling into a brutal eight-week slump. Between May 10 and July 6, Carter hit only .205 with a paltry one home run and 10 RBIs in 171 at-bats. Although he continued to play outstanding defense, the batting funk cost the 24-year-old catcher his second All-Star Game appearance.10
Carter reverted to form in the second half of 1978, finishing with a .255 average, 20 home runs, and 72 RBIs. He amassed a 5.8 bWAR, the top mark among National League catchers for the second consecutive season.11 That accomplishment was remarkable considering that these were the first two years Carter caught full-time at the major-league level.12 The torch had been passed; "The Kid" had become the best catcher in the National League.13 Carter returned to the midsummer classic in 1979 and remained an All-Star for 10 consecutive seasons.
Sources
In addition to the sources cited in the Notes, the author consulted Baseball-Reference.com and Retrosheet.org.
baseball-reference.com/boxes/ATL/ATL197805092.shtml
retrosheet.org/boxesetc/1978/B05092ATL1978.htm
Notes
1 Carter hit three home runs in an April 20, 1977, game between the Montreal Expos and Pittsburgh Pirates. He repeated the feat in a September 3, 1985, game between the New York Mets and San Diego Padres. Carter drove in a career-high seven runs in a July 11, 1986, game between the Mets and the Atlanta Braves.
2 Win Expectancy (WE) or Win Probability (WP) is the percentage chance of a team winning a game at a specific point in that game. It is calculated by comparing the current state of the game to similar situations in historical major-league games. Win Probability Added (WPA) captures the change in Win Expectancy from a plate appearance or baserunning event (i.e., stolen base, caught stealing/pickoff, or balk) and credits or debits the player accordingly. For instance, if a player hit a home run to increase his team's Win Expectancy from 25 percent to 65 percent, that player would be assessed a WPA of 0.40. WPA is an excellent way of measuring a player's impact on the outcome of a game.
3 Brian Asselstine was playing in right field for an injured Gary Matthews.
4 Earnest Reese, "Braves Save Best for Last … But So Do Expos to Gain Split," Atlanta Constitution, May 10, 1978: 49.
5 Rod Gilbreath was the Braves' regular third baseman until 20-year-old Bob Horner made his major-league debut on June 16, 1978.
6 Ian MacDonald, "Expos Salvage Split Thanks to Carter," Montreal Gazette, May 10, 1978: 24.
7 Associated Press, "Expos, Braves Play Turnabout," Ottawa Citizen, May 10, 1978: 23.
8 Associated Press.
9 Gary Carter's 0.834 WPA was made up of a walk in the sixth inning (2 percent WPA), a single in the eighth inning (8 percent WPA), and a three-run home run in the ninth inning (74 percent WPA). Note that although the WPA listed for the individual events is rounded to the nearest integer, they still sum to 83.4 percent.
10 Gary Carter's first All-Star Game was in his rookie season of 1975. Carter still had rookie status that year, since he had made only 29 plate appearances in his 1974 debut. He played in the bottom of the ninth inning as a defensive replacement for Pete Rose in left field, catching a fly ball off the bat of Rod Carew for the game's final out.
11 The bWAR acronym represents Baseball Reference's version of Wins Above Replacement (WAR).
12 Barry Foote, drafted third overall in 1970, was considered the Expos' catcher of the future for a time, forcing Carter to split time between right field and catcher from 1974 to 1976. Manager Dick Williams named Carter his starting catcher for the 1977 season. Foote was traded to the Philadelphia Phillies on June 15, 1977.
13 Johnny Bench recorded a higher bWAR than Carter during Carter's first three years in the majors (1974-1976). Carter, who was seven years younger than Bench, posted a higher bWAR throughout the remainder of Bench's career (1977-1983). Injuries forced Bench to primarily play in the infield during his last three seasons.
Additional Stats
Montreal Expos 7
Atlanta Braves 6
Game 2, DH
---
Atlanta-Fulton County Stadium
Atlanta, GA
Box Score + PBP:
Corrections? Additions?
If you can help us improve this game story, contact us.
Tags
https://sabr.org/sites/default/files/Carter-Gary-1978.jpg
600
800
admin
/wp-content/uploads/2020/02/sabr_logo.png
admin
2020-05-05 17:53:05
2020-05-28 15:33:48
May 9, 1978: Gary Carter's 9th-inning homer lifts Expos to exciting win