October 4, 1924: Giants' Art Nehf outduels Washington's Walter Johnson in World Series opener
---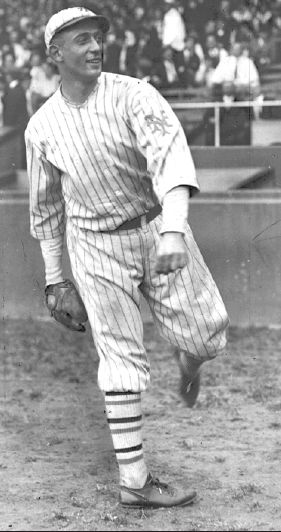 The 1924 World Series pitted the National League's New York Giants, a team that had won 10 pennants since the inception of the American League's Washington Senators in 1901, against a team that had finally won its first pennant after a winning a franchise-best 92 games. Not only was that a mark the Giants had equaled or topped 13 times in 21 seasons since their first pennant in 1904, but John McGraw's men had averaged 92 wins over those 21 campaigns. Still, the Senators were not to be taken lightly.
New York Daily News writer Marshall Hunt predicted a Senators victory on the strength of a "flexible" and "strong" pitching staff, an infield "like a stone wall," a "heady catcher," a "good outfield," and "above all, an unquenchable and indomitable spirit to win."1 The pitching staff was led by 36-year-old veteran Walter Johnson who had just recorded his 11th 20-win season with a league-leading 23 wins. He also topped the circuit in ERA at 2.72, and in starts, shutouts, and strikeouts en route to his second Most Valuable Player award.
His "heady" catcher was Muddy Ruel, who had thrown out 50 percent of would-be basestealers and was considered to be the class backstop of the American League;2 the infield comprised first baseman Joe Judge, one of the top three offensive players on the team,3 manager and second baseman Bucky Harris, third baseman Ossie Bluege, and Roger Peckinpaugh, the best defensive shortstop in the junior circuit. The outfield boasted two of the game's greats in Goose Goslin and Sam Rice, and a center field tandem of veteran Nemo Leibold and rookie Earl McNeely, who combined to hit .308 and scored 72 runs.
But Hunt's counterpart at the Daily News, Harry???? Schumacher, was convinced the Giants were too strong for Washington even despite injuries to starting third baseman Heinie Groh and second baseman Frankie Frisch. "The Giants are strong in every department of play," he wrote. "They can hit and field and run the bases and always have been able to score more runs on a given number of hits than their senatorial rivals."4
Johnson got the start for the Senators while McGraw countered with southpaw Art Nehf, a 14-game winner with an ERA of 2.01 in seven prior World Series starts. In the three previous World Series (1921-23), Nehf had tossed 58⅓ innings against the powerful New York Yankees and allowed only one home run. Johnson was making his first fall classic start since breaking into the big leagues in 1907.
President Calvin Coolidge threw out the first pitch to home-plate umpire Tommy Connolly and the Senators took their positions to "roars of applause" from the hometown fans.5 The Giants went down easily in the first on a fly out by Freddie Lindstrom, a popout on a bunt attempt by Frisch and a called third strike on Ross Youngs.6 Washington was equally ineffective, but the Giants almost suffered yet another injury when Harris collided with first baseman Bill Terry after grounding to shortstop Travis Jackson. Terry remained in the game and the Senators went down in order.
New York took an early 1-0 lead when George "High Pockets" Kelly belted a home run into the left-field seats to lead off the top of the second. Terry followed with a single over second base before Johnson fanned Hack Wilson for the first out. Jackson drew a walk to put Giants at first and second, and that brought 35-year-old backstop and 1914 World Series hero Hank Gowdy to the plate.7 Gowdy lined a shot to Peckinpaugh, who caught the drive and threw to second to double off Terry and end the threat.
Judge drew a free pass in the bottom of the second but nothing came of it when Bluege struck out and Peck flied out to Wilson. Frisch started a two-out rally in the Giants' third with a double to center, but Ruel picked him off. Ruel walked to lead off the bottom of the inning and the crowd came to life with Johnson at the plate, but he quieted them with a double-play grounder, Jackson to Frisch to Terry. McNeely drew a base on balls before the frame ended on a Harris popout to short.
The throng was abuzz again when Johnson fanned Youngs and Kelly to begin the fourth, but Terry spoiled the mood with a homer to left to give the Giants a 2-0 lead. Then Johnson whiffed Wilson for his sixth strikeout of the contest. In the bottom of the fourth Nehf continued to confound Senators batters with a wide curveball and left Judge stranded after his two-out single. The left-hander was carving up Washington's lineup with the precision of a surgeon; Johnson's weapon of choice was a sledgehammer.
The Senators legend began the fifth inning with a four-pitch strikeout of Jackson before surrendering a single to Gowdy. He then retired Nehf and Lindstrom on three pitches, and the game stayed 2-0 in favor of New York. Nehf continued his dominance and set down Peckinpaugh, Ruel, and Johnson on only six pitches. Through five, the only hit Nehf surrendered was Judge's single in the fourth. Frisch walked to lead off the top of the sixth, but Johnson fanned Youngs for the third time in three at-bats, then retired Kelly and Terry on a fly out and popout, respectively.
Washington finally reached Nehf in the bottom of the sixth when McNeely ripped a two-bagger to left, went to third on a groundout by Harris, and came home when Rice grounded to Frisch for the second out of the inning. Goslin then singled but was caught stealing with Judge at the plate, and New York held a slim 2-1 lead going to the seventh. The Giants had a chance to extend their lead when they put runners at second and third on a walk to Gowdy, Nehf's bloop hit to right, and a passed ball, but Johnson got out of the jam by coaxing Lindstrom to ground to Jackson.8
Johnson almost cut into New York's lead in the seventh when he smoked a liner with Peckinpaugh and Ruel on base, but his drive was speared by a leaping Frisch and the game went into the eighth with the Giants still up 2-1. New York threatened in the eighth when Youngs doubled and moved to third on a groundout by Kelly, but he was foolishly picked off by Ruel to end the inning. The Senators made some noise in their half of the frame when Rice got a two-out walk and stole second, but Nehf struck out Goslin to end the brief threat.
New York had a chance to extend its lead in the top of the ninth when Wilson lined to right for his second hit of the game, then moved to second on a sacrifice. But when he tried to score on Nehf's two-out hit to Rice, the latter threw him out at the plate to keep the score at 2-1.
In the bottom of the ninth, Bluege shot a one-out hit past Jackson and into left, then scored the tying run on a "snorting" double to left-center by Peckinpaugh that set off a wild celebration.9
"Washingtonians were fit to be tied," reported Will Murphy in the New York Daily News. "Only a town that has never had a pennant winner could loose such a blast of joy. They threw cushions, they climbed down onto the field – someone even fired a pistol."10 Play was suspended to remove the cushions from the field before Ruel and Johnson were retired to end the inning and send the game to the 10th.
Both teams threatened to score in the first extra frame – Frisch singled and stole second but was stranded; Harris and Rice poled out consecutive one-out singles, and Judge just missed winning the game when his bid for a homer hooked just past the right-field pavilion for a foul ball, then his fly to deep center was hauled in by Youngs. Johnson and Nehf were perfect in the 11th inning and that set up the climactic finish.
"The crushing break came in the twelfth inning," wrote Murphy. "The Giants had little enough to do. It was the eighteen years of pitching that beat Johnson, not the efforts of the New Yorkers, determined fighters though they were."11 Gowdy walked to lead off and Nehf followed with a fly to center that fell just in front of McNeely, who attempted a shoestring catch before bobbling the ball, then fired it into the Giants' dugout to put runners and second and third with no outs. Jack Bentley hit for Lindstrom and walked to load the bases.
Bentley was replaced at first by Billy Southworth, who moved to second on a force out at the plate, Frisch grounding to Harris for the first out. Youngs dropped a single in front of McNeely to plate Nehf and give the Giants a 3-2 lead, and Kelly flied out to deep left field to score Southworth. Terry singled to load the bases again, but Goslin pulled in Wilson's liner to end the inning.
Little-used first baseman Mule Shirley hit for Johnson to lead off the bottom of the 12th and reached second when Jackson muffed his easy pop fly. McNeely flied out to center, then Harris cut the lead to 4-3 with a single to center that scored Shirley. Rice rapped a hit to center that sent Harris to third, but Rice was erased at second when he attempted to stretch his hit on Southworth's fumble. With two outs, Goslin tapped a slow roller toward second and was thrown out to end the game and give the Giants a one-game advantage in the best-of-seven Series.      
Sources
In addition to the sources cited in the Notes, the author also accessed Retrosheet.org, Baseball-Reference.com, and SABR.org.
Notes
1 Marshall Hunt, "News Experts Differ in Choice for Series," New York Daily News, October 4, 1924: 22.
2 Hunt.
3 Judge's 119 OPS+ was second to Goose Goslin's 143 and his Offensive Wins Above Replacement (oWAR) of 3.2 was third behind Goslin's 5.3 and Sam Rice's 3.3. 
4 Harry Schumacher,  "News Experts Differ in Choice for Series," New York Daily News, October 4, 1924: 22.
5 "Giants Leading Senators," Elmira Star-Gazette, October 4, 1924: 1.
6 Newspapers often referred to Youngs as "Young" and that was the case in the play-by-play from the October 4, 1924, Elmira Star-Gazette.
7 Gowdy's 1914 World Series slash line of .545/.688/.1273 ranks among the top five batters in World Series history (minimum 15 plate appearances).
8 Earlier in his at-bat, Gowdy insisted a Johnson pitch had hit him on the hand, but umpire Connolly wasn't buying it. Gowdy ended up at first anyway when Johnson walked him on his eighth pitch of the at-bat.
9 Will Murphy, "Giants Win Game of Games," New York Daily News, October 5, 1924: 2.
10 Murphy.
11 Murphy.
Additional Stats
New York Giants 4
Washington Senators 3
12 innings
Game 1, WS
---
Griffith Stadium 
Washington, DC
Box Score + PBP:
Corrections? Additions?
If you can help us improve this game story, contact us.
Tags
https://sabr.org/wp-content/uploads/2021/07/Nehf-Art-NYG.jpg
500
311
admin
/wp-content/uploads/2020/02/sabr_logo.png
admin
2022-03-15 18:37:52
2022-03-16 17:03:10
October 4, 1924: Giants' Art Nehf outduels Washington's Walter Johnson in World Series opener