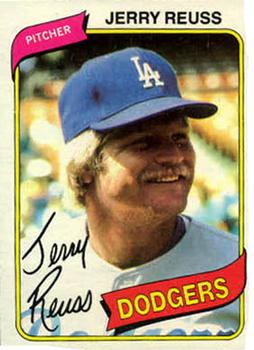 October 4, 1980: Reuss outduels Ryan to pull Dodgers within one in NL West race
---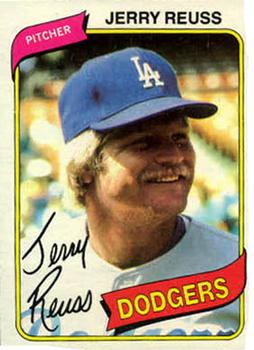 In the opening contest of the most pivotal series of their baseball lives to that point, the Houston Astros lost on a Joe Ferguson walk-off blast in the 10th inning that breathed new life into the Los Angeles Dodgers' fading 1980 playoff hopes. Yet, despite those heroics, momentum was still the greatest ally of the NL West-leading Astros. One more victory would secure their first NL West Division title in franchise history.
Both teams' successes centered on stellar pitching. On November 19, 1979, the Houston Astros signed strikeout king Nolan Ryan to a four-year, $4.5 million free-agent contract. The deal made the native Texan the first million-dollar-a-year man in baseball history. Seven months before the historic Ryan signing, the Pittsburgh Pirates traded left-handed pitcher Jerry Reuss to the Dodgers for right-hander Rick Rhoden. Long-term, the trade proved to be beneficial for Reuss and his new club, but in the beginning it looked like a bust as the newest left-hander in the Dodgers rotation finished the 1979 season with a 7-14 record and a temporary stay in the bullpen.
During spring training in 1980, the big left-hander sought the advice of Dodgers great Sandy Koufax. Reuss credited the advice given to him by the Hall of Famer with boosting his confidence after a disappointing season. "He has this unique insight into people and this calm presence. I learned from, almost by osmosis. He told me not to be afraid to set myself apart or be afraid to strive for something more. I'd only ever met one other athlete like him, and that's Willie Stargell."1
Reuss set himself apart from the rest of the 1980 Dodgers rotation by leading the team in wins (18) and shutouts (6). His most notable performance was a no-hitter against the San Francisco Giants on June 27.
Ryan and Reuss, two pitchers with contrasting styles, started the second game of this crucial NL West showdown for their respective teams on Saturday, October 4, 1980, in front of a crowd of 46,085 at Dodger Stadium.
The first inning was a scoreless affair. The Astros were looking to strike first when Reuss pitched himself into jam by walking leadoff man Joe Morgan on a 3-and-2 pitch and giving up a single to third baseman Enos Cabell that moved Morgan to second. Reuss pulled himself back from the brink of sheer disaster by getting Jose Cruz to pop to short and center fielder Cesar Cedeño to hit into a 4-6-3 double play to end the inning. The Dodgers scored in the second inning when first baseman Steve Garvey reached with a single on a blooper that second baseman Joe Morgan would normally snag. With one out, Pedro Guerrero singled to left, advancing Garvey to second. An out later, Dodgers shortstop Derrel Thomas hit a single to left and Garvey Garvey scored. But Ryan struck out Reuss to end the inning.
With one out in the Astros' fourth, Jose Cruz singled to center, stole second, advanced to third on a ground out and then scored on Art Howe's single to tie the contest at 1-1. The tie didn't last long. In the bottom of the inning, Garvey, who went 9-for-18 against Nolan Ryan in 1980, slammed a Ryan fastball 400 feet into the bullpen for his 26th home run of the season to restore the Dodgers' one-run advantage. Reuss had retired 11 Astros in a row, until the top of the ninth, when Houston put pressure on the veteran lefty. With two outs, Cesar Cedeño and Art Howe reached on bloopers to center fielder Pedro Guerrero, who had trouble seeing the ball in the California smog.
With the tying and go-ahead runs in scoring position, Dodgers pitching coach Red Adams paid a brief visit to Reuss on the mound. The tension in Dodger stadium was palpable. In the biggest game of his career, the 31-year-old lefty Reuss needed just one more out to give the Dodgers another fighting chance at postseason glory. Astros rookie Gary Woods, who had struck out three times, managed to make contact against Reuss. For a second it looked as though his grounder would slice through the right side of the infield. However, Dodgers rookie second baseman Jack Perconte, who was subbing for the injured Davey Lopes, made an excellent play to punch the final out and preserve the 2-1 victory.
Reuss pitched a masterful complete game with seven strikeouts and one walk. Nolan Ryan had an outstanding performance with nine strikeouts and no walks, but Garvey's home run in the fourth was the nail in the coffin.
It had been five years since Reuss's last appearance in a postseason game. The tension and excitement of the Dodgers' victory over the Astros was something very special. "I woke up this morning thinking it was going to be a 2-to-1 game," said Reuss. "I knew there would be tremendous pressure, but I loved every minute of it. In the ninth, I took a few seconds to step back and feel the tremendous tension. I looked around the stands and there wasn't a single person sitting down."2
At the beginning of the series, the talk swirled around the Astros' seemingly insurmountable lead with three games to go in the regular season. But with the Dodgers surviving two close games, it was not out of the realm of possibility that Houston could be headed for one of the biggest collapses in baseball history.
"I think they're waiting for something to happen," said the Dodgers' Ron Cey. "I think they came here a little complacent, talking of needing to win only one of four games. And now, all of a sudden, they sense it won't be so easy after all."3
With each victory the Dodgers were gaining a little bit of momentum, but Astros second baseman Joe Morgan believed otherwise. "I don't know anything about momentum," Morgan said, grinning. "I don't understand the word. They kept their hopes alive, if that's momentum. But when the Dodgers walk out there tomorrow, the pressure's still there. Try as you may, try as you might, you can't get the pressure off them. Say what you want about momentum, the pressure is on them, if they lose it's over."4
Sunday's game would be another pressure-packed contest. But despite losing two close games that could've gone either way, Astros manager Bill Virdon was confident in his club's ability to overcome the resurgent Dodgers. "I don't think our confidence is affected in any way," he said. "They have to win one. You can't beat a good club every day and I don't think they can beat us every day."5
Sources
In addition to the sources cited in the Notes, I also consulted Baseball-reference.com and retrosheet.org.
baseball-reference.com/boxes/LAN/LAN198010040.shtml.
retrosheet.org/boxesetc/1980/B10040LAN1980.htm.
Notes
1 Alan Goldstein, "Reuss Keeps Dodgers' Flag Hopes Alive," Baltimore Sun, October 5, 1980: C1.
2 Ibid.
3 Ibid.
4 Mark Heisler, "Astros May Be Headed for a Classic Fall," Los Angeles Times, October 5, 1980: 1.
5 Norm Miller, "LA Stays Alive! Garvey's Homer Drops Astros 2-1," New York Daily News, October 5, 1980: 5.
Additional Stats
Los Angeles Dodgers 2
Houston Astros 1
---
Dodger Stadium
Los Angeles, CA
Box Score + PBP:
Corrections? Additions?
If you can help us improve this game story, contact us.
Tags
https://sabr.org/sites/default/files/ReussJerry.jpg
600
800
admin
/wp-content/uploads/2020/02/sabr_logo.png
admin
2018-10-02 11:37:32
2020-04-17 10:23:54
October 4, 1980: Reuss outduels Ryan to pull Dodgers within one in NL West race