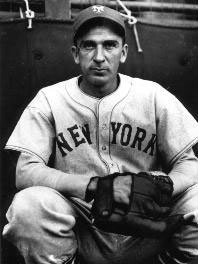 October 6, 1933: King Carl Hubbell hurls 11-inning gem to put Giants on verge of title
---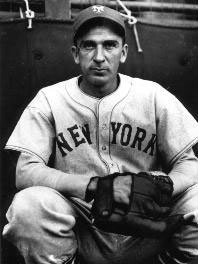 "There have been few World Series battles in history that carried as much in the way of melodramatic suspense," gushed syndicated sportswriter Grantland Rice about Carl Hubbell's 11-inning complete-game victory over the Washington Senators in Game Four of the World Series to give the New York Giants a seemingly insurmountable three-games-to-one lead.1 John Drebinger of the New York Times described King Carl's second victory in four days as a "tense, nerve-throbbing battle that for thrills and exciting moments far exceeded any of the three previous contests" of the fall classic.2 "It was bigger than baseball," Giants beat writer Francis Wallace waxed poetically in the Daily News about Hubbell's relentless and courageous performance on two days' rest. "[I]t was the triumph of a man over every test of skill, nerve and courage another great ball club could put before him."3
The Giants (91-61), led by Bill Terry, who had taken over for legendary skipper John McGraw as player-manager during the previous season, captured an unlikely pennant, their first since four straight from 1921 to 1924. They opened the World Series a 10-7 underdog to the Senators (99-53), piloted by boy-wonder 26-year-old Joe Cronin, in his first season as player-manager.4 The Nats boasted a high-powered offense that averaged 5.6 runs per game compared with the Giants' 4.1, but they didn't have the Meal Ticket, as Hubbell was called.
"Hubbell is the Giants," proclaimed Wallace without an air of hyperbole.5 In his sixth season, Hubbell emerged as baseball's best hurler, whose mesmerizing screwball flummoxed batters all season. The lanky 6-foot, 170-pound southpaw led the NL with 23 victories (12 losses) to push his career slate to 100-64, and also with 308⅔ innings, while pacing the majors with 10 shutouts and a microscopic 1.66 ERA, the lowest mark since Walter Johnson's 1.49 in 1919, the last year of the Deadball Era. "When in trouble call on Hubbell," quipped Drebinger, and Terry intended to lean on Hubbell in the fall classic.6 In the Series opener, on October 3, Hubbell tossed a five-hitter while fanning 10 to beat the Senators 4-2 in the Polo Grounds; both runs charged to him were unearned. The momentum of the Series shifted when 22-game winner Earl Whitehill shut out the Giants in Game Three at Griffith Stadium to give the Nats their first victory.
Unlike the previous rainy day, Thursday afternoon in the nation's capital was sunny and crisp, with temperatures in the 60s. Nonetheless, the "crowd again failed to live up to expectations," submitted Drebinger, with 26,762 spectators in attendance.7
The game unfolded as a pitchers' duel between Hubbell and 27-year-old right-hander Monte Weaver, noted for his "high-powered delivery" and occasional bouts of wildness.8 A 22-game winner the previous season, his first full campaign in the big leagues, Weaver was plagued by injuries in '33 and posted a 10-5 slate. The only baserunner in the first three innings was the Giants' Jo-Jo Moore, who led off the game with a walk.
The Giants struck in the fourth. Terry at age 34 was no longer the same hitter who led the majors with a .401 average and set an NL-league record with 254 hits in 1930; however, he was still among the most feared hitters in the game. He clubbed a towering one-out home run into the center-field bleachers, clearing "the low three-foot fence in front of the temporary triangular bleachers," reported Drebinger.9 Mel Ott, team leader in home runs (23) and RBIs (103), walked and Kiddo Davis singled. Suddenly in trouble and pitching to remain in the game, Weaver retired Travis Jackson on a popup and then extinguished the threat by walking Gus Mancuso intentionally to face weak-hitting Blondy Ryan (.238 average), whom he fanned.
Weaver bent, but did not break, yielding one hit per inning in the fifth through the ninth. Ott led off the sixth with a single and was sacrificed a station, but was stranded after Weaver gave Mancuso another free pass and then induced Ryan to tap meekly back to the mound. Moore laced a two-out double in the next frame, but was stranded on third. From the fourth through ninth, the Giants left nine men on.
Despite retiring the first 10 batters he faced, Hubbell was not as sharp as in the Series opener. And like Weaver, he withstood his foes' best shots, yielding one hit in every inning from the fourth through eighth, as the Senators left seven men on. In the fourth Goose Goslin connected for the Senators' first hit then moved to second when Hubbell, known for his impeccable control, walked Heinie Manush.
Tensions flared in the sixth. With Buddy Myer on second with one out, Manush hit what Drebinger described as a "sizzling ground ball well inside the first base line," which eluded the diving Terry at first.10 Second baseman Hughie Critz made a "miraculous stop" and threw to Hubbell at first.11 It appeared to be a hit and Drebinger suggested the call "could have been given either way," but first-base umpire Charlie Moran ruled Manush out.12 A vehement argument ensued; Cronin rushed from the Nationals dugout and it appeared as though Manush would strike at Moran, and apparently did bump him.13 Holding firm, Moran ejected Manush from the game, while fans pelted the field with bottles in protest. After order was restored a few minutes later, Hubbell fanned Cronin to end the frame.
The fracas was not yet over. Manush, incredulous that he'd been tossed, offered a few choice words to Moran as he defiantly took his position in left field. Moran promptly held up the action again, and ordered him to leave the field and dugout. (After the game, Moran was escorted off the field by a police escort to ensure his safety.)
The Senators finally caught a break with one out in the seventh. Joe Kuhel hit a routine tapper back to the mound. An excellent fielder who had led the NL pitchers in assists in 1929, 1932, and 1933, Hubbell had his man out by 20 feet, noted Grantland Rice, but the ball slipped out of the hurler's bare hand for a costly error.14 After Ossie Bluege sacrificed the runner to second, Luke Sewell sent Hubbell's first pitch into center field to tie the game, 1-1.
The Giants squandered leadoff singles in the eighth and ninth innings, while Hubbell seemed wobbly. Myer led off the eighth with a walk the eighth; after and two force outs, Dave Harris advanced to third on Cronin's two-out single. After a one-two-three ninth, Hubbell found himself in trouble again, in the 10th when Myer laced a one-out single and moved to second on Harris's two-out walk. Cronin's feeble grounder ended the threat.
The biggest surprise of the game, arguably the turning point of the entire World Series, came from an unlikely source, a remnant of the Giants dynasty from the early 1920s. Just 30 years old, Travis Jackson was buying time on aching knees. He had lost his starting shortstop position to Ryan, but got a second chance when third baseman Johnny Vergez was sidelined with appendicitis a month earlier. Jackson's shocking bunt to lead off the 11th caught third baseman Ossie Bluege flatfooted. After Mancuso's sacrifice bunt moved Jackson to second, Ryan had a chance to atone for his previous failings with men in scoring position. A popular player who initiated the team's battle cry ("We cannot be beat"),15 Ryan laced a single to left to drive in Jackson for a 2-1 lead. Hubbell followed with a single to send Weaver to the showers, but veteran Jack Russell recorded two quick outs to end the frame.
Lauded as the "master flinger of his time," Hubbell took the mound in the 11th as intensity mounted.16 A "silence of death," opined Wallace, spread throughout the ballpark as the Senators came to bat.17 Fred Schulte's leadoff single revived the crowd, which was on the verge of pandemonium when Terry decided not to play Kuhel's bunt to first thinking it would be foul, but it stayed in fair territory. Bluege's sacrifice put both runners in scoring position, after which Terry called for the infield to huddle around Hubbell on the mound to discuss strategy. Hubbell intentionally walked Sewell to load the bases. A walk or deep fly could tie the game; a single would win it. Cronin called on Cliff Bolton to pinch-hit for Russell. A third-string catcher, Bolton had only 40 at-bats all season (including an unsuccessful punch-hit appearance in Game Two), but had collected 16 hits. On a 2-and-1 pitch, Bolton sent a routine grounder to Ryan at short who initiated a game-ending 6-4-3 twin killing to give the Giants a dramatic 2-1 win in 2 hours and 59 minutes.
"With the bases loaded I wanted to play the infield in," said Terry in the ebullient Giants' clubhouse after the game, "but Blondie suggested that Jackson and myself play in and he and Critz be allowed to play out not to far."18
Jackson's bunt and Ryan's single propelled the Giants to victory, but it would not have been possible without yet another yeoman effort from Hubbell, whose screwball the Senators chopped into the dirt all afternoon. He yielded eight hits (all singles) and four walks (two of which were intentional), and fanned five. In 20 combined innings in the fall classic, he had yet to yield an earned run. When asked about his fateful pitch Bolton to end the game, King Carl quipped, "it was a screwball."19
Sources
In addition to the sources cited in the Notes, the author accessed Retrosheet.org, Baseball-Reference.com, Newspapers.com, and SABR.org.
Notes
1 Grantland Rice, "Hubbell Stumbles but Comes Through," Boston Globe, October 7, 1933: 4.
2 John Drebinger, "Giants Turn Senators by 2-1 in 11-Inning Game," New York Times, October 7, 1933: 1.
3 Francis Wallace, "King Hubbell Whips Nats," (New York) Daily News, October 7, 1933: 29.
4 The odds are from Drebinger.
5 Wallace.
6 Drebinger.
7 Drebinger.
8 Drebinger.
9 Drebinger.
10 Drebinger.
11 Drebinger.
12 Drebinger.
13 See Debringer; Wallace; and "Ryan, Critz Draw Terry's Acclaim," New York Times, October 7, 1933: 9; and Marshall Hunt, "A Great Game, Fans! Here Are the Details," (New York) Daily News, October 7, 1933: 26. 
14 Rice.
15 The phrase came from Ryan's telegram on July 11 to Terry and the team, informing them he'd rejoin the club after missing a few games due to an injury. See Victor O. Jones, "Ryan's Single Gives Giants Three Games," Boston Globe, October 7, 1933: 1.
16 Drebinger.
17 Wallace.
18 "Ryan, Critz Draw Terry's Acclaim."
19 "Ryan, Critz Draw Terry's Acclaim."
Additional Stats
New York Giants 2
Washington Senators 1
11 innings
Game 4, WS
---
Griffith Stadium
Washington, DC
Box Score + PBP:
Corrections? Additions?
If you can help us improve this game story, contact us.
Tags
http://bioproj.sabr.org/bp_ftp/images2/HubbellCarl.jpg
600
800
admin
/wp-content/uploads/2020/02/sabr_logo.png
admin
2022-04-12 11:01:08
2022-04-14 16:53:41
October 6, 1933: King Carl Hubbell hurls 11-inning gem to put Giants on verge of title