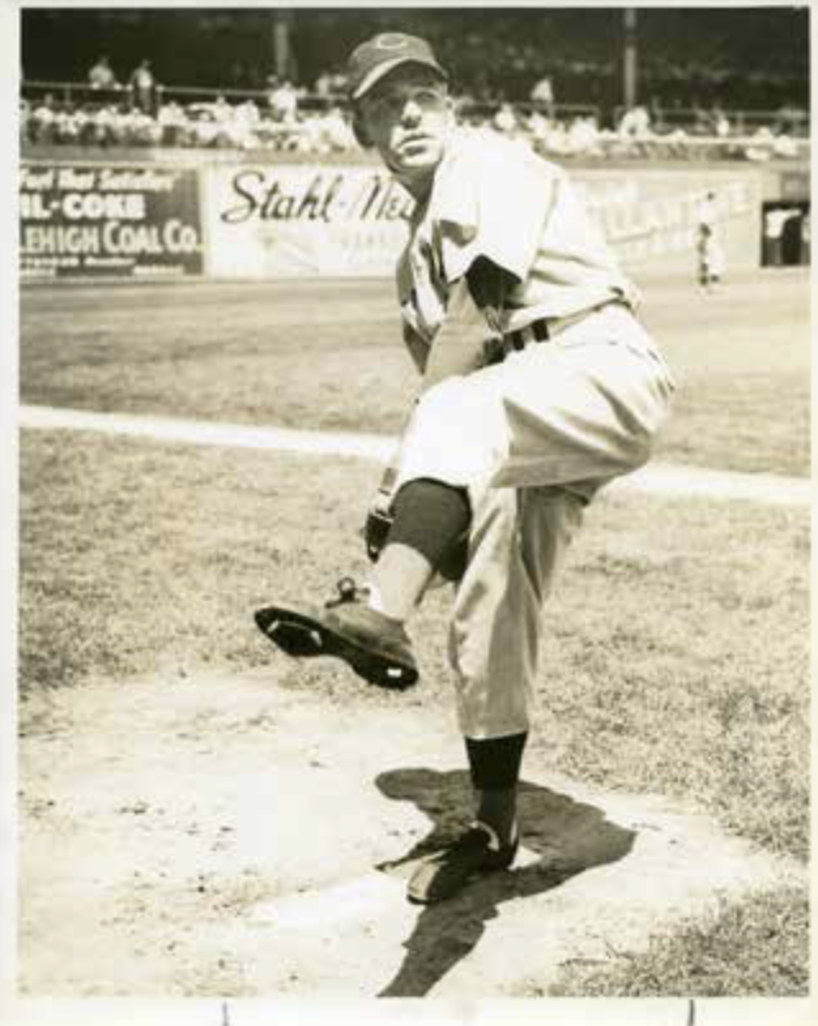 September 12, 1943: Reds' Elmer Riddle mows 'em down with one-hitter
---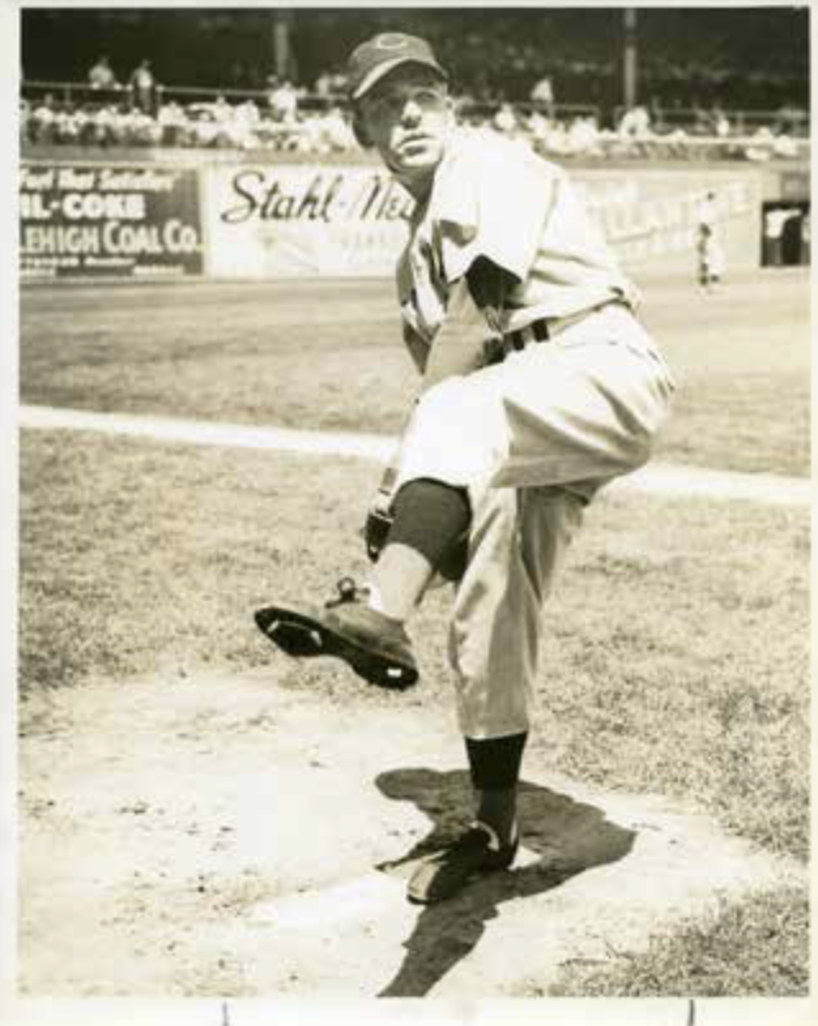 History may assign this mid-September match-up between the Cincinnati Reds and Pittsburgh Pirates to the scrapheap of thousands of supposedly meaningless late-season games between clubs whose postseason and title aspirations had long disappeared. But such a judgment overlooks the players, who competed not just for their next one-year contract, but also for their teammates and fans, many of whom, in this case, sought a momentary diversion from the realities of a world war. The contest was assuredly not pointless to the Reds' Elmer Riddle. It was the "finest game of his short career," gushed sportswriter Lou Smith about Riddle's sparkling one-hitter.1 He "mixed a blinding fastball with a half-speed ball and an exploding curve," continued the Queen City scribe, to set down the first 22 batters he faced.
The longtime rivals, whose cities are connected by the Ohio River, were probably fatigued when they arrived at Crosley Field on a Sunday morning to conclude a five-game series with yet another doubleheader. The clubs were accustomed to playing two. It was the Reds' fourth twin bill in eight days and the Bucs' third in six, in a season defined by them. They were the result of the wartime rationing of resources and fuel. By the time the season ended, the Reds had 36 doubleheaders under their belt; the Pirates, 38. Both teams had been struggling of late, but the players were well aware that a finish in the first division (top four teams in the eight-team league) meant a bigger player's share of World Series earnings. Skipper Bill McKechnie's Reds, just three years removed from capturing their first championship since the Black Sox-tainted scandal of 1919, had lost eight of their last 13 to fall to 73-60, tied with the Brooklyn Dodgers for second place, 16½ games behind the streaking St. Louis Cardinals. Frankie Frisch's Pirates, winners of only 11 of their last 27, were four games behind the Reds, in fourth place.
The first game featured two marquee hurlers. Riddle, a 29-year-old right-hander from Georgia, had burst on the national scene two years earlier in his first full season in the big leagues by winning his first 11 decisions en route to a 19-4 record and an NL-leading 2.24 ERA. After an injury-plagued campaign in 1942, Riddle had reestablished himself as one of the league's best. With an 18-9 record, he coveted the magical 20-win plateau which surely would benefit his bank account. On the mound for the Pirates was a 36-year-old right-hander, All-Star Rip Sewell, known for his "eephus" pitch. A late bloomer, Sewell entered the game as the league's only 20-game winner, and boasted a career slate of 77-55 in parts of seven seasons.
Riddle began the game by striking out the first batter he faced, Pete Coscarart, and never looked back. He proceeded to set down every batter he faced in the first seven innings, 21-up, 21-down. This season Riddle had occasionally struggled with control, walking 107 in 260⅓ innings, but today he was dialed in, to the delight of the 10,303 spectators peppered throughout Crosley Field, the steel and concrete ballpark situated at the intersection on Findlay Street and Western Avenue in the downtown Queensgate neighborhood.
Sewell looked shaky from the outset, but was saved time and time again by good fielding, his own clutch pitching, and some questionable Reds baserunning. In the first, Max Marshall stroked a one-out double to right, but was subsequently gunned down when he made an ill-advised attempt to advance to third on Gee Walker's grounder to short. Eric Tipton followed with a two-bagger to left; this time it was Walker' turn to blunder. Appearing to hold up at third, he headed home when third sacker Bob Elliott fired a bullet to shortstop Coscarart to take a chance with the sliding Tipton. Coscarart threw to catcher Al Lopez, who easily tagged Walker to end the frame. A nifty 6-4-3 double play by the Bucs erased Bert Haas, who had singled to lead off the second; and in the third Riddle spanked a one-out double, but was left stranded.
The Reds finally broke through in the fourth when four straight batters reached with two outs, producing the only run of the game. It started with Haas's walk, followed by Steve Mesner's single. Eddie Miller's single plated Haas and then Ray Mueller's single loaded the bases. Riddle's grounder ended the inning.
On the ropes seemingly all afternoon, Sewell was nothing if not resilient. He worked around leadoff singles in the fifth and sixth, and was a pitch away from disaster in the seventh. In that frame, he yielded his 10th and final hit of the game, then walked the next two batters, the latter intentionally, to load the bases with one out. His defense came through yet again when Tipton grounded into a 5-3, inning-ending double play.
Riddle liked to work fast and didn't waste any time on this muggy, overcast afternoon. He fanned Vince DiMaggio to start the eighth. Tension in the ballpark was palpable as the fans could see the zeros on the scoreboard. To the plate stepped sturdy Bob Elliott, the Pirates' most dangerous hitter. He entered the game on a two-month tear, batting .381 beginning July 15 and knocking in 48 runs. He connected for the first hard-hit ball of the game, smashing the orb "off the left field corner of the scoreboard."2 According to the Cincinnati Enquirer, flychaser Eric Tipton "got both hands on the ball but failed to hold it after crashing into the board," resulting in Elliott's double.3 Riddle's perfect game was history, but he wasn't yet out of trouble. After Elbie Fletcher popped up, right fielder Max Marshall saved the shutout with a diving catch of Al Rubeling's lazy fly in short right field to end the inning,
The Reds began the ninth with the anxious nervousness of a no-no dissipated, yet the outcome of the game far from guaranteed. Tommy O'Brien, pinch-hitting for Sewell, drew a one-out walk. Marshall, praised by Lou Smith for his "spectacular ball in right field," made a running stab of pinch-hitter Johnny Barrett's screeching liner to right and then doubled O'Brien off first to end the game in just 91 minutes.4
There were no celebrations by the Reds players, who still had another game to play. Instead of scurrying to their dugout, they remained on the field for a short ceremony to honor Bert Haas, who was scheduled to be inducted into the US Army on Monday.5 He was presented a portable clock and a money belt. After playing in the second game of the doubleheader, he'd wait 2½ years, until Opening Day 1946, to play in another big-league game.
Riddle's gem was his 19th victory of the season, and proved to be the only one-hitter in his career. The Pirates avenged their loss the next time they faced him, a week later in the Smoky City, victimizing him for six runs in one inning while Sewell emerged with his 21st victory, 10-3. Riddle won two of his last three starts, to finish with 21 victories, which tied Sewell and the Cardinals' Mort Cooper for the NL lead. Riddle's promising career was cut short by shoulder problems, and the good-natured Georgian won only three games in the next two seasons before retiring. He returned to baseball in 1947, with the Pirates, earning his only All-Star berth and finishing with a 12-10 record. A rough season (1-8) followed and he was exiled to the minors, never to return to the big leagues. Fate was far kinder to Sewell, who won 21 games again, in 1944, and was selected to another All-Star Game. He retired at the age of 42, in 1949, with a 143-97 slate. Remarkably, all of his victories came beginning the age of 32.
In the second game of the twin bill, the Reds were dished some of Riddle's medicine when a 30-year-old rookie wartime replacement, Xavier Rescigno, hurled a four-hitter to record the first and only shutout of his three-year career, winning 7-0.
This article was published in "Cincinnati's Crosley Field: A Gem in the Queen City" (SABR, 2018), edited by Gregory H. Wolf. To read more articles from this book at the SABR Games Project, click here.
Sources
In addition to the sources cited in the Notes, the author also accessed Retrosheet.org, Baseball-Reference.com, SABR.org, and The Sporting News archive via Paper of Record.
https://www.baseball-reference.com/boxes/CIN/CIN194309121.shtml
https://www.retrosheet.org/boxesetc/1943/B09121CIN1943.htm
Notes
1 Lou Smith, "Riddle in One-Hit Shutout; Redlegs Divide," Cincinnati Enquirer, September 13, 1943: 22.
2 Ibid.
3 Ibid.
4 Ibid.
5 Edward F. Balinger, "Elliott's Double Spoils No-Hitter for Riddle, 1 to 0," Pittsburgh Post-Gazette, September 13, 1943: 16.
Additional Stats
Cincinnati Reds 1
Pittsburgh Pirates 0
---
Crosley Field
Cincinnati, OH
Box Score + PBP:
Corrections? Additions?
If you can help us improve this game story, contact us.
Tags
https://sabr.org/sites/default/files/Screen%20Shot%202019-10-01%20at%202.56.56%20PM.png
600
800
admin
/wp-content/uploads/2020/02/sabr_logo.png
admin
2019-10-01 14:53:32
2020-04-17 10:22:31
September 12, 1943: Reds' Elmer Riddle mows 'em down with one-hitter