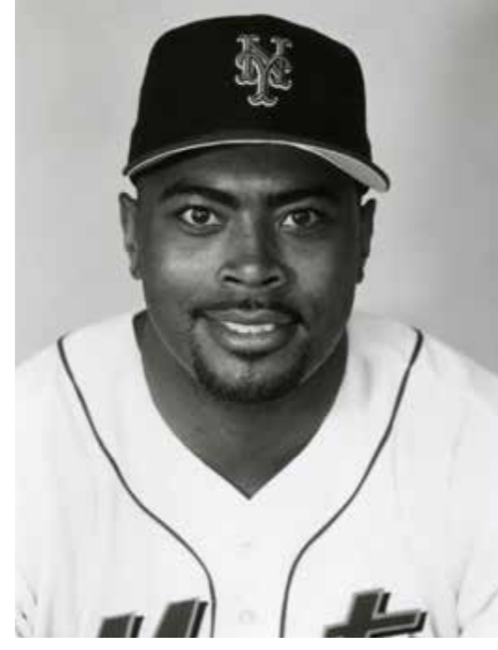 September 13, 1997: Mets not quite dead and buried after Gilkey's walk-off home run
---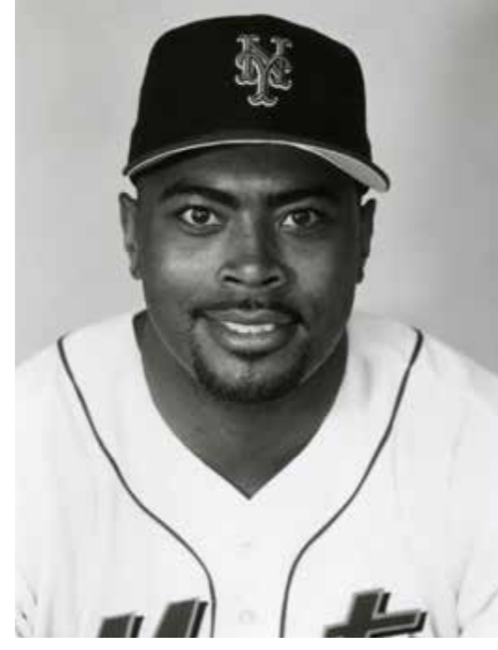 The walk-off home run is the most dramatic and exhilarating of all baseball plays. As in any written account of such a conclusion, the writer need not worry about spoiling the ending. On this day, the Mets beat the Montreal Expos in 11 innings on Bernard Gilkey's pinch-hit two-out home run. The New York Times reporter, Jason Diamos, captured the state of the team two innings earlier. "The Mets were dead and buried. They were done, plain and simple. They were ready for next year, beginning right now. But then came one of the more improbable bottom of the ninths in the team's 36 seasons."1 With a comeback and a game-winning homer, their faint hopes for catching the Florida Marlins and a Wild Card berth remained alive entering the final two weeks of the season.
The Mets had lost a long and difficult 15-inning game to the Expos, 3-2, less than 24 hours earlier to remain 5 ½ games behind Florida. As The New York Times put it, "They seemed hung over, showing nothing on the mound, in the field or at bat as [the] game slowly moved along."2 For eight innings, they had managed only one hit off Montreal starter Dustin Hermanson. It came on Carlos Mendoza's bloop single to left field in the bottom of the sixth inning – his first major-league hit.
Meanwhile, the Expos got off to a fast start and a 3-0 lead in the first inning against Jason Isringhausen. Mike Lansing hit a two-run homer, his 20th of the season, after Mark Grudzielanek singled. The Expos added two more in the fifth inning on David Segui's double and a single run in the eighth inning courtesy of Darrin Fletcher's sacrifice fly. Most, if not all, of the 24,208 fans at Shea Stadium thought that this lead was insurmountable.
Then came the bottom of the ninth. A tiring Hermanson yielded one-out singles to Butch Huskey and Carlos Baerga before Brian McRae flied out to deep right-center.3 Hermanson was near the finish line, but ran out of gas against pinch-hitter Roberto Petagine. His 129th (and last) pitch of the game, on a 1-2 count, was lined to center field. Huskey and Baerga scored to cut the Expos' margin to 6-2.4 Shayne Bennett replaced Hermanson, and faced one batter, Luis Lopez, who singled through the right-side hole. That compelled manager Felipe Alou to go to his closer, Ugueth Urbina, who secured his 26th save last night. A repeat was not to be. Matt Franco singled up the middle to load the bases. Carl Everett came to the plate in a run-producing slump – having driven in only three runs in the last 43 days.5 He teased everyone on Urbina's first-pitch changeup with a deep shot that was 20 feet wide of the right-field foul pole. On a full count, Everett saw another Urbina changeup and straightened it out. It went deep off the base of the scoreboard in right and, just as suddenly, the score was tied.6 After Urbina got Edgardo Alfonzo on a swinging strikeout, it was extra innings for the second game in a row. Six runs on six hits to knot the score at six – and more drama yet to come.
So what was Bernard Gilkey doing all this time? He played all 15 innings the night before, getting two hits in the loss, but slightly sprained his left ankle. He scratched himself from the starting lineup just before the late afternoon start. Diamos reported that Gilkey about the time of the sixth inning emerged from the Mets' training room where he had been submerged in a whirlpool.7 Perhaps manager Bobby Valentine would use him as a pinch-hitter.
Mets closer, John Franco, also made an appearance. He managed to get out of the 10th inning by inducing a Vladimir Guerrero groundout to strand David Segui at third base. "They wanted to take me out after the 10th," Franco remarked. "I said no. They were either going to win with me or lose with me. When I went out to start the inning, Gilk told me to go out, finish this inning, and he was going to end it. And he sure enough did."8 The Expos' 11th inning was much the same as the 10th. With one out and Ryan McGuire on second, Franco struck out Mark Grudzielanek looking, intentionally walked Mike Lansing, and got Jose Vidro on a ground ball.
Gilkey's time was approaching. Brian McRae led off the 11th inning by singling to left field off southpaw Steve Kline. Alberto Castillo sacrificed McRae to second base, Luis Lopez walked, and Matt Franco struck out on three pitches. Why had Valentine used a left-handed hitter against the southpaw? Diamos noted that "Valentine thought about pinch-hitting Gilkey right there, but didn't want to risk the chance of a double play because of Gilkey's ankle."9 At that point, it was right-hander Mike Thurman who came in to face Gilkey, who was batting for John Franco. Gilkey took one pitch before hammering the next into the left field mezzanine seats. The improbable was complete. For Gilkey, this walk-off homer was the second of his career, five years after his first one.10
This remarkable comeback evoked memories of 1973. On July 17 of that year, the visiting Mets also erased a six-run deficit in the ninth inning – capped by Willie Mays' two-run single – for an 8-7 victory over the Atlanta Braves.11 Jason Diamos recalled "Ya Gotta Believe" courtesy of Tug McGraw and the Mets run in 1973 to the National League flag. "For the Mets, who have nothing to lose, it's not a bad slogan to dust off right now."12 History shows that New York fell short in the final two weeks of the 1997 season, but until they had no more outs on this day, they would not quite be dead and buried.
This article was published in "Met-rospectives: A Collection of the Greatest Games in New York Mets History" (SABR, 2018), edited by Brian Wright and Bill Nowlin. To read more articles from this book at the SABR Games Project, click here.

Sources
In addition to the references cited in the Notes, the author also accessed Baseball-Reference.com and Retrosheet.org.
https://www.baseball-reference.com/boxes/NYN/NYN199709130.shtml
http://www.retrosheet.org/boxesetc/1997/B09130NYN1997.htm
Notes
1 Jason Diamos, "Down by 6-0 in 9th With One Strike Left, Mets Pull Out a Victory," New York Times, September 14, 1997: SP1.
2 Ibid.
3 Huskey's only hit of the game extended his hitting streak to 20-games. Over that period, he batted .363 with 29 hits.
4 That single was Roberto Petagine's only hit in 15 official at-bats for the entire 1997 season.
5 Marty Noble, "Playing Hardball," The Sporting News, September 29, 1997: 36.
6 Carl Everett's grand slam was his second of the season and he would hit eight grand slams over his 14-year major-league career, but none more dramatic. The irony was that his very next grand slam came in a Houston Astros uniform on June 20, 1999 in the Astros' 11-3 victory over Montreal. The Expos victim was none other than Ugueth Urbina.
7 Diamos.
8 Ibid.
9 Ibid.
10Bernard Gilkey's only other walk-off home run in his 12-year major-league career came on July 29, 1992 at Busch Stadium in St. Louis. Gilkey hit a three-run home run off Dennis Martinez as the Cardinals beat the first-place Montreal Expos, 4-1.
11 Michael Strauss, "Mets Win on 7 in 9th, 8-7; Aaron Homers," New York Times, July 18, 1973: 25-26. Rusty Staub and John Milner each hit two-run homers off Carl Morton to cut the Braves' lead to 7-5. Adrian Devine replaced Morton and managed to get the second out on a grounder before the roof fell in on him, as well. A single by Don Hahn and a walk to Ed Kranepool positioned Jim Beauchamp to drive in the next run with a single to right field. Willie Mays pinch hit for Wayne Garrett, facing the next Expos pitcher, Tom House, and delivered a two-run single. After the seven-run, eight-hit ninth inning, Harry Parker retired the Braves 1-2-3 for the save and the Mets' improbable comeback victory.
12 Diamos.
Additional Stats
New York Mets 9
Montreal Expos 6
11 innings
---
Shea Stadium
New York, NY
Box Score + PBP:
Corrections? Additions?
If you can help us improve this game story, contact us.
Tags
https://sabr.org/sites/default/files/Bernard%20GIlkey.png
600
800
admin
/wp-content/uploads/2020/02/sabr_logo.png
admin
2019-10-16 14:36:31
2020-04-17 10:22:27
September 13, 1997: Mets not quite dead and buried after Gilkey's walk-off home run