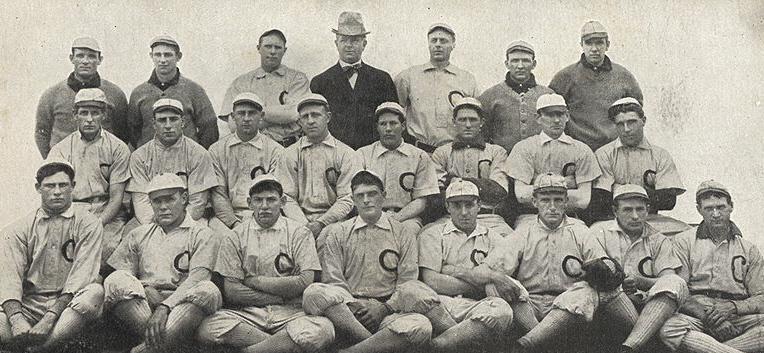 September 15, 1906: 'Hitless Wonder' White Sox win to move into first place
---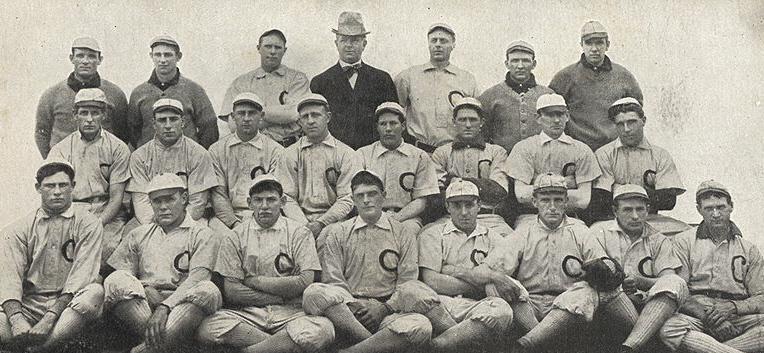 The Chicago White Sox are "the luckiest bunch of ballplayers I have ever run across in baseball," said St. Louis Browns manager Jimmy McAleer in July 1906. "If the team wants a base on balls to win, it gets it; if an error is needed, someone is sure to boot the ball. I never saw or heard of a club that can do as little in the hitting line and get away with it as those Chicago boys. They can score more runs on fewer hits than any other team in either big league."1
The 1906 White Sox were nicknamed the Hitless Wonders. After sweeping a doubleheader from McAleer's Browns on September 14, the White Sox were tied with the New York Highlanders for first place in the American League. Yet the Chicago outfielders – Patsy Dougherty, Ed Hahn, and manager Fielder Jones – had a combined batting average of .229, and first baseman Jiggs Donahue was hitting only .242.2
The White Sox and Browns played the final game of a six-game series on Saturday, September 15. Eleven thousand fans packed Chicago's South Side Park on a 73-degree afternoon.3 The starting pitchers were Frank Owen for the White Sox and Ed Smith for the Browns. Owen was working on short rest, having pitched all 10 innings of a scoreless tie two days earlier. In Smith's last start, three days before, the White Sox were hardly hitless: They pounded him for 13 runs, including nine in the second inning.4
McAleer confused the sportswriters on September 15 when he put rookie third baseman Roy Hartzell at shortstop and moved rookie shortstop Pete O'Brien to third base. Whenever either made a notable play in the field, newspaper accounts disagreed on who made it.5
Branch Rickey, the Browns' rookie catcher, knocked in the first run of the game with a two-out single in the top of the second inning. In the bottom half, Chicago's George Rohe lifted a foul pop that was chased by Hartzell and O'Brien; the ball bounced out of the hands of one and into the hands of the other. Two Chicago newspapers reported the amusing play but disagreed on who caught the ball.6
The Chicago bats came to life in the fourth inning, as bleacherites chanted "Nine! Nine! Nine!" in unison, hoping the White Sox might again tally nine runs in one inning off Smith. They would have to settle for two runs. George Davis tripled on a line shot to right field; rookie Harry Niles ran in and dove for it, but came up empty as the ball scooted to the fence. Donahue singled sharply through a drawn-in infield, sending Davis home.7 Dougherty followed with a single, and Rohe was hit by a pitch to load the bases. Charlie Hemphill then caught Frank Roth's fly ball in deep center field, and Donahue scampered home on the sacrifice.
In the top of the fifth, Rickey doubled down the right-field line. Hahn retrieved it and threw to second base, but the ball skipped past shortstop Davis. "Not a soul was backing up and the ball rolled into the fringe of spectators, giving Rickey the right to trot home on ground rules."8
Hahn led off the bottom of the fifth with a single, and Frank Isbell and Davis also singled, scoring Hahn. Catcher Rickey noticed Isbell's long lead off second base, but in his haste to nab him, threw the ball into center field. The White Sox got one more run in the inning and led 4-2.
Over the next two innings, the White Sox demonstrated their resourcefulness, or luck as McAleer would call it; they scored two runs "without the aid of a base hit or anything bearing a family resemblance to one."9 With two outs in the sixth, Fielder Jones walked, stole second base, advanced to third on an error, and came home on a double steal. In the seventh Donahue reached base on an error by O'Brien or Hartzell, and then swiped second base. "Waiting a few seconds, he broke for third and landed, then got up and sneaked home because Rickey had thrown the ball to deep left field."10
The "star catch of the game" was "a one-handed spear of a high liner from Rohe's bat" in the seventh inning.11 Who made the catch? Well, it was either O'Brien or Hartzell.
Owen allowed only three hits through seven innings, but he tired in the eighth. Rickey and Smith singled to start the inning; Rickey scored on a double by Tom Jones, and Smith came home on a fielder's choice. With two outs in the ninth, Hartzell singled and Rickey rapped yet another single, his fourth hit of the game. But Tubby Spencer, pinch-hitting for Smith, tapped an easy grounder to Rohe at third base to end the game. The final score was Chicago 6, St. Louis 4.
The New York Highlanders, meanwhile, split a doubleheader in Washington. The White Sox were now in first place, a half-game ahead of their New York rivals.
Sources
https://www.retrosheet.org/boxesetc/1906/B09150CHA1906.htm
Notes
Additional Stats
Chicago White Sox 6
St. Louis Browns 4
---
South Side Park
Chicago, IL
Box Score + PBP:
Corrections? Additions?
If you can help us improve this game story, contact us.
Tags
http://sabr.org/sites/default/files/1906-Chicago-White-Sox.jpg
600
800
admin
/wp-content/uploads/2020/02/sabr_logo.png
admin
2016-05-10 12:22:16
2020-04-17 10:26:41
September 15, 1906: 'Hitless Wonder' White Sox win to move into first place