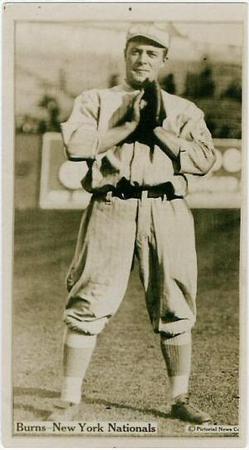 September 17, 1920: Giants' Burns hits for the cycle as Toney pitches 10 innings to win 20th
---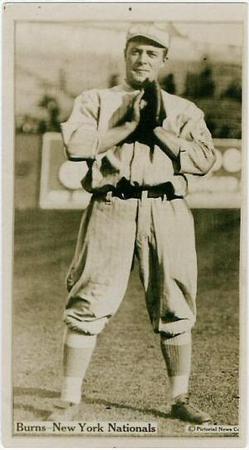 By the time mid-September rolled around in the 1920 season, the Pittsburgh Pirates had held down fourth place in the National League standings for six weeks. They were near the end of a 12-game road trip, facing the New York Giants for the third game of a four-game series on Friday, September 17. After a dismal start to the season in which the Giants did not get to .500 until July 22, New York had climbed to second place, but they were still six games behind the Brooklyn Robins with 15 games left in the season.1 One of the smallest crowds of the season (estimated at 6,000 fans) turned out for the contest, but saw their team eke out a win in extra innings, meeting their defeat "to the music of blaring horns, beating drums and tinkling cymbals."2
Babe Adams, "long a nemesis to the Giants,"3 got the pitching nod for the Pirates, while Fred Toney started for the Giants. The 38-year-old Adams had lost his previous start, which snapped a seven-game win streak and brought a 2.14 ERA with him. Toney entered the contest with a record of 19-11 and a 2.68 earned-run average. The New York right-hander had won his last three starts, allowing two earned runs in three complete games, two of them shutouts
Toney allowed a two-out single to rookie Homer Summa in the first inning. Toney then retired Billy Southworth to end the inning. New York's leadoff batter, George Burns, started the offense in the bottom of the first frame. With the count 3-and-2, he tripled to right. After Adams struck out Dave Bancroft, Ross Youngs lifted a fly ball to right and Burns trotted home after the catch, giving the Giants an early lead.
In the third Burns came up again, this time with one out. Pittsburgh right fielder Southworth "opened the way for one of the New York tallies by misjudging a fly which looked like an easy put-out."4 Burns landed at second base with a double. He advanced to third on Bancroft's infield single and scored when Youngs singled to left.
Pittsburgh answered in the top of the fourth. George Cutshaw singled to left. Summa also singled, and both runners advanced when Southworth laid down a sacrifice bunt. Possum Whitted grounded a ball to New York shortstop Bancroft, who threw to first for the out, allowing Cutshaw to score.
The Giants "got their third counter"5 in the fifth inning. With one out, Burns lined a home run, his sixth of the season, into the "left corner of the lot,"6 and the Giants once again led by two runs. However, that lead was short-lived as Carson Bigbee led off the top of the sixth with a home run, his fourth of the season. Cutshaw and Southworth each singled as well, but Toney worked out of the jam, retiring both Whitted and Pie Traynor, another Pittsburgh rookie, on popouts.
Frank Snyder started the Giants' half of the seventh with a single to left field, but was caught stealing with Toney batting. After Toney struck out, Burns drove a single up the middle for his fourth hit. He had just hit for the cycle. But Burns's accomplishment was tarnished when he was caught trying to steal second. The inning ended with the score still 3-2 in favor of the Giants.
Bigbee singled in the top of the eighth, moved to second on Cutshaw's sacrifice bunt, and scored when Summa tied the game with what became a double down the left-field line. The rookie tried to stretch the hit into a triple but he "failed to shut off power"7 and overslid third base. New York third baseman Frankie Frisch tagged Summa out. When neither club scored in the ninth, the game went into extra innings.
According to the Pittsburgh Daily Post, "It was the big twirler himself [Toney] who started the blow-off"8 in the 10th inning by hitting a clean single to center. Burns, who had already collected a single, double, triple, and home run in the game, popped the ball just inside the right-field foul line, well behind first baseman Charlie Grimm but too shallow for right fielder Southworth to reach. Toney scrambled to third as Burns reached second for another double. New York manager John McGraw inserted rookie Vern Spencer9 as a pinch-runner for Toney. Pittsburgh skipper George Gibson countered by ordering Adams to intentionally walk Bancroft, loading the bases with no outs. Youngs promptly "smacked a single over center and the old game was busted up the moment Spencer went across the plate."10 The Giants had won 4-3 in walk-off fashion.
Burns had a perfect day at the plate with 12 total bases and three runs scored. The New York Times praised his hitting prowess: "Five hits in as many times at bat is quite a performance, but when four of the hits are for extra bases the feat takes on additional lustre."11 Burns raised his batting average 6 points, to .282. Before this game, Burns had collected three hits in a game 10 times, but he had not had four hits in a game all season. Youngs was also a star for the Giants' offense, going 3-for-4 with three runs batted in.
For the Pirates, Summa was 3-for-4 with a run batted in. The 21-year-old from Gentry, Missouri, had been sold by Birmingham of the Southern Association to the Pirates on August 30, 1920, and this was only his second major-league game. Bigbee added to the Pittsburgh attack: He was 2-for-5 with a home run and two runs scored.
The victory "clinched the season's series for the home club."12 The Giants also defeated the Pirates the next day (September 18), 8-7, giving them a 13-9 record over Pittsburgh for the 1920 campaign. On this afternoon, both starters pitched complete games. Adams's record fell to 16-12, but Toney notched his 20th win of the season (against 11 losses). Toney had won at least 20 games only one other season in his career when he was 24-16 pitching for the Reds in 1917.
Three batters hit for the cycle in 1920. St. Louis Browns star and future Hall of Famer George Sisler accomplished the rare feat on August 8. Then, to make Burns's accomplishment even more rare, Detroit Tigers left fielder Bobby Veach hit for the cycle on the same day, going 6-for-6 against the Boston Red Sox. Veach scored twice and drove in six runs as the Tigers edged the Red Sox 14-13 in 12 innings. A total of 88 seasons would go by before this daily double occurred again, when Stephen Drew of the Arizona Diamondbacks and Adrián Beltré of the Seattle Mariners each hit for the cycle on September 1, 2008.
Burns's cycle marked the eighth time in franchise history that a Giants batter had done it, following Dave Orr (June 12, 1885, and August 10, 1887), Mike Tiernan (August 25, 1888, and June 28, 1890), Roger Connor (July 21, 1890), Sam Mertes (October 4, 1904), and Chief Meyers (June 10, 1912). In the next two seasons, Burns's teammates Bancroft (June 1, 1921) and Youngs (April 29, 1922) joined the list.
Sources
In addition to the sources mentioned in the Notes, the author consulted Baseball-Reference.com, MLB.com, Retrosheet.org and SABR.org.
baseball-reference.com/boxes/NY1/NY1192009170.shtml
retrosheet.org/boxesetc/1920/B09170NY11920.htm
Notes
1 The Giants went 9-6 in those final 15 games, and they finished in second place, seven games back of the pennant-winning Robins.
2 Edward F. Balinger, "Babe Adams Drops Syncopated Game to Giants, 4 to 3," Pittsburgh Daily Post, September 18, 1920: 8.
3 "Burns's Five Hits Overcome Pirates," New York Times, September 18, 1920: 11. Adams came into this contest with a 3-1 record against the 1920 Giants. For his career, Adams was 35-21 with a 1.98 earned-run average against New York. On the other side, Toney came into this game with an 0-2 record against the 1920 Pirates, and for his career was 22-12 against Pittsburgh, with a 2.37 ERA.
4 Charles J. Doyle, "Summa, Pirate Recruit, Goldarned Near Causes Defeat of McGrawmen," Pittsburgh Post-Gazette, September 18, 1920: 9.
5 Balinger.
6 Balinger.
7 "Burns's Five Hits."
8 Balinger.
9 Vern Spencer played only one season in the big leagues. His first game with the Giants took place on July 4 (after he was acquired from Toronto of the International League), and as McGraw's starter in center field, he singled to short in his first at-bat, later scoring a run. He appeared in 45 games but only had 28 hits in 140 at-bats (a .200 batting average)
10 Balinger.
11 "Burns's Five Hits."
12 Balinger.
Additional Stats
New York Giants 4
Pittsburgh Pirates 3
---
Polo Grounds
New York, NY
Box Score + PBP:
Corrections? Additions?
If you can help us improve this game story, contact us.
Tags
https://sabr.org/sites/default/files/Burns-George.jpg
600
800
sabr
/wp-content/uploads/2020/02/sabr_logo.png
sabr
2020-04-18 17:10:06
2020-07-30 07:45:27
September 17, 1920: Giants' Burns hits for the cycle as Toney pitches 10 innings to win 20th