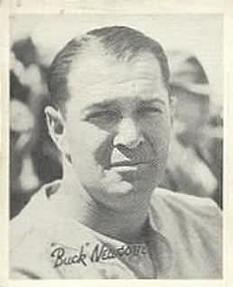 September 18, 1934: Browns' Bobo Newsom tosses no-no through nine, loses in 10th
---
"Buck Newsom pitched a no-hit game
But gets no credit for the same,
As in the tenth he lost it.
For in that inning Lady Luck
Hauled off and took a poke at Puck,
And off the records crossed it."1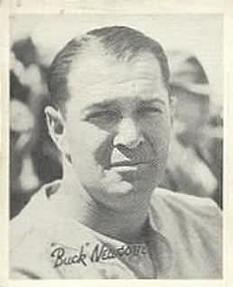 Louis Newsom, nicknamed "Buck" when he arrived in the majors before adopting "Bobo" during his post-Browns tenure with the Washington Senators,2 received brief looks from the Brooklyn Robins in 1929 and 1930 and the Chicago Cubs in 1932 before his breakout season in 1933 (30 victories for the Los Angeles Angels of the Pacific Coast League) convinced the Browns to take him in the Rule 5 draft.
After starting the 1934 season in the bullpen, Newsom was promoted to the rotation by the end of April. Despite compiling a losing record for the second-division Browns, he soon established himself as one of the better pitchers in the AL, and his colorful "country boy" personality and eccentric ways made him a favorite of fans and sportswriters.
Winners of only four of their last 15 games, the Browns, holding onto fifth place but 28½ games behind the league-leading Tigers, lost yet again, 3-0, in the opener of a four-game series with the fourth-place Boston Red Sox at Sportsman's Park on September 17.
Newsom got the pitching assignment from Browns manager Rogers Hornsby for the second game of the series. Although the big right-hander's 17 losses were one behind the White Sox' Milt Gaston for most in the AL, his 15 wins and 4.04 ERA placed him among the league's top 10 in each category.Control issues, as evidenced by 133 walks in 236⅓ innings, were Newsom's signature vulnerability. In three previous starts against Boston, Newsom had gone 1-2, but had issued 15 bases on balls in 22 innings; in three relief outings against the Sox he'd pitched seven innings and walked nine, but earned a victory on June 17 when the Browns came from behind to win.
Newsom's opponent this day was Wes Ferrell. Ferrell, 13-5, had started three games against the Browns and won all three, each a complete game and one a shutout, with a combined ERA of 1.33.
Neither team managed a hit in the first inning, but the Red Sox were able to put together a run without the benefit of a base hit in the second. Roy Johnson and Skinny Graham walked, and an error by Browns second baseman Ski Melillo on an attempted pickoff allowed the runners to advance to second and third. After an infield out by Rick Ferrell, Wes's brother and batterymate, Newsom walked Ed Morgan, loading the bases. Lyn Lary's groundball to short was scooped up by Alan "Inky" Strange, who tossed to Rollie Hemsley at the plate, but Johnson beat the throw to score the game's first run.
With the bases loaded and an opportunity to break the game wide open, Wes Ferrell, as adept at the plate as he was on the mound and batting .297 with four home runs, fell behind 0-and-2 in the count. Then he took a pitch he believed was outside but which umpire Lou Kolls called a third strike. Ferrell, known for a hair-trigger temper, exploded, unleashing a tirade of epithets at Kolls.
It was unclear to witnesses if Ferrell simply verbally assaulted Kolls or actually shoved him, as the arbiter reported to the league office, but after a few seconds Kolls called to Red Sox manager Bucky Harris, "Get another pitcher ready; this one is through."3 At that, brother Rick sprang from the dugout with a few choice words of his own, and was also tossed.
Newsom, aware of Hornsby's rule that a pitcher ahead 0-and-2 in the count was subject to a $20 fine if the next pitch was over the plate, had also run in from the mound to agree with both Ferrells that the pitch had been a ball. Kolls chased Newsom back to the mound.
Newsom escaped the inning without further damage, except for a $20 fine from Hornsby for the location of the pitch and the temerity of arguing in the opposition's favor. After a review the following day by AL President Will Harridge, the Ferrell brothers were suspended and fined for "conduct detrimental to the best interests of baseball."4 Wes was suspended for five games and fined $100; Rick drew a three-game suspension and also was fined $100.
Rube Walberg, a former 20-game winner with the 1929-1931 pennant-winning Philadelphia Athletics but now doing mostly bullpen duty in Boston, replaced Wes Ferrell on the mound for the Red Sox and Gordie Hinkle took Rick's place behind the plate.
The Browns mustered a hit here and there off Walberg, with nothing to show for it until the bottom of the sixth. A base hit by Hemsley followed by an errant throw by center fielder Mel Almada and a single by Strange broke the Browns' scoreless streak at 26 consecutive innings and tied the score, 1-1.
Newsom, meanwhile, continued to baffle the Boston lineup. Despite the gift of five walks and errors by Strange and Melillo, the Red Sox failed to reach him for another run or anything approaching a base hit through eight innings.
In the Red Sox' ninth, Morgan drove a liner that center fielder Ray Pepper misplayed for an error. With Morgan on third and one out, Lary tried to execute a squeeze play but missed the pitch, and Morgan was run down between third and home. Newsom had not allowed a hit through nine. The Browns in their half failed to capitalize on a double by Debs Garms and the game went into extra innings knotted at 1-1.
In the top of the 10th inning, Walberg grounded out to Melillo but then Newsom grew wild, walking Max Bishop and Billy Werber. Almada flied out to Garms in left field, but Roy Johnson, worked the count to 3-and-2, then slapped the next pitch on the ground between shortstop and second base. Strange lunged for the ball but it skipped off the tip of his glove and rolled into center field as Bishop raced home from second with the go-ahead run. Newsome retired Graham to end the inning, but the no-hitter was gone, and the Browns were down 2-1.
With one out in the Browns' final turn, Ollie Bejma, batting for Bruce Campbell, doubled, but Walberg struck out Melillo and got Hemsley to foul to Morgan in back of first to close out the game.
The usually punchless Browns had managed eight singles and two doubles but had been able to push across only one run. Buck Newsom had pitched nine innings of no-hit ball, but owing to a penchant for walking batters was forced to carry on into a 10th inning, where again his inability to find the plate and the solitary hit he allowed cost him both the no-hitter and the game. He ended up walking seven batters while striking out nine.
At the time, Newsom's feat was recognized as a no-hitter, with the notation that he'd surrendered a hit in the 10th inning. Newsom never counted it as anything less. No official gate count was recorded for the game, but those in the press box that day put the crowd at under 1,000. When challenged in later years about his recall, Newsom would always reply, "Were you there? If you were, I woulda seen you."5
In 1991 a rule change by Major League Baseball redefined a no-hitter as follows: "An official no-hit game occurs when a pitcher (or pitchers) allows no hits during the entire course of a game, which consists of at least nine innings."6 Previously recognized no-hitters of fewer than nine innings or those like Newsom's in which the first hit had been allowed in extra innings were stricken from the official record books.
Buck Newsom had lost again.
"He failed to make the Hall of Fame,
But pitched a great ten-inning game
While yielding just one bingle.
When Johnson hit to Alan Strange,
The pellet bounced just out of range,
And turned into a single."7
This article appears in "Sportsman's Park in St. Louis: Home of the Browns and Cardinals at Grand and Dodier" (SABR, 2017), edited by Gregory H. Wolf. Click here to read more articles from this book online.
Sources

In addition to the sources listed in the notes, the author also consulted the Boston Herald,
Los Angeles Times, New York Times, Poughkeepsie Eagle-News, St. Louis Star-Times, and The Sporting News.
Notes
1 L.C. Davis, "The Passing Show," St. Louis Post-Dispatch, September 20, 1934: 16.
2 Jim McConnell, Bobo Newsom: Baseball's Traveling Man (Jefferson, North Carolina: McFarland, 2015), 71.
3 James M. Gould, "Newsom Pitches Nine Hitless Innings, but Loses in Tenth, 2-1," St. Louis Post-Dispatch, September 19, 1934: 16.
4 "Ferrell Brothers Suspended for Row," Decatur (Illinois) Herald, September 20, 1934: 12.
5 McConnell, 63.
6 Lyle Spatz, Historical Dictionary of Baseball (Lanham, Maryland: Scarecrow Press, 2013), 249.
7 Davis.
Additional Stats
Boston Red Sox 2
St. Louis Browns 1
10 innings
---
Sportsman's Park
St. Louis, Mo
Box Score + PBP:
Corrections? Additions?
If you can help us improve this game story, contact us.
Tags
https://sabr.org/sites/default/files/NewsomBobo-1936.jpg
600
800
admin
/wp-content/uploads/2020/02/sabr_logo.png
admin
2018-11-07 14:36:53
2020-04-17 10:23:48
September 18, 1934: Browns' Bobo Newsom tosses no-no through nine, loses in 10th