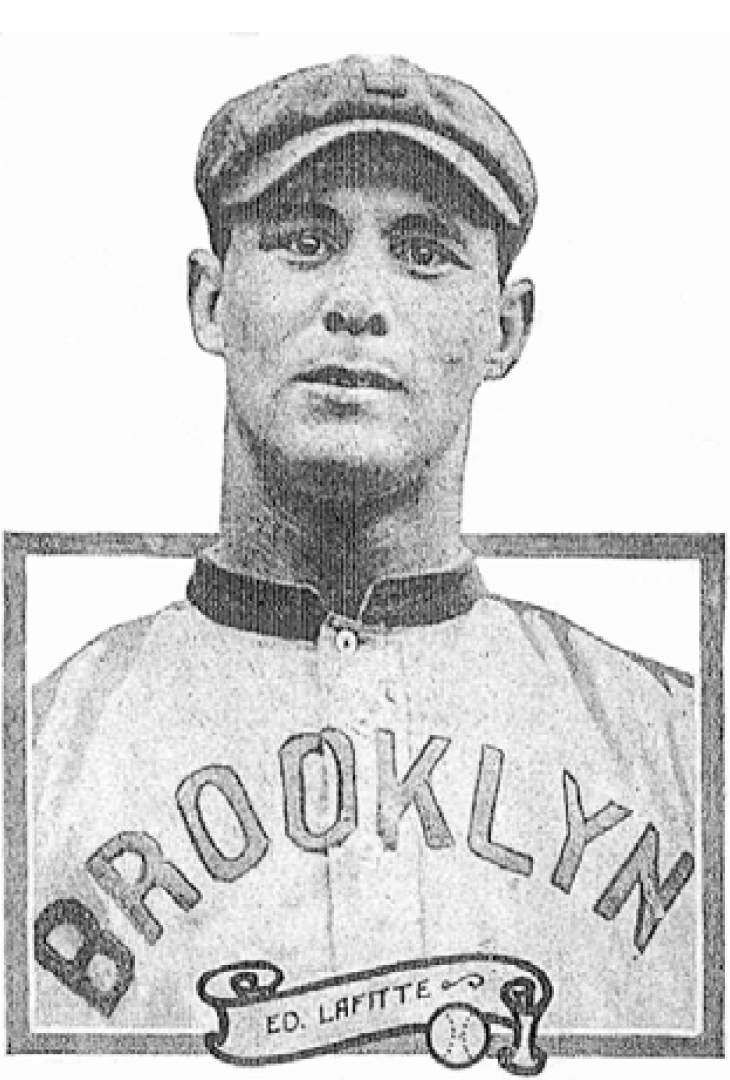 September 19, 1914: Doc Lafitte tosses the Federal League's first no-hitter
---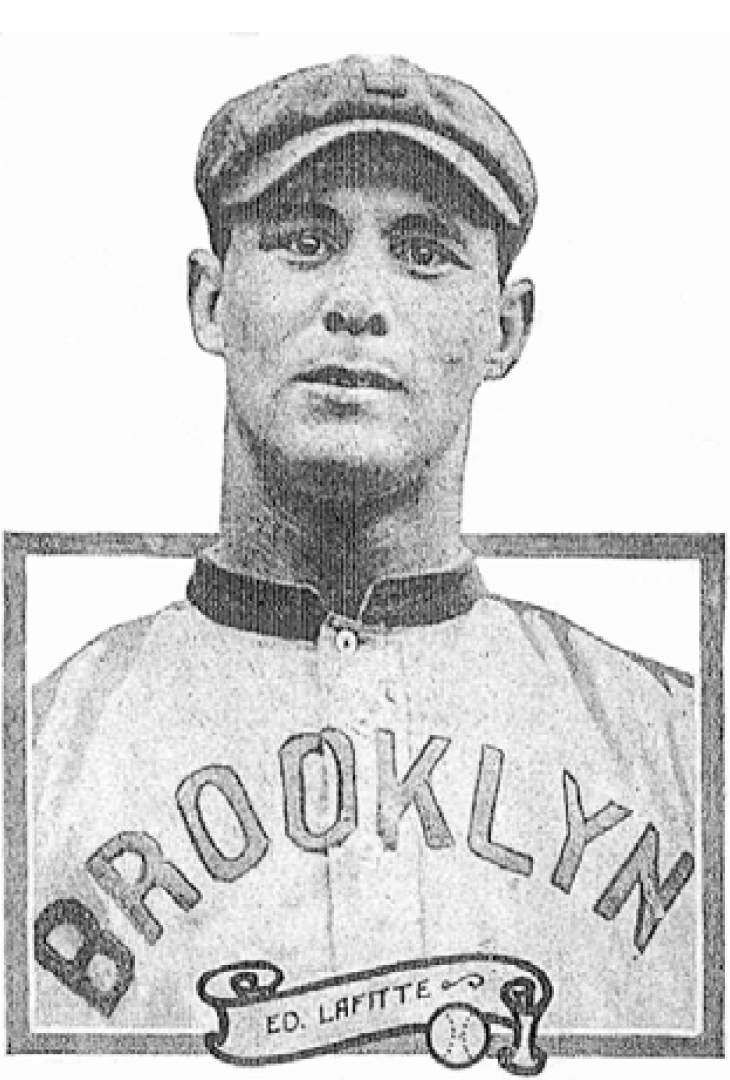 The Brooklyn Tip-Tops had just lost five games at Washington Park to the visiting Indianapolis Hoosiers, who now stood atop the Federal League standings. Today the Brooklyn nine faced a doubleheader with player-manager George Stovall's Kansas City Packers. Ed Lafitte, a big right-hander, took the mound for the first game against Kansas City left-hander Nick Cullop.
A rangy (6-feet-2) graduate of Georgia Tech, Lafitte was an Atlanta dentist during the offseason, winning him the nickname Doc. He and his club were nearing the end of a mediocre season in which they would finish at 18-15 and 77-77, respectively. Lafitte had shown occasional flashes of brilliance during an uneven professional career, and would shine again today.
A "goodly crowd of fans" watched the Brooklyn nine burst from the dugout to put the embarrassing sweep behind them.1 Their hurler, whom the hometown Brooklyn Standard Union referred to jokingly as the "Dixie dentist" and "Monsieur Edouard Lafitte, the French reservist," dominated the game from the start.2 Lafitte set down the first 13 Packers he faced, despite a second-inning walk to first baseman Stovall, who was quickly doubled off following "a great one-handed catch of a line fly" by shortstop Al Halt.3 The Tip-Tops, meanwhile, "took kindly to Cullop," scoring a run in the first when second baseman Jim Delahanty tripled and center fielder Felix Chouinard singled him in.4
The game went along uneventfully until the fifth inning. With one out, Lafitte walked Kansas City third baseman George Perring, who had lined into the double play back in the second. Perring now stole second, but was stranded there following two easy outs. Brooklyn then scored twice in its half of the frame. Packers shortstop Johnny Rawlings fielded Halt's grounder but threw wildly. One out later, Lafitte helped his own cause by singling in Halt. A sacrifice moved Doc up and Delahanty's double sent him home.
The sixth inning was scoreless, and by now Lafitte surely knew he was working on a no-hitter. "The crowd was keyed up to a high state of excitement … hoping to see Lafitte complete the game without a hit, after his brilliant start," the New York Times reported.5 Lafitte had tossed a previous professional no-hitter, on July 12, 1909, for the Providence Grays of the Eastern League at Jersey City. Despite surrendering no hits to the Skeeters, he'd lost the game, 2-0, "robbed of a well-deserved victory through the misplays" of the Grays' infield.6
Now facing Kansas City in Brooklyn, "Lafitte was alternately wild and effective in the seventh" — a neat summary of Doc's entire career.7 He alternated two foul outs with free passes to second baseman Duke Kenworthy and Perring, then plunked Kansas City catcher Ted Easterly to load the bases. Rawlings grounded to Tip-Tops third baseman Tex Wisterzil, "who let the ball go through him, allowing Kenworthy to score."8 Lafitte got the third out on a fly ball to right by Cad Coles, a pinch-hitter for Cullop. Brooklyn's shutout was gone, but the no-hitter was intact.
Right-hander Dwight Stone took the mound for Kansas City in the bottom of the inning. Neither side scored again until the bottom of the eighth, when Brooklyn "enthusiastically mauled" Stone.9 The Tip-Tops scored three runs on hits by Delahanty, first baseman Solly Hofman, and Wisterzil, compounded by two Kansas City errors.
Lafitte struggled again in the top of the ninth. He started with another walk to Stovall, who advanced to second on Perring's out. Delahanty then fumbled a grounder by Packers center fielder Art Kruger, moving Stovall to third. The Kanfeds skipper crossed the plate on a force out of Kruger at second. Lafitte ended the scoring there and came away with a 6-2 no-hitter, the contest taking just one hour and 47 minutes. The Tip-Tops also won the nightcap, 12-6.
In his second professional no-hitter, Lafitte had faced 35 batters, walked seven, and hit one with a pitch. The New York Times found it "a peculiar game," but added that Lafitte "was in superb form, and the Packers did not make anything that even resembled a safe clout."10 Lafitte's achievement was "somewhat tarnished by the fact that the visitors scored two runs against him, but there was no question about the absence of a base-hit of any description," agreed the Brooklyn Eagle.11
Lafitte's was the league's only no-hitter of 1914. Federals Frank Allen, Claude Hendrix, Alex Main, and Dave Davenport each tossed a no-hitter in 1915, the second and final season in the league's brief history. These four no-hitters were all of the traditional sort, with the opponents held scoreless, but Lafitte's tarnished masterpiece at Washington Park is the one most remembered today.
An unidentified someone had suggested sending Lafitte back out for the second game of the doubleheader, to attempt "the unheard-of feat of pitching two no-hit games in one day," an Eagle sportswriter wrote. Manager Bill Bradley wouldn't hear of it. "Thus was the Georgian euchered sic out of an opportunity to have his name handed down in baseball history as a wonder-maker."12
Lafitte would become an international wonder-maker four years later, during World War I, while serving as a US Army captain at a hospital for wounded soldiers in England. He faced Red Sox left-hander Herb Pennock, pitching for a US Navy team, in a special Fourth of July "baseball match" at Stamford Bridge, Chelsea. Pennock won a 2-1 thriller, after which he and Doc Lafitte chatted with King George V, who had enjoyed the game from the grandstand with Queen Mary and other members of the royal family.
This article was published in SABR's "No-Hitters" (2017), edited by Bill Nowlin. To read more Games Project stories from this book, click here.
Notes
1 New York Tribune, September 20, 1914.
2 Brooklyn Standard Union, September 20, 1914.
3 Brooklyn Eagle, September 20, 1914.
4 Kansas City Star, September 20, 1914.
5 New York Times, September 20, 1914.
6 Sporting Life, July 24, 1909.
7 Brooklyn Eagle, September 20, 1914.
8 Kansas City Star, September 20, 1914.
9 Kansas City Star, September 20, 1914.
10 New York Times, September 20, 1914.
11 Brooklyn Eagle, September 20, 1914.
12 Brooklyn Eagle, September 20, 1914.
Additional Stats
Brooklyn Tip-Tops 6
Kansas City Packers 2
---
Washington Park
Brooklyn, NY
Box Score + PBP:
Corrections? Additions?
If you can help us improve this game story, contact us.
Tags
https://sabr.org/sites/default/files/LafitteEd.png
600
800
admin
/wp-content/uploads/2020/02/sabr_logo.png
admin
2018-10-16 14:41:14
2021-03-02 01:37:05
September 19, 1914: Doc Lafitte tosses the Federal League's first no-hitter