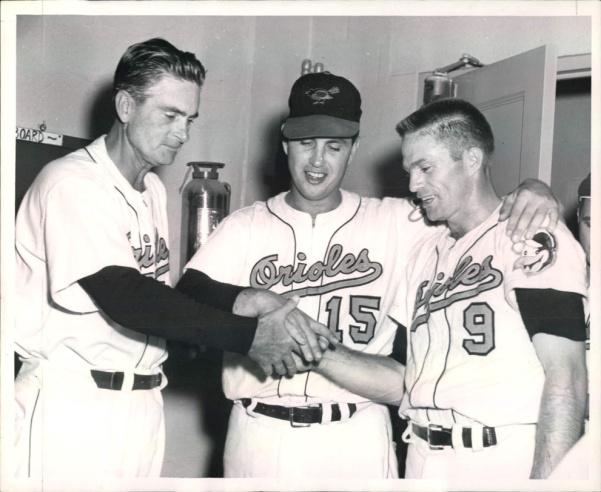 September 20, 1958: Orioles knuckleballer Hoyt Wilhelm no-hits Yankees
---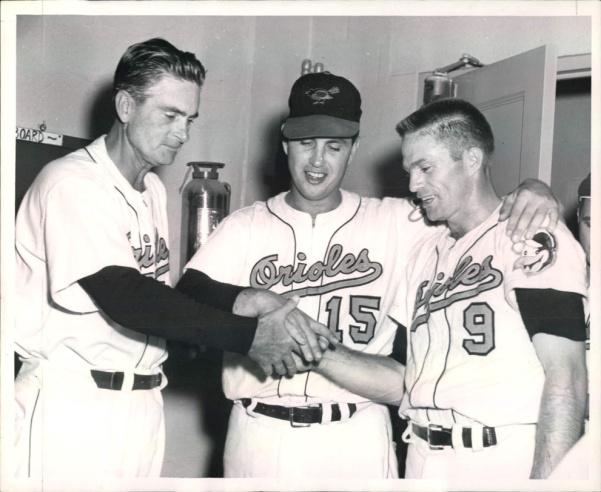 The game took only 1 hour and 48 minutes. Before a crowd of 10,941 on the last day of summer, Baltimore's Hoyt Wilhelm joined the record books by pitching a no-hitter against the New York Yankees. He started against Don Larsen, who had pitched a perfect game in the 1956 World Series.1 Besides the few spectators, who had to brave a steady rain, many more Americans witnessed this piece of history; it was the nationally televised Game of the Week.2
Wilhelm, a relief pitcher for most of his career, was making only his third start for the Orioles and the ninth of his career, in his seventh season in the majors. He had pitched for the New York Giants and the Cleveland Indians, and he was claimed on waivers by the Orioles from the Indians on August 23, 1958. Many thought his career was done.3 Larsen, meanwhile, had last pitched on August 16; he missed the next month with an inflamed right elbow.
With seven games left to play in the regular season, New York had already clinched the American League pennant. Baltimore, entering the contest with a 68-77 record, had defeated the Yankees on September 19, but with the schedule at 154 games, the players knew they would have to endure another losing season.4
Both pitchers were in command. Wilhelm retired the first seven batters he faced before walking Bobby Richardson in the third. Larsen appeared sharp, especially early on, "mixing a good curve and changeup with his speed."5 With one out in the first, Bob Boyd reached on a drag-bunt single. That was the only hit Larsen would allow. From about the third inning on, intermittent showers kept the grass wet. By the fifth inning, the rain was steady. The Yankees tried to bunt for a hit three times, but each time the ball rolled foul.
By the sixth inning the rain, began to fall a bit harder, so the umpires requested that the Memorial Stadium lights be turned on. At the end of the sixth, the game was still scoreless, and there had been just one hit. New York manager Casey Stengel kept Larsen in the dugout after the Yankees batted in the seventh, and Bobby Shantz came on in relief. Leading off for the Orioles, Gus Triandos swung at a 2-and-1 offering and launched a solo home run over the center-field fence, above the 410-foot sign, giving the Orioles a 1-0 lead and the only run Wilhelm would need. Triandos's home run was his 30th of the season, tying the American League season mark for a catcher, set by New York's Yogi Berra in 1952 (and duplicated by Berra in 1956).6
In the eighth, New York had its best chance to break up the no-hitter. Leadoff batter Norm Siebern "hit a tantalizing high bouncer which was perfectly placed in the hole between first and second."7 Billy Gardner, Baltimore's second baseman, raced to his left, scooped up the ball, and flipped it to first baseman Boyd for the bang-bang out.
Baltimore came to bat and created a mini-rally. Wilhelm led off by grounding out to the second baseman. Dick Williams stroked a double to left. Boyd then struck out, and Jim Busby, who had entered the game as a defensive replacement in the seventh, got a single on a ball he dribbled back to the pitcher. Baltimore had runners on first and second, but Brooks Robinson flied out to left to end the inning.
In the Yankees' ninth, Richardson flied out to center. Enos Slaughter pinch-hit for Shantz and hit a liner to right, but Willie Tasby ran it down for out number two. Hank Bauer, New York's last hope, attempted to bunt the first offering by Wilhelm, but it rolled foul. This "drew a loud round of boos from the fans."8 He swung through the second pitch for strike two. This brought on cheers. With pitch number three, Bauer popped out to Gardner at second, and the Orioles players mobbed Wilhelm near the mound. He had just pitched a no-hitter. Wilhelm struck eight and walked just two.
Larsen had also pitched superbly, allowing only the bunt single to Boyd in the first inning. He had walked two and struck out two. Wilhelm also walked two batters, as he kept "his exceptionally hard-to-handle knuckleball under remarkable control."9 He used 99 pitches, with "about 90 percent of them knucklers,"10 according to the Baltimore Sun. Although this was only his third win of the season, against 10 losses, Wilhelm's "performance simply was something out of this world."11 It was the first no-hitter by a Baltimore major-league pitcher in 60 years. Jim Hughes of the National League's Baltimore Orioles pitched a no-hitter against the Boston Beaneaters on April 22, 1898. (On the same day Ted Breitenstein of the Cincinnati Reds hurled a no-hit game against the Pittsburgh Pirates.) Wilhelm's feat came exactly two months after Detroit's Jim Bunning no-hit the Red Sox on July 20, 1958, by a score of 3-0.
The no-hitter was the first to be pitched against the Yankees since Virgil Trucks stopped the New York bats on August 25, 1952, at Yankee Stadium. Forty-five years would go by before another team, the Houston Astros, used six pitchers to no-hit New York (June 11, 2003, in an interleague game).
In an interview after the game, Wilhelm praised catcher, Triandos not for homering, but for being his batterymate. He said, "I thought Gus caught a great game for me."12 When pressed about the no-hitter, Wilhelm replied, "I really didn't get to thinking much about it until Gus hit that homer. After all, you've got to have a run. Up until then, I'm only thinking about winning a game, and I haven't gotten many runs this year."13
Even the New Yorkers were impressed. Mickey Mantle, one of Wilhelm's strikeout victims, commented, "I thought his fastball was lousy and so was his curve,"14 grinning good-naturedly. Yankees skipper Stengel chimed in with, "I give that feller full credit. He earned it."15 And the Yankees' Berra, who caught three no-hitters in his career, including Larsen's perfect game, told reporters, "It's a guessing game when you're hitting against him. You know it's coming but you don't know where. I don't think he does, either."16
Wilhelm's masterpiece came on his ninth wedding anniversary. The night before the historic game, he telephoned his wife, Peggy, at their home in Huntersville, North Carolina. According to the Baltimore Sun, he said to her, "I neglected to send you a card. What do you want for our anniversary tomorrow?" She responded, "Honey, send me something real good. Let's win one."17 A no-hitter definitely qualifies as "something real good." On top of that, Wilhelm was given a $150 watch for being voted the outstanding player of the game18 by the Game of the Week crew.
Sources
In addition to the sources mentioned in the Notes, the author consulted baseball-reference.com, mlb.com and retrosheet.org.
http://www.baseball-reference.com/boxes/BAL/BAL195809200.shtml
http://www.retrosheet.org/boxesetc/1958/B09200BAL1958.htm
Notes
Additional Stats
Baltimore Orioles 1
New York Yankees 0
---
Memorial Stadium
Baltimore, MD
Box Score + PBP:
Corrections? Additions?
If you can help us improve this game story, contact us.
Tags
https://sabr.org/sites/default/files/WilhelmHoyt.jpg
600
800
admin
/wp-content/uploads/2020/02/sabr_logo.png
admin
2017-04-19 14:01:43
2021-10-28 01:10:20
September 20, 1958: Orioles knuckleballer Hoyt Wilhelm no-hits Yankees